This is a collection of reviews of the best social studies curriculum for your homeschool. We have gathered all our reviews from here at The Curriculum Choice and put them in one place so you can easily find them!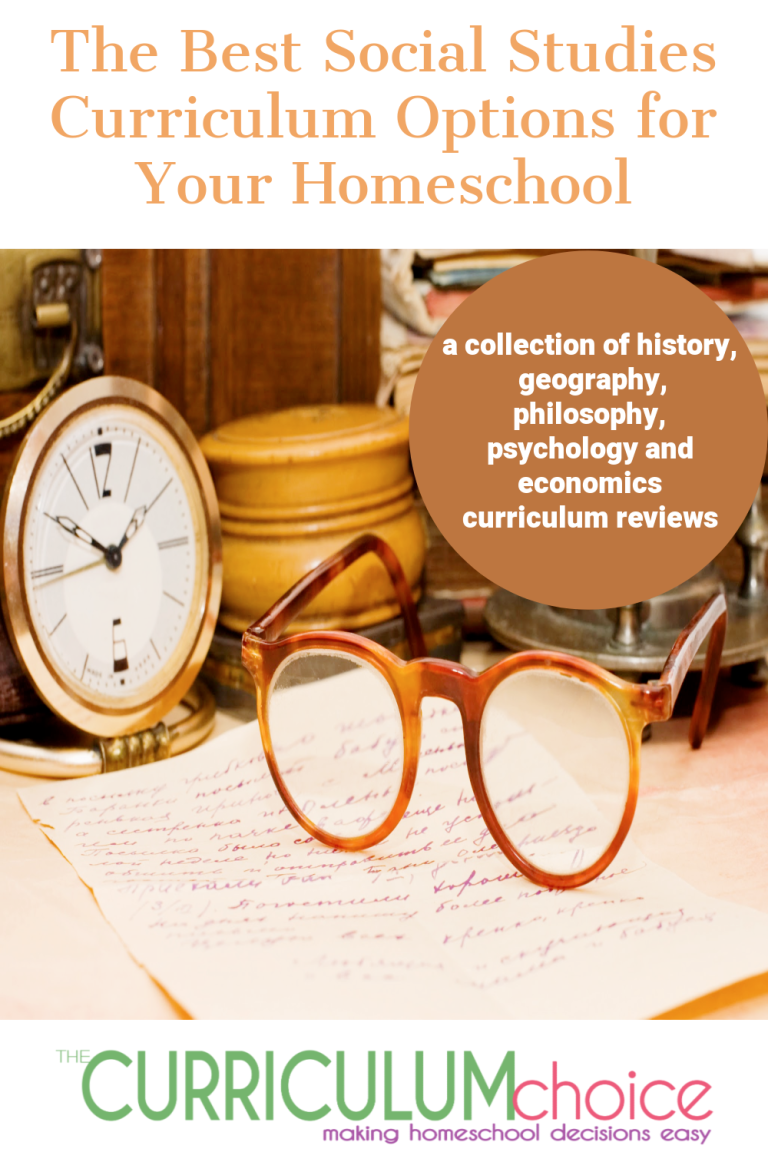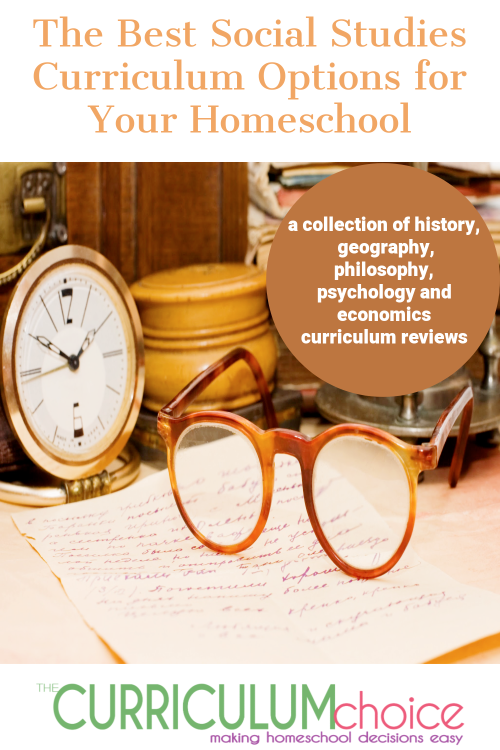 What is Social Studies Curriculum?
I feel like we toss around the term social studies, and use it somewhat interchangeably with the world history. But what exactly is social studies in terms of education and schooling?
The National Council for the Social Studies defines social studies as, "Within the school program, social studies provides coordinated, systematic study drawing upon such disciplines as anthropology, archaeology, economics, geography, history, law, philosophy, political science, psychology, religion, and sociology, as well as appropriate content from the humanities, mathematics, and natural sciences. The primary purpose of social studies is to help young people make informed and reasoned decisions for the public good as citizens of a culturally diverse, democratic society in an interdependent world."
So we are going to run with that working definition and include history, geography, psychology, philosophy and economics in this collection of social studies curriculum.
History and Geography Curriculum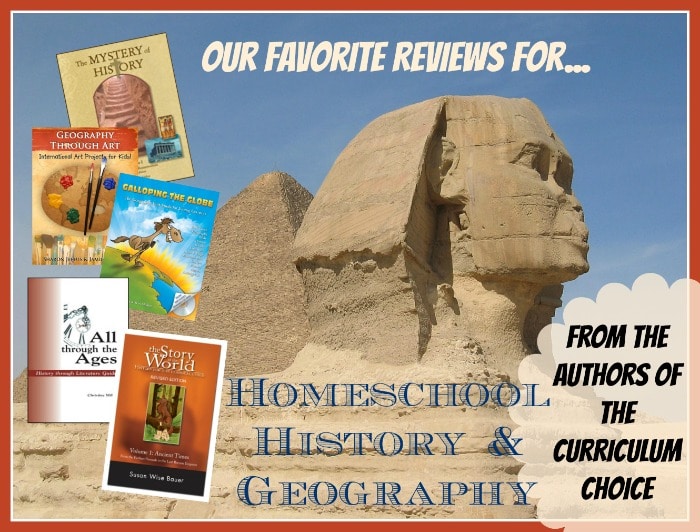 Homeschool History and Geography Curriculum Reviews – here is a previous collection of history and geography reviews not only from The Curriculum Choice site, but from our contributing writers' sites too!
History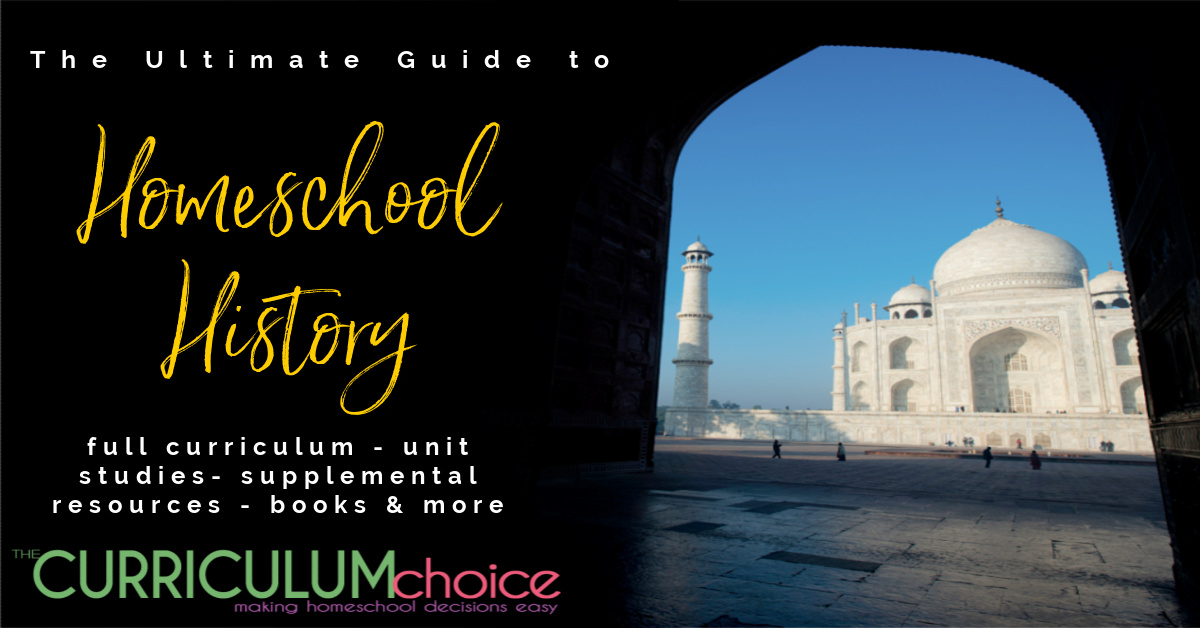 The Ultimate Guide to History Curriculum for Homeschool – Are you looking for just the right history curriculum for homeschool? I have created a list with LOTS of possibilities! Full curriculum, supplements, book lists, geography and more!
Great Video Courses for Homeschooling High School – Western Culture from Compass Classroom -a study of the great books that shaped western culture and the world. Studies available include: The Greeks and The Romans and Christendom
Homeschool History with U.S. Geography through Literature – a wonderful way to bridge stories with scientific and geographic exploration. This U.S Geography through Literature curriculum connects the stories of Native American tribes, intrepid explorers, hopeful pioneers, and determined individuals with the lands they built their lives upon. These stories introduce kids to the vast variety of landforms, biomes, and ecosystems that can be found in the United States.
The Nomadic Professor – online American History for high schoolers
The Ultimate Guide to Home School in the Woods – Hands-on History resources
All American History – The Civil War to the 21st Century – each set includes a full year's worth of history lessons for 6-12th graders. The reading selections are engaging, the worksheets meaningful and the teacher's guide invaluable.
The Mystery of History – Christiaan World History that is a complete, chronological history of the world, which combines secular and Biblical history. The hardback textbook is written in a conversational style that holds the reader's attention.
The Story of the World – Classical Homeschool History that spans over four volumes covering the sweep of human history from ancient times until the present.
The Giant American History Timeline – a 2-book set that covers American history from pre-colonization to present events. The books are suitable for students in grades four and higher (we're using them in 8th grade and they are a great fit). I think the age guidelines are on the mark – this program really isn't for younger children. The activity sheet assignments and understanding the context of historical events is really a topic best suited for middle school and high school.
BookShark History – a literature based history program with included teacher's guide
Tapestry of Grace – is designed to help parents provide a Christian, classical, Charlotte Mason education. The history of the world is Tapestry's organizational theme. Its goal is to help students see the patterns of God's personality and works. It is a unit study style curriculum that covers most of the major subject areas for students in grades K-12.
Profiles from History – provides a wonderful blend of short biographies and active learning that is great for elementary aged learners.
Compass Classroom American History – a video based course with a wonderful, Biblical worldview, rich historical reading and projects that reinforce and enrich learning.
Digital Homeschool History Curriculum from Compass Classroom – a look at all Compass Classroom has to offer.
Geography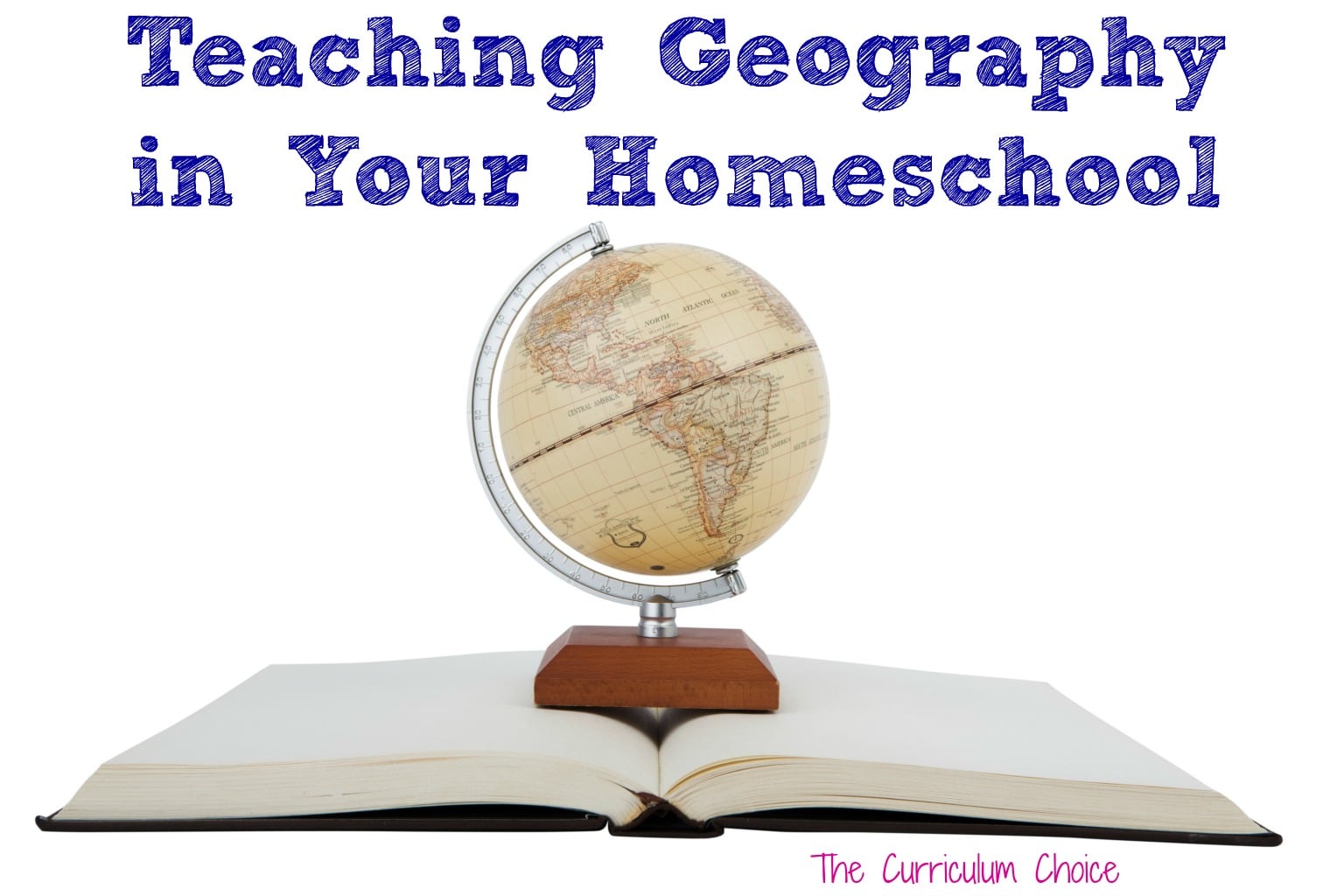 Teaching Geography in Your Homeschool – Teaching geography at home can come in all sorts of ways from using a specific curriculum to including geography as part of your everyday studies. The authors at Curriculum Choice share their tried and true teaching methods for geography.
Psychology, Philosophy, and Economics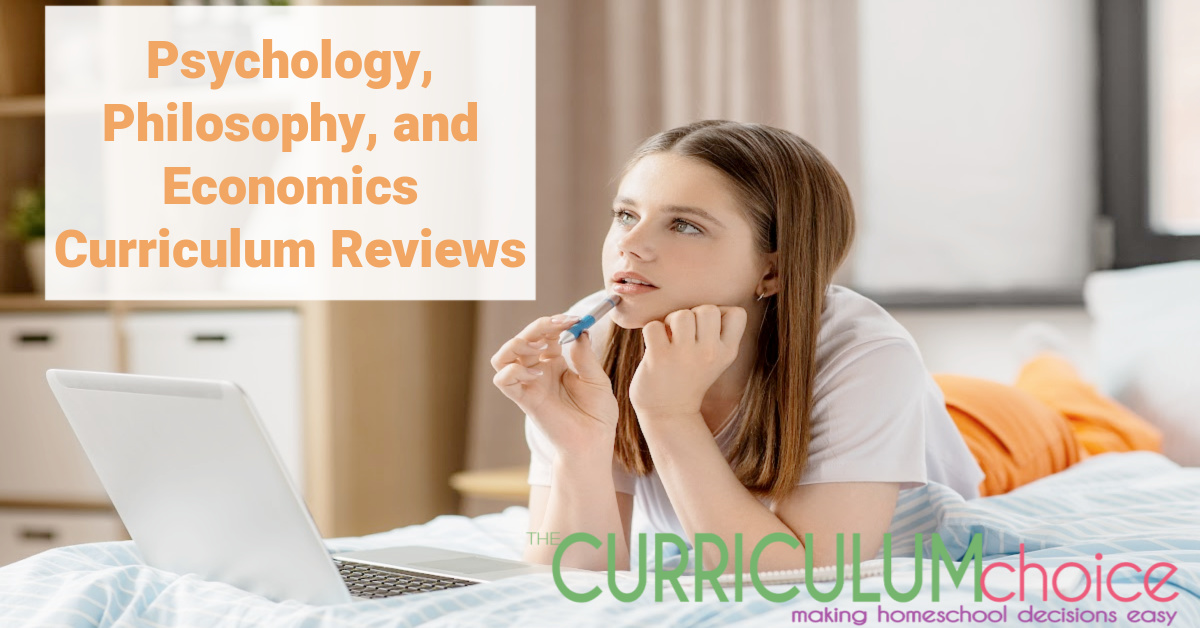 Psychology, philosophy, and economics are often included under the umbrella of social studies curriculum so I have included some options for these subjects as well.
Economics for Everybody from Compass Classroom – "Economics: it's everywhere, influencing everything — and so rarely understood. Economics for Everybody seeks to remedy that through an insightful and entertaining exploration of the principles, practices, and consequences of economics. Thoroughly unconventional, this church, family, and homeschool economics curriculum links entrepreneurship with lemonade, cartoons with markets, and Charlie Chaplin with supply and demand."
Economics for High School with Mr.D Math – a half credit, online, self-paced course for homeschool high schoolers.
Using Uncle Eric Books for High School Economics and Participation in Government – Includes FREE Lesson Plans
Psychology: A Christian Perspective – by Dr. Tim Rice is a very thorough, yet easy-to-understand Christian-based course for 11th or 12th grade students. The student text can be completed in one semester, or expanded upon using the extra suggestions in the Teacher's Guide for a full-year credit. The book can be used as a high school elective for a single student or used in a classroom environment.
Psychology as a High School Elective – a collection of resources for teaching psychology in high school
Homeschool Philosophy Resources – a collection of homeschool philosophy resources for kids of all ages