Profiles from History by Ashley Wiggers provides a wonderful blend of short biographies and active learning.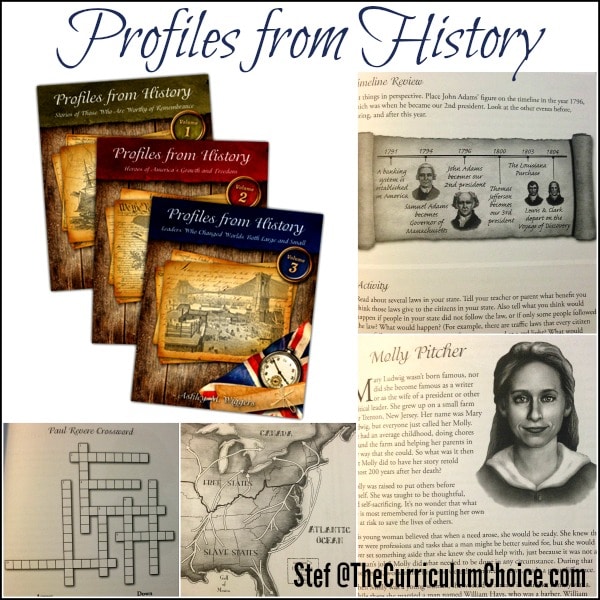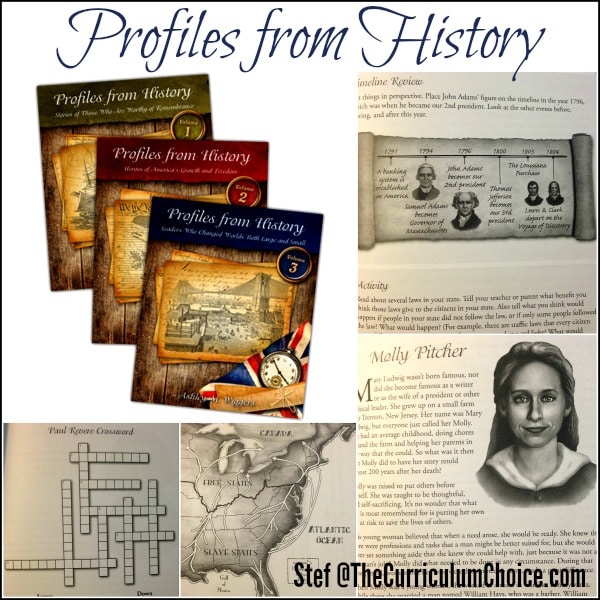 Long biographies might feel a bit heavy for elementary students, especially those who do not enjoy reading. But I have found Profiles from History to be the perfect fit! These books share the most important information while offering crossword puzzles, word hunts, timeline activities, maps, photographs, and fill-in-the blanks to reinforce facts about each historical figure.
We received Profiles from History Volume 2 with the Trail Guide to Learning curriculum, Paths of Settlement.  At first it was "just another book" in the big box of books. However, when my son casually flipped through it and spotted crossword puzzles and maps, the book immediately gained his attention. My son wanted to read ahead of each lesson to learn more about great explorers, inventors, political leaders, musicians, and heroes! Some mornings he would have already finished one profile before school actually "started".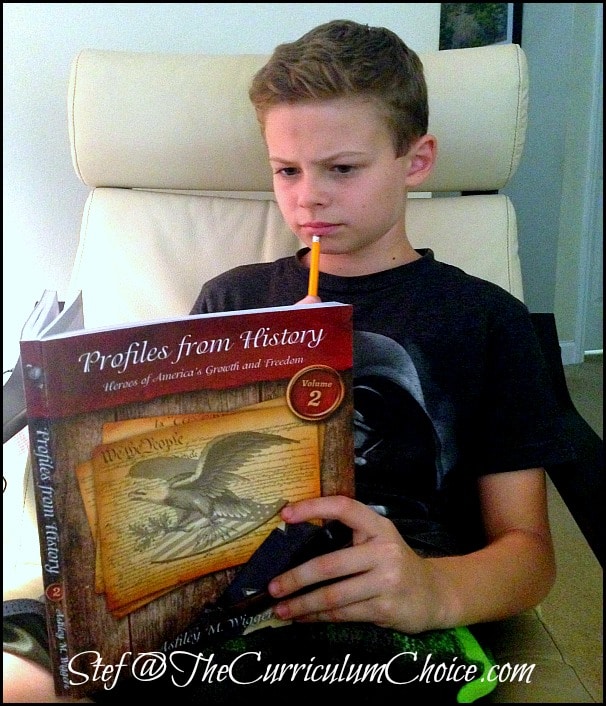 Profiles From History
Although we did not continue using Trail Guide to Learning, we continued to purchase Profiles From History separately. You can purchase all three books as a set or each book individually.
Volume One 20 Biographies:
Marco Polo, Johannes Gutenberg, William Bradford, Squanto, Galileo, John Smith, Leonardo da Vinci, Pocahontas, William Shakespeare, Michelangelo, James Cook, George Frideric Handel, Benjamin Franklin, Meriwether Lewis and William Clark, Thomas Jefferson, Sacagawea, Mozart, Zebulon Pike, Francois Millet, and Applegate
Volume Two 20 Biographies:
Patrick Henry, Paul Revere, Thomas Paine, Nathan Hale, Mary Ludwig, Samuel Adams, John Adams, Dolley Madison, Tecumseh, Daniel Webster, Harriet Tubman, Thomas Jackson, Clara Barton, Joshua Chamberlain, Booker T. Washington, Samuel Clemens, Annie Oakley, John Philip Sousa, Juliette Low, and Will Rogers
Volume Three 18 Biographies:
Amos Fortune, George Washington, Alexander Hamilton, Thomas Hopkins Gallaudet, Noah Webster, William McGuffey, Harriet Beecher Stowe, Abraham Lincoln, Alexander Graham Bell, Henry Ford, Alvin C. York, Helen Keller, Irena Sendler, Winston Churchill, Dr. Charles Drew, Dwight D. Eisenhower, Corrie ten Boom, and Jackie Robinson
Our family vacation to Boston Massachusetts was unlike any other as my oldest became our tour guide. He shared a bit of information about each historical monument we passed.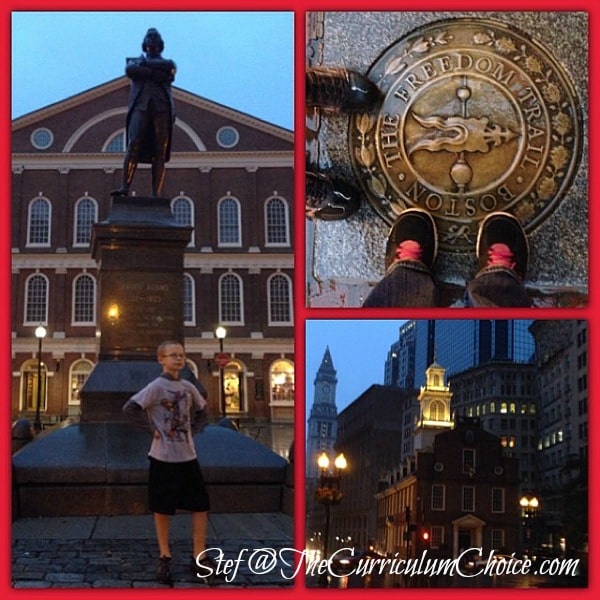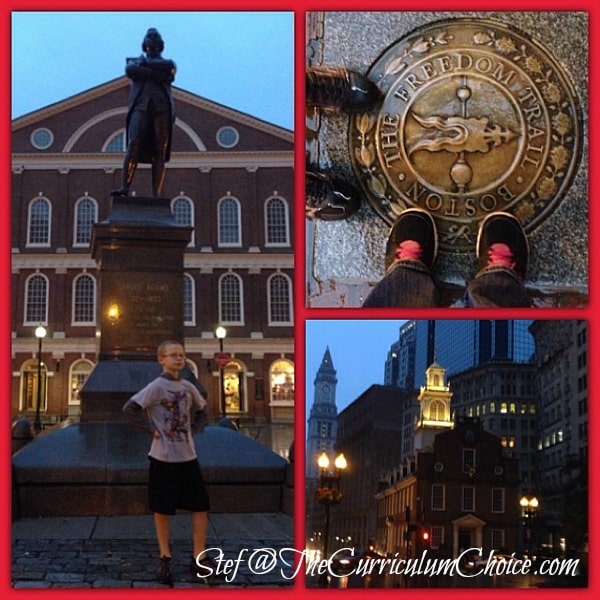 He was so proud to lead us down The Freedom Trail sharing all he had learned in Profiles from History. It would have been much work for me to compile all of those biographies!
Profiles from History conveniently combines numerous biographies for an easy read through history followed by fun challenging activities.
If you are looking for more American History resources, be sure to check out the great list of The Curriculum Choice Writer's favorite American History Resources!