For years I had felt guilty because we really weren't studying geography in a systematic manner. For me, the Trail Guide to U.S. Geography is the perfect geography curriculum to do just that!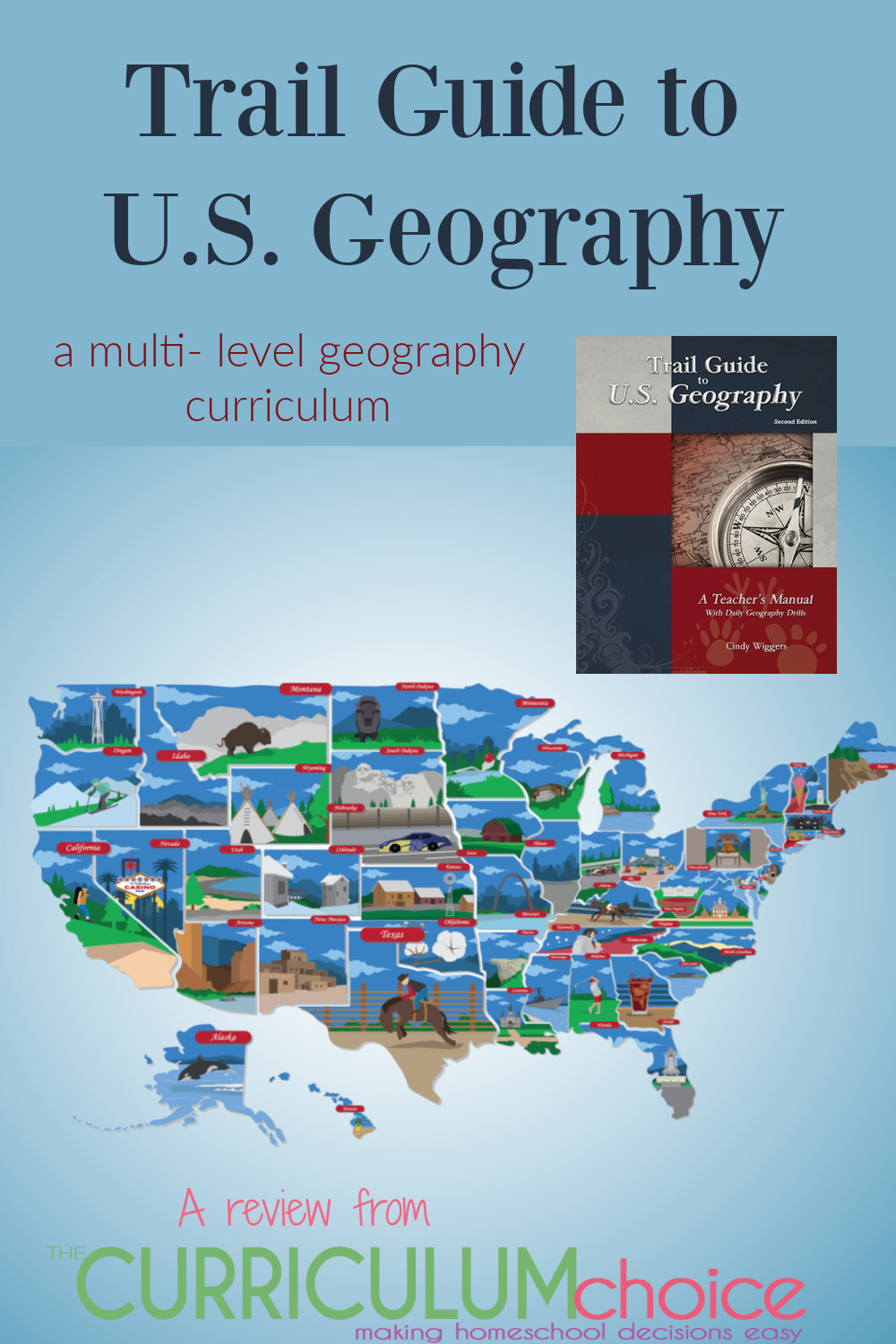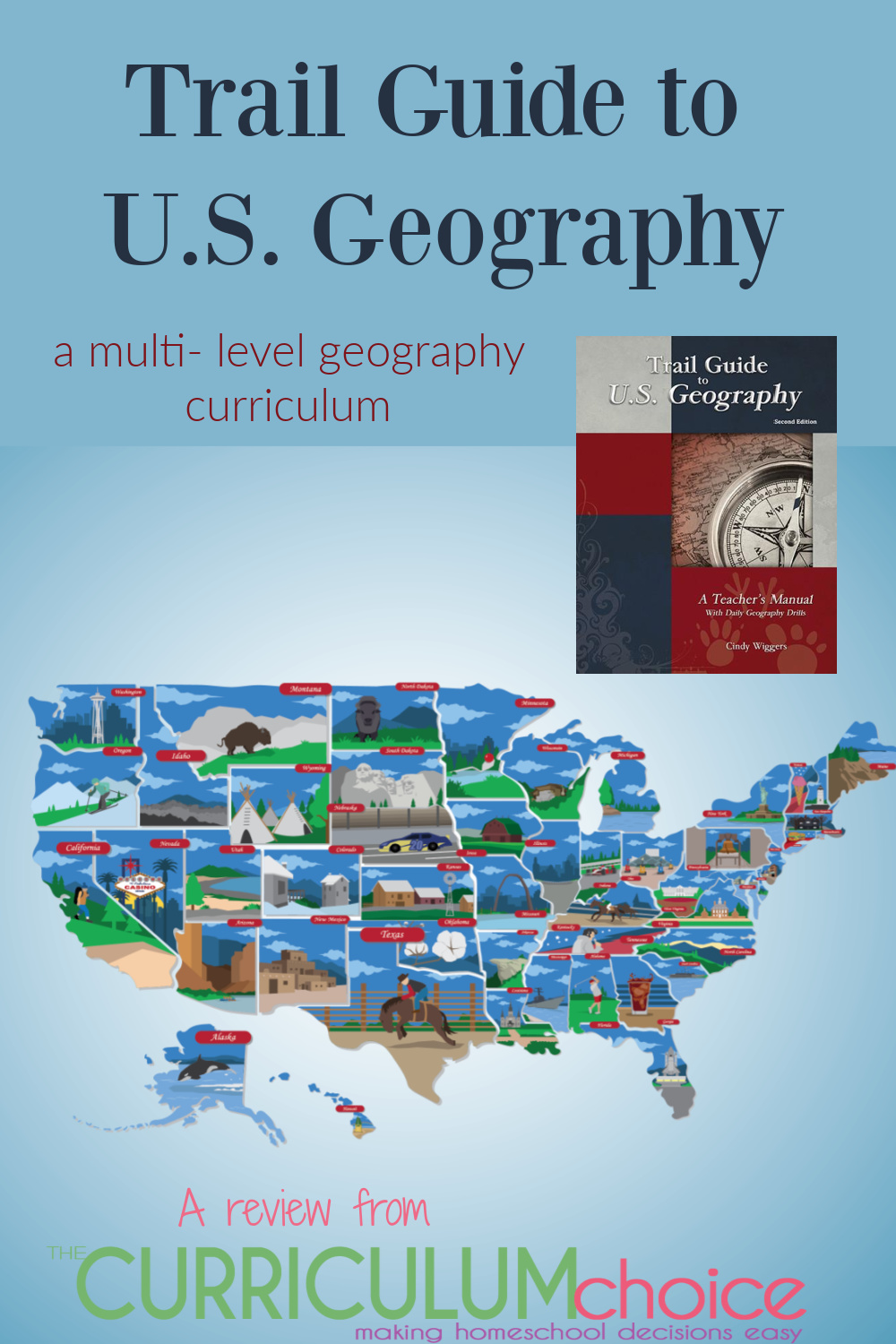 Trail Guide to U.S. Geography
We have been using the Trail Guide to U.S. Geography by Cindy Wiggers for our geography studies for over a year now. This resource is wonderful!
Our geography studies are completed together which works really well for my children (7th, 5th, and 3rd grades).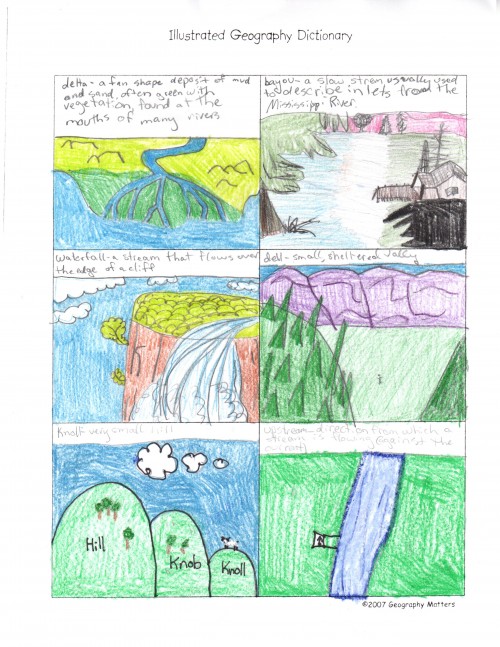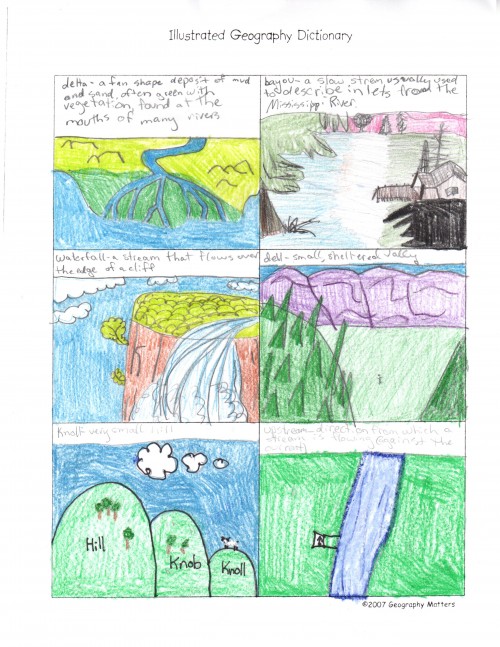 While the curriculum can be completed in a year, I decided to take a slower pace and complete our study of United States geography over a two year period. The Trail Guide to U.S. Geography is such a rich resource of ideas, even with two years in which to work through the text, I had to pick and choose which activities we would complete for our homeschool. There are just so many ideas in the text and geography is just one part of our school day. We usually spend about 20 minutes on geography studies each day, although some projects take a bit longer.
Benefits of the Curriculum
Multi-level – The curriculum can be used with students between 3rd grade and high school age. Separate Daily Drill questions are provided for the Primary, Intermediate, and Secondary "trails."
Based on a Notebooking Method of Study so that wonderful notebooks are compiled by each student.
Easy to Use, Little Teacher Prep particularly if one purchases the Student Notebook CD Rom
Daily Drill questions require higher level thinking for older students.
Basic geography knowledge, vocabulary, and map work are all integrated into the study of the individual states.
Many suggestions are given to extend the learning.
Components of the Curriculum
While The Trail Guide to U.S. Geography by Cindy Wiggers can be used with just the main text, a set of outline maps of the states, and a student atlas, I highly recommend the following components to easily use the program:
Trail Guide to U.S. Geography by Cindy Wiggers
U.S. Trail Guide Student Notebook CD-Rom (includes outline maps, Daily Drills questions for each grade level, and many notebooking pages for each state)
Geography Terms Chart
Children's Illustrated United States Atlas (I recommend one copy per student).
Geography From A to Z, A Picture Glossary by Jack Knowlton
State bird stickers, state flag stickers
The Trail Guide to U.S. Geography offers many different choices for studying each of the states. As I mentioned before, there are definitely more ideas and assignments for learning about the United States in the Trail Guide than could possibly be completed. A six week literature unit study focusing on the Lewis and Clark expedition is even included in this curriculum! Having said that, there are core components to the program. The main components of the program are the following:
Daily Geography Drills are a few questions regarding the geography of the study state or region designed to be completed in about 5-10 minutes each day. Separate questions are given for each of three different age levels.
Map Work is to be completed for each state following the directions for the age level of the child.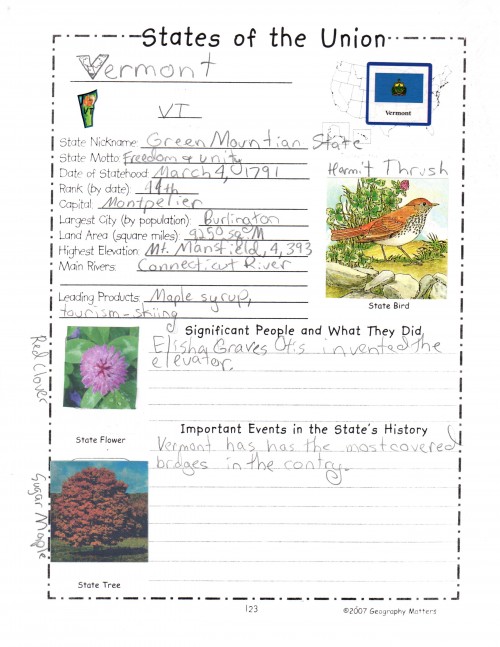 From the many different suggestions, in addition to the main components, I have chosen to complete Illustrated Geography Dictionaries, and weekly State of the Union notebooking pages with my children each week. Over the course of our study, the children are compiling wonderful United States notebooks!
The Trail Guide to U.S. Geography allows for a flexible, easy, and meaningful way to study the United States that fits easily into a homeschooling day.
Originally posted April 2010, written by Samantha