We have a love of Compass Classroom curriculum. You may have noticed that in my family's review of Visual Latin and WordUp! The Vocab Show. Well, our love has grown even more because of Economics for Everybody. Hooray for a high school economics class!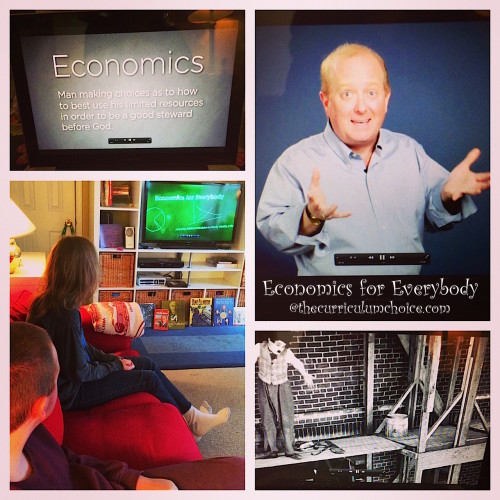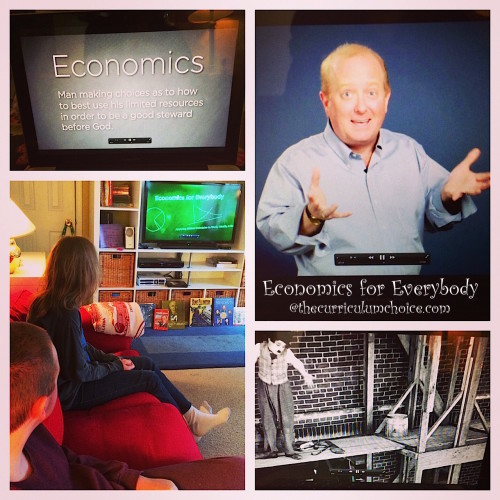 ~ We received these Compass Classroom Economics for Everybody resources in exchange for an sharing an overview. All opinions are our own and we love this important study for our high schoolers. Please see our disclosure policy. The affiliate links included are for resources we absolutely love. If you purchase Economics for Everybody through our affiliate link, we will receive a small portion of the sale with no extra cost to you. Thank you for supporting The Curriculum Choice! ~
What Is Economics for Everybody Curriculum?
Twelve 23-Minute Messages. Over 4 Hours of Teaching.
Watch this short, introductory video from Compass Classroom…
"Economics: it's everywhere, influencing everything — and so rarely understood.
Economics for Everybody seeks to remedy that through an insightful and entertaining exploration of the principles, practices, and consequences of economics. Thoroughly unconventional, this church, family, and homeschool economics curriculum links entrepreneurship with lemonade, cartoons with markets, and Charlie Chaplin with supply and demand." ~ Compass Classroom

How Are We Using Economics for Everybody in Our Homeschool?
We are watching the Economics for Everybody video lessons and doing the follow up study guide for a 1/2 credit for my two high school students. Since we are in a routine of Visual Latin and WordUp! in the afternoons and/or evenings, this fits nicely into our weeks. Of course, us parents sure wish we learned economics this way!
What Does Economics for Everybody Include?
Economics for Everybody includes the download or DVD series + the study guide.
Take a look at the full listing of economics topics in this series on the Compass Classroom site.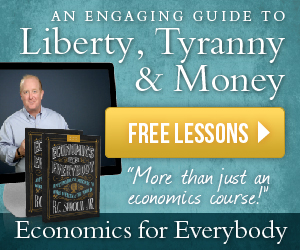 Download four FREE lessons to try! (Simply click the image above)
Individual messages are also available for download for $3 each.
DVD and study guide equals 1/2 a high school credit. Be sure to read the full information on course credits in the FAQ section of Compass Classroom.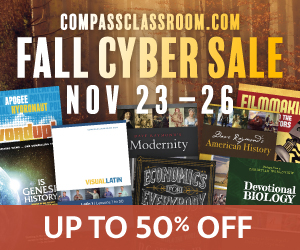 Compass Classroom Sale
And guess what? Compass Classroom is having a sale! We love all of Compass Classroom's curriculum and resources for homeschool. So much so, I've shared reviews of all of these!
So did YOU know that Compass Classroom had an economics course? Be sure to take advantage of the sale!
Homeschooling for nearly twenty years now, Tricia faces a daily dose of chaos with five children. She shares a mixture of art lessons, recipes and helpful homeschool habits Your Best Homeschool. She and her husband, Steve, are owners of The Curriculum Choice.
-originally published 2015