One of the fantastic benefits of homeschooling high school is being able to invite great teachers into your home. We do this every day via Great Books homeschool video courses from Compass Classroom. I share towards the end a list of all of those we love for high school as well as a link to our Compass Classroom Curriculum Review Index!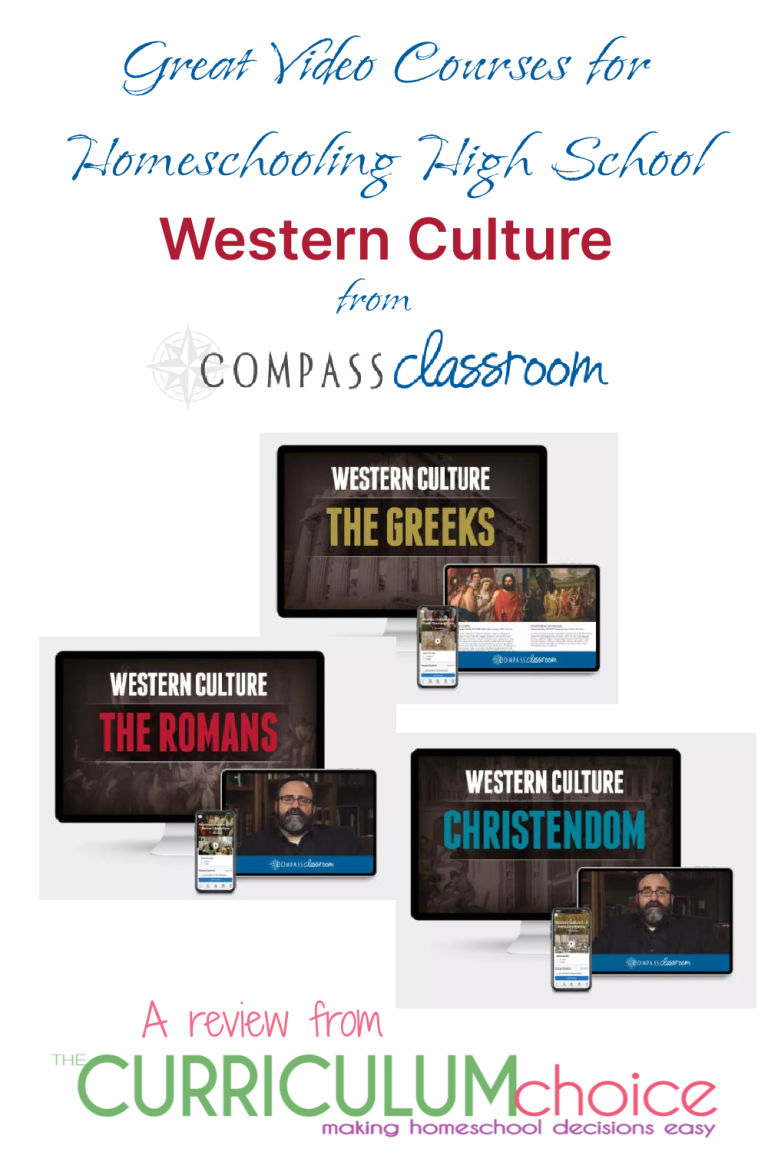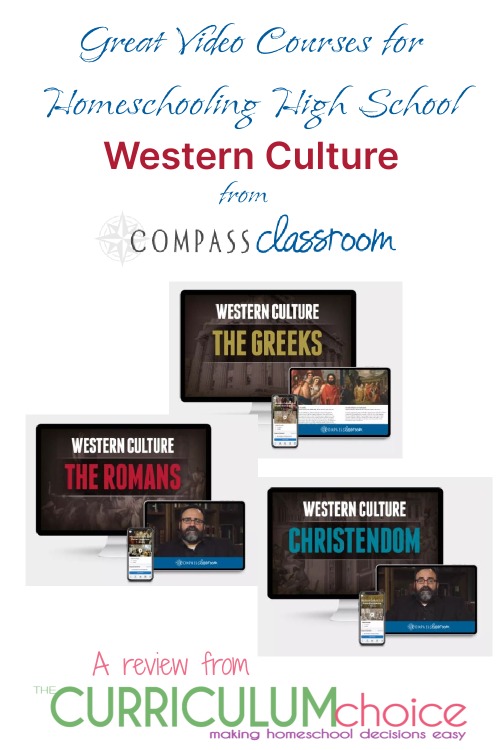 Great Books Homeschool Video Courses for High School
We received these Great Books Homeschool Video Courses in exchange for an honest review. All opinions are our own and we love this high school study with our older children. Please see our disclosure policy. The affiliate links included are for resources we absolutely love. If you purchase Great Books through our affiliate link, we will receive a percentage of the sale for no additional cost to you.
What is Old Western Culture?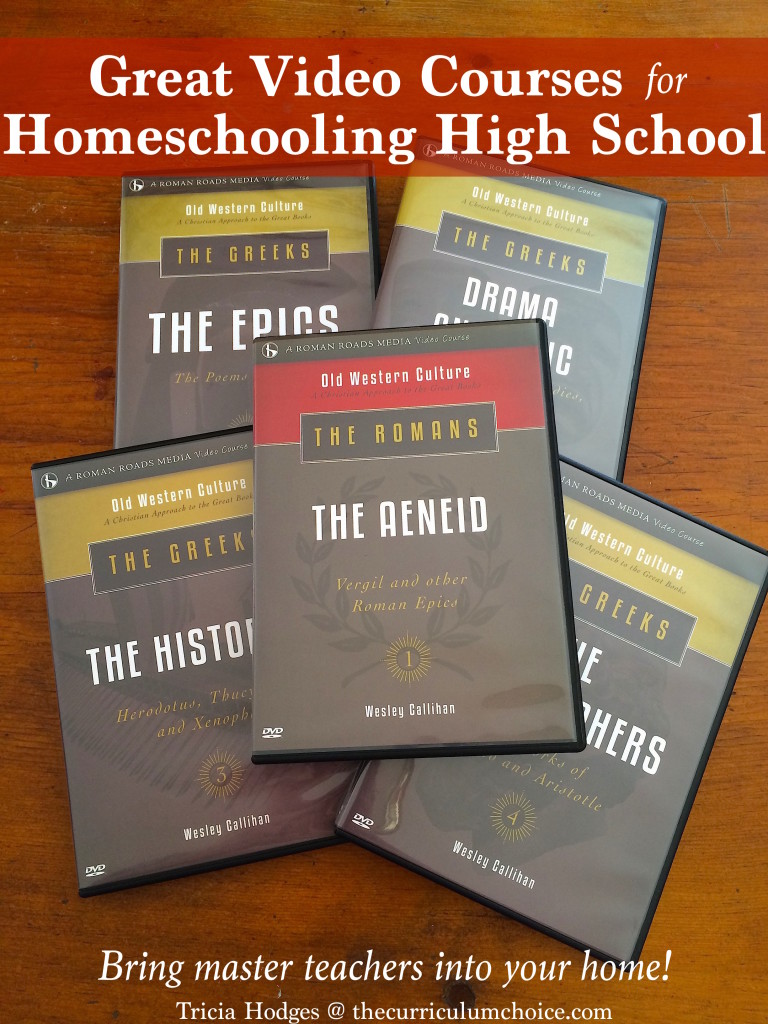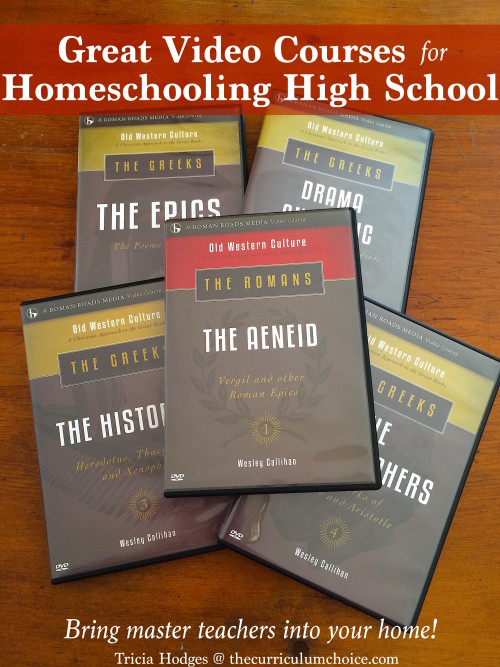 This year my high school junior and senior tackled one of the more challenging courses, Western Culture. This is a course on the Christian Approach to the Great Books. We paired this course as a supplemental resource with our ancient history Tapestry of Grace studies. This has made for an incredibly rich year and the equivalent of two full high school credits for each of my students.
Western Culture is a study of the great books that shaped western culture and the world. Studies available include: The Greeks and The Romans and Christendom
The Greeks is a full year of instruction which includes four units: The Epics, Drama & Lyric, The Histories, and The Philosophers.
The Romans is a full year of instruction which includes four units: The Aeneid, The Historians, Early Christianity, and Nicene Christianity.
Christendom is a full year of instruction which includes learning about St. Benedict, Charlemagne, and Alfred the Great in the first unit, Early Medievals. Discover the real story behind the Crusades in the second unit, The Defense of the Faith. Travel through through ' Dante's Divine Comedy in the third unit, The Medieval Mind. And finally, sit down with John Calvin and other Reformers and learn about the Reformation in the final unit, The Reformation.

From Compass Classroom: "Old Western Culture" is a literature curriculum named after a term coined by C.S. Lewis to describe the fabric of ideas that shaped Western Civilization. For centuries, a "Great Books" education lay at the heart of what it meant to be educated. It was the education of the Church Fathers, of the Medieval Church, of the Reformers, and of all the Founding Fathers of the Unites States. It is a CLASSICAL EDUCATION, based on the great books of western civilization. It is a CHRISTIAN EDUCATION, which sees the history and literature of the West through the eyes of the Bible and historic Christianity. It is an INTEGRATED HUMANITIES CURRICULUM, bringing together literature, history, philosophy, doctrine, geography, and art. And it is a HOMESCHOOL oriented curriculum, made by homeschoolers with the needs of homeschooled in mind, including flexibility, affordability, and ease-of-use. We bring a master-teacher into your home, and encourage parents to gain an overview of Western Civilization themselves by watching the video lessons with their children."
Don't miss this video overview of courses!
What Age is Great Books Homeschool Video Courses For?
These courses are designed for high school students ages 14 and older. We studied the Greeks this year as well as a portion of The Aeneid. This is a very rich, in depth course. Honestly, it has been challenging for my high schoolers. But that's what we wanted – something that would challenge us in literature. And it certainly has!

What Homeschool High School Credit Does Great Books Equal?
Your student will earn two credits for The Greeks and two credits for The Romans and two credits for Christendom. "Each year of Western Culture is a double-credit homeschool Literature and Social studies course. The double-credit assumes that the student will watch all the videos, read the required reading, answer the daily worksheets, and take 4 exams (one for each unit). This a robust course academically, and requires a lot of reading. Wesley Callihan will coach your student on how to approach the reading in the video."
Who is the teacher?
Wesley Callihan is a master teacher and storyteller with decades of teaching experience. I learned so much myself as I folded laundry and listened in on the lectures!
What does Old Western Culture Include?
Available in DVD or streaming format. Includes Student Workbook PDF, Teacher's Edition Workbook PDF, and Guide to the Art Booklet.

How Western Culture Video Course Works in Your Homeschool
For our family, we have found it is such a huge blessing to invite master teachers into our own home! We can tailor our schedule and pace. We can pause, take notes, go back and review. It is perfect for us.
Plus, if you think about it, the one time purchase (or streaming option) can be used for all of our children. So it is a wise investment in the long run. We have high school courses for our elementary-aged children already!
Here's a peek into one of our afternoons with Western Culture…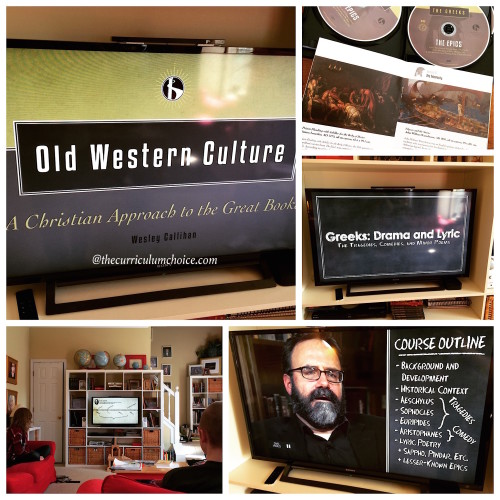 An afternoon of Great Books – Western Culture from Compass Classroom – with my high schoolers. I love that a master teacher can step in and offer such a rich, classical time of instruction. The Greeks course is a full year with four units: The Epics, Drama & Lyric, The Histories and the Philosophers. Equals 2 high school credits – literature and social studies ?
How Can You Get These Courses? Free Lessons to Try
Free Samples for you! You can get these courses in subscription form and stream with a monthly fee. It's awesome and affordable that way. Find everything you need to know about Western Culture at Compass Classroom.

DVD Course: The Greeks ($199.00) and The Romans ($199.00)
Monthly Streaming (full course): The Greeks ($12.00) and The Romans ($12.00)
Mega Bundle: A fantastic bundle of all the streamable courses from Compass Classroom (on sale for $14.00)
Check Out Our Compass Classroom Curriculum Review Index
We love all of Compass Classroom's curriculum and resources for homeschool. So much so, I've shared these reviews and more! Be sure to check out our Compass Classroom Curriculum Review Index to see all the Compass Classroom Curriculum Reviews!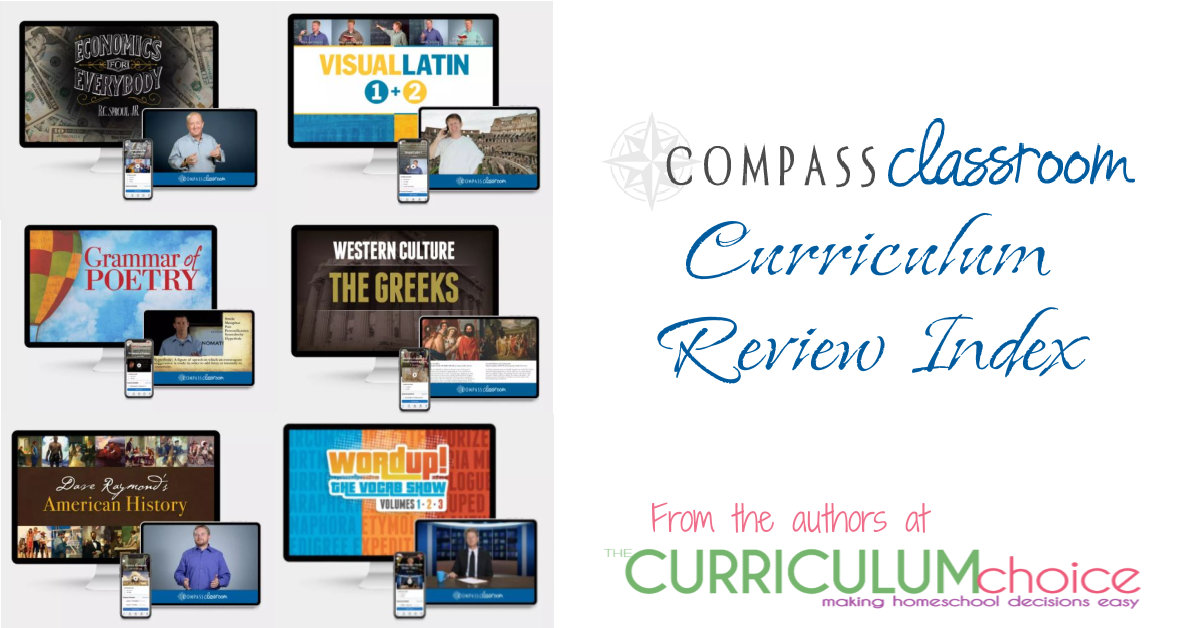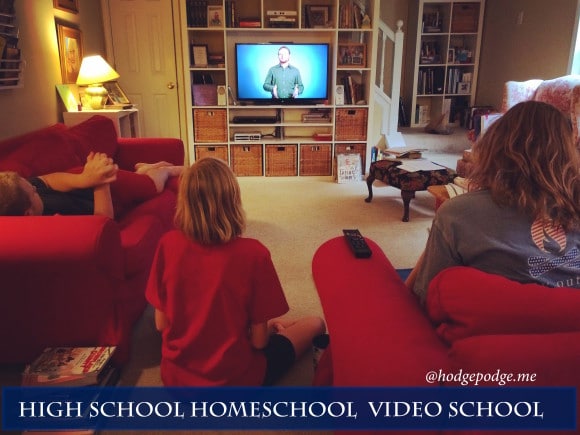 *You might also like my round up of all the Homeschool Video Courses for Multiple Ages we are using from Compass Classroom as both stand alone courses and supplemental, enrichment material for high school.
~ Originally published April 2016 by Tricia Hodges; Updated in 2023 to reflect some course changes.