My daughter is obsessed with Jack and Annie from the Magic Tree House books. She is constantly asking me to read the books to her. She is always prancing around the house in her backpack pretending to be Jack or Annie. She has even begged her dad on more than one occassion to build her a treehouse of her own.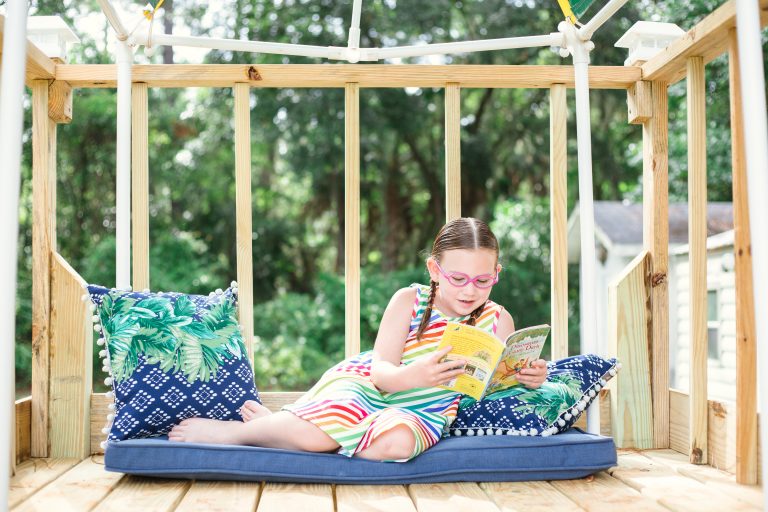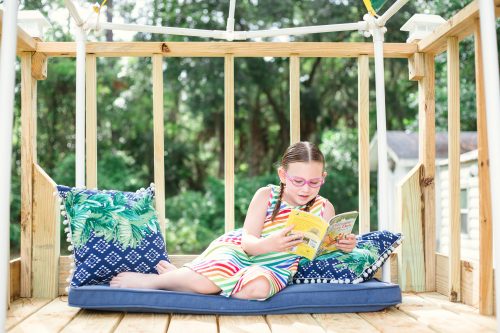 So it was no surprise to me when she told me she wanted to do Jack and Annie school the summer before first grade. At the time I had no idea what that would look like. But, I knew I wanted to follow her lead and see what happened. And that is exactly what I did.
By the end of the summer she had helped me plan what would become a year long study following the adventures of Jack and Annie. We would go back to the time of dinosaurs, meet William Shakespeare, and walk on the moon.
What about your kids? Do they love Magic Tree House books? Do you want to teach multiple subjects to multiple ages at the same time? Do you like to dive into topics as a family and have fun while learning? Then do I have something exciting to share with you!
All of that planning we did together? We turned it into a curriculum! So you can have the same amazing adventures we did!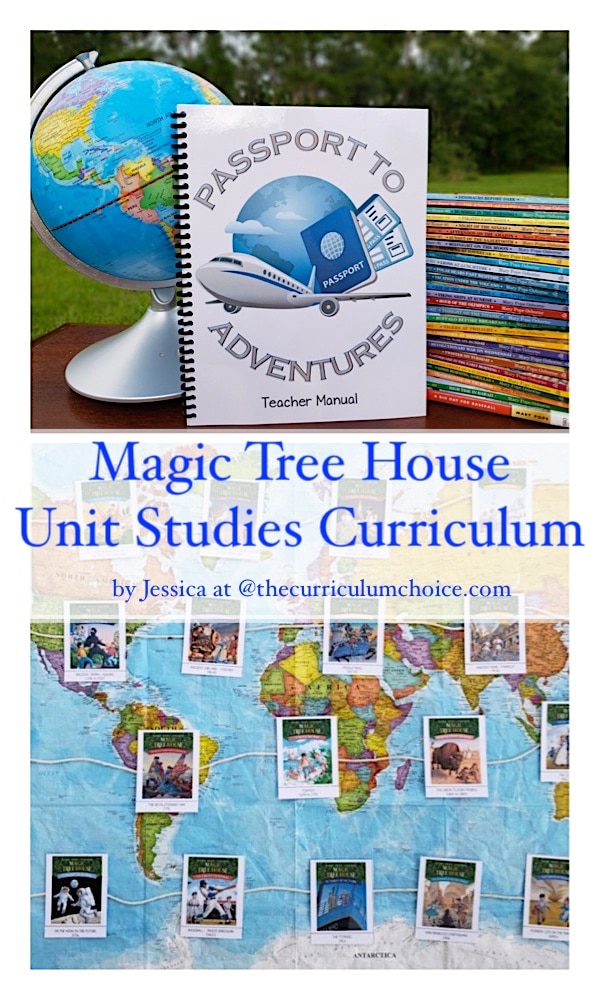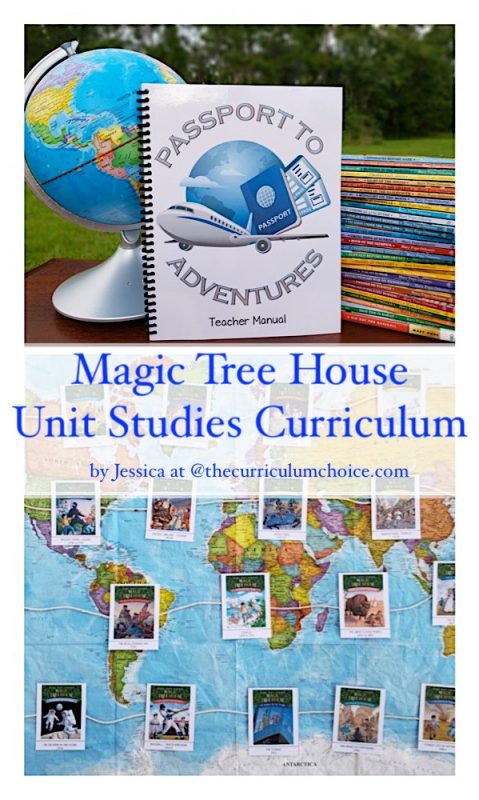 Magic Tree House Curriculum
Passport to Adventures is an elementary unit study style curriculum that uses the Magic Tree House books (1-34) as a spine. It covers science, geography, art and more in a hands-on, fun, and multi-sensory way. Each of the books is covered in a stand-alone unit that is designed to last one week. It was created to be flexible because each family is unique, and their learning adventures should be too.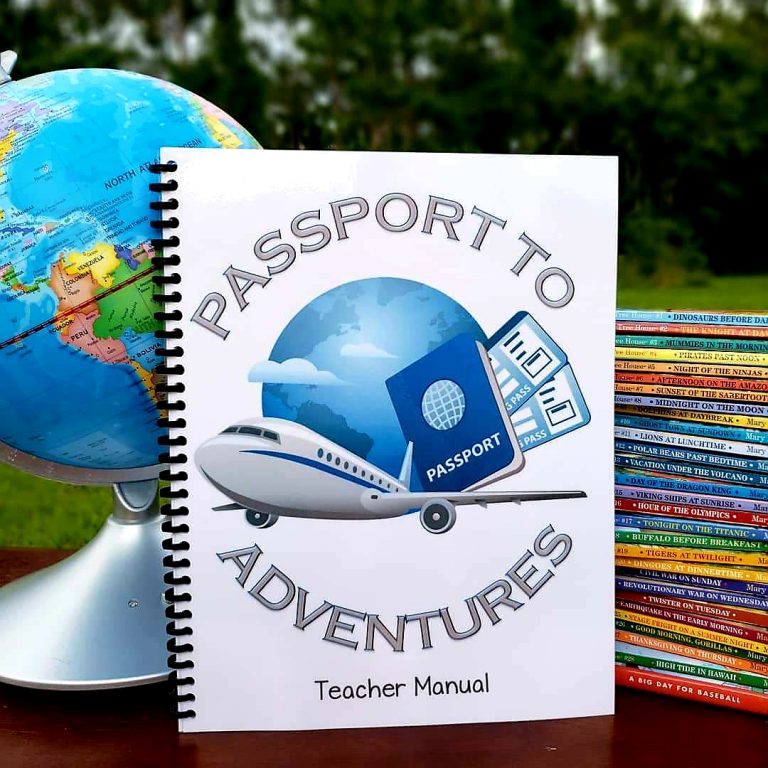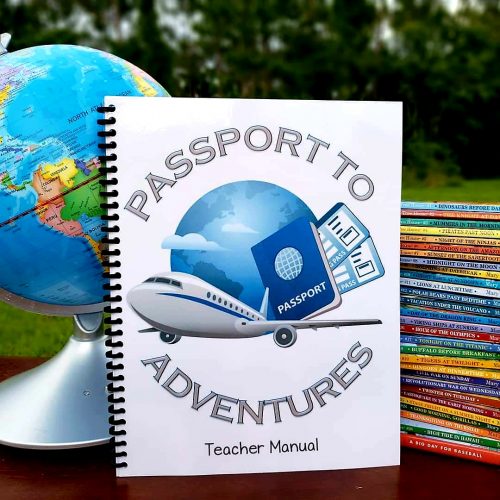 What is Included in Passport to Adventures?
Teacher's Manual
In the teacher's manual, you'll find a table of contents including the titles of each Magic Treehouse book you'll study during Passport to Adventures. I've also included a list of resource suggestions including books, videos, activities, games, field trip ideas, and research project topics. Finally, the bulk of the teacher's manual includes an easy to follow unit study with a buffet of topics for each of the 30 topics (29 books plus an author study) including a checklist and information list for every book topic. These are your lesson plans for each week. Actually, I have left them less structured to allow you more flexibility. If you want to complete all the lessons for a unit study in one day, go for it!
Student Notebook
I often get asked what grade level are Magic Treehouse books? The books are easy to read for early independent readers ages 7-10. However, you can read Magic Treehouse books aloud for these Passport to Adventures unit studies. In fact, I've designed this curriculum for use with lots of different ages, so it's perfect for sibling groups.
There are 4 different student notebook options in Passport to Adventures to make this curriculum easy to use with children of varying ages and abilities. Each student notebook includes a checklist to follow, a map to color as you go, and age appropriate learning pages for your kids to follow including:
A compare and contrast worksheet for the main characters
Coloring pages to keep your youngest learners engaged
Tracing pages with space for drawing pictures too
Manuscript copywork with drawing space
Cursive copywork with space for drawing too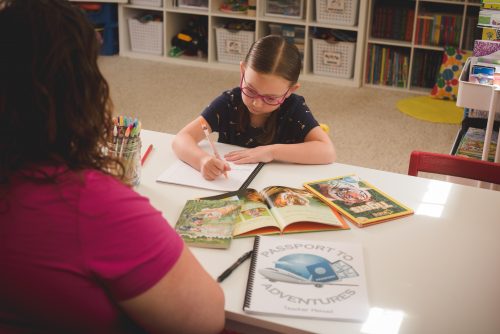 Timeline Cards
Also included are timeline cards for each Magic Treehouse book which you can hang to display or spread out on the floor, whatever works for you. These cards order the events in the book(s) for your early learners to begin to understand the historic timeline of events. I've also included cards with events but no specific time period. These blank cards are perfect for helping your kids develop research skills as they work to make educated guesses about when these events might have happened.
Race to the Magic Treehouse Game
Each unit includes a related game suggestion that's lots of fun for your little learners. However, if you're looking for a fun and simple game or perhaps you're unable to get the game suggested in the manual, try this Magic Treehouse game. This game is simple for kids to play. Children only need to roll the die and move forward. The first person to the finish line wins the game.
The best part about Passport to Adventures is your entire family can do it together and you can do the activities that suit your family the best. No two families are the same, so their learning shouldn't be either. Passport to Adventures offers you the ability to chart your own path with tons of ideas and suggestions along the way.