It's so great that in this technology based era we are seeing an increased amount of homeschool resources taking advantage of the technology. Today I'd like to share an American History Online resource from The Nomadic Professor.
Disclosure: I received The Nomadic Professor for free and was compensated for my time in writing this review. All my opinions are my own, honest thoughts and I was not required to post a positive review. Your experience may vary. Please see my full Disclosure Policy for more details.}
American History Online Courses from The Nomadic Professor
The Nomadic Professor offers American History Online Courses for high school age homeschoolers (kids in grades 9-12). They are online, engaging, and self-paced. Each American History course equal half a credit of United States history for high school.
American History Online Courses
American History 1 – To Begin the World Over Again: a survey of American history from the pre-Columbian era to the ratification of the Constitution. (through 1790)
American History 2 – The Noise of Democracy: begins as George Washington takes office and ends with Reconstruction. (through 1877)
American History 3 – Monsters to Destroy: up through World War II
American History 4 – A Great Consolidation: (available in the winter of 2023), will bring the narrative through the Cold War and almost to the present day. (Includes 9-11)
Why Choose The Nomadic Professor American History?
1. Not Your Typical History Course
Yes, I think this is a big plus for these American History Online Courses. The Nomadic Professor uses a combination of video and text (which can be read or listened to), along with quizzes and original source documents. The videos alone are worth watching! He travels the world to bring the sites and sounds of historical places to life for you.
2. Ease of Use
The Nomadic Professor makes his courses as easy to use as possible. The online flow is easy to follow with a checklist style format so students can easily see what they have completed and where they left off. The quizzes are automatically graded and for assignments that are not automatically graded he provides a grading rubric to follow to make it easy to grade!
3. Guided Notes
These American History courses include Guided Notes for every section. These help the student take efficient notes of the material being presented. They can be printed, but they are also provided as a fillable pdf so they can type right within the Guided Notes document.
Another Course from The Nomadic Professor
Another course The Nomadic Professor offers is Media Literacy. In this course students learn to evaluate the various sources competing for their attention.
They will follow today's headlines and partisan news coverage, find a range of sources that will constitute a healthy news diet, learn to understand and get behind the surface language and images, and gain perspective on the political landscape of information, arming themselves with lifelong skills for discernment and judgement.
* Using coupon code Nomad20 to get 20% OFF any recurring subscription. Offer expires 7/31/23
Giveaway!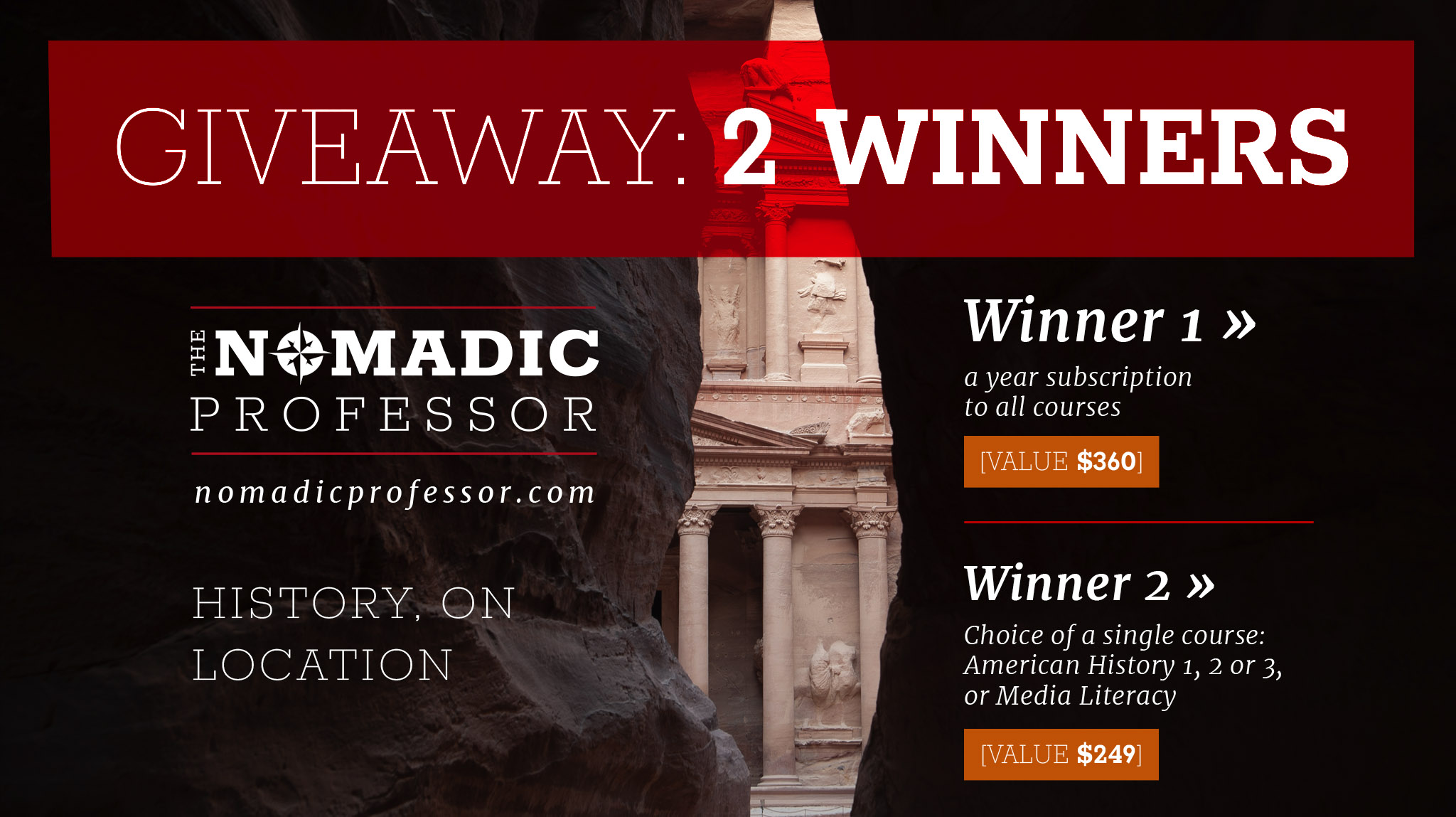 Be sure to enter this Nomadic Professor Giveaway!
Winner #1 receives a year subscription to all courses [value $360]
Winner #2 gets their choice of a single course: American History 1, 2 or 3, or Media Literacy [value $249]
More Homeschool High School Curriculum Options
For more homeschool high school curriculum options be sure to check out our Ultimate Guide to High School Homeschool Curriculum Options!