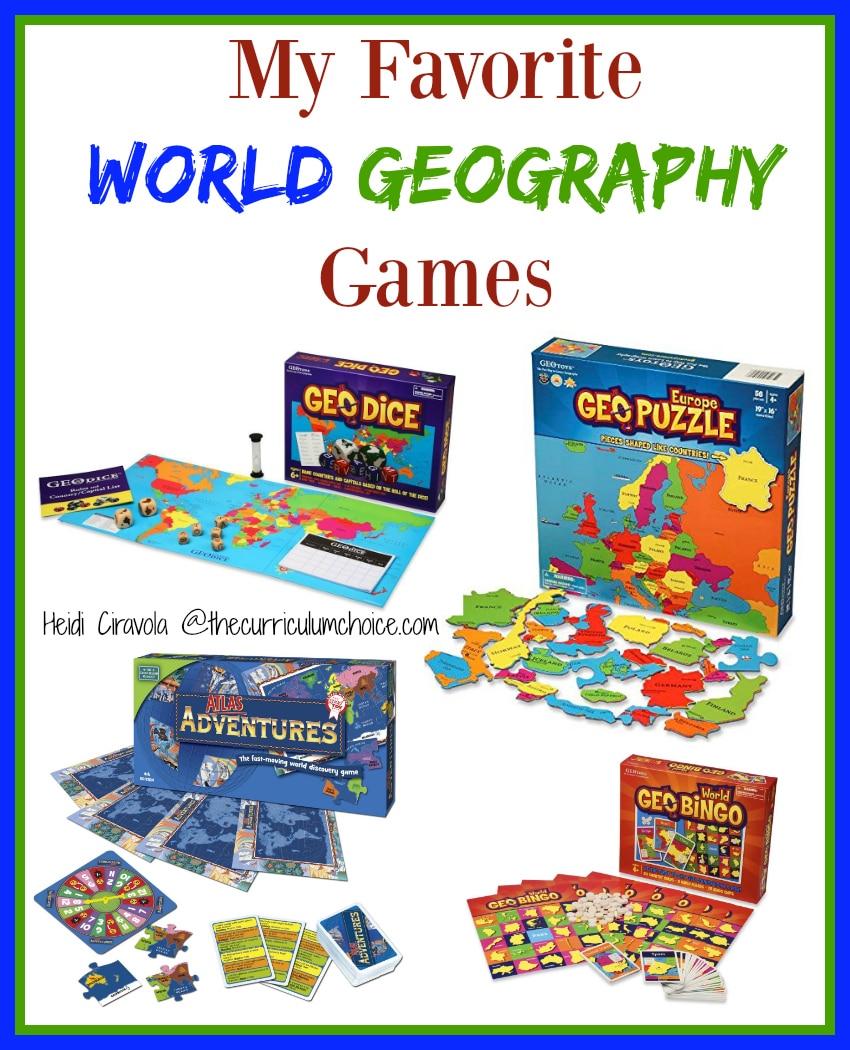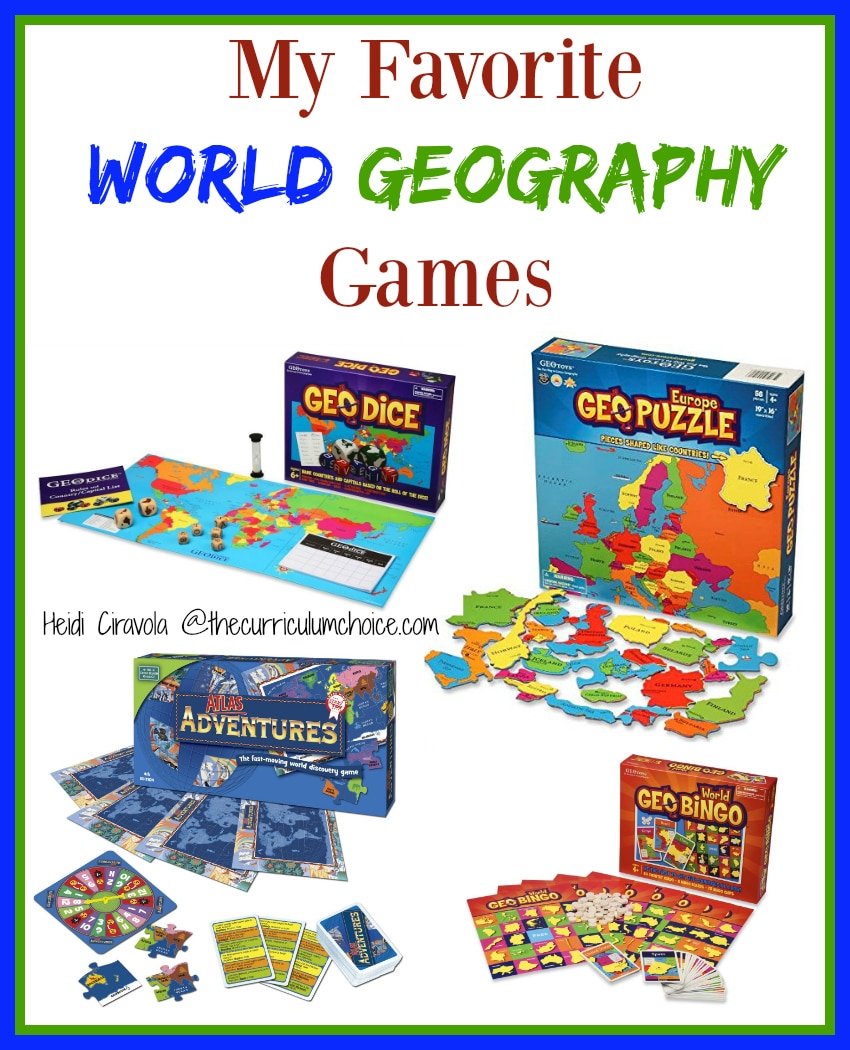 Throughout my years of homeschooling we have tried many different resources, curriculum, and teaching methods. When it comes to history and science we tend to lean towards a more hands on approach.
Geography has been something I have put more importance on with my children. I didn't half appreciate the importance of geography while I was in school, and now I find it to be so much more interesting, and important to teach in our homeschool. For this reason I have spent years trying out various resources, collecting games and hands on activities for learning geography.
Favorite World Geography Games
I would like to share with you some of our favorite and most used world geography games.
Geography Bingo
We love Bingo. Bingo is interactive and easily adjusted to various subjects, levels, and number of players.
While you can buy various versions of Geography Bingo our favorite is Geo Bingo from GeoToys.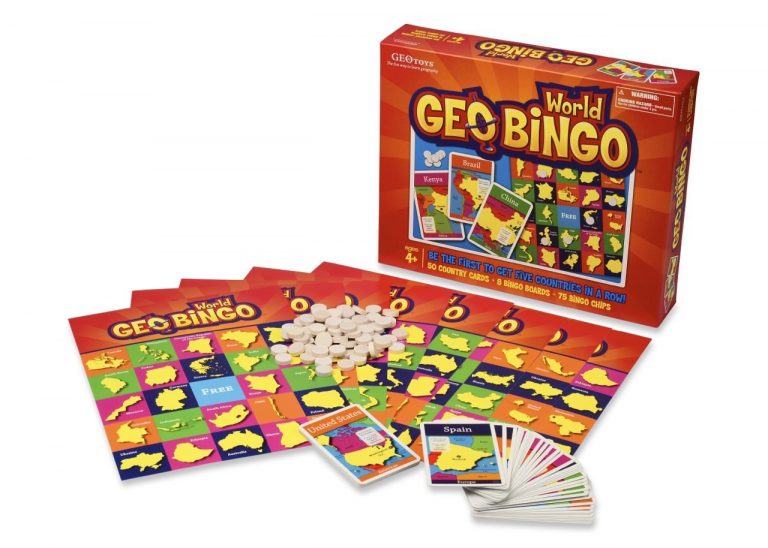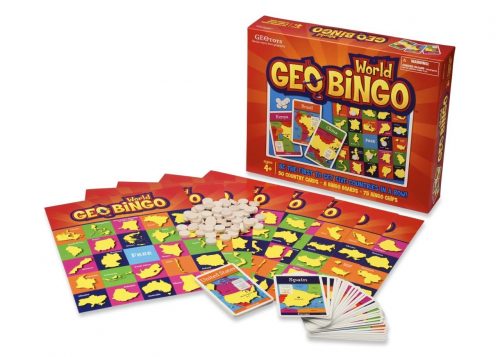 GeoBingo World contains 50 country cards, representing the world's most populous nations, that show each country's capital, land area, population, and geographic location. It is played just like classic bingo, only in this version you need to get 5 countries in a row to win! The simplistic country outlines make it easy for kids to learn the shapes of each country and the added information on the cards allows you to include learning other various facts while you play.
Atlas Adventures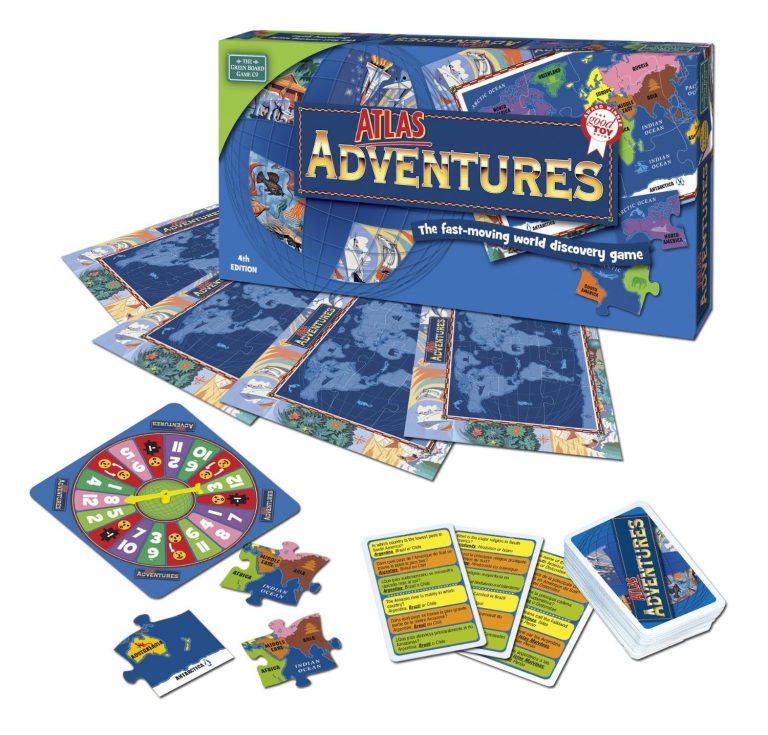 [amazon_link id="B0000AR6YQ" target="_blank" ]Atlas Adventures[/amazon_link] is a great family game night type of game. Each player gets a board (a puzzle of the world), which starts out in pieces. As you answer questions correctly you gain puzzle pieces. The first one to complete their puzzle wins the game!
I also suggest having a world map or atlas handy as some of the questions can be hard to answer. We enjoy using it as a learning tool and finding out new things together as a family. The rules are flexible which allows for you to make accommodations for younger or less knowledgeable players. (And like I said, we allow the use of an outside atlas or map as we are learning more than competing.)
GeoDice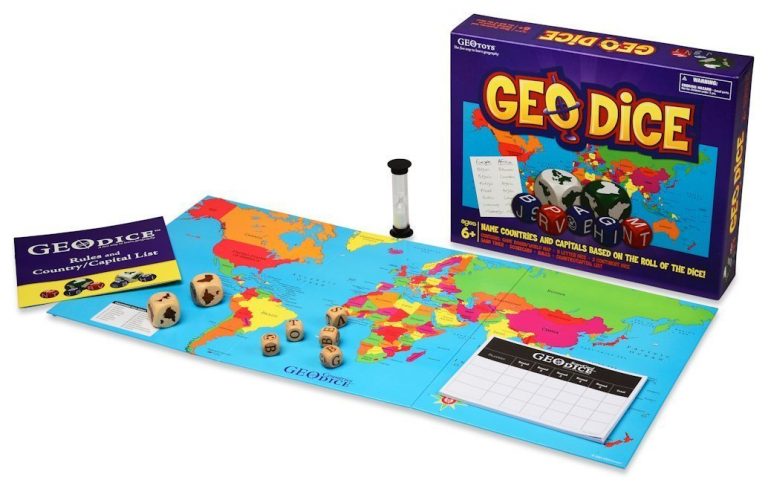 [amazon_link id="B004BFRNT6″ target="_blank" ]GeoDice[/amazon_link] is another game is best played with a world map for reference, especially if playing with younger kids or non-geography buffs.  I would say this game is more challenging than Atlas Adventures and you might want to reserve it for when you and your children are more proficient with your world geography. However, I find this game to be more fun when you reach that stage because it offers a heightened level of difficulty and critical thinking skills than something as simple as the Geography Bingo.
This game utilizes the rolling of dice to determine what your parameters will be for naming countries and capitals. After you have played for a bit you will begin to know what letters you would really like to roll with which counties to afford you the most options!
Geography Puzzles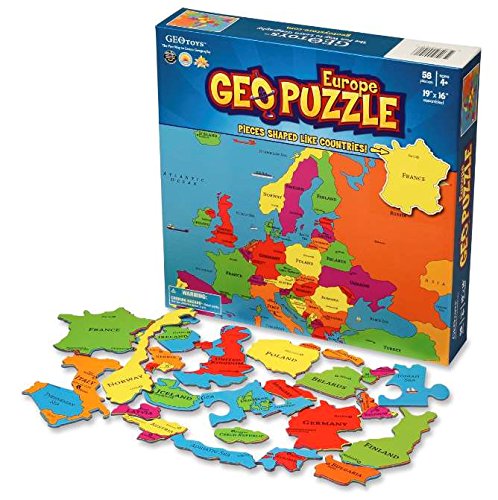 Puzzles offer a very non competitive but hands-on way to learn world geography. From world atlas puzzles to complete puzzles of one continent, puzzles offer a great visual for the shapes of countries, bodies of water, etc. They make a great quiet time activity as well as something fun and educational for kids to focus on that they can do independently.
GeoToys offers a great line of Geography Puzzles including world, U.S. & Canada, Latin America, Asia, Africa & the Middle East, and Europe.
What I love about these puzzles in particular (as not all geography puzzles are set up this way) is that the pieces are shaped like countries, states and provinces. This really helps to reinforce recognition of each country and where it fits in to the "puzzle" that is the world.
The second thing I love about these Geography Puzzles is that the pieces are just the right size (not too big and simplistic, but not too small for little hands), and they are plenty thick enough so they don't easily bend.
For a more in-depth review of just these puzzles check out this Geo Puzzles Review by Barb here at Curriculum Choice.
Not only do I highly recommend that you make geography lessons part of your homeschool, but these are some of the great world geography games that I encourage you to invest in to help you and your children have fun while learning geography!
We have also created and done some fun hands on geography projects in our homeschool such as Creating Our Own Atlas, and a fun game called Where in the World that I created to be flexible enough to allow us to study whatever geography topic/location that we wanted.
More Geography from Curriculum Choice
Homeschooling for 11 years now, Heidi has children at elementary, middle and newly graduated. At Starts At Eight you can find her writing and offering resources for middle school, high school, and many unit studies to span the ages.
Save
Save