Have you seen any of the Home School In The Woods Hands-On History materials? If you have a child who likes to work with their hands, cutting, pasting, coloring, etc. then you definitely want to see what Home School in the Woods has to offer!
As a young child, my youngest daughter loved making lapbooks about every subject she got interested in. Everything from bees and butterflies to knights and castles. She would keep all the lapbooks on her bookshelf in her room and read them over and over again! All the Home School in the Woods Hands-On History resources really helped me offer her tons of learning opportunities in a way that wasn't taxing on me. All the lapbook components were included, even mini texts for her to learn the information and create the lapbook pieces..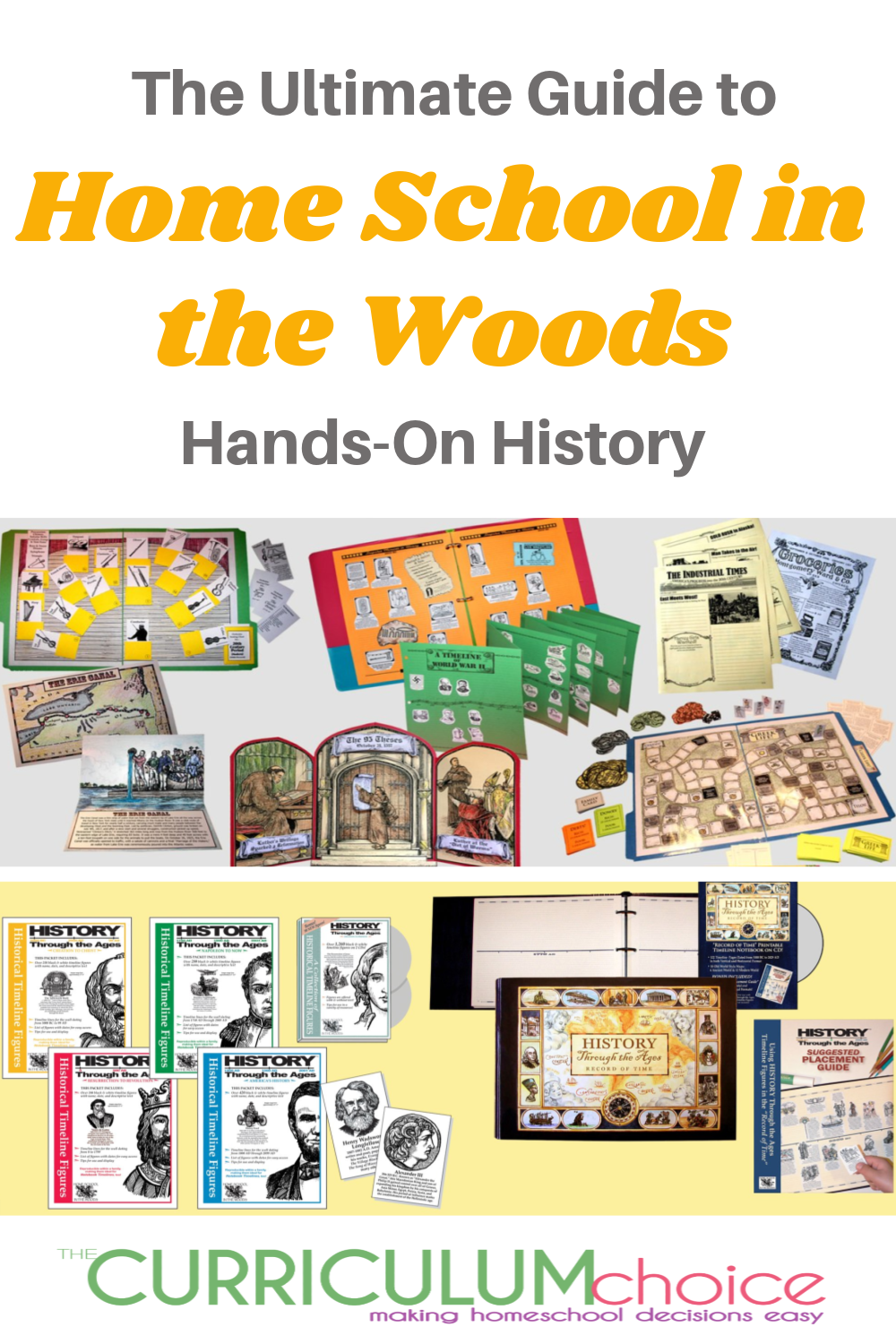 Affiliate links are used on this website. Please see our disclosure policy for more details.
Home School In The Woods Hands-On History
Home School in the Woods Hands-On History resources help you bring history to life for your children. They offer tons of lab book and hands on projects for just about every time period you can think of!
Below you will find a break down of the various Home School in the Woods hands-on history resources along with reviews for many of them.
**Please note that while some of the reviews are older and may contain broken product links, all the reviews are of current Home School in the Woods resources. If you find a broken link in a review, please refer back to this page where I have a current link to each of their product lines.
Home School In The Woods Hands-On History Resources in Action
1. À La Carte Projects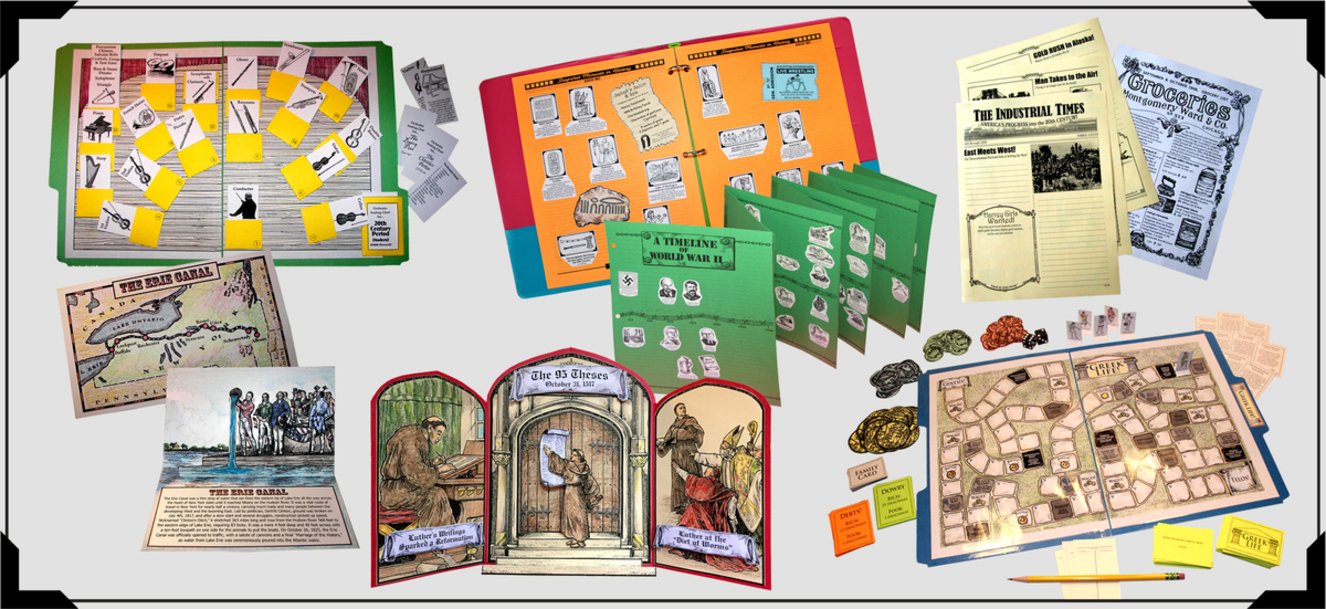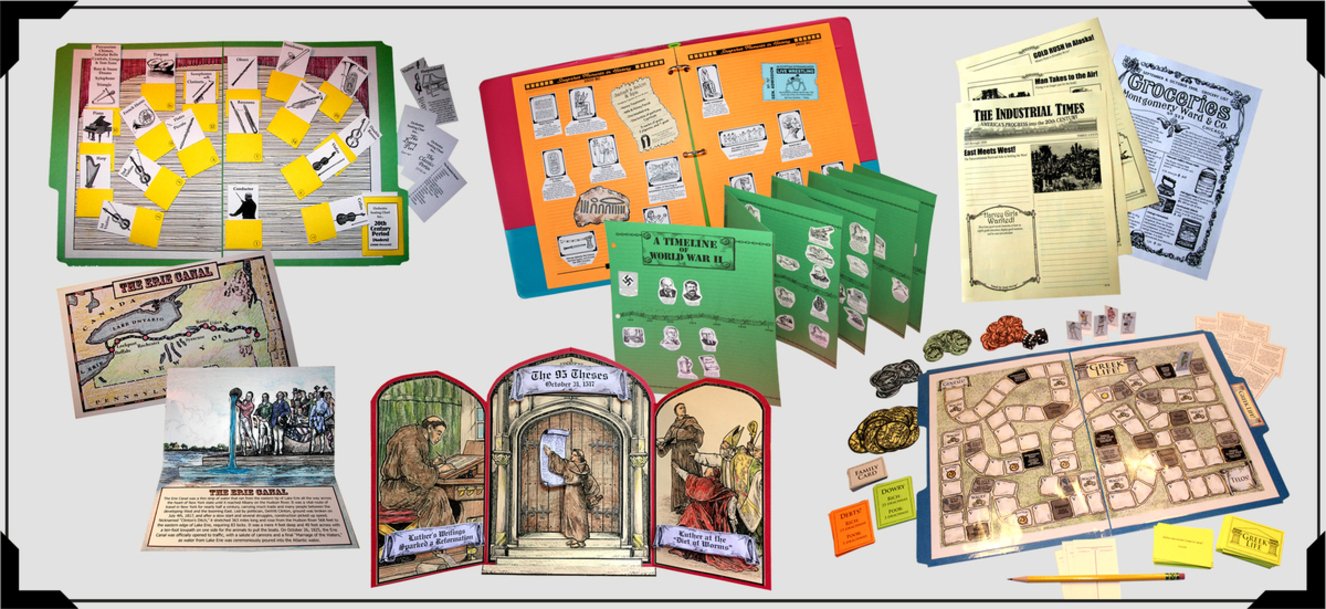 Individual projects designed to enhance your studies!
What better way to make learning fun than with hands-on activities! Choose from a variety of projects that include creative writing, 3-dimensional and authentic crafting, games, timelines, lap booking, and so much more! Check back often, as new À La Carte projects are added regularly!
When looking on in their store you can sort the projects by Historical Era (Ancient History, World History, Early America, 19th Century America, 20th-21st Century America, and Bible Times) as well as by Project Type (Timeline, File Folder Project, File Folder Game, 3-Dimensional, Game, Lap Book Project, Lap Book, Newspaper, and Notebook)
A review of À La Carte Projects From Home School In The Woods – includes some of their most popular and creative projects. Instead of purchasing a full curriculum, they've taken some of those projects and activities and now offer them as stand-alone products – making them a perfect addition to any history curriculum.
2. The Project Passport Series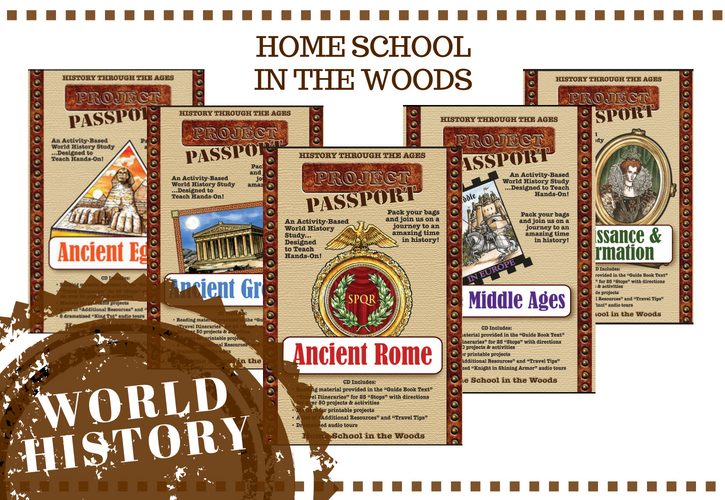 Suggested for grades: 3-8, each Project Passport contains 25 "Stops" (lessons) including Guide Book Text to read on a topic and a Travel Itinerary for project choices and directions. Masters for all printables are included.
Titles Included in this Series Are:
Review of Project Passport: Ancient Greece – The Project Passport series focuses on the events of world history. Each of the studies in the Project Passport series follows the same format. Your children will start by making a 'luggage' folder that can be used for each of the studies – just keep adding to it each year. Along the journey, you'll travel to 25 'Stops' that feature different aspects of the life and times of the study. Each stop contains plenty of hands-on fun – you can add pieces to your lapbook or scrapbook, choose from the many hands-on projects, collect postcards, make a timeline, or any of the other fun activities that are included.
Review of Middle Ages Passport History Study – invites children to take a trip through time to get a true understanding of history through dozens of activities and hands-on learning opportunities. Activities such as Souvenir Craft Cards, a File Folder Game, Postcards from Famous Folks, create your own "Medieval Times" newspaper, many lap book projects, and more!
History with Project Passport – The hands-on activities are really the star of the show. You'll find notebooking, lapbooking, file folder games, creative writing assignments, a timeline, geography, hands-on projects, even a few audio tours. There's such a variety of projects that the program is easily customized for your family – you can do as little or as much as you want. Best of all, one program can be used with a variety of ages.
3. Time Travelers American History Series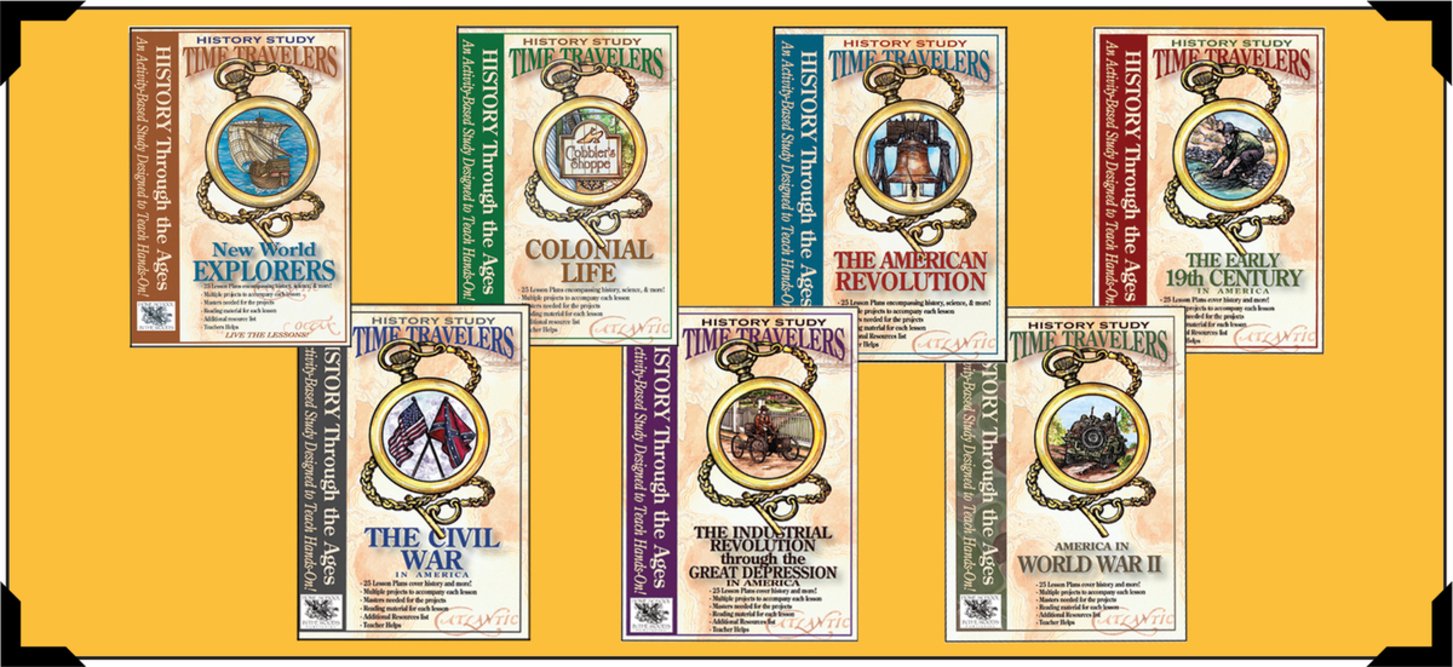 Suggested grades 3-8, the Time Travelers curriculum contains written text as well as several choices of activities for each lesson. These American history studies are designed to create a hands-on learning experience that drives the lessons home in a fun way!
Titles Included in This Series Are:
Home School in the Woods Time Travelers Review – filled with a plethora of amazing hands on projects such as arts and crafts, notebooking pages, timelines, time period recipes and dress, copywork or handwriting pages, writing assignments, games and flashcards, and lapbooks which can be used as the finishing project for the unit, plus numerous other projects that apply to the lessons and time periods.
American History Timeline Resources – The Gilded Age & 2nd Industrial Revolution – Using Time Travelers as part of an American History study cover 1871-1930.
Review of Time Travelers Paks – I have now used four of these wonderful Time Traveler packs with another two lined up for next year. Each one has been used pretty much the same way. We print out the pieces that we'll need to make our notebook and lapbook. Then we follow the schedule provided in with each Time Traveler CD.
4. History Through the Ages Timeline Materials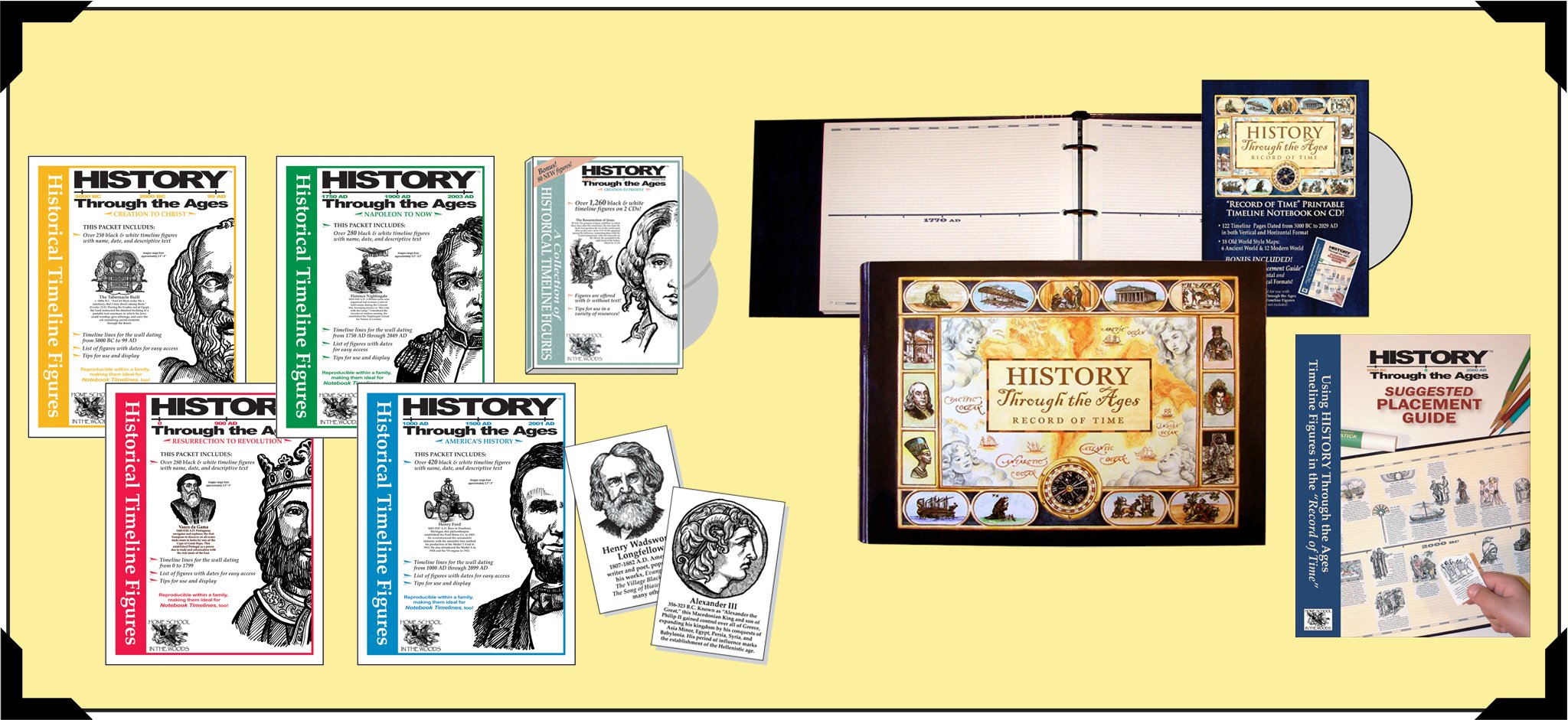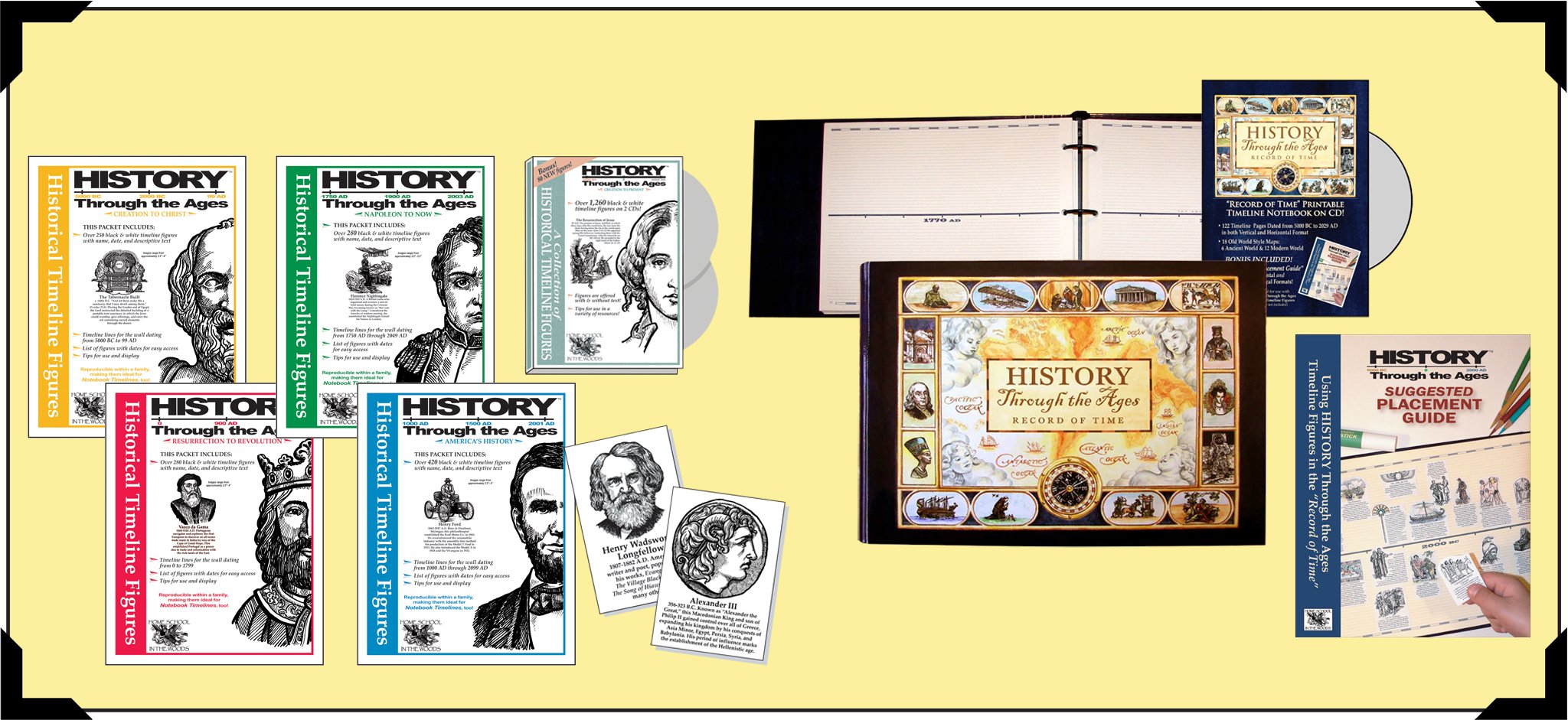 History Through the Ages Historical Timeline Figures help put the puzzle of history together. They allow you to follow across eras of time using illustrated figures to represent people and events key to world history. Using them on a wall will allow you to see the global picture, or you can use them in a notebook for portability that will become both a valuable resource and treasured keepsake!
Titles Included in This Series Are:
There are also add on packs such as:
How to Create a Timeline Based History Plan – Learn how to create a homeschool history plan that is timeline based with resources like Home School in the Woods History Through The Ages Timeline Materials.
A review of History Through The Ages – Record of Time Timeline Notebook & Timeline Figures – the notebook is a 12"x9" three-ring-binder style notebook that makes a wonderful keepsake when it's complete! The cover is sturdy and beautifully designed and the pages are a heavier cardstock so it is a great choice for all ages.
The timeline figures are beautifully illustrated! With more than 1000 timeline figures, you're sure to find plenty that correspond to your own homeschool history studies. Figures include important events and people in all areas – social, political, military, art, and music (you can find a complete list on the Home School in the Woods website).
History Through The Ages Timeline CDs Review – Timelines aid visual, kinesthetic, spatial, and logical thinkers. What's not to love? Well, the work of putting together a visually appealing, cohesive, historically-accurate timeline, for one. How about the time it takes to find all of those little pictures? What about deciding which dates to include? What about figuring out how to put the thing together? What about figuring out where to put it? History Through the Ages Timeline resources answered many of my questions, solved some problems, and simplified everything else.
5. Hands-On History Activity-Paks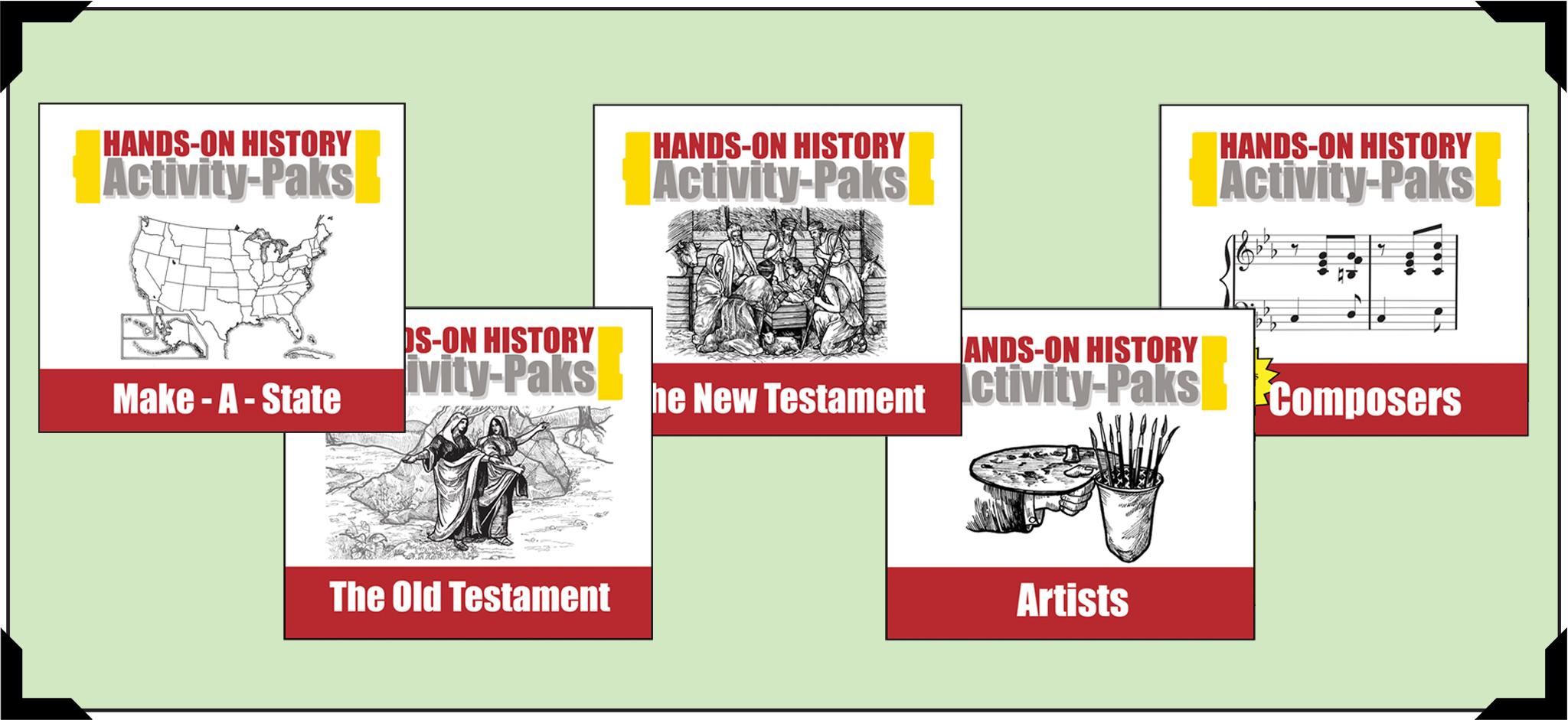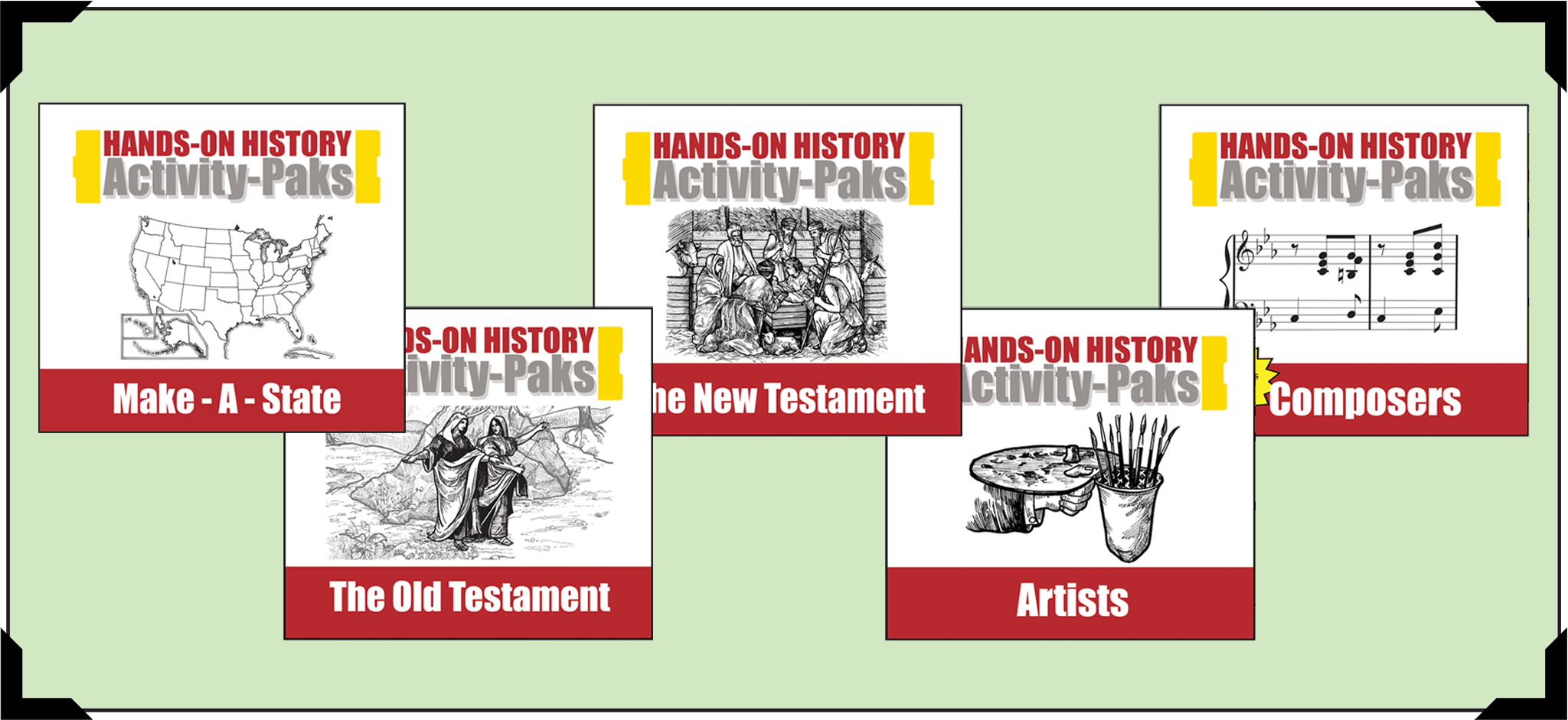 Each Activity-Pak contains projects on a topic for one complete lap book, as well as one or two other accompanying activities to embellish your studies!
Included in the Activity-Pak are step-by-step directions for each project, directions and photos for lap book assembly, and all the printable masters needed to complete each activity.
Use them to accompany any text you are using, whether curriculum, studies, or living books! Or, use the lap book to guide your studies by adding reading and research to each project as you do them!
Titles Included in This Series Are:
Review of the Make-A-State Activity Pak – includes everything you need to make a lapbook for every state in the US and Washington, D.C. You could easily spend a year or two learning all about the US states with the provided materials! While creating their lapbooks, your kids will learn to research (Home School in the Woods includes a list of recommended kid-friendly websites that your kids can use), work on mapping and writing skills, and have fun along the way!
Review of The Composers Activity Pak – everything you need to make your own lapbook – all the directions, printables, and detailed instructions for creating a finished lapbook and learn so much about a variety of composers. Included are Lapbook materials (directions & printables), MP3 music files, Orchestra file folder display, and 20 Composer cards.
Review of Hands On History Artists Activity Pak – "Hands-on" is the perfect description for this product because there really isn't much reading and text except for what is presented when doing the activities. That makes it ideal for the tactile learner. You can first do the learning projects and activities of your choice and then later use them to build the lapbook. This artists pak includes activities for these seven areas: art movements, art media, artists study, vocabulary, art assignments, board game, and personal sketchbook.
6. Hands-On History Lap-Paks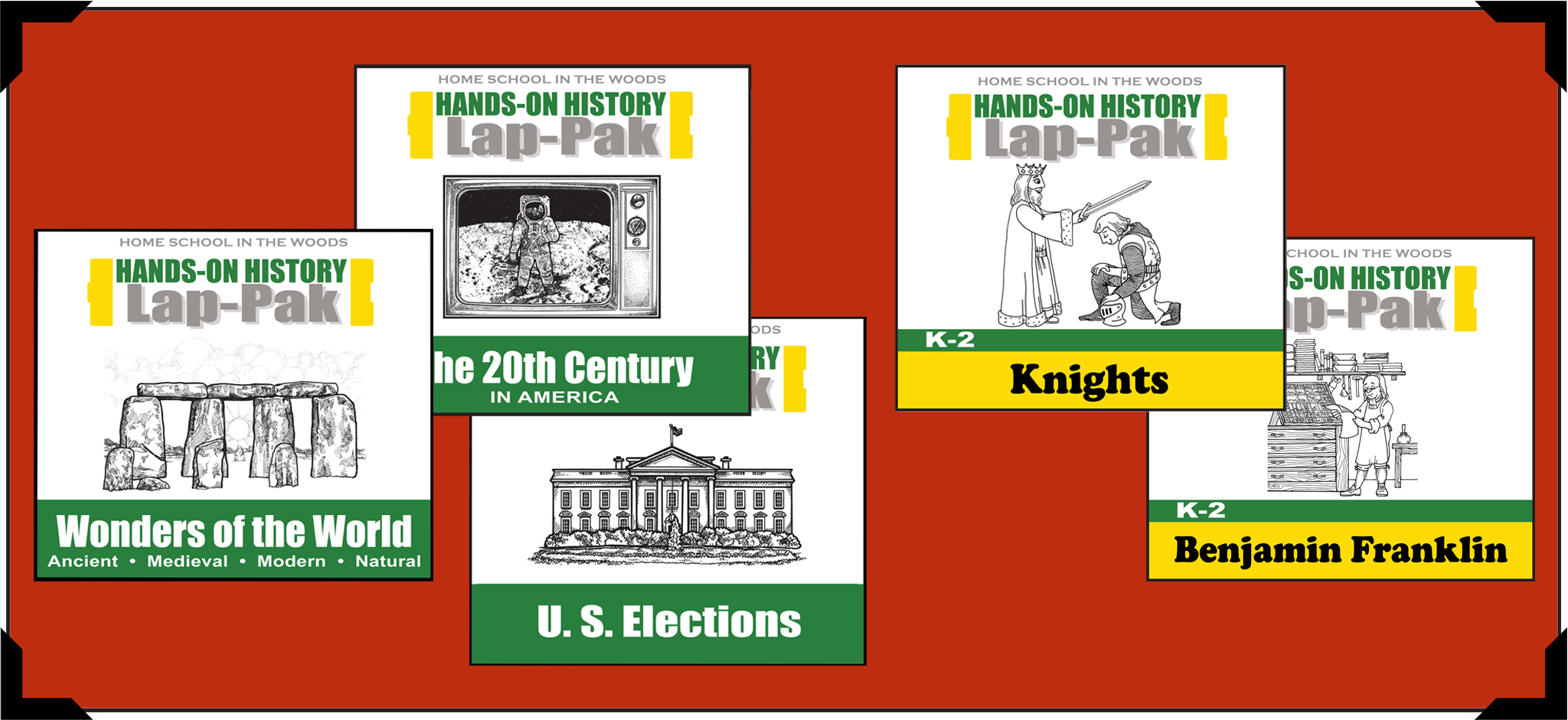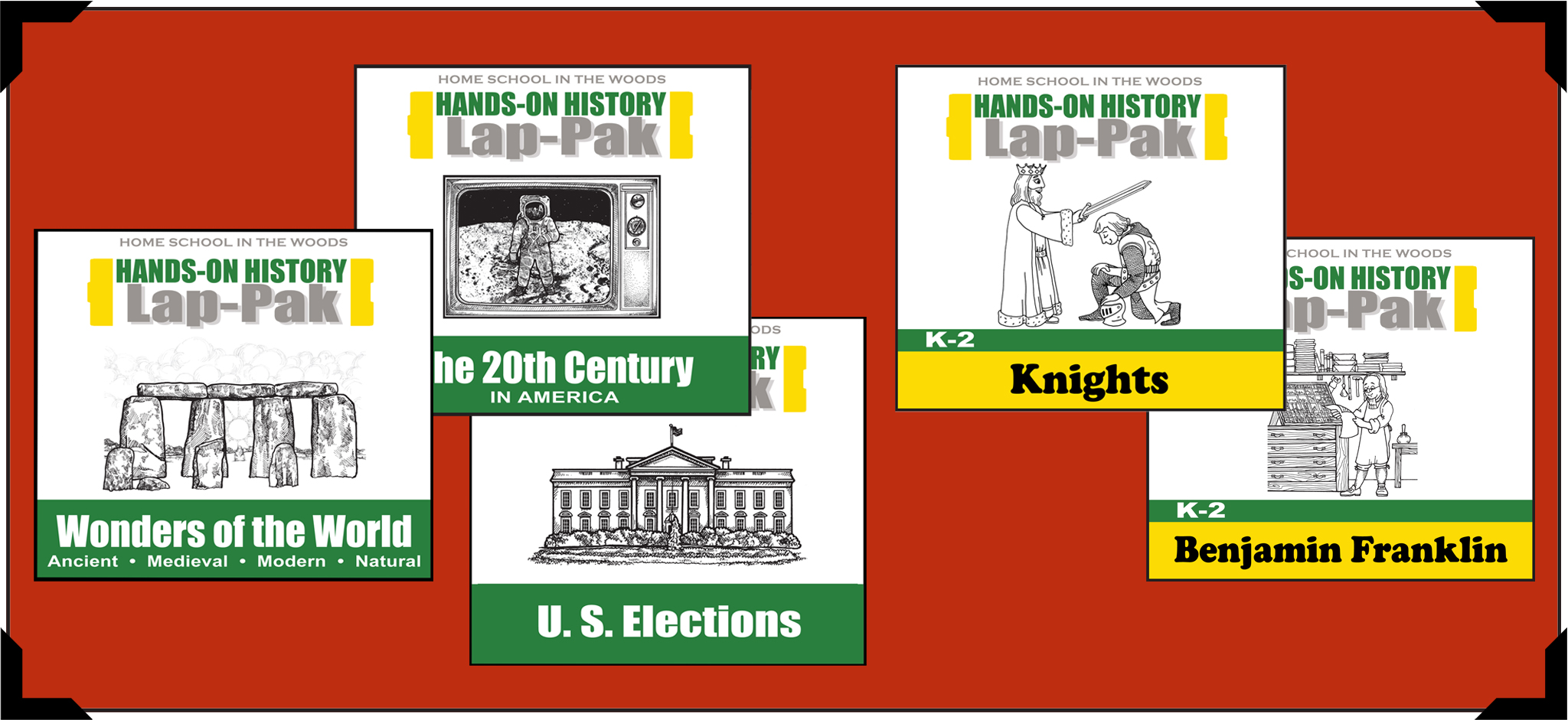 Included in the Lap-Pak are step-by-step directions for each project, directions and photos for lap book assembly, and all the printable masters needed to complete each activity. Because text is provided, use them as a stand-alone study or to accompany any additional text you are using. Or, use the lap book to guide your studies by adding living reading and research to each project as you do them!
Titles Included in This Series Are:
Review of U.S. Elections Lap Pak – The U.S Elections Lap-Pak is a self contained unit study that covers everything from the establishment of our country's government, the various aspects of a presidential campaign and finally, how we choose a president.
Knights Lap Pak Review – This lap-pak is smaller, more manageable, for the younger ages. They come complete with instructions for making the lap-pack, extra books to read, information/booklet on what your topic of study is, and even audio files.
Benjamin Franklin Lap Pak Review – The booklet for this lap pak that has all the historical information also comes as an audio! We tend to be pretty snobby, in our home, about audios. As the mother of a child with a vision disability we've listened to hundreds, if not thousands, of books in audio format. We can flip on a book and say, "Oh, hey, this is the same person who read us…" and come up with a handful of books. So when I say the narrator on this audio is sublime and awesome, I really REALLY mean it! Seriously, the voice was fantastic, clear to understand and downright lovely to listen to.
You Might Also Like