Even in this digital age, being able to clearly handwrite and read handwriting is an important skill. Most public schools no longer teach cursive. So how will kids learn to sign their name? How will they read things like their grandparents letters, old documents, etc.? This collection of Homeschool Handwriting Resources is designed to help you teach your children to legibly write in print or cursive.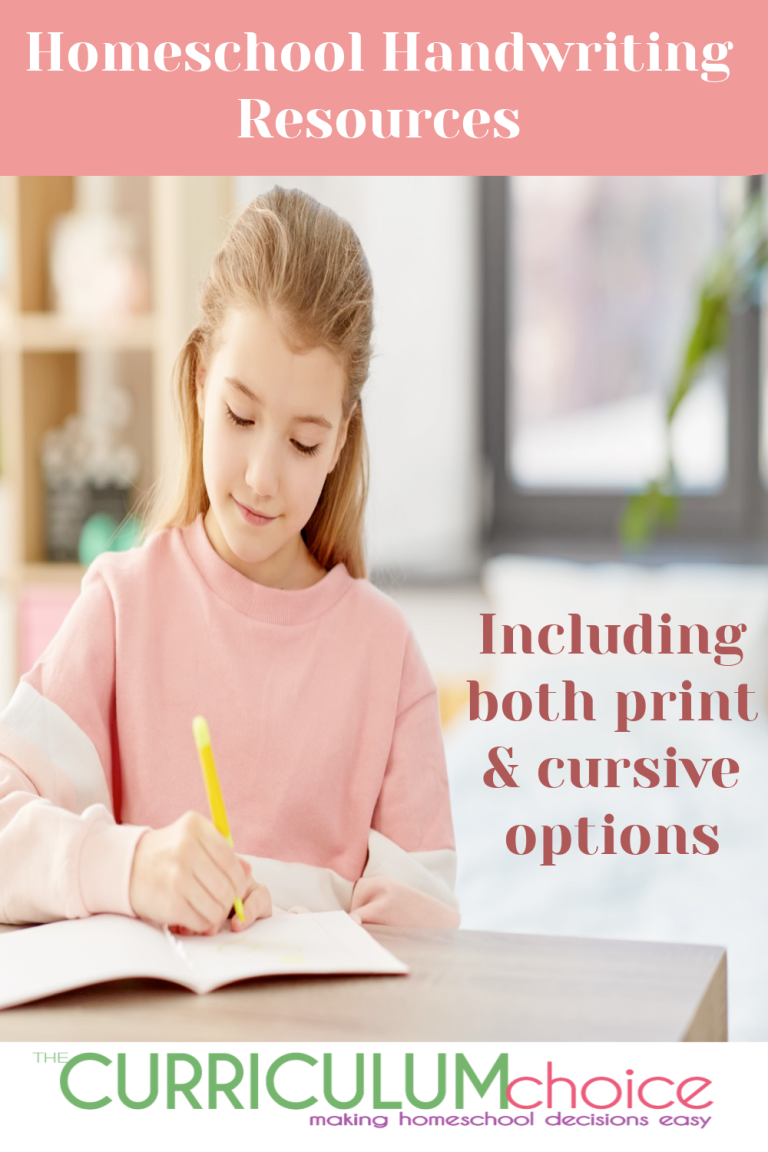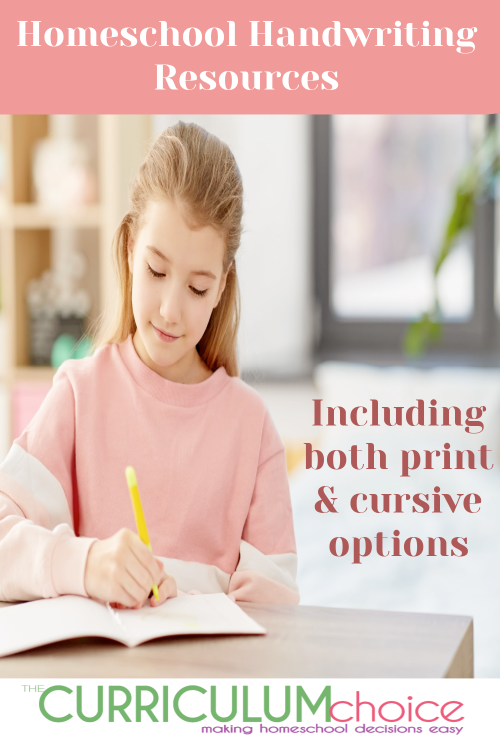 Homeschool Handwriting Resources
From print to cursive, we have an extensive collection of homeschool handwriting resources reviews to share with you! I have even listed fun games below that focus on the gross and fine motor skills required for good handwriting.
Indoor Play Activities that Help with Handwriting – There is a pack for both Gross Motor Skills and Fine Motor Skills
Transitional Homeschool Handwriting Resources
These are homeschool handwriting resources that have both print and cursive handwriting options.
Print to Cursive Proverbs – from Simply Charlotte Mason, print whole Proverbs out, and then get introduced to a new letter to practice in cursive!
Pentime Handwriting Series – a basic handwriting course with no frills or extra activities, just daily penmanship practice with workbooks for 1st through 8th grades. It starts out with printing and then transitions to cursive in the 3rd grade.
Handwriting Without Tears – Handwriting Without Tears is a handwriting program created by an occupational therapist. It is a 40 year program with proven success for thousands of students. It includes book like: My Printing Book, Printing Power, Cursive Handwriting, Cursive Success, and Can-do-Cursive
Learn to Print Resources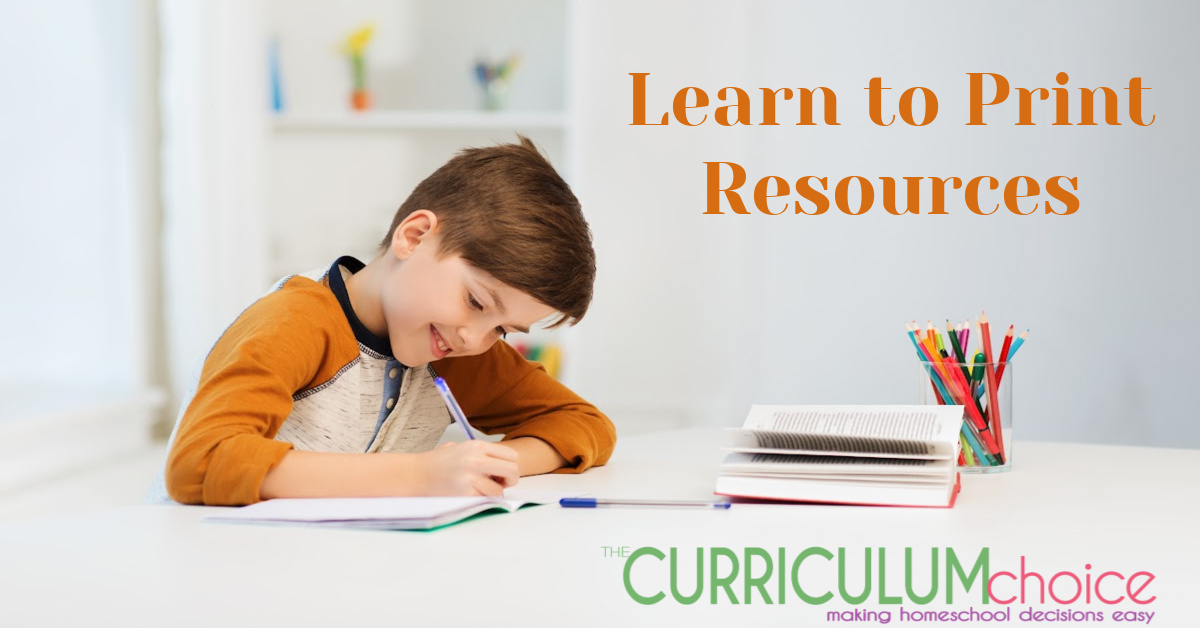 Handwriting Without Tears K: Letter and Numbers for Me – HWT provides clear instructions for letter creation. So clear in fact that my five-year-old boy completes his handwriting independently and well.
Handwriting Without Tears Hands-On Materials – The Handwriting Without Tears Hands-on materials are multi-sensory materials designed for children who are getting ready to learn to write and for those who are developing their handwriting skills.
A Reason for Handwriting – Here's another A Reason for Handwriting Review
Handwriting By George – a series of 4 workbooks based on George Washington's 110 Rules of Decency and Civility, each containing approximately 27 rules. It is believed Washington recognized these as appropriate behavior for a gentleman and they influenced his own behavior throughout his life.
Cursive Handwriting Resources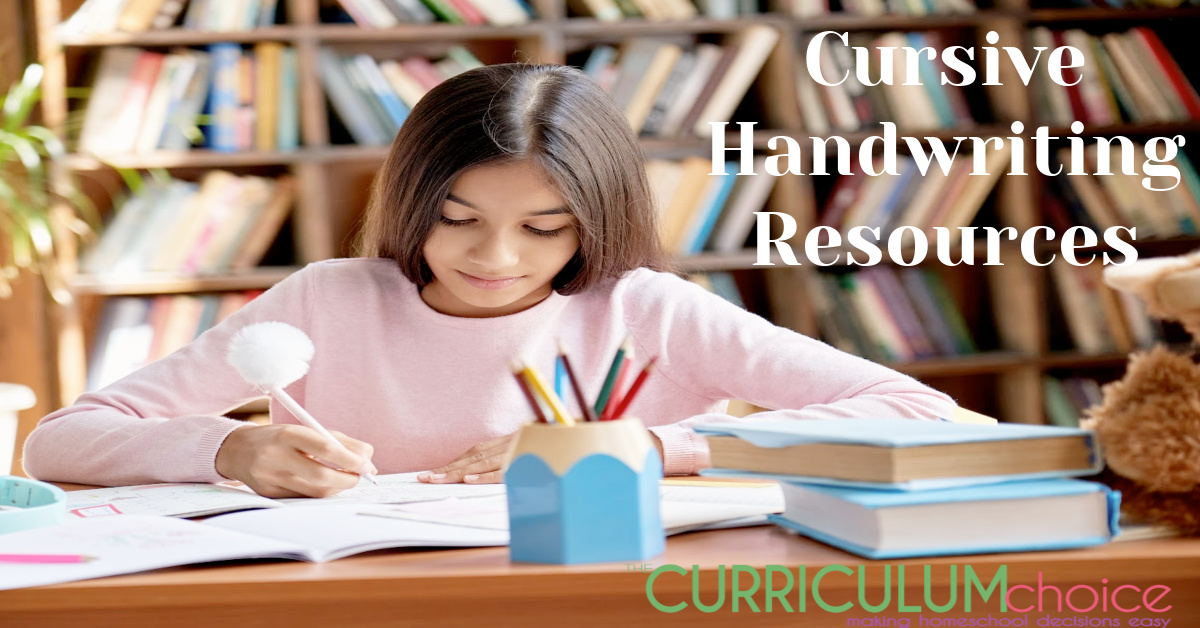 "Handwriting experts have struggled with the question of whether cursive writing confers special skills and benefits, beyond the benefits that print writing might provide. Dr. Berninger cited a 2015 study that suggested that starting around fourth grade, cursive skills conferred advantages in both spelling and composing, perhaps because the connecting strokes helped children connect letters into words."
Reasons to Teach Cursive Handwriting in Your Homeschool – While not taught in schools much these days, cursive is something we can add into our homeschooling. It has benefits you may not have thought of!
BJU Press Handwriting 3 – for 3rd graders. It helps the student develop his/her handwriting skills by tracing upper and lower case letters, free writing letters within the lines and then writing out whole words and sentences. There is a wide variety of writing exercises which keeps it interesting. Poems, Bible verses, personal compositions, writings on missionary work etc.
Conquering Cursive – Handwriting workbooks
Cursive Success – from Handwriting Without Tears
Cursive Handwriting Resources for Elementary – includes a look at Success with Contemporary Cursive by Scholastic, an easy to follow cursive handwriting workbook
Cheerful Cursive Writing and Reading – suggested for grades 2-4, this comb-bound book contains 160 pages of cursive practice with fun "stroke friends" like: Ski, Loopy, Surfer Sam, Bumps and Wags
Handwriting App for Teaching Cursive – a handwriting App for teaching cursive using Getty-Dubay® Italic Handwriting, making it easy to learn, even on the go!
Inspiring Quotes Cursive Writing Practice – includes tons of quotes and proverbs to copy, in 12 different sections, such as: Attitude, Character, Friendship, Kindness, Patience and Self Control, Team Work, and six more.
Beautiful Cursive and Art Lessons from Classical Conversations – These cursive writing books teach our children beautiful handwriting through MEANINGFUL content and art lessons.
TWO RESOURCES SPECIFICALLY FOR TEENS!!
Cursive Handwriting Practice Workbook for Teens – This unique teenage handwriting workbook provides teens who need to improve their cursive writing fluency a chance to do it with a more age appropriate workbook (since the sentences were prepared with a teenage audience in mind.
Advanced Cursive Handwriting Practice Workbook for Teens – For teens who need more advanced handwriting practice with a smaller font size and narrower lines, and without tracing exercises