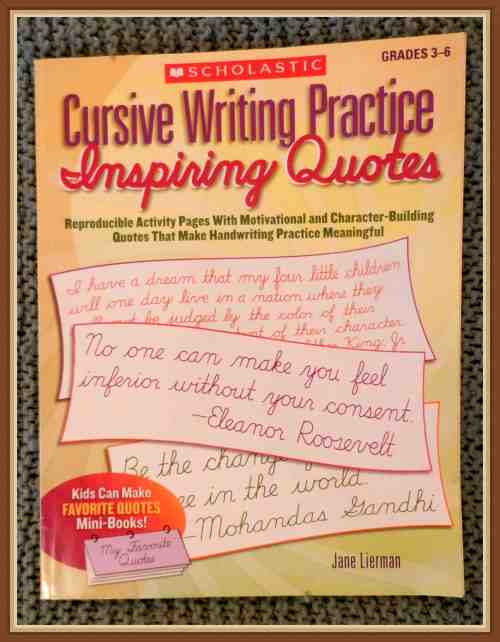 It's December and it's such a busy time for all of us…with preparations, maybe family coming to visit, and everything else that goes into December for our own families.  Then when January rolls around, and it's time to get back to homeschool again,  it can sometimes be hard to get back into the usual routine. It always was at our house.
Sometimes, in January, we often eased back into homeschool with a simple project, or a new little workbook, like the one I'd like to share today. Doing something easy, new and fun helped us get going again.
One special year – this book – Inspiring Quotes – Cursive Writing Practice, (by the folks at Scholastic), was just the ticket.  And it helped my daughter, then a 3rd grader, learn to write in cursive, while having fun with meaningful and inspiring quotes to learn and copy herself.
Inspiring Quotes includes tons of quotes and proverbs to copy, in 12 different sections, such as:
1.  Attitude
2.  Character
3.  Friendship
4.  Kindness
5.  Patience and Self Control
6.  Team Work
and six more.
In addition, there are practice words to copy, to go along with each quote.  My daughter loved reading and copying each quote, and found so many favorite ones, that she decided to make a mini-book of them.
Sources for these wonderful quotes come from such folks as Eleanor Roosevelt, Mohandas Gandhi, Winston Churchhill, and many more.
In the back, there is a template showing how to make each cursive letter.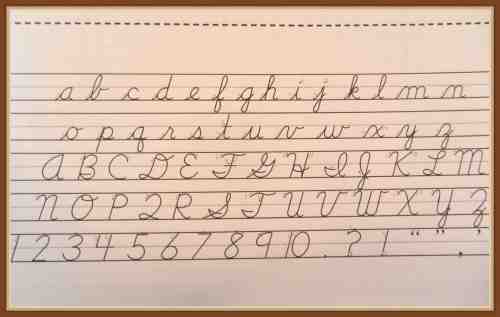 Who says cursive doesn't matter? It teaches kids how to write, so that they can make their own signature later, it improves eye-hand coordination, and it's helpful for writing all those thank you cards, too. I am glad that I taught my daughter to write cursive!
So, if you are looking for something fun to inspire your kids in January, my family recommends  these easy to use little workbook by Scholastic – Inspiring Quotes – Cursive Writing Practice.  For more information, please go to www.scholastic.com, where they have tons more resources, too.
~ Betsy is a christian writer and veteran homeschooler, who blogs at BJ's Homeschool, about high school,  college, and all the fun of homeschooling the early years, too. She is mom to her 18yo, who is now a freshman in college.  Betsy offers homeschool help to families here.