Apples, cucumbers, beets, kohlrabi, pumpkins, and zucchini – these are just a few of the vegetables that come to mind when I think of the fall harvest season. I grew up in a rural area so access to farm fresh fruits and vegetables has always been relatively convenient.
I recall very fondly the heat of the late summer days when my brothers and I would accompany our mother to Dillard to pick our own vegetables. When school would resume the following week, my mother would spend the day canning and putting away stores for the winter while we sat at a desk in our classroom.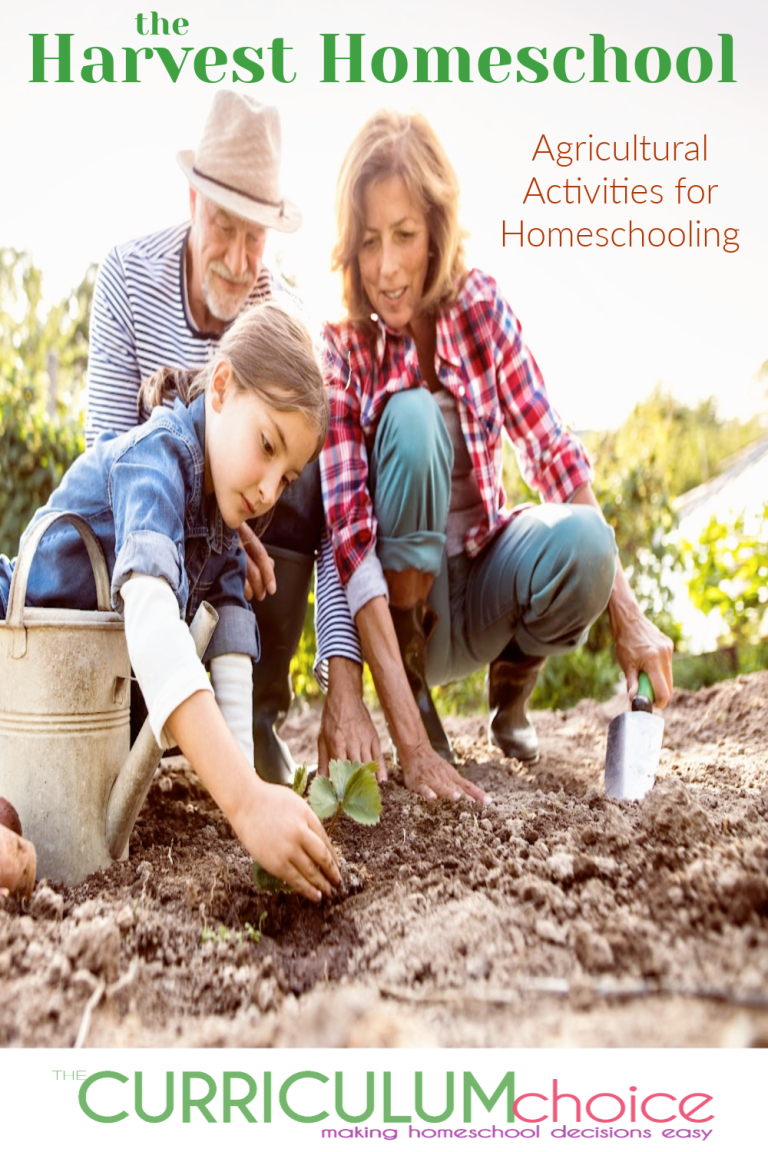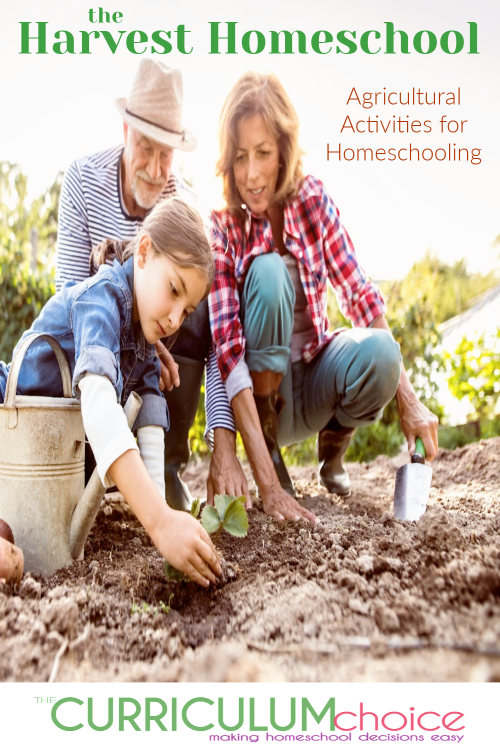 The Harvest Homeschool: Agricultural Activities for Homeschooling
As my own children grew, I wanted to assure they had a strong connection to the earth and knowledge of where our food comes from. It was important to me that they be able to describe the process by which cheese is made or where pickles come from.
Looking back through The Curriculum Choice's archives I found several posts that share ideas and inspiration for you to draw upon as you guide your children to connect with our natural resources. In honor of the farmers and ranchers across the country who grow the food that nourishes our bodies, we here at The Curriculum Choice, bring you some of our favorite harvest posts and resources.
Harvest Homeschool from the Archives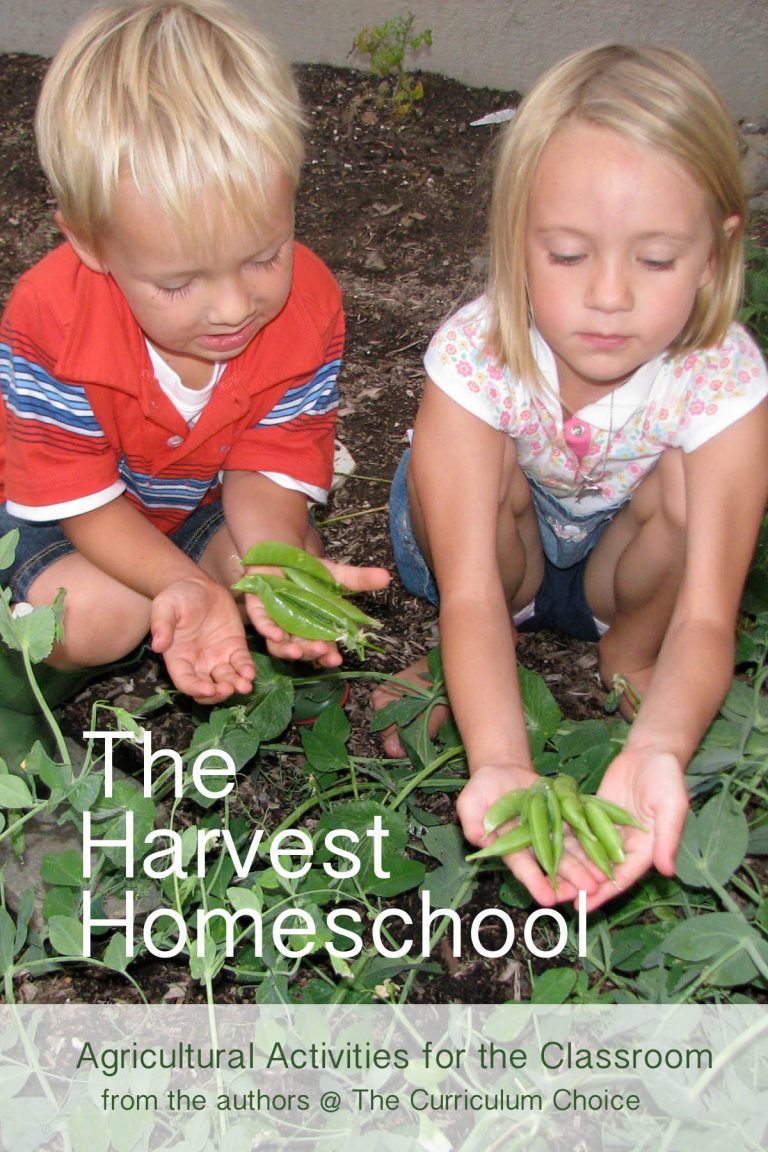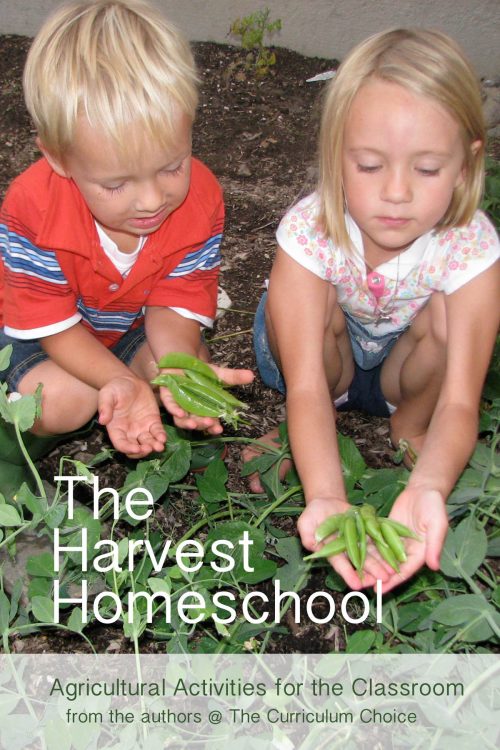 There is perhaps no better way to learn about agriculture than by caring for a garden of your own. Stephanie Harrington reviews a Gardens Unit Study by Amanda Bennett – a perfect academic component I guide you through gardening as a summer project,
Ever wonder how maple syrup is made? Come along with our own Tricia Hodges as she shares a great video resource, More Than Making Maple Syrup. "We sure enjoyed this seasonal study of maple trees, tapping, making maple syrup and more! Truly this DVD is … a unit study by itself or a jumping off place for further study."
And a few more…
The Harvest Homeschool from Curriculum Choice Authors
Eva at EvaVarga.com
One of our earliest harvest experiences was observing how cranberries are harvested here in Oregon. We visited a local bog and returned again a few times in later years as we continued to explore this unique product. Here's a great recipe for Cranberry or Lingonberry Cake.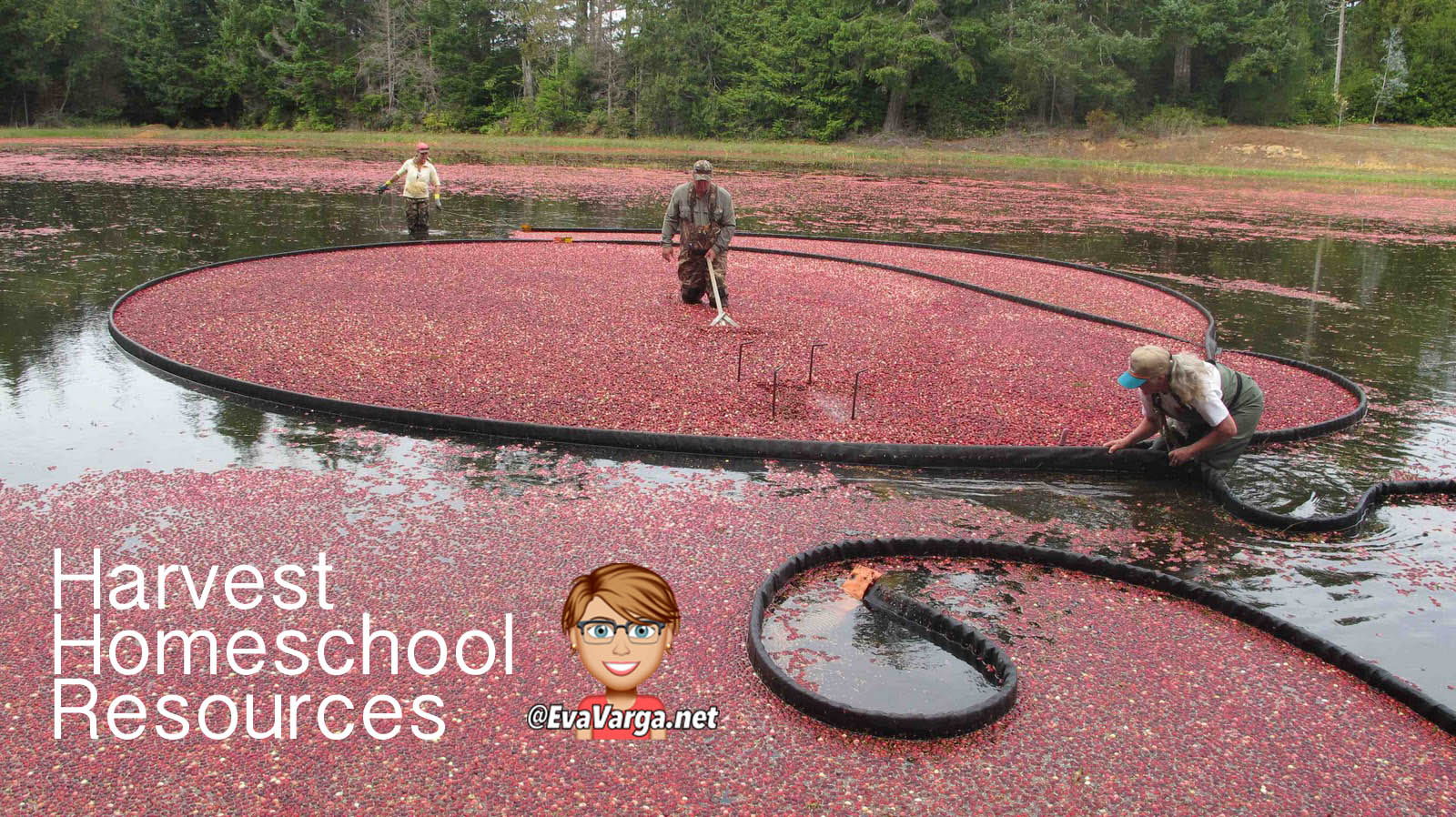 Would you believe that some of the best lesson plans and resources for hands-on activities is available for FREE!? The Department of Agriculture and the many related agencies underneath this federal agency often provide literature and resources for educators.
A few years ago, my son entered a creative writing contest sponsored by the California Foundation for Agriculture in the Classroom. In addition to providing lesson plans, posters, and student handouts, the contest provided inspiration for students to apply their knowledge in a unique way.
One of the our most memorable field trips was a visit to Lucero Olive Oil Company near Corning, California. Not only did it provide us with the behind the scenes look at how olives are harvested and processed, we also got to sample many delicious varieties of oils and balsamic vinegars. You will be surprised how we like to enjoy these today.
Don't limit yourself to modern harvesting practices. Learn about past practices and farming techniques in your area. There are many heirloom varieties, for example, that are not available commercially. Seek out opportunities to learn how the native peoples in your region harvested the foods that were common in their diets. Learning how to grind acorns for flour, cooking, and even medicinals also serves as wilderness survival skills.
Integrating agriculture into your classroom with authentic, hands-on activities will help cultivate an understanding and appreciation of the foods that we all rely on every day. Here are a few of my favorite resources for agricultural lessons.
Annie Kate from Tea Time with Annie Kate
We have gardened seriously for about fifteen years, and serious gardening leads to serious harvesting, something that usually happens during the first weeks of the traditional school year.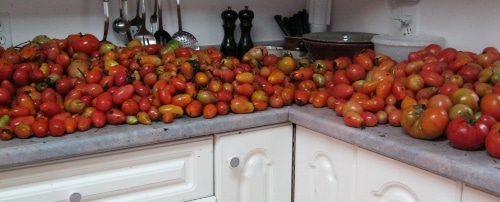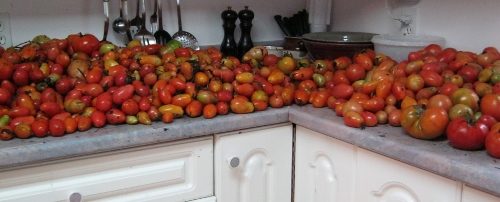 Each year this bothers me. I hate to interrupt the beginning of formal learning just to make sauerkraut or salsa, or to dry herbs, or to freeze produce.
So each year I remind myself that harvesting is a learning activity, too. Our children need to know how to gather food, ideally for themselves and their future families, but also for a knowledge of where food comes from and how people in history lived. As a culture we are distancing ourselves from the very basics of life—like food production, useful physical activity, and an awareness of nature— and as homeschoolers we can address that by participating in the harvest, whether from our own gardens, from local orchards, from farmers' markets, or from seasonal produce in the grocery store.
Over the years I've learned that the harvesting is itself the curriculum. It involves learning, skills, and even creativity, such as when my daughter discovered a better way to pit plums for jam and sauce. Of course, we start the year's math, science, Bible, and literature as well, but by changing my mindset and acknowledging the educational value of this hands-on work, I can be at peace in the midst of the flurry.
So, school is not closed for the harvest. The harvest is part of school.

Tricia from Your Best Homeschool, You ARE an ARTiST and Homeschool Nature Study
Now I don't necessarily have specifics to share about harvest homeschool. However, I do see fall and back to school time as a time of opportunity and harvest. There are many ways we can gain a good perspective this time of year. Let's focus on how to enjoy the season and homeschool. There are a few basics like pause, focus, rest, eat, work, look up, look down, go on a walk and learn.
"We must not, in trying to think about how we can make a big difference, ignore the small daily differences we can make which, over time, add up to big differences that we often cannot foresee." ~ Marian Wright Edleman
I also have some entertaining pumpkin activities your child will love! And we dearly love to visit local farms and orchards to see and to sample the harvest! Fall field trips are our favorite.
The Ultimate Guide to Fun Apple and Pumpkin Nature Study Ideas – When the air turns cooler and the leaves start to change color, it is always fun to learn more about apples and pumpkins! Enjoy this ultimate guide of fun apple and pumpkin nature study ideas for your homeschool.
The Very Best Apple Art Activities for Kids – Make the most of fall with the very best apple art activities! Enjoy a bushel of favorites from apple pie to favorite read alouds like How to Make an Apple Pie and See the World and Apples to Oregon.
More Themed Activities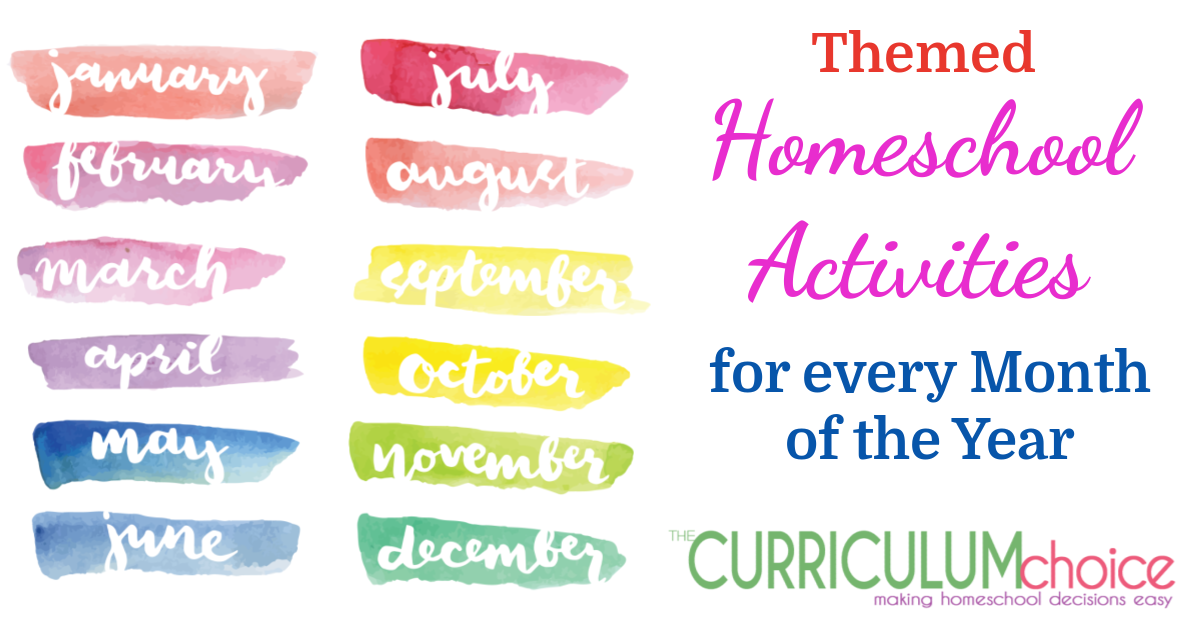 You wouldn't believe all the themed homeschool activities that can be explored based on the month of the year! You can cover history with topics like MLK Jr. Day and Patriot Day. You can explore the seasons with year round nature studies! Learn about obscure holidays each month like Measure Your Feet Day and National Sewing Month! Spice up your homeschool studies this year with some fun Themed Homeschool Activities for Every Month of the Year!
You might also like our recent Patriotic Homeschool Ideas post!
Did you know that our Curriculum Choice review team features a different homeschool topic each month? You can see what they have shared on various homeschool topics under Review Team Features.
What are YOUR favorite harvest homeschool ideas? We would love to know!
~ Originally published September 2018