A Reason for Handwriting has been a mainstay over the majority of our homeschooling years. We have tried two other handwriting resources but have always come back to this one. Why?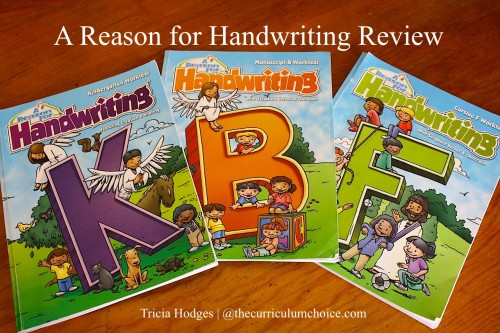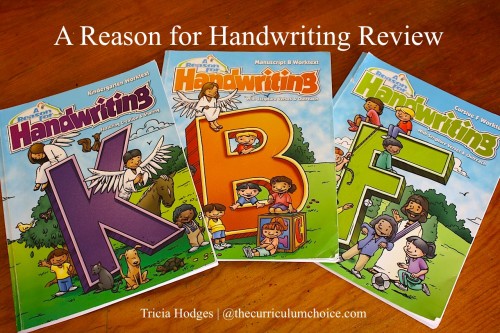 Pictured above are the levels we've enjoyed this year: K, 2nd grade and 6th grade.
Why We Love A Reason for Handwriting
One workbook – all in one spot. Dear fellow homeschool mom – it's all together for each, individual grade. Just open and go. (Just like our spelling curriculum!)

Instructions on proper writing skills and techniques. Learning to write. The correct way to hold a pencil.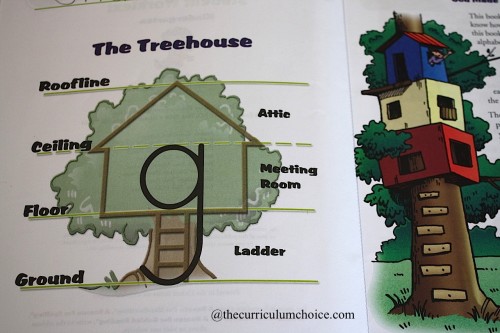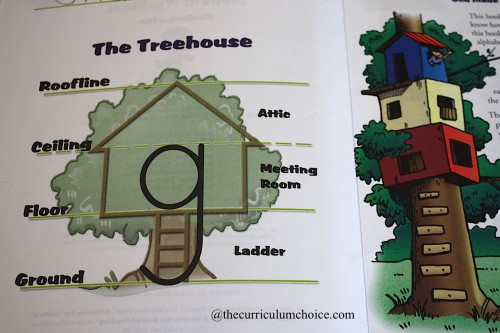 For manuscript handwriting: "Letter formation taught using the parts of a treehouse – roofline, ceiling, floor, ground, etc. This helps students visualize correct placement on the line. A model of the treehouse is found on many of the instructional pages."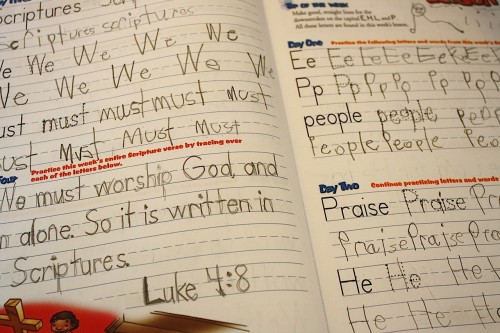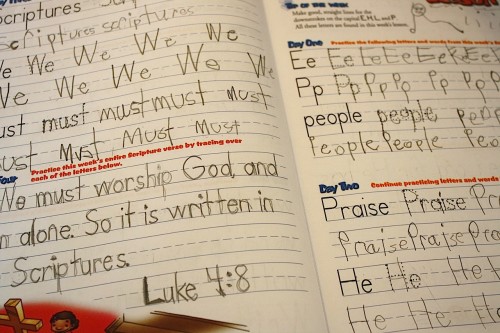 Daily practice. Designed for practice each weekday. Days 1, 2, 3 have your child practicing letters or words from the week's Bible verse. Day 4 your child traces the entire verse for practice. Day 5 your child writes the Bible verse on a border sheet.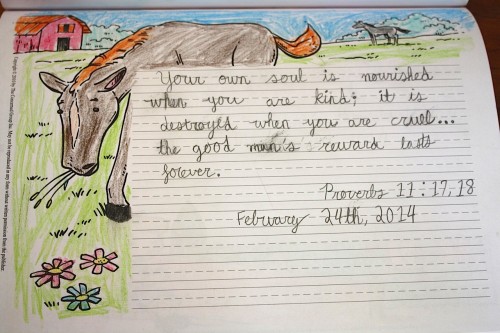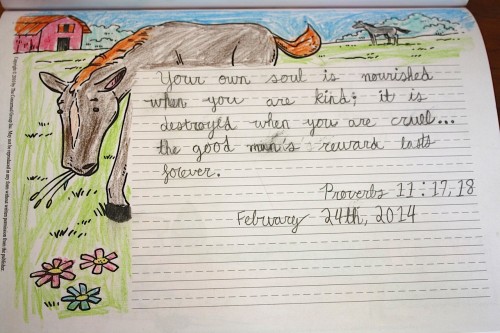 Border sheets. Your child then gets to color and decorate the borders! There's just something about that beautiful sheet with the themed design that motivates my children to do their very best. Plus, finished border sheets make a wonderful display at a unit celebration. Or a beautiful gift to mail to the grandparents!
Bible based education: Of course this is the best part. Daily handwriting practice is all about scripture – we learn Bible verses!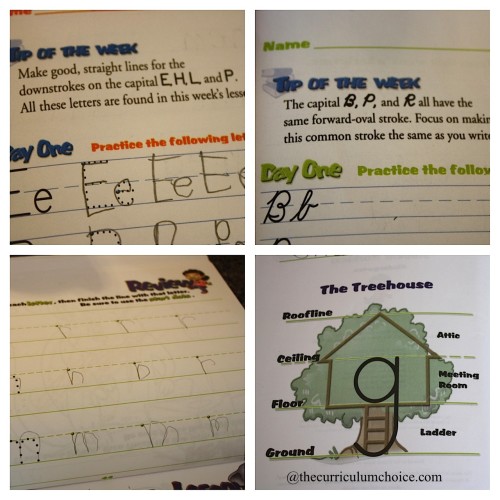 Plenty of review! After going through certain letters, there is a nice section of review. So important at all levels!
More on the A Reason for Handwriting books we've enjoyed this year:
Handwriting K with kindergartener – "may this be an exciting year for you and your child as they learn to write and to enjoy the wonders of God's world!" This book features creation and sharing. With each child we have found that this is just enough practice each day – 5-10 minutes at this young age.
Handwriting B with second grader – roughly 10-15 minutes of practice each day.
Handwriting F with sixth grader – what beautiful cursive handwriting my sixth grader has developed this year with her daily practice. She is pleased too!
Of course we've used all the other levels as well and have enjoyed success with those as well. These are the ones for the 2013-14 homeschool year.
Also available separately is a Teacher Guidebook which includes:
The suggested Weekly Schedule
Daily Lesson Plans
Tips for Teaching Cursive Handwriting
Techniques for Grading
Where can you find A Reason of Handwriting?
How about you – do you and your children love A Reason for Handwriting too?
Homeschooling for over a dozen years now, Tricia faces a daily dose of chaos with five children from preschool to high school. She loves curricula that meets the needs of multiple ages. She is author of art curriculum for all ages and a series of cookbooks at Hodgepodge. She and her husband, Steve (who writes app and technology reviews), are co-owners of Curriculum Choice.