At our house handwriting practice was causing friction.  My verbal, creative 2nd grader just didn't like any kind of writing.  I was on the look out for something that might change her mind. She liked how fancy my own cursive handwriting looked!  Maybe cursive was the solution to our handwriting troubles?  We started a program at the beginning of the school year, but she found it frustrating.  She was asked to use letters in the copy practice that she hadn't learned yet.  This wasn't helping our little problem. Then I discovered Print to Cursive Proverbs by Simply Charlotte Mason.  It's a curriculum written for students beginning the transition from print to cursive.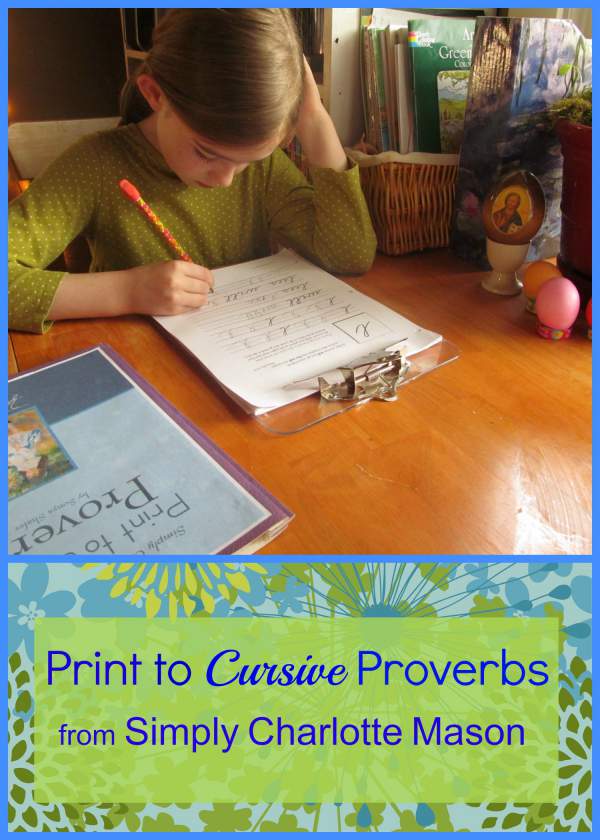 Each lesson includes:
a verse from Proverbs to copy out in printing (The text offers a single line for the child to print the verse instead of beginning handwriting paper with three lines.)
a new letter to practice in cursive
and a few practice words from the verse with just the new letter for the child to write
Genius!  By including words with just a few missing letters to fill in, my daughter gets the satisfaction of writing real words even though she is still in the early stages of learning cursive.  This has helped her motivation considerably.  I've printed out the pages and three-hole punched them.  My daughter works on a single sheet on her clipboard, and then moves it to her folder after she finishes.  A few simple shifts have brought back an ease to our mornings together.  We love that
The writing practice is from Proverbs.  We get the real benefit of meditating on good words.
The lessons are short!  This helps keep motivation high too.
The text can be purchased as an instant download.  No waiting, no shipping charges!  You can begin using this resource today!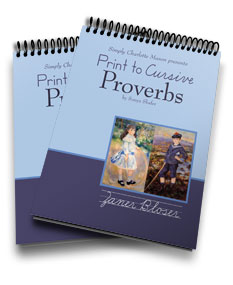 Copywork is a central practice in many homeschools.  Whether it's a commonplace book that holds favorite quotes, a Book of Centuries, or simply sentences copied in the child's best handwriting, copywork can provide a quiet, reflective counterpoint to our busy days.  With the help of Print to Cursive Proverbs from Simply Charlotte Mason we are happily laying the groundwork for this fruitful practice.
Kortney Garrison lives with her family in the Pacific Northwest.  Her days are filled with stories and poems, nature walks, drawing, and pots of tea.  She writes about homeschooling through the church year at kortneygarrison.com.  
You might also like:
-originally published May 2015