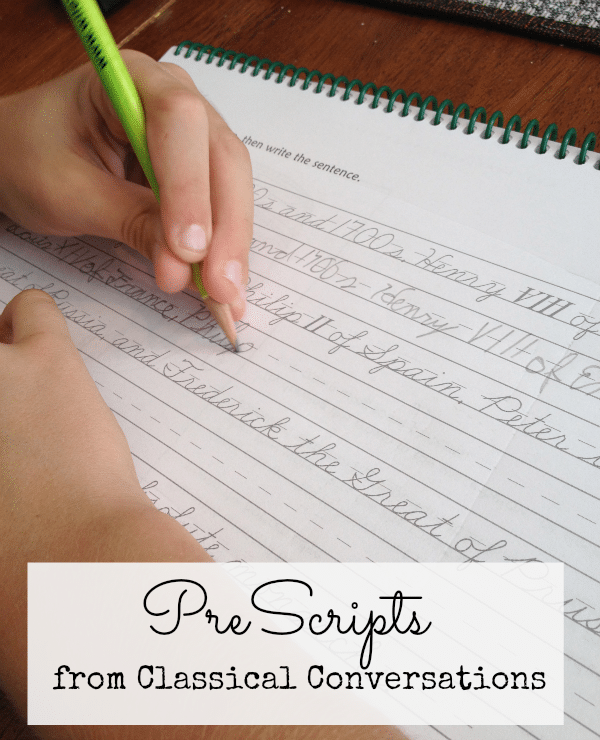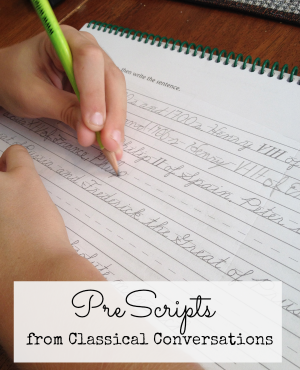 We a found a piece of curriculum that is enhancing our homeschool in several ways.
PreScripts: Cursive Sentences and Art Lessons (Medieval to Modern World History) is something my eight-year-old son enjoys immensely, and I LOVE what he is learning!
From the introduction to the workbook:
Rather than resorting to mindless busywork that isolates our youngest children from their family's education, the PreScripts series is designed to initiate young learners into the world of knowledge they will inhabit as they mature.
These cursive writing books teach our children beautiful handwriting through MEANINGFUL content and art lessons.
You don't have to be in Classical Conversations to use these books! The information does directly correlate with the weekly memory work, but you can add this with any history curriculum!
I've enjoyed talking about concepts such as perspective, foreground, and the rule of thirds with my son. He's been drawing much more on his own, and I'm sure it is because this resource has inspired him.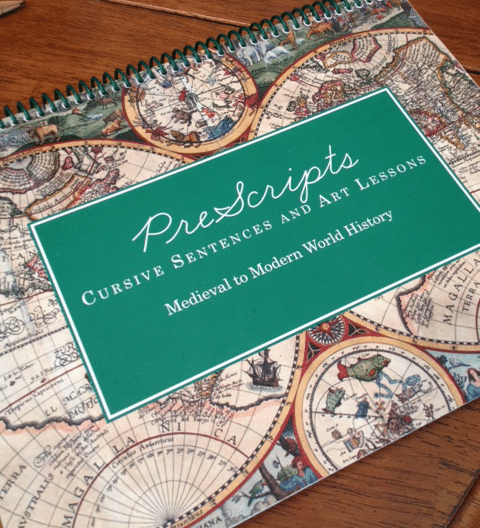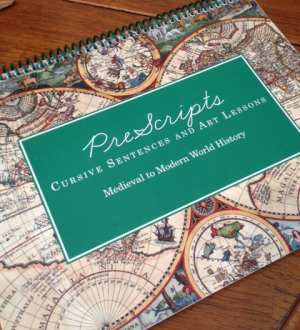 About PreScripts
This particular volume of PreScripts (there are many more!) includes history sentences from the Medieval to Modern Period. 24 sentences are given, which are written in beautiful cursive.
The child is encouraged to trace and then copy the sentences.
Along with each history sentence is a beautiful art lesson. This particular book includes elements of design and composition – such as depth, point of view, and light and shadow.
Not only is the memory work reinforced by copying the sentences, but an art concept is introduced at the same time!
To learn more about all of the PreScripts volumes, visit the CC Bookstore.
A Typical Lesson
Two pages are provided that have the history sentence written in cursive. This gives my son two opportunities during the week to trace and write the sentence.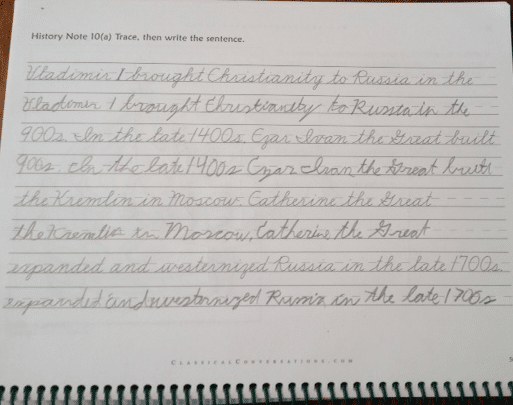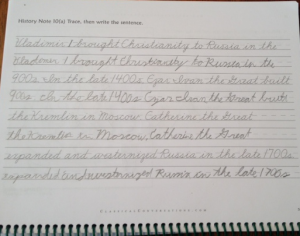 After he writes the sentence, a basic one page art lesson is given. This particular week it was about the rule of thirds, using a drawing of Ivan the Great Tearing the Khan's Letter to Pieces.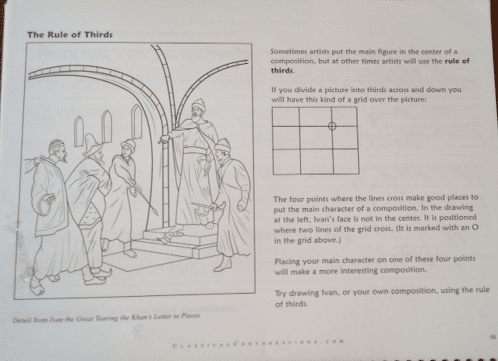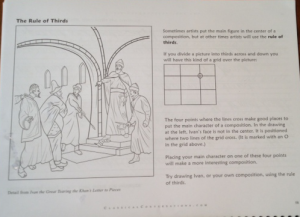 After reading the lesson, the student is encouraged to either copy this particular drawing using the rule of thirds or come up with their own drawing.
My son (who is currently very interested in the NBA!), decided to draw Al Horford slam dunking! He used the rule of thirds to place the basketball player in an interesting place in the picture.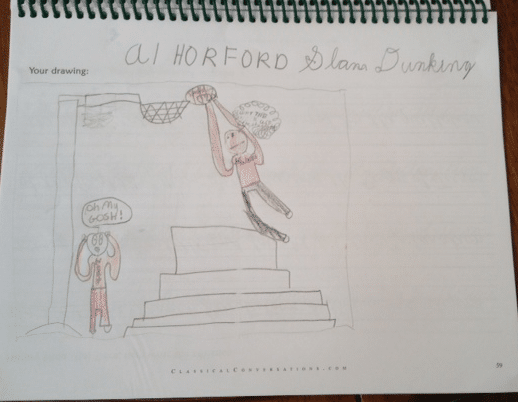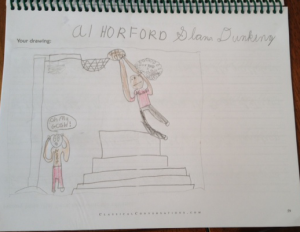 I'm noticing that as Grant draws on a daily basis, he is now using some the concepts he has learned in his PreScripts book!
 Why We Love PreScripts
PreScripts keep my son practicing his handwriting.
It exposes him to beautiful art and art concepts, allowing him the opportunity to practice these concepts each week.
He is also practicing his memory work twice a week through copying the history sentences.
All I need to do is pull out the workbook and gently guide him through the activities. He's loving it, and I'm loving it, too.
Check out the many different PreScripts that are available (there's even one for Math Terms that we just purchased!)… I know you will love them, too!
~written by Mary, of Homegrown Learners and SQUILT Music