Science can be a topic that is hard for kids to wrap their heads around. Especially when you get into chemistry and physics topics. This is a collection of hands-on chemical reactions activities you can do in your homeschool with your kids.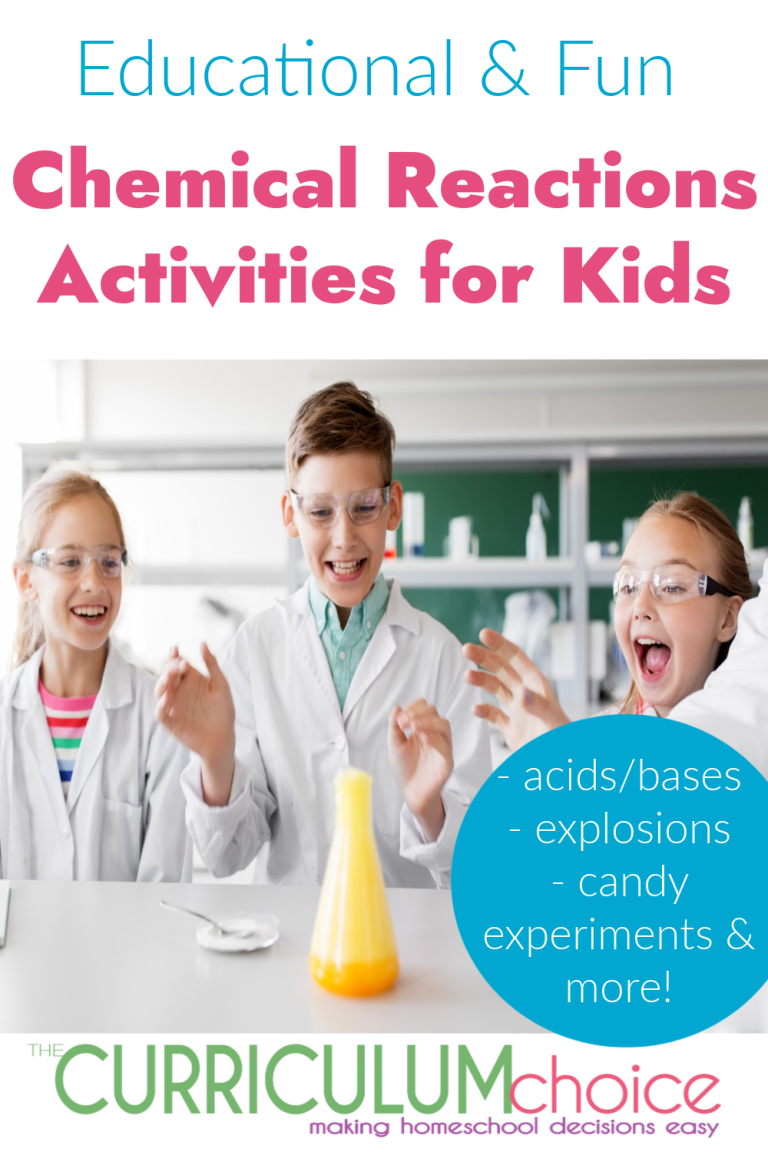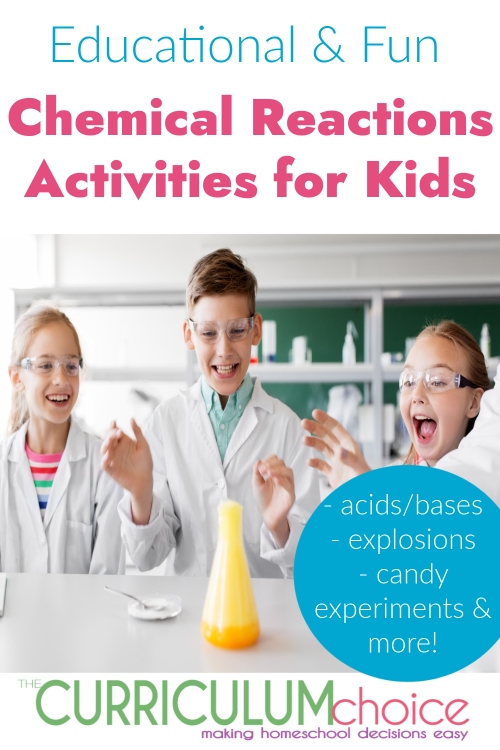 Chemical Reactions Activities For Kids: Educational And Fun
If you are looking for ways to explore chemical reactions with your kids then you have come to the right place! In this article we share hands-on chemical reactions activities to help your children understand the basic principles of chemical reactions.
Homeschool Science Can Be Educational And Fun
Some kids view all learning or "school" as boring or a chore. But it doesn't have to be that way! There are tons of creative ways to make things both fun and educational. That is particular true with science. If you do a quick Google Search for hands-on science I can guarantee you will be instantly overwhelmed. But that's a good thing! It means there are tons of options for making science both fun and educational!
Here I have collected a bunch of fun at home science experiments to demonstrate a myriad of chemistry concepts. Everything from exploding volcanoes to candy science, there is something here to delight any reluctant learner!
Chemical Reactions Activities For Kids
One of the great things about chemical reactions is that there are so many ways you can learn about them and create them, right in your home. Many kitchen science experiments are just that! Check out these great hands-on chemical reactions activities to get you started!
1. Explosive Reactions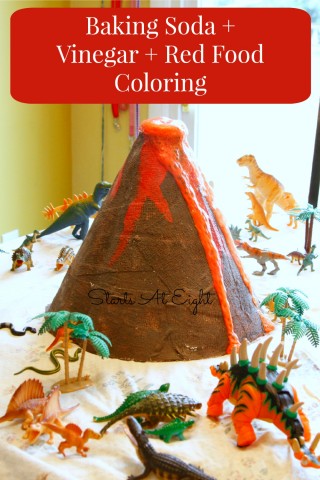 There is nothing like a chemical reaction that makes an explosion to get kids excited about science. Here are a few to try.
Volcanic Eruption – Just two simple substances – Baking Soda and vinegar – and you have an easy way to to recreate a classic volcanic eruption. While we used a pre-purchased volcano form, you can also use a small plastic cup, clay and a plate to create your own volcano form.
Coke and Mentos – This is a fun example of a physical reaction. This fun experiment was featured on an episode of Myth Busters as they attempted to make a geyser reach a certain distance in the air. This experiment is harmless to duplicate, although a bit messy.
Inflate a Balloon – Using baking soda and vinegar you can inflate a balloon. Why? Gas. Explore how the gas produced by this chemical reaction can blow up a balloon.
2. Acid/Base Experiments
Nearly every liquid is either acidic or basic in nature. The pH scale is a way of measuring and precisely specifying how acidic or basic a solution is. Liquids with a pH between 0 and 7 are considered acidic, while liquids with a pH between 7 and 14 are considered basic.
Color Changing Acid-Base Experiment – This experiment uses an indicator of turmeric and rubbing alcohol. This solution changes color from yellow-ish orange to dark red when in contact with bases. While the child will not be able to distinguish acids from neutral substances, if they add a substance to the turmeric indicator and it turns red, they will know that that substance is definitely a base.
Cleaning Pennies with Vinegar – In this experiment kids will see that the acidic nature of vinegar can make pennies look like new! (Something they couldn't do with just soap!)
Writing Secret Messages – Using cranberry juice and baking soda you can show your kids how to make invisible ink messages! When you paint your paper with the cranberry mixture it will show red from the cranberry juice and a blue/green color where the baking soda secret message was written. The key to the magic secret message reveal is the change from red to blue when the base comes in contact with the acidic cranberry juice.
3. Experiment with Solutions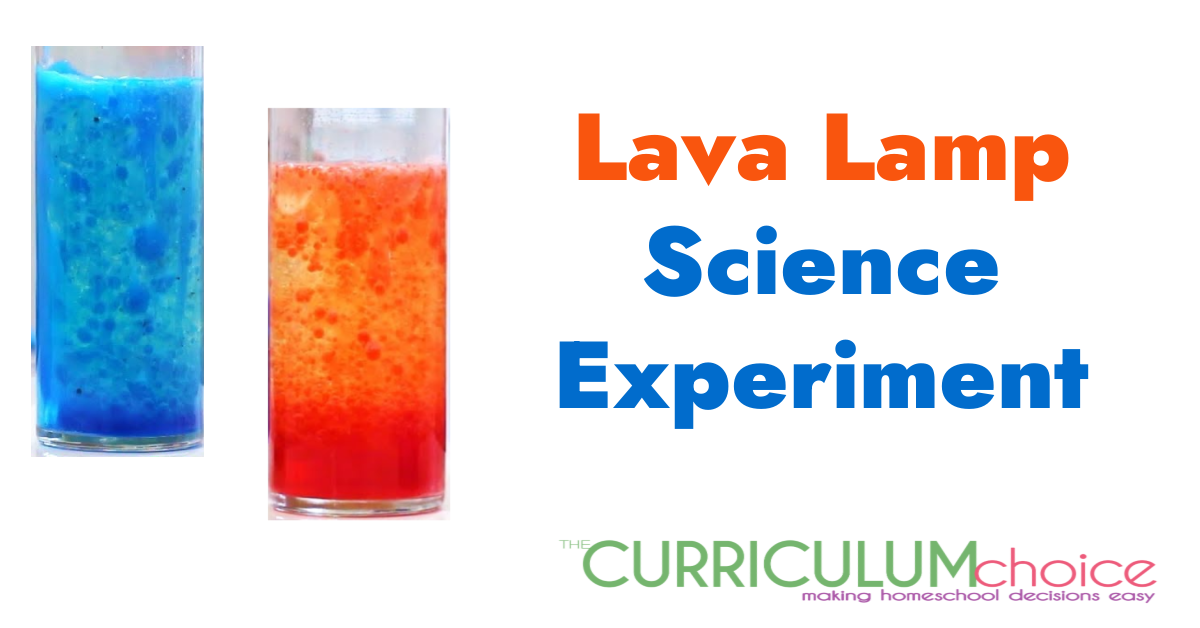 A mixture is a combination of two or more substances that keep their own identities. Making a mixture is a physical change. A solution is a mixture that has the same composition throughout. A solution forms when one substance dissolves in another.
Make a Lava Lamp – This is one your kids won't forget! And a great experiment to demonstrate the properties of oil and water.
Rock Candy – Making rock candy involves growing crystals from a saturated solution of sugar and water, one that has more sugar than can dissolve in the water. In the Grow Rock Candy Crystals activity, students explore the science behind the crystallization process and how a saturated solution helps enable crystal formation.
Making Ice Cream – When kids make ice cream in a bag, they learn about the role of salt in lowering the freezing point. The recipe for making ice cream involves a mixture of ingredients. When using sugar and milk (or cream), the resulting emulsion looks homogeneous, but if you were to zoom in, you would see a heterogeneous mix of milk-fat, ice crystals, and sugar-water. Adding other ingredients, like chocolate chips, makes the mixture even more heterogeneous.
Dissolving Skittles – In this experiment kids will learn about absorption, dissolving, and water stratification.
Why Oil & Water Don't Mix – Water and oil do not mix. They are said to be immiscible. This is because water is a polar molecule – its structure means that is has a positive charge one end and a negative charge the other end. Water molecules stick together because the positive end of one water molecule is attracted to the negative end of another. The structure of an oil molecule is non polar. Its charge is evenly balanced rather than having one positive and one negative end. This means oil molecules are more attracted to other oil molecules than water molecules, and water molecules are more attracted to each other than oil, so the two never mix.
More Fun and Educational Science Activities