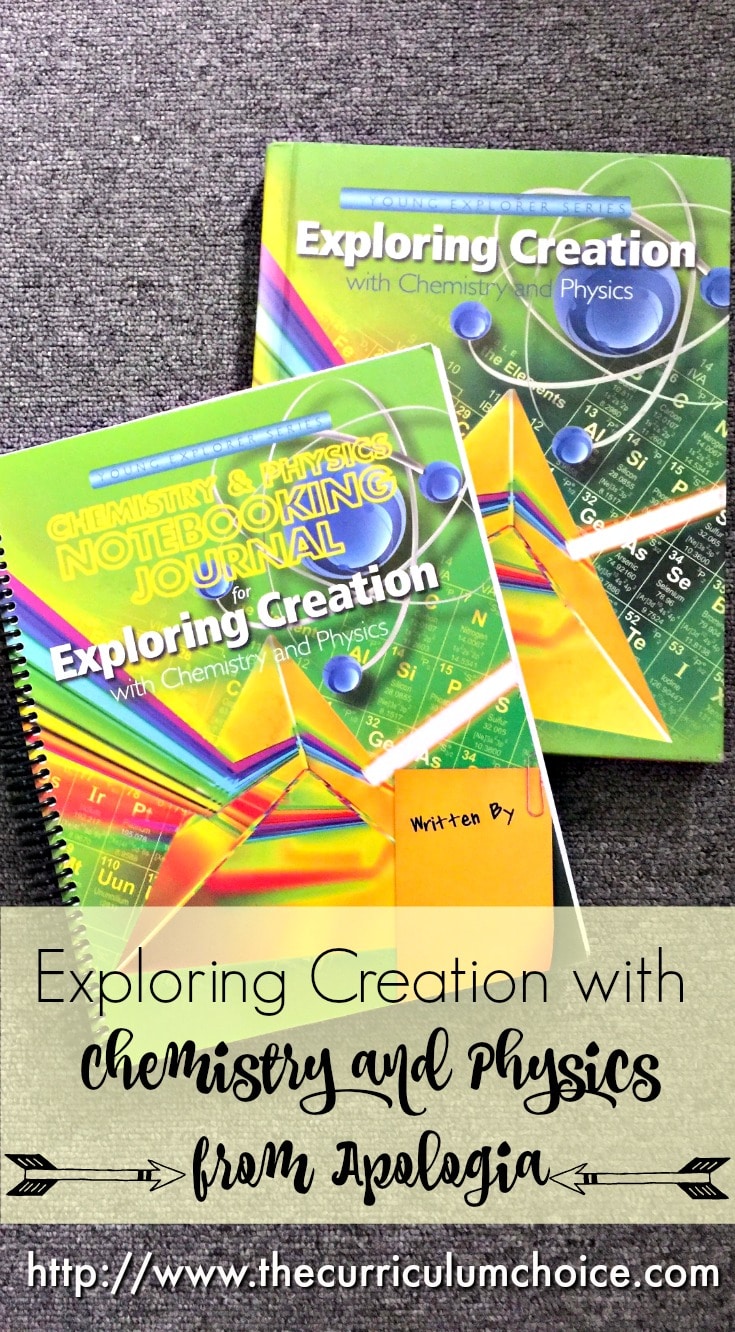 Exploring Creation with Chemistry and Physics (Young Explorer Series) from Apologia is one science curriculum that leaves us beautiful memories and impressions. I used this curriculum last year when we only homeschooled two boys. It was very hard for us to leave this curriculum actually. The children had fallen in love so much with the story, experiments, and activities. Even one of my sons still often picks up this book and rereads it again.
Today, I would like to share with readers what make us love this curriculum so much and makes us regret finishing it.
Exploring Creation with Chemistry and Physics (Young Explorer Series)
I had been waiting for this book quite a long time before finally I still had to wait for it to be delivered to us in Indonesia for another month. This was the latest series of the Young Explorer Series at that time and probably it is still the latest of Apologia science written by Jeannie Fulbright. This curriculum sounds quite thrilling since chemistry and physics are usually considered for high school. However, children in the 5th and 6th grade should have enjoyed this curriculum.
There are two books in this series to support each other:
Exploring Creation with Chemistry and Physics (Young Explorer Series)
This is the spine book of the series with 14 lessons about both chemistry and physics:

Chemistry and Physics Matter
Moving Matter
Building Block of Creation
Compound Chemistry
Multitude of Mixture
Mechanics of Motion
Dynamics of Motion
Work in the World
Sound of Energy
Light of the World
Thermal Energy
Electrifying Our World
Mysterious Magnetism
Simple Machines

Young Explorers Series Chemistry and Physics Notebooking Journal
This is the student workbook accompanying the spine book. Here are the things you will get for the whole book and each chapter:

Notebooking Activities in each lesson
Vocabulary crossword in each lesson
Scripture Copywork
Lapbooking mini book
Test it out – Science experiment
Project report sheet
Test sheet
Daily Schedule
There is a daily schedule list available in the Notebooking Journal. One lesson is expected for two weeks with twice a week lesson. It was too hard for us to catch up considering English is our foreign language. I arranged three lessons a week schedule based on the daily schedule suggestion.
Reading and Vocabulary
I read for children due to our language limitation. In each reading, I write on the board the glossary introduced to us. After several subtitles, we usually stop and do some review of what was read previously. We make the review as an oral quiz.
Experiments
We selected the experiments we planned to do before the year started. I prepared and purchased the materials and tools for the experiments prior to make sure all are ready so there won't be any reason for us to avoid the experiments.
Notebooking Journal
We use the supportive materials available in the notebooking journal.
Test
Children did a test at the end of each lesson.
Science like a Story
The Young Explorer Series of Apologia is like telling story in learning Science. This curriculum has a Charlotte Mason basic approach. I can say it is like a living book. Looking at the text with a lot of writing is like scary thing, but when you read it, you will know that this tells a beautiful story of the greatness of God in creating everything for us.
Christian based
The purpose of learning science is stated clearly, which is to know more about the magnificence of God that love us, human being. This statement is shown clearly in any part of the book. There are a lot of "a-ha" moments that reveal the greatness of God.
All in One
Well, this curriculum is complete for us. Of course, we can explore the content with other resources, but all tools like notebooking pages, test, research reports, copy work, vocabulary practice are ready to use.
Rich Experiments
There are a lot of experiments and hands-on activities for almost every subtitle in the lessons. Well, I select several for my children as the time is limited for us. However, we love most of the activities. Kids really feel that they are scientists.
Recommendation
I would like to give recommendation to all Christian learners between 5th to 7th grade to use Exploring Creation with Chemistry and Physics (Young Explorer Series) from Apologia. We really love this curriculum, but we were stuck with the urge of using our national curriculum. We really wish to continue using it for our younger learners.