Looking for homeschool science options? Then look no further than this Ultimate Guide to Homeschool Science! Full curriculum options, supplemental resources and more! Both secular and Christian options as well!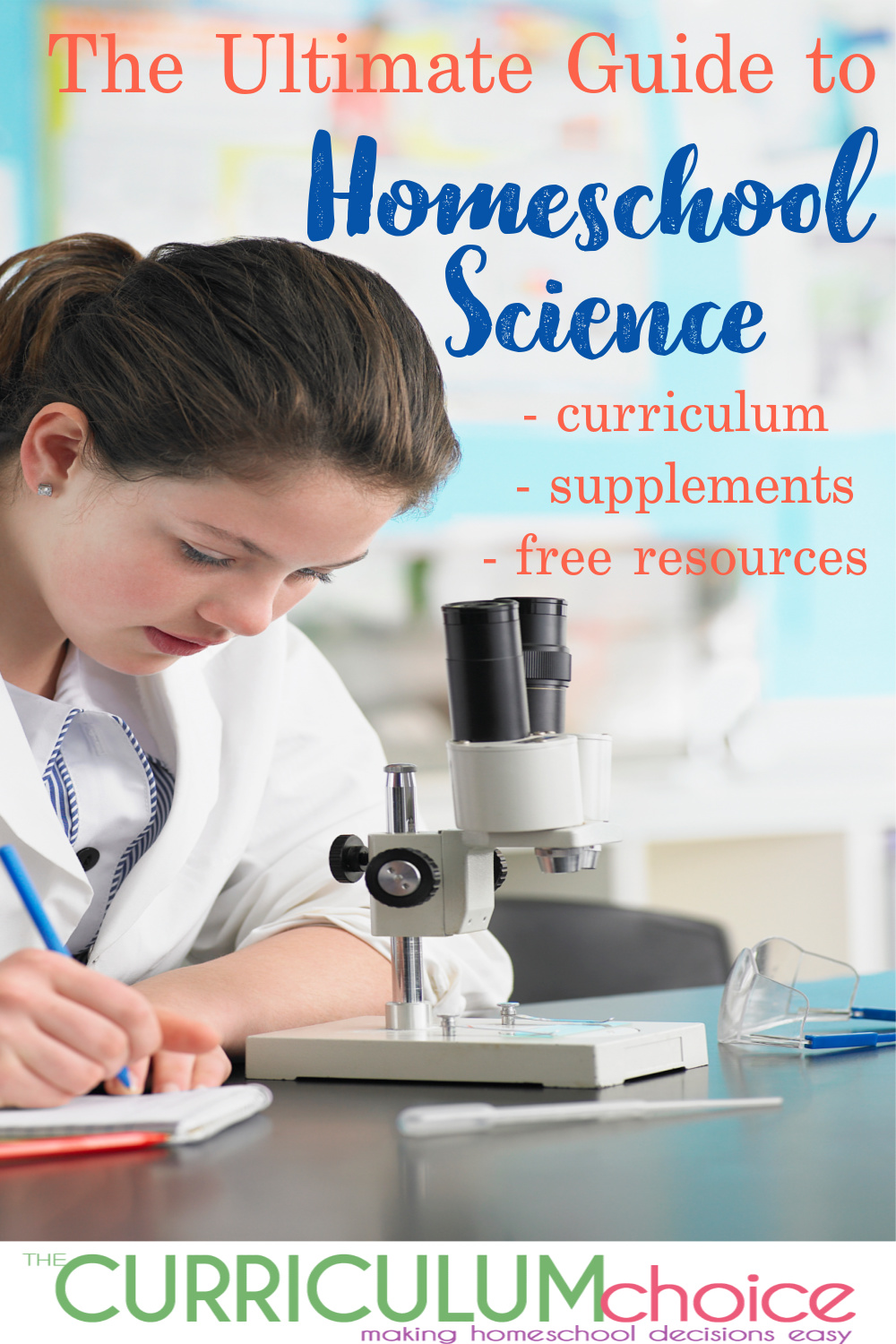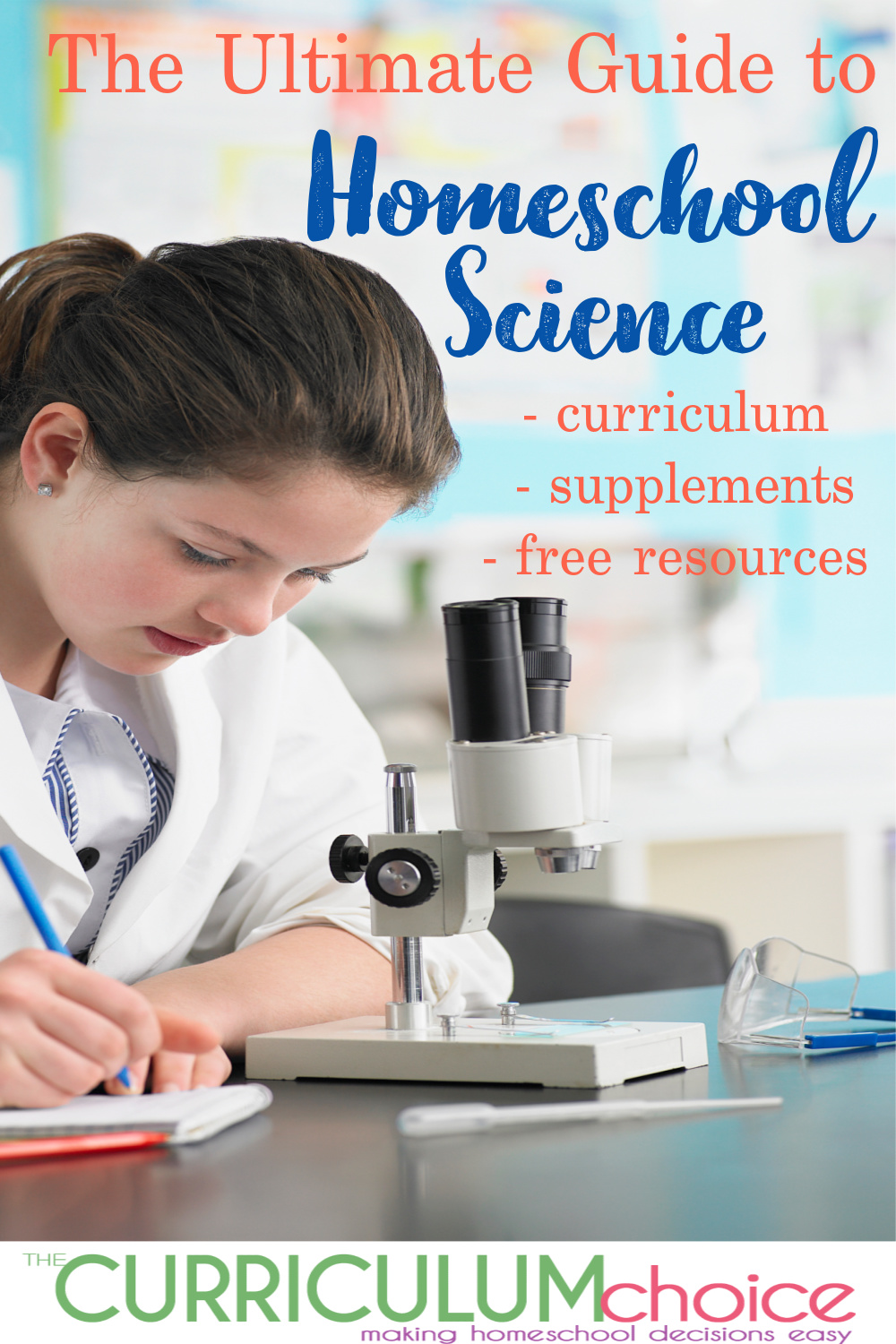 The Ultimate Guide to Homeschool Science
Come take a look at all the fun and engaging resources we have as homeschoolers for science.
Hands-on, textbook, full curriculum, unit study, secular, faith based, online, independent, teacher led, you name it, we've included something for it!
Full Curriculum Options for Homeschool Science
Abeka – Christian science for kids in grades 1-12
Apologia Science – Christian Elementary, Middle, and High School Science. Here is a collection of all The Curriculum Choice Apologia Reviews and you can find even more great Apologia Reviews over at Hodgepodge.
Berean Builders – a Christian science curriculum. K-12
BJU Press – Christian science for grades 1-12. A more traditional textbook approach.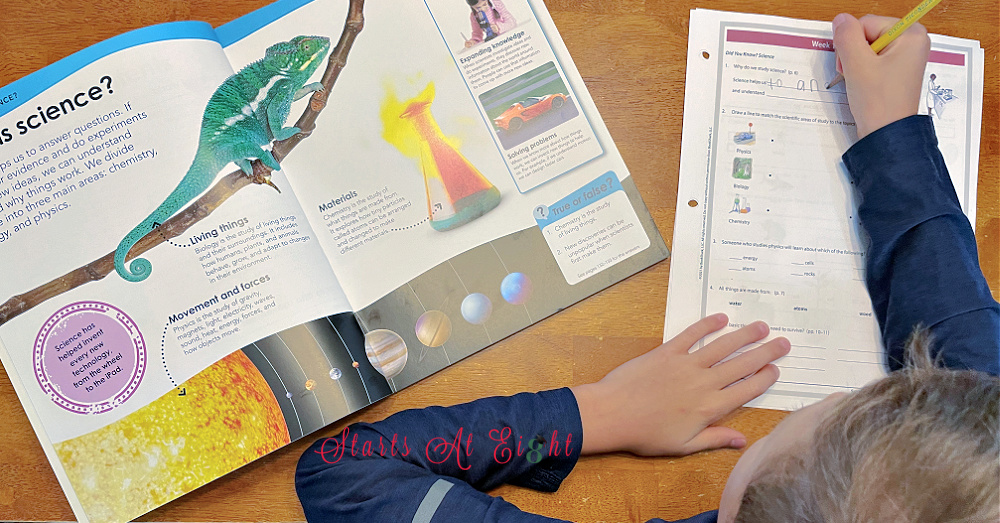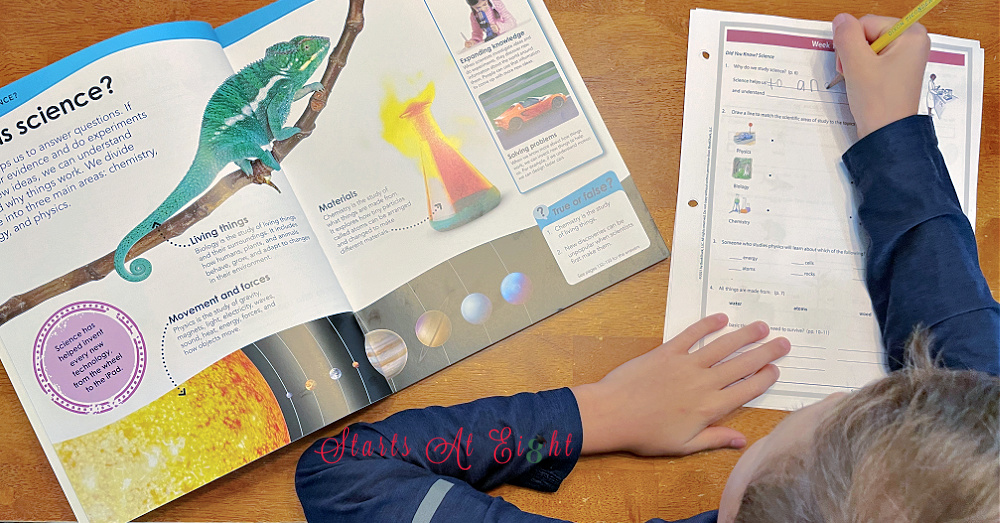 BookShark – secular, ages 5-16, literature based, hands-on, easy to use
College Prep Science – Christ-Centered, Live & Self-Paced Online Classes for grades 3-12. They also offer virtual labs in a cool digital, online lab.
Common Sense Press: Great Science Adventures – secular, easy to use, hands-on science curriculum for grades K-8
Compass Classroom Devotional Biology – Christian high school program
Elemental Science Biology for the Logic Stage – a 36 week classical science curriculum that covers a study of plants, animal life, and the human body.
Evan-Moor Science Units – Habitats, ScienceWorks Series, All About Plants, ScienceWorks Energy
Fascinating Education – an audio-visual technique to teach science in a step-by-step manner using plain English and clear illustrations. This "right-hemispheric" learning approach takes advantage of the brain's ability to process images more efficiently and more effectively than just reading text. Online, high school sciences.
The Good and the Beautiful – Faith based, open and go unit studies for kids in grades K-6.
Lifepac – Christian curriculum based on the principle of mastery learning. Students master content in each unit worktext before progressing to the next. Grades K-12.
Masterbooks – Christian science curriculum for elementary through high school
Moving Beyond the Page – Secular, hands-on, literature based


Mr. Q Science – Classic Science series for kids in grades K through high school. Check out this review
Next Level Homeschool – an online secular program with science choices like Marine, Zoology, Biology, Astronomy, Earth Science and more!
Noeo Science – a Charlotte Mason style, literature based curriculum for kids in grades K-6.
Oak Meadow – This is a Waldorf inspired curriculum. You can get full grades or choose specific subjects that you want to use. They have secular science curriculum for grades K-12. Check out this 1st grade review and this 5th grade review
Paradigm Accelerated Curriculum – offers Basic Science, Natural Science Mysteries, Integrated Physics & Chemistry, Principles, theories, and Precepts of Biology and precepts of Anatomy and Physiology.
Real Science 4 Kids – hands-on, secular curriculum for kids ages 6-18
R.E.A.L. Science Odyssey – Specifically written for home and small classroom use, and particularly teachers without a science background! Packed full of serious science and loads of fun, RSO is an incremental program that incorporates mathematics, scientific method, and science terminology as it gently builds on itself. Each topic in the RSO series of books is presented in an entertaining story-like format and is followed by hands-on activities along with background science information, parent instructions, labs, reading lists, journaling ideas, and websites. Comprehensive in scope, this full science curriculum incorporates notebooking with lab experiments and review.
Sonlight – Literature based, hands-on, Christian science curriculum. Grades K-10.
Supercharged Science is written in a creation neutral way as to not contradict religious perspectives. There are many options from eScience to Science Mastery programs and covers all grades from K-12.
Taylor Made Science – offers a series of live, interactive, online science courses designed to prepare students for success in science at the university level. Secular.
Supplemental Homeschool Science Resources
Atomidoodle – a chemistry app that was created to bring the Periodic Table of Elements to life
Evan-Moor Science Series: All About Plants – these are unit studies in various topics
The Mystery of the Periodic Table – a non-fiction book of the history of chemistry from the Neolithic Period to twentieth century scientists.
Botany in 8 Lessons – complete curriculum for ages 8-14, hands-on, flexible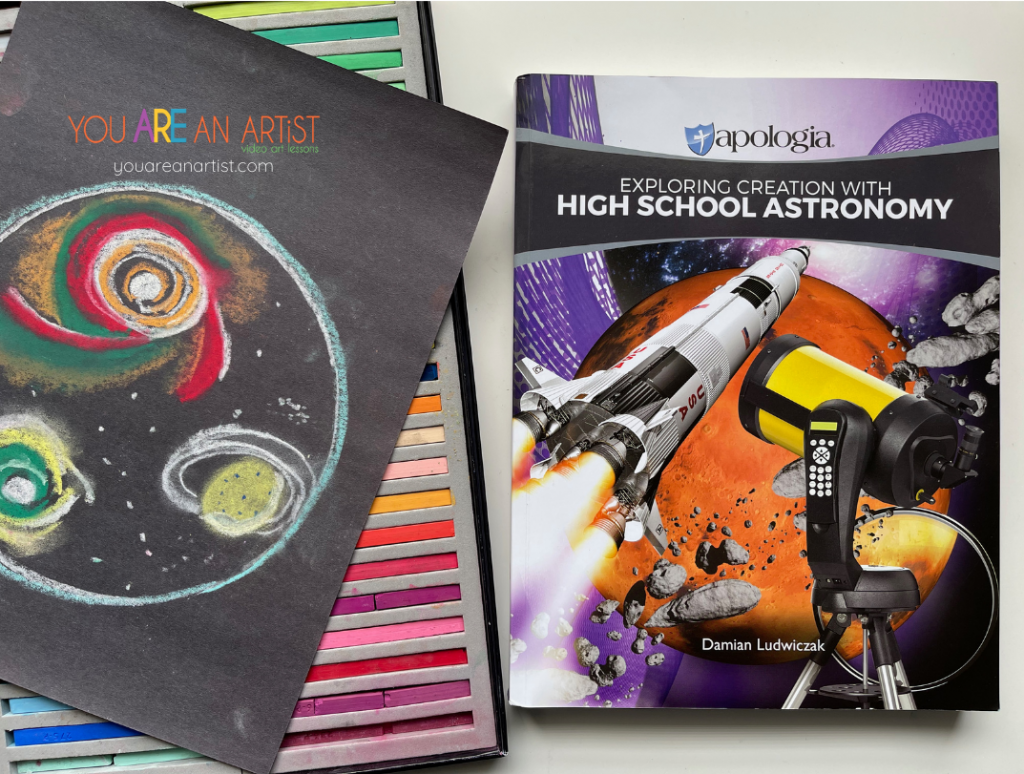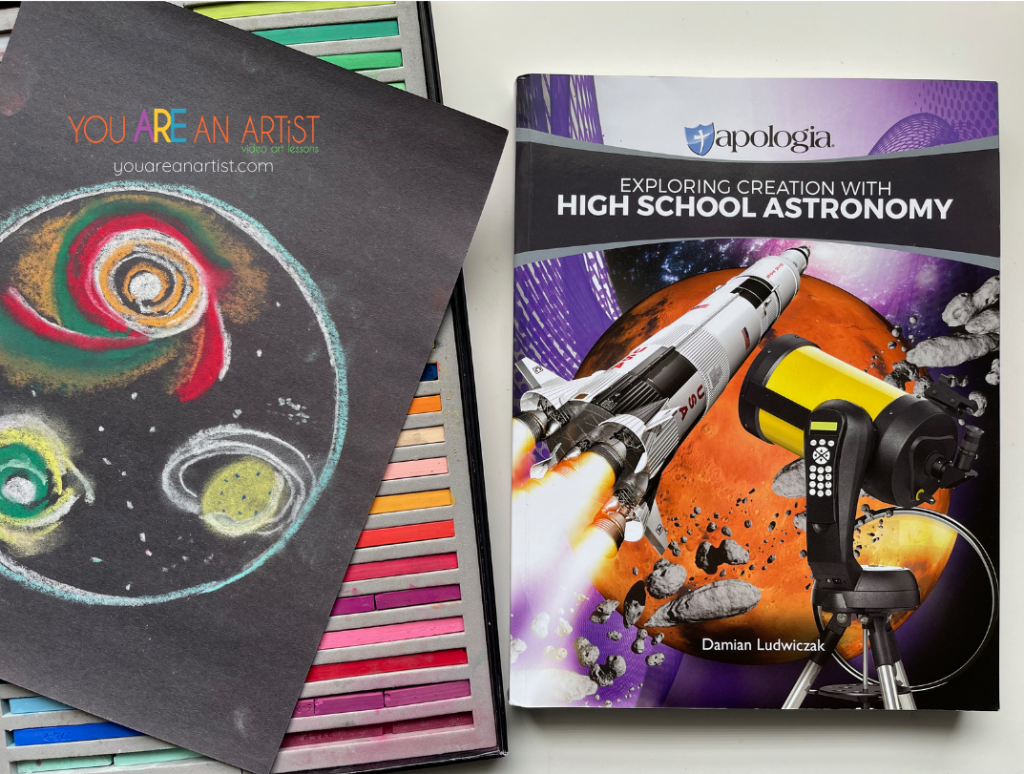 Homeschool Science and Art: A STEAM Curriculum Match Up – Have you ever considered a homeschool science and art curriculum match up to create a wonderful learning environment? Art adds a hands on layer of engagement that can help solidify and enhance science homeschool learning in both a fun and beautiful way. There are so many benefits to incorporating an I Drew It Then I Knew It approach when you combine science and art!
Why Art is an Essential Part of Science in our Homeschool – I learned a long time ago that my son learns best with a multi-sensory approach. His comprehension and retention is so much greater when we focus on the more experiential aspects of a particular topic. You ARE an ARTIST offers several different video courses that align well with many traditional scientific studies.
Homeschool Science Tips for Multiple Ages – includes a multiple age how to as well as tips for teaching science to multiple ages
Shark Month for Homeschoolers – tons of shark themed units and activities all about sharks
Nature Anatomy – Food, Farm, & Nature books for exploring the natural world. Be sure to check out these corresponding Nature Notebooks for each book!
Nature Explorers – Nature Unit Studies written by homeschool moms. Constant Conifers, Snow and Ice, Butterflies Flutter By, Coping with the Cold, Delightful Deciduous Trees and more!
Exploring Nature with Children – A Charlotte Mason type study laid out by SEASON, then by MONTH and finally by WEEK!
100+ Easy and Fun Creative Nature Walks – In this downloadable tool, you'll find over 100 simple ideas that you can implement without a ton of preparation. For the most part, all you have to do is flip through, find something that catches your eye, and head outside. Regardless of what part of nature you want to study further (flowers, insects, trees, ponds, etc.), there's a plan for it. It also covers all of the seasons, so whenever you enjoy being out in nature, you'll find fun ideas to use.
Free Resources – Ultimate Guide to Homeschool Science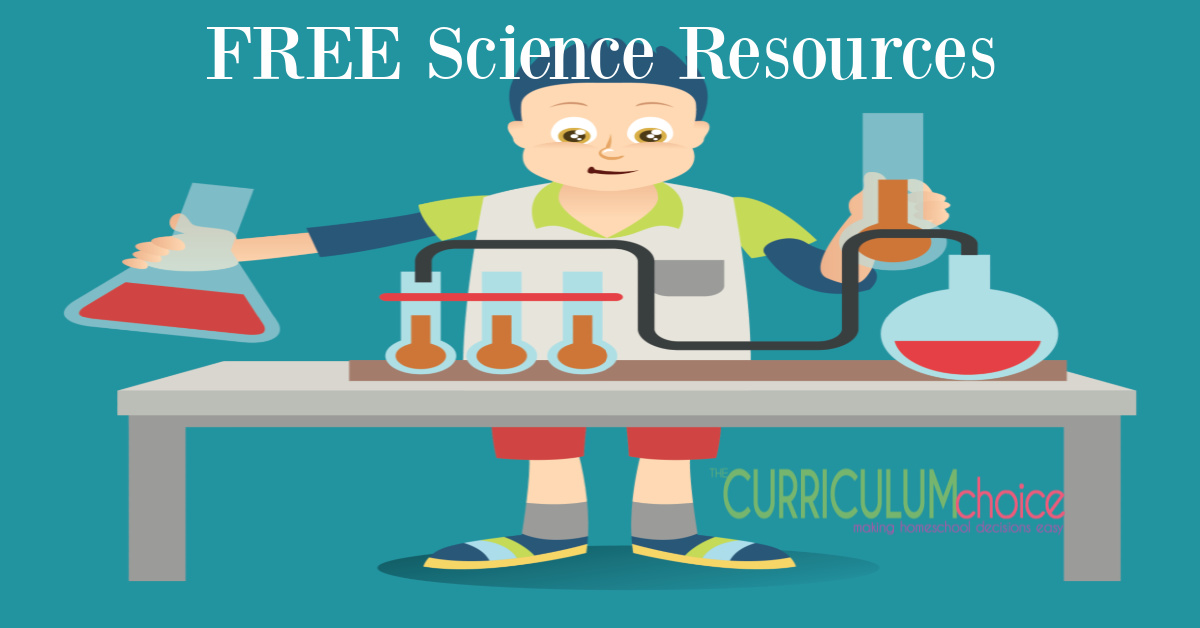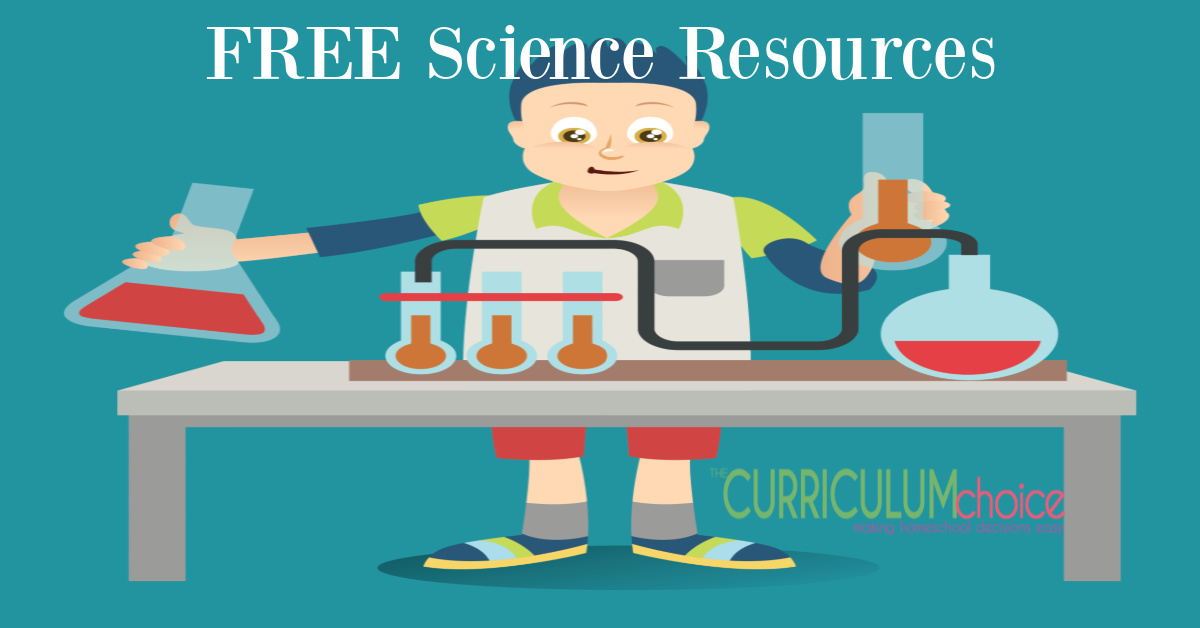 Homeschool Science Round-Ups Here at The Curriculum Choice
MORE ULTIMATE GUIDES
We hope you have found some great resources with our Ultimate Guide to Homeschool Science. Stay tuned as we work our way through math, history, science, and language arts, as well as guides by grade level! {We will link them here as we go!}