As I shared previously, I wanted to provide my high school age children with a solid foundation in chemistry to jump start the new school year. We are off to a good start (see my previous post on the nomenclature of chemical compounds) and I am delighted to share the next lesson with you today – the first of two on chemical bonding. We are exploring covalent bonding.
As before, the lab materials and supplies from Home Science Tools have been critical to the success of this unit. I have been able to replace lab tools like my Digital scale which was mistakenly knocked off the counter a few months ago as well as discover new resources for extended studies.  

I was given an opportunity to review these products and was compensated for my time in preparing this post. As always, all opinions are my own. This post may contain affiliate advertisement links to 3rd party sites.
Exploring Covalent Bonding with Home Science Tools: A Mini-Unit from Eva
Irving Langmuir first introduced the term "covalence" in 1919 stating, "we shall denote by the term covalence the number of pairs of electrons that a given atom shares with its neighbors." A covalent bond (sometimes termed a molecular bond) is a chemical link between two atoms or ions where the electron pairs are shared.
Covalent bonds form between two nonmetal atoms with identical or relatively close electronegativity values. The electron pairs that participate in a covalent bond are called bonding pairs or shared pairs. Typically, sharing bonding pairs allows each atom to achieve a stable outer electron shell, similar to that seen in noble gas atoms.
Two important types of covalent bonds are non-polar (or pure covalent bonds) and polar covalent bonds. Non-polar covalent bonds occur when atoms equally share electron pairs. Only atoms with the same electronegativity can engage in equal sharing. Examples of non-polar bonds are H2, N2, and CH4.
Polar covalent bonding is a type of chemical bond where a pair of electrons is unequally shared between two atoms. In a polar covalent bond, the electrons are not equally shared because one atom spends more time with the electrons than the other atom.
As the electronegativity difference increases, the electron pair in a bond is more closely associated with one nucleus than the other. If the electronegativity difference is between 0.4 and 1.7, the bond is polar. If the electronegativity difference is greater than 1.7, the bond is ionic.
Covalent Bonding Lab Activity
Pre-lab Questions
1. Write a short caption under each picture to describe the process of covalent bonding.

2. What are two conditions atoms must have in order to form covalent bonds with one another?
3. Why is a hydrogen molecule (H2) more stable than two individual hydrogen atoms?
4. Why can't a third hydrogen atom join the H2 molecule to make H3?
Question to Investigate
What is produced when the covalent bond in water molecules is broken?
Materials for Each Group
2 wires with alligator clips on both ends

2 pencils sharpened at both ends

(0.9mm mechanical pencil lead may also be used but extra care is necessary as the lead can break easily)

Water

Salt

Tape

Notebook and pencil
Procedure
Place a battery between 2 pencils. Be sure that the battery is more than half-way up.

With the help of a partner, wrap tape around the pencils and battery as shown.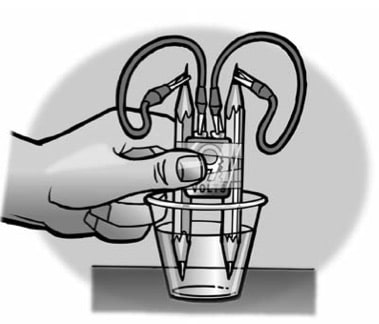 Add water to a clear plastic cup until it is about 1⁄2-full.

Add about a 1⁄2 teaspoon of salt (~ 3.5 grams) to the water and stir until the salt dissolves.

Connect one alligator clip to one terminal of the battery.

Using the other wire, connect one alligator clip to the other terminal of the battery.

Connect one end of the pencil lead to the alligator clip at the end of one of the wires.

Using the other wire, connect one end of the other pencil lead to the alligator clip at the end of the wire.

Place the ends of the pencil into the water as shown.
Post Lab Questions
5. What were the bubbles made out of in this activity?
6. Why was there more hydrogen gas produced than oxygen gas?
HINT: Use the Happy Atoms models to help you. Look at the number of hydrogen and oxygen atoms that bond to form a water molecule. 
Extension Activities
Covalence: A Molecule Building Game
Covalence is a fun, cooperative game where everyone is working together to solve the molecule puzzles. It has 4 difficulty levels; Easy, Medium, Hard, and "Chemist". The molecules in the Easy, Medium and Hard versions of the game are all composed of C, O, N, and H.  While the "Chemist" difficulty level adds Cl so the difficulty level increases the complexity by a huge amount.
Covalent Bonding Simulation Activity
Use this online simulation to investigate the attractive and repulsive forces that act on atomic particles and how the sharing of electrons can keep atoms together. See how two hydrogen atoms interact with each other to create a covalent bond. Learn about trends in the periodic table and how electrostatic potential energy determines the bond length.
In my next post, we will investigate ionic bonds and undertake another lab activity. Don't forget your notebook!