I would like to show you how we are using The Elements – Ingredients of the Universe, in our homeschool.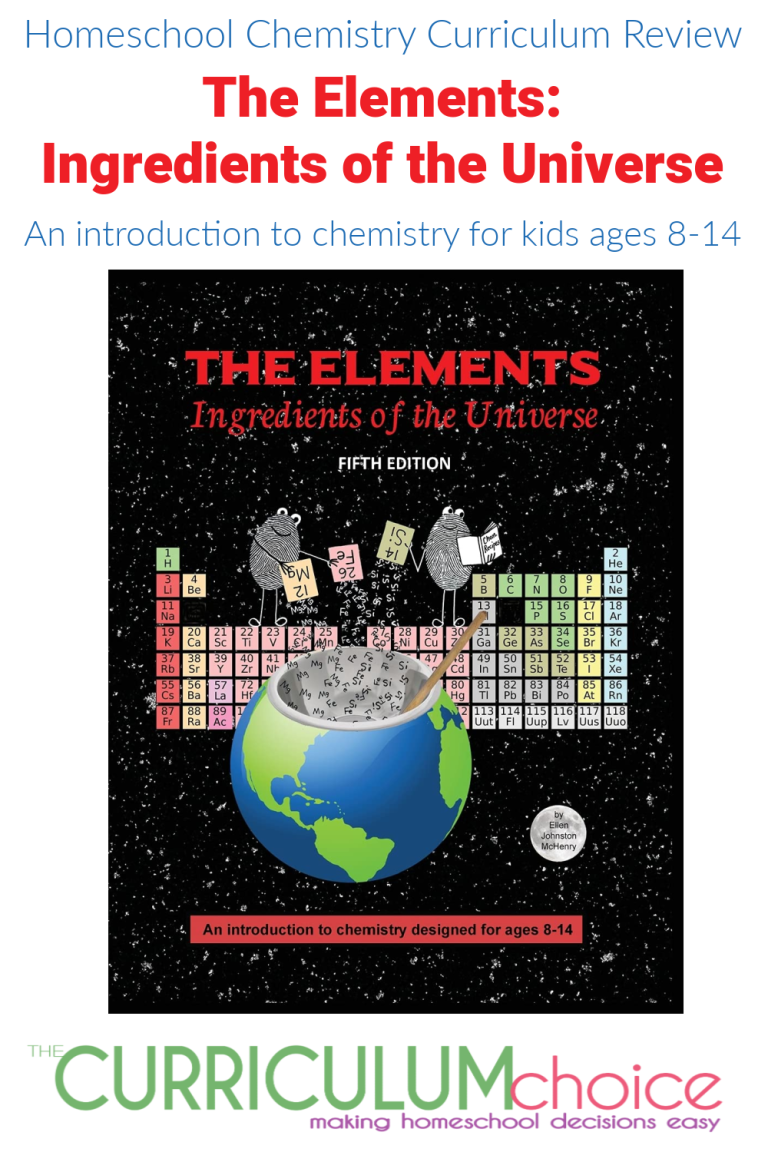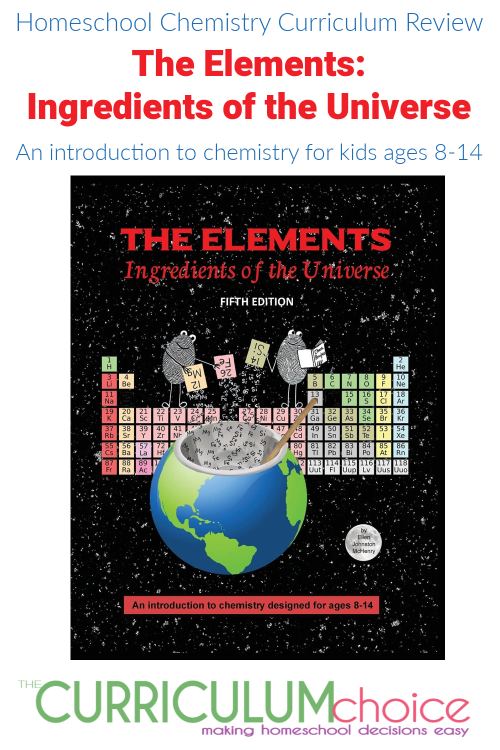 Let me introduce you to the profile of the compliant child: My oldest is very easy to homeschool. I could hand him a 500 pg. book to read, give him 3 pages of questions to answer, assign a 5 page typed report and he would comply by the following day. I know this about him but I do not take advantage of this with every subject. I do give him assignments at the beginning of the week and collect them on Friday and we have a discussion usually pertaining to history.
I wanted to enjoy this short bit of time that I still have with him, learning and sharing experiences before he starts high school and doesn't want and/or need my help anymore. Two main areas (in addition to history because that is a given) that I wanted to share with my 7th grader this year was chemistry and Latin. So, I planned to spend time with him each week for these subjects.
The Elements – Ingredients of the Universe
Having said all this, my point is that I picked something for his particular learning style and something that we could enjoy together through a conversational type of learning.
Let me introduce you to The Elements. This book is an introduction to chemistry for ages 8 to 14. This is a full curriculum and includes both an 80-page student text and a 100-page teacher's section providing patterns and instructions for a wide variety of games, crafts, activities, songs, skits and experiments.
The Elements is a black and white text that reads like a book, written in 3rd person, cartoons throughout (you can never go wrong with boys and cartoons) and charming stories illustrating key points. One for example is The Periodic Kingdom, in which she explains the periodic table in a fantasy world of kings, nobles and outlaws. Since he is an avid fantasy LOTR/Eragon fan I knew this would click with him.
Topics Covered in The Elements
the definition of an element
the structure of an atom
the invention of the Periodic Table by Mendeleyev
chemical formulas
electron orbitals and shells
the octet rule
arrangement of elements on the Periodic Table
atomic bonding (covalent, ionic and metallic)
plus an up-close look at the families on the table: alkali metals, alkali earth metals, transition metals, true metals, non-metals, halogens, noble gases, and lanthanides and actinides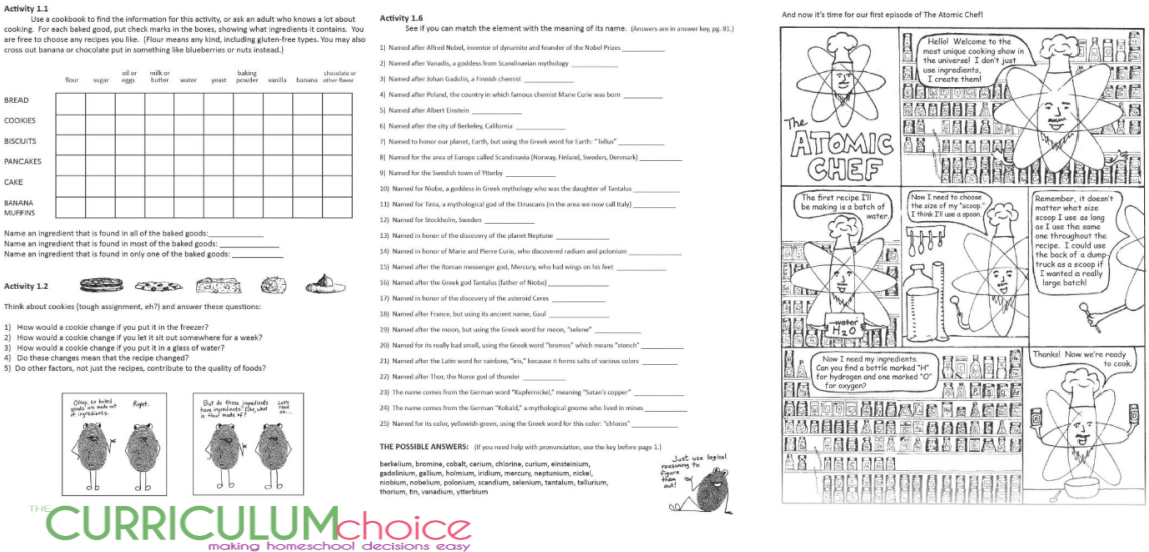 How We Use The Elements
He and I read and laugh at the cartoons, discuss the text and he answers the questions, sometimes orally.
We also do the Internet research questions and then to cement the learning there are creative activities. My oldest does not "need" these to learn the concept, but we do them anyways, because I "need" them and its another way to spend time together.
The prep time can be high depending on what activity you pick, but I always pick the ones that I can handle that week. My favorite one is something that made the periodic table more fun then I could have ever imagined and I wish that I could have done something like this in my high school chemistry classes. The activity was making trading cards (picture baseball or Pokemon here) out of each element. I had two other siblings join in with this and we ended up with a whole set of the elements.
Each Element Card had a spot for:
the symbol
atomic #
its "team" example: metals, nonmetals, noble gases
name of element
interesting facts
it's "field" or location on the periodic table
a picture of element (in most cases it ended up being a picture of what the element is found in)
The children came up with several ways to play games with these cards. And they loved it! The other activities are also unique and not your typical science activity. Ellen is very creative with this portion of the book.
Did I mention there are cute thumb print characters in the form of cartoons on each page? They are too funny! And, while I'm mentioning, let me tell you about the CD of songs…only two. We ALL wished there were more to listen to.
Additional Suggestions:
I do have a suggestion to compliment this study. Although this is an intro in chemistry, my over-achieving mind saw the need for a Chemistry kit. I got him the C2000 Chemistry Kit for Christmas and he plugs away through this on the weekends during his free time!
~ Originally posted May 2009, Written by Brenda, classically eclectic mother of 5
More Chemistry Resources