When I began homeschooling 3 years ago, I was looking for the perfect curriculum for every subject. In my first year I was so full of new ideas and excitement. I wanted to try everything and boy, did I. I had a separate program for Bible, geography, history, art, art history, music, science, math, grammar, spelling and and and…
You get the point. I had a lot to cover in one year. It was a perfect recipe for disaster. Did I get it all covered? No way! I had visions of nature studies, studying historical art pieces, reading classic novels and beautifully written pieces of writing but instead I was frustrated that I couldn't meet up to the standards I had set for myself.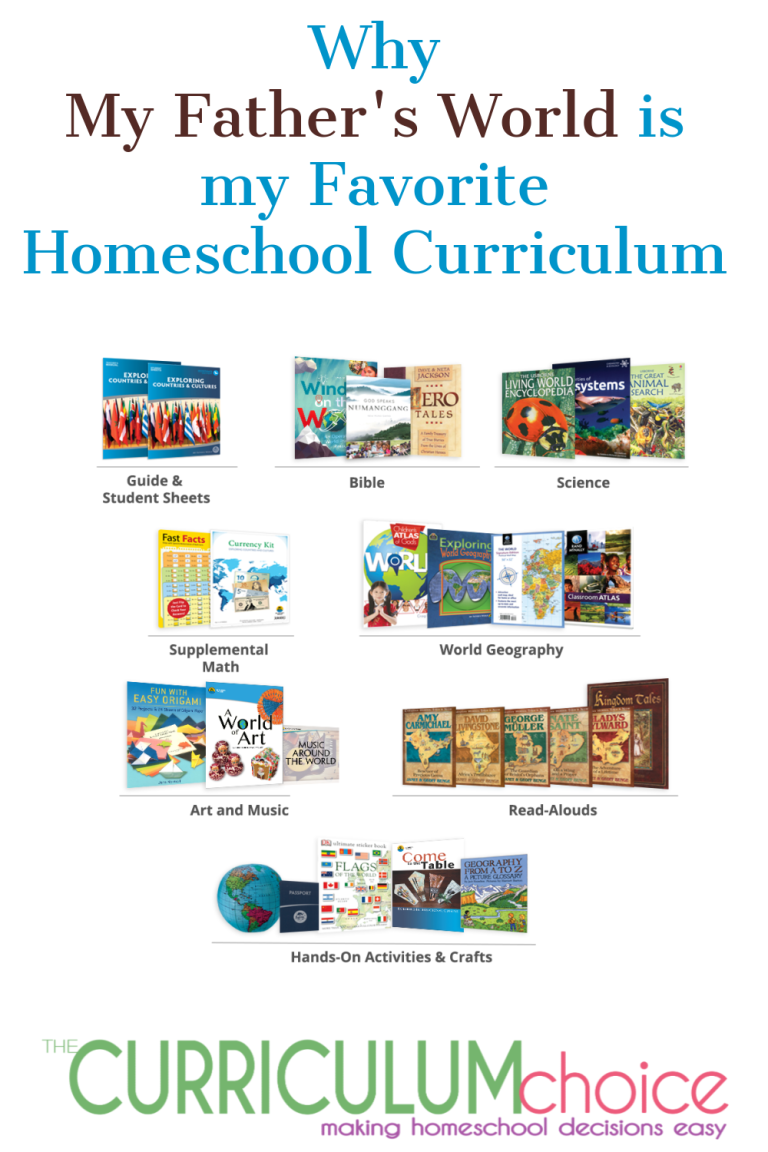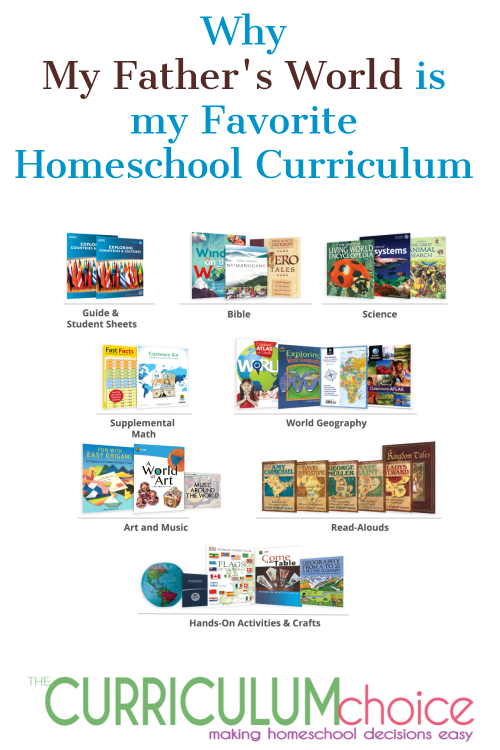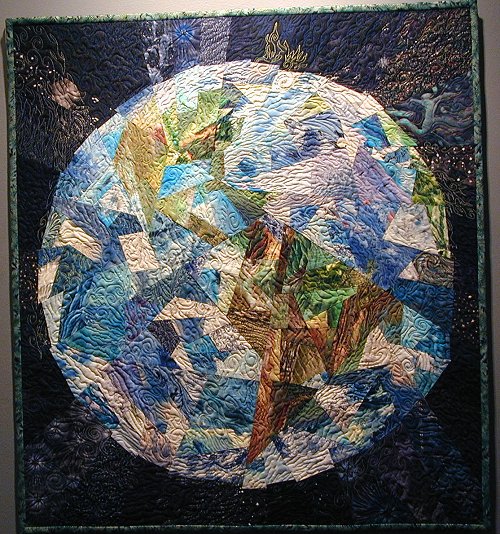 So when the first year of homeschooling was under my belt, I had to rethink my way of homeschooling. As a homeschooling mom, you know what that means. It means hours of looking at catalogs, searching the web, talking to other homeschool moms and even calling many curriculum companies. I was trying to figure a way to get perfect curriculum in all subjects!
As I was searching I remembered someone mentioning "My Fathers World". I had looked at it before but it was one of those pre-package curriculums and that was not what I wanted. I wanted to put together my perfect plan of curriculum on my own BUT I kept going back to "My Fathers World". 
My Favorite Curriculum – My Father's World
After hours and even weeks of deciding, I purchased this pre-package curriculum. Why would I do what I said I wouldn't. I discovered that My Father's World was the closest thing I could find to my perfect curriculum all in one package. So let me explain why I love it.
First, I love the philosophy of this program and how they put the heart of child first. That is what drew me to the program first. So let me go through the program and explain how it works. It combines the methods of Charlotte Mason and classical education.
My Father's World has many one year unit study type programs starting with kindergarten and all way up to the high school years. We started with the Exploring Countries and Cultures program. This program is designed for 2nd-8th graders.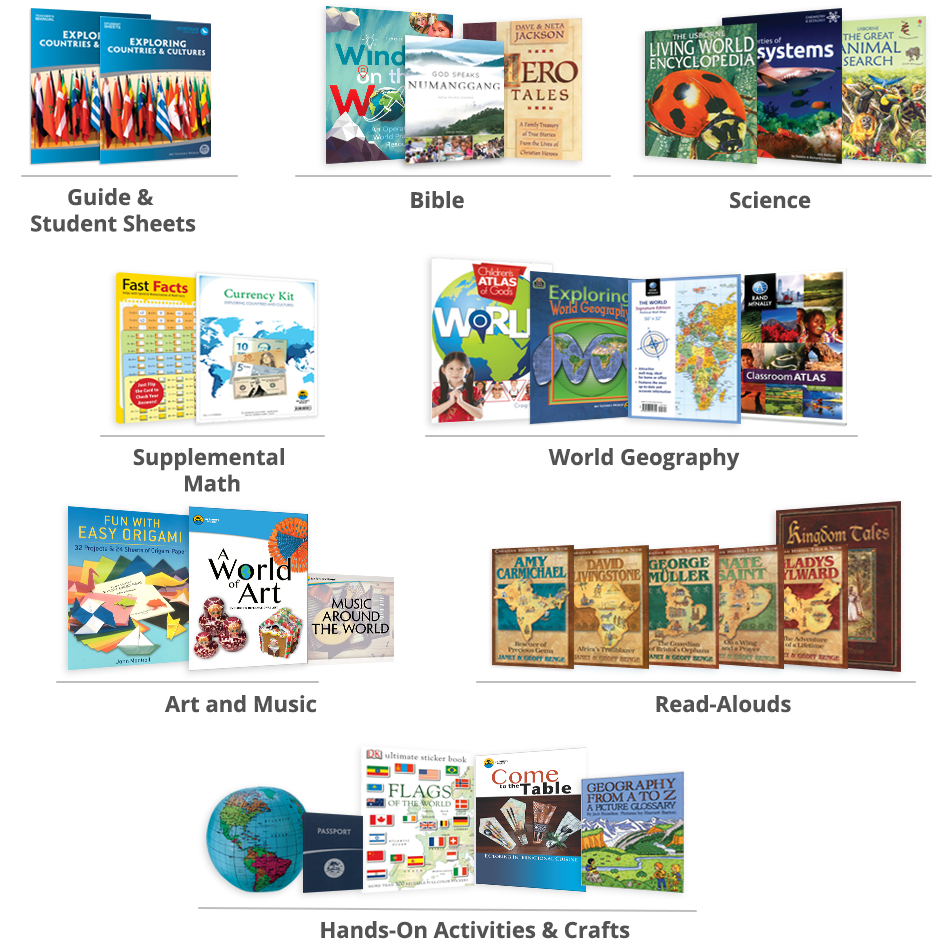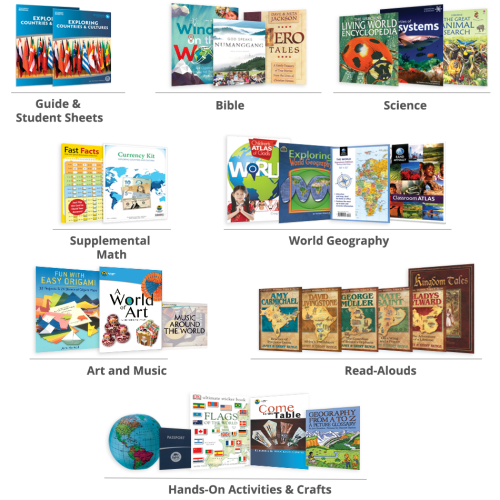 It is a multi-age unit study: The program is designed to be used with more than one child at a time. This is a big time saver! I teach all the subjects together except language arts and math.
Strong international focus: In Exploring Cultures and Countries you visit a country every two weeks. You learn about the country's geography, ecology, and cultures. You spend time learning about the common religions in each of the countries you study.
Integrated Bible content: In Exploring Countries and Cultures you spend the year reading the book of Matthew and memorizing many verses from Matthew. You read about missionaries from the past and present. You learn what God is doing in other countries and you are shown how you can pray for each country specifically.  It teaches a wonderful biblical worldview.
Geography: You do plenty of map work each week and with that you learn plenty of map skills. Older students can do research projects as they study each of the continents. You play games to learn the names of all the countries, oceans, capitols, and continents.  You make a passport and you place a flag sticker in your passport as you "travel" to each country. There are hands on activities such as cooking and flag making. You learn new geography terms every week which the student keeps in a journal.
Science: You spend the year studying habitats from all over the world. You spend time taking nature walks and keeping a nature journal.
Reading: There is plenty of living books provided with this program! My Father's World does something called a reading basket. Everyday the children read books you have selected from the library or have purchased. The books are all related to what you are currently studying such as rain forests. You may have many subjects to chose from some fiction and non-fiction. There is a read alouds included in the program. The read alouds coincide with the country you are studying.  In ECC the read alouds are true stories of missionaries.
Art and Music: The program has plenty of art projects based on the countries you are studying. There is also a CD with ethnic music from around the world.
Language Arts, Math and Foreign language: They suggest certain LA and Math programs but you can add whatever you choose.
Pros of My Father's World
I love how it combines the methods of Charlotte Mason and classical education. It is a perfect mix of both of these philosophies.
I love the journaling and the nature studies.
The teacher manual is a huge plus. It so well laid out. Each week is laid out on a grid and then additional informational is given for the planned activities. The TM tells you what needs to be photocopied for the week and what extra supplies are needed.
The supplies are easy to find items.
The TM gives a list of books you can check out at the library or purchase for your reading basket.
The TM is so easy to use, generally this program is an open and go.
The bible is my favorite portion of the program. I love the memory verses. Easy to do but challenging. I love how it tells you to pray specifically for each country. You learn what challenges missionaries face in the field.
I love how you can combine your kids for so many subjects. It turns learning into a family time together. 
I love the biblical worldview that is taught throughout the program.
The crafts are easy to do and fun.
I love how you can chose you own math and LA.
The program is designed to be done 5 days a week and Friday is a light day. It can easily be turned into a 4 day week by combining Friday's plans into other days of the week.
Cons of My Father's World
I felt the science to be a bit light for my taste. We did add more science to the program. My Father's World came out with an updated version for ECC and it looks like they have added more to the science.
You have to be okay with having everything all laid out for you. For me this was a plus since it is done so well.
The music was not my favorite, a bit too kiddy for us. In the other programs of MFW the music is done more to my taste with classical music. 
We felt the read alouds to be a bit dry. We did add some of our own read alouds.
If you don't live near a library with a decent selection of books it would be hard to incorporate the reading basket idea.
About the Updated Exploring Countries and Cultures
My Father's World came out with a new edition of Exploring Countries and Cultures. The science looks improved. There is less photocopying, and there is a nice supplement you can order for 7-8th graders. 
We are in our second year of My Father's World. We are presently using the Rome To Reformation program. We are loving this program just as much! We plan to stay with My Father's World for the long road maybe even all the way through!
~ Originally published April 2009, by Korey
More My Father's World Reviews from TCC