Did you know? Pilgrim's Progress is the best selling book of all time other than the Bible! And we have been enjoying the All-in-One Curriculum set from Answers in Genesis.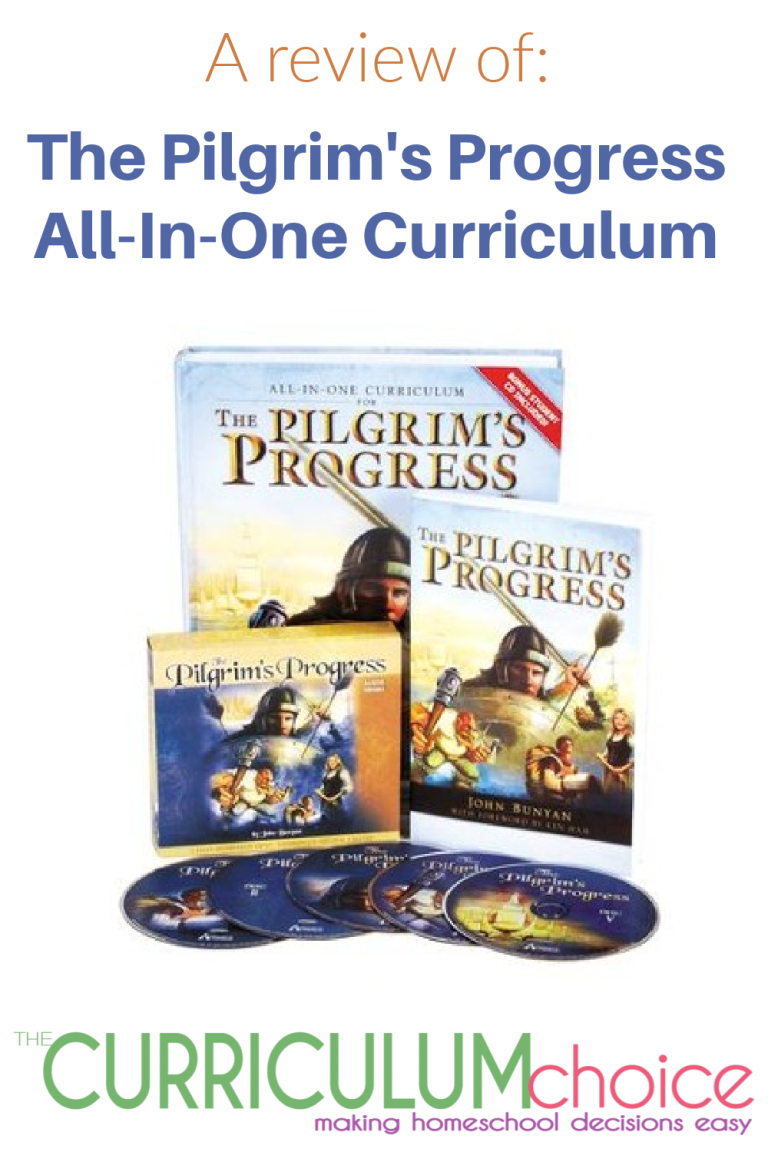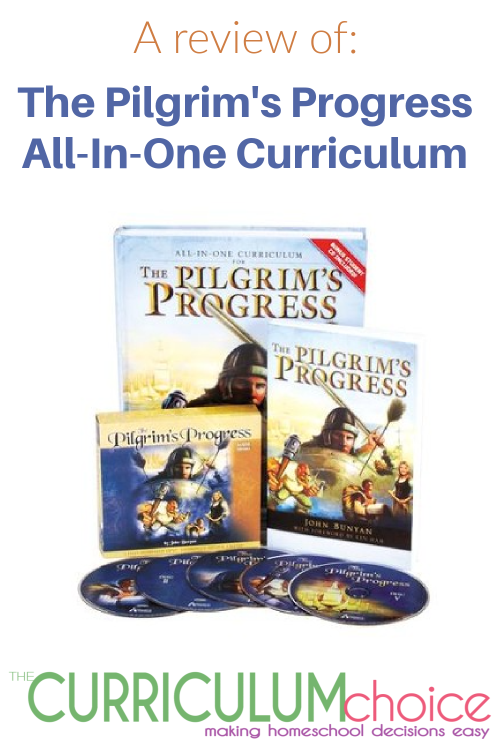 ~ We received these resources in exchange for an honest review. All opinions are our own and we love the benefits and blessings we are continuing to see from this multi-age study. Please see our disclosure policy.
What is The Pilgrim's Progress All-in-One Curriculum Pack?
This Pilgrim's Progress curriculum pack, based on John Bunyan's classic allegory, will challenge you and your children and help build a love for the truth and authority of the Bible. The curriculum pack is designed for homeschool, family devotions, Sunday schools and personal and small group studies.
In the introduction, Ken Ham he shares about the parents greatest job: training children up – developing a taste for the Bible and greater works. He says that of course the most important taste is for the Word of the Lord and the gospel. Pilgrim's Progress is the greatest Christian allegory (Written by John Bunyan, a preacher, when he was in jail in England.) "…still in print and a best-seller over 300 years after it was originally published.
Train up a child in the way he should go: and when he is old, he will not depart from it Proverbs 22:6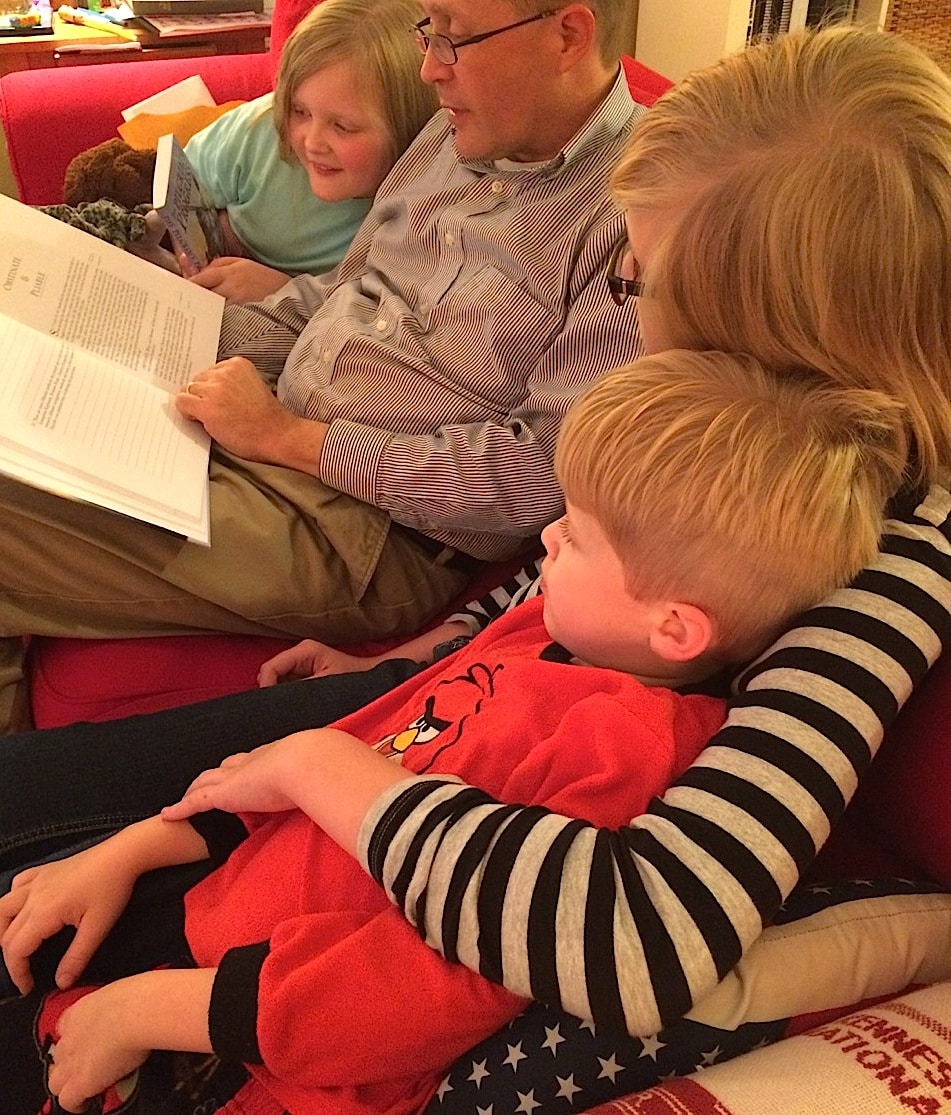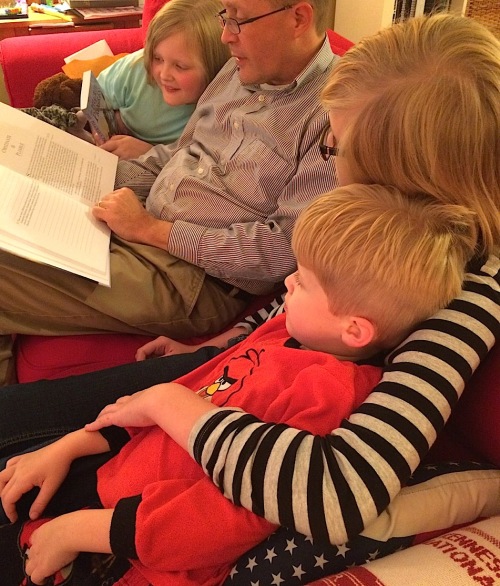 What is Included in the Complete Pilgrim's Progress Pack?
The Complete Pack (An $80.00 Value) includes three items:

39 lessons based on audio version
suggested use for 13 weeks – 3x week (easily adaptable)
Discussion – Truths to Ponder (for younger children) and Digging Deeper (for older students)
Memory verses (suggested that you keep on coil bound index cards)
Illustrated with the same illustrations in the curriculum.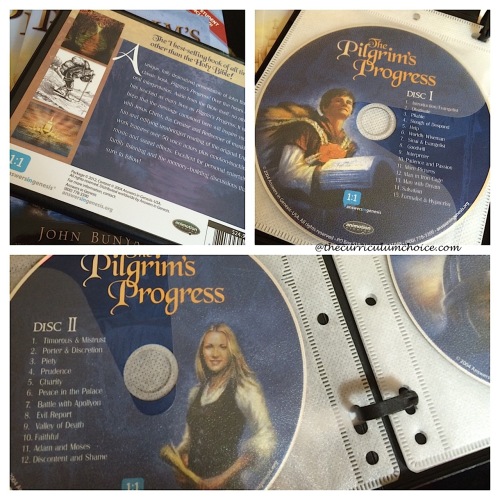 Don't you just love audio books? Our copy of The Pilgrim's Progress audiobook stays in the family van for listening whenever and wherever we go! The audio version is a dramatization and makes the old English 'easier' and the curriculum includes:
Explanation
Character analysis
Discussion and much more.
(each of the above is available for purchase separately)

How We Use The Pilgrim's Progress in Our Homeschool

What Ages is this Designed For?
Suggested for grade 2 to adult, I love when I find something we can ALL listen to/enjoy/learn from. It's pure pleasure to learn as a family. Less work for mom. Better discussion time. So many benefits!
What I love about this history and Biblical worldview resource is that I can use it for all of our ages. Yes, we are using it with all our ages: 6, 8, 12, 15 and 17 (and us adults!) We listen during lunch or in the car or in the evenings as family devotion time. It is flexible that way. We use this curriculum mainly for Bible study but there are suggestions and resources for:
history
science – featuring a scientist a week who believed in God
language arts
mapping
timeline
extension activities
It could be used as a full, multi-age unit study!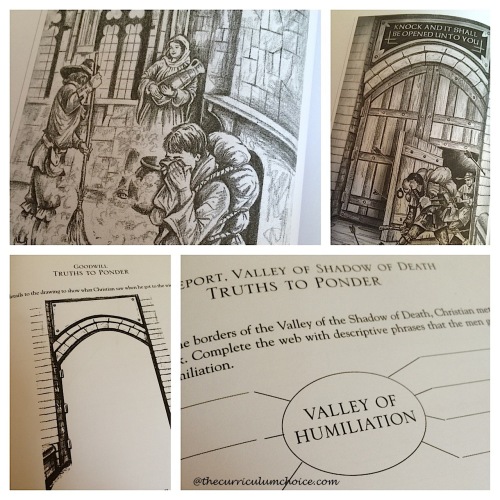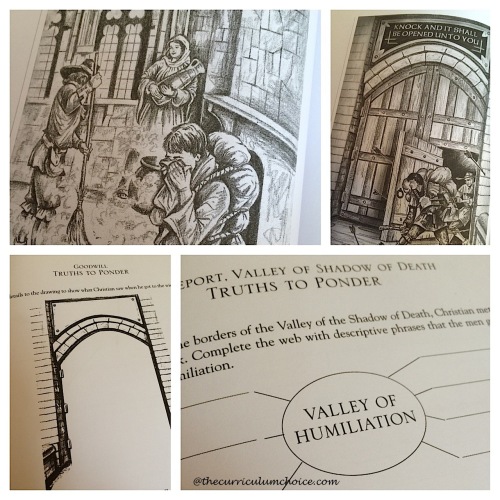 The Pilgrim's Progress Speaks to Learning Styles
Visual learner: Eldest Daughter (17-year-old) The illustrations! Plus the Truths to Ponder offer activities to complete illustrations.
Auditory learner: Eldest Son (15-year-old) thrives on hearing anything read aloud. Precisely why he enjoys Teaching Textbooks math – the lecture. So, when anything it put in the CD player, he is close by.
Kinesthetic learner: Middle Girl (12-year-old seventh grader) Those timeline activities, mapping and the sketching (like our visual learner enjoys).
I am learning so much myself! Highly recommended!
Where Can You Find The Pilgrim's Progress Curriculum Pack?
Pilgrim's Progress Curriculum Pack is available from Answers in Genesis. You can click over to view free samples and read detailed descriptions.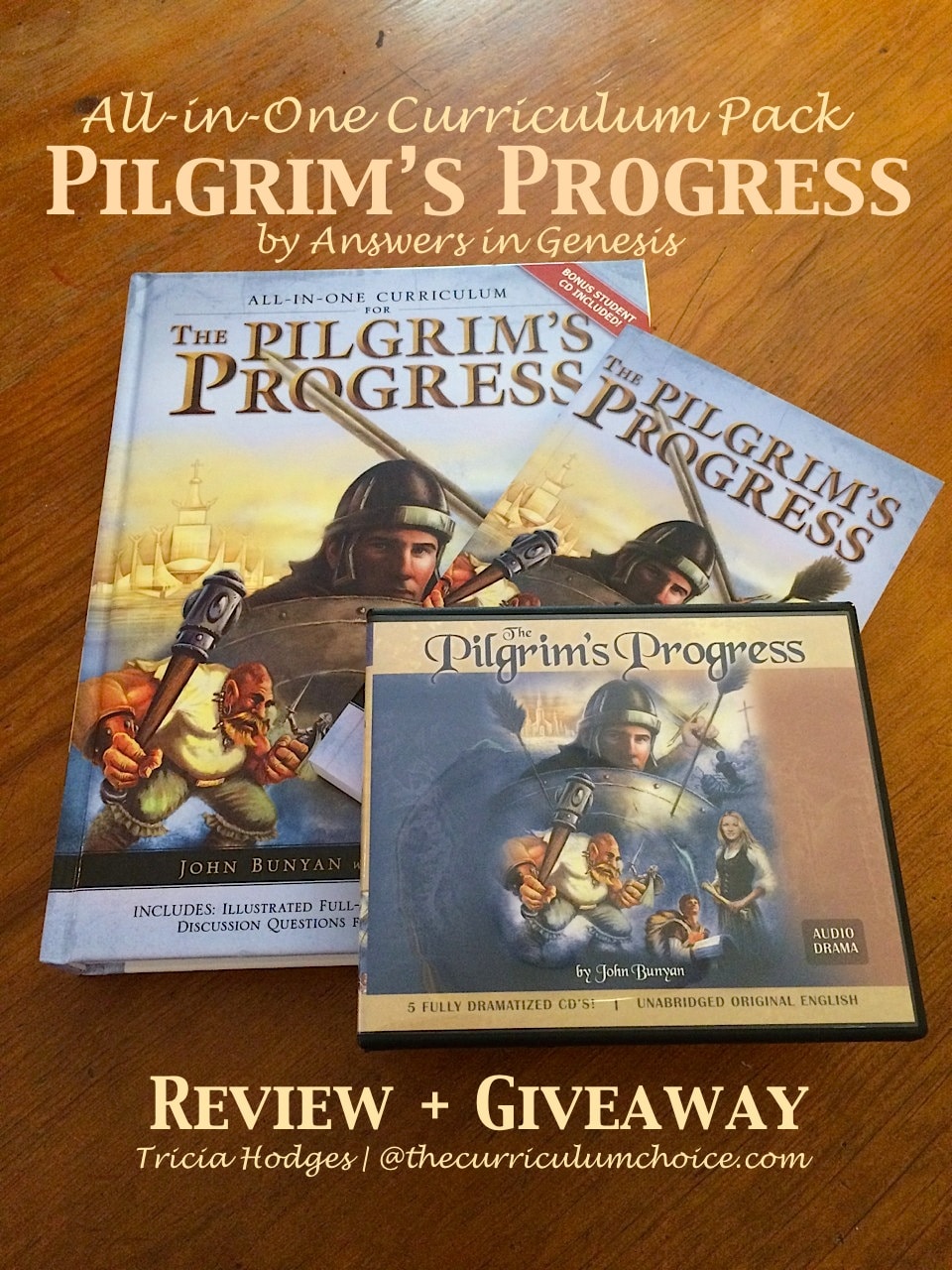 More Homeschool Curriculum Options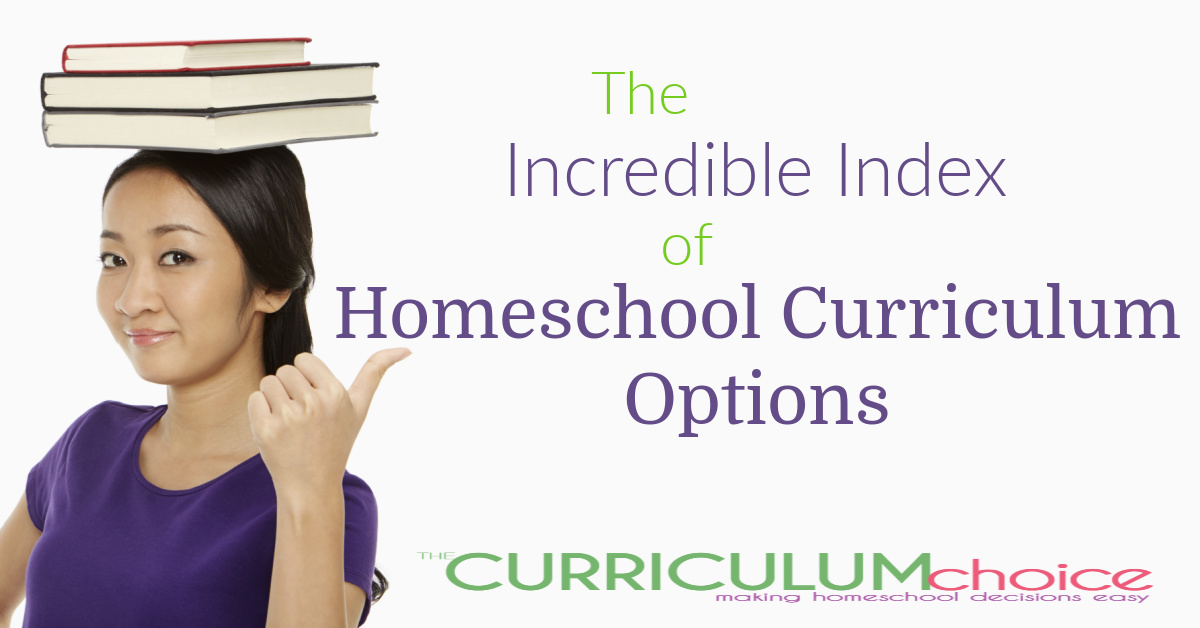 ~ Originally published November 2014 by Tricia. Tricia shares a mixture of art lessons, recipes and helpful homeschool habits at Hodgepodge. She and her husband, Steve (who writes app and technology reviews), are co-owners of Curriculum Choice.