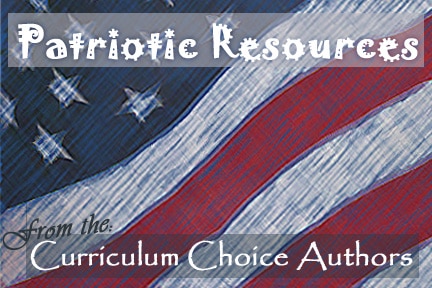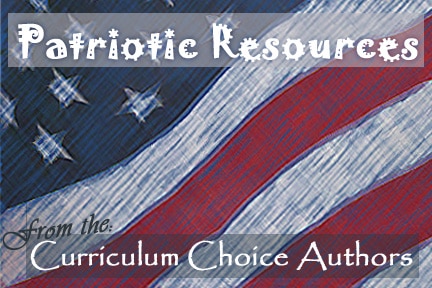 As a military spouse I know that freedom comes at a price. As a homeschool mom I want to teach my children to be patriotic and to be good citizens. We can't lose a sense of belonging to our nation nor the acknowledgement of freedoms we enjoy due to the sacrifices of those who have served. How can we pass on to our children an appreciation of this great gift? Our children will learn from us what's important, by our example. So with reverence, love and admiration for those who have given us this great gift, this month we are sharing with you our favorite patriotic posts and resources. Here are a few of my picks: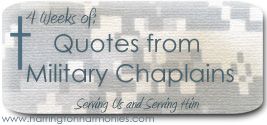 4 Weeks of Quotes from Military Chaplains: Serving Us and Serving Him
– 4 stories of Military Chaplains and how they gave to their fellow service men and women, their country, and their Lord. Features The Four Chaplains, Father Vincent Capodanno, Bishop Joseph Estabrook, and Fr. Emil Kapaun.
Free Copywork for the American Revolution: Have your child practice writing while copying famous quotes from the American Revolution. Quotes by Benjamin Franklin, John Adam, Patrick Henry, Thomas Jefferson, George Washington and many more.
Hunting the Good Stuff as a Military Spouse: "To be a grateful military spouse, we need to remember the soldier. Here is a little method I practice when being a military spouse gets tough so that I can remain grateful even though it can be very challenging and I often fall short."
   Wee Sing America:
From the Preamble of the Constitution to the Erie Canal it's an American experience through song. Of all the great children's music out there this is my all time favorite to supplement for our homeschool.
American Revolution Projects and Ideas: "With this post I want to share resources and tie in the past and the present. From the present a few things from our Revolution study and from the past many field trips to Williamsburg and Yorktown."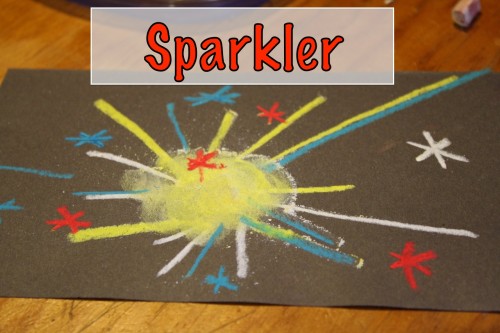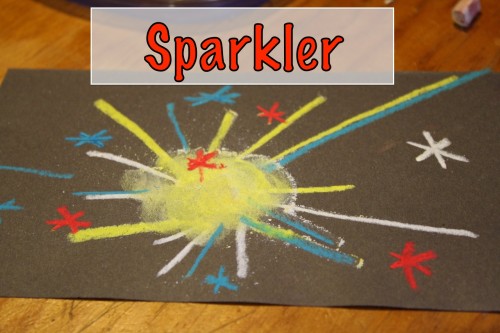 Tricia:
Sparklers Chalk Pastel Tutorial – "I would never have known the amount of color wrapped up in a sparkler had it not been for Nana's celebratory pastel."
Elections Unit Study for Multiple Ages – resources we used for a unit study. "Picking up books at the library, the librarian is scanning all the selections I've reserved. She asks, "so are you a teacher, a homeschooler or a dedicated parent?" I answer to all of the above, don't you?
Heidi:
Resources for a 50 States Unit Study: In a 10-post series I share books, videos, and internet resources along with notebooking and hands-on activities to explore the sights, sounds, and tastes of the 50 states. There are ideas for studying the geography, natural environment, famous people and places that make up the USA and compile a keepsake notebook along the way.
American Government and Elections Unit Study: We learned a lot when we studied our government and election process, with a special focus on the presidency.
Annie Kate:
Learning about Earthly Citizenship in the Light of our Heavenly Citizenship:  Teaching our children about earthly citizenship involves three key elements: example, celebration, and quality resources.
A Patriotic Pinterest board! We've compiled resources for you from all over the web. From recipes, crafts, lesson plans to patriotic inspiration of all kinds.
Visit the past resources on patriotism from the Curriculum Choice authors too! And let's observe this Memorial Day in our homes and homeschools and pass on an important American tradition.
Our Curriculum Choice review team features a topic monthly. You can see all that our authors have shared on electives, math, curriculum choices and more under Review Team Features.
Stephanie is a military spouse of 17 years. She and her husband Brian of 21 years have served together both is the USAF and US Army active duty for a combined 17 years. Their family has been stationed in Japan and Germany as well as stateside and are on their 7th assignment. Stephanie homeschools and writes on their family blog Harrington Harmonies.