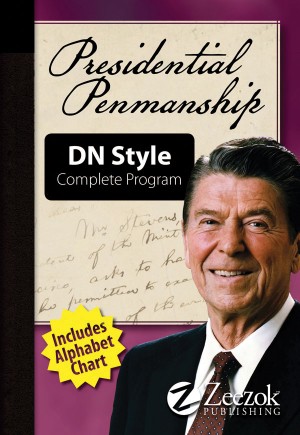 Every week I ponder some of the wisest sayings of the US Presidents.  Here's what ended up on my desk this morning, in painstakingly neat handwriting:
It is the duty of nations as well as of men to own their dependence upon the overruling power of God.—Abraham Lincoln
Tact is the ability to describe others as they see themselves.  –Abraham Lincoln
Things may come to those who wait but only the things left by those who hustle. Abraham Lincoln
There are no good laws but such as repeal other laws. –Andrew Johnson
Things don't turn up in this world until somebody turns them up.  –James A. Garfield
Officeholders are the agents of the people, not their masters.  –Grover Cleveland
Yes, Miss 11 is learning handwriting, but even more importantly, she is learning wisdom.
Presidential Penmanship calls itself a supplemental handwriting skills program.  It is meant for first grade through senior high and is based on quotes of America's founding fathers and presidents.  You would need another program to actually teach the actual basics of manuscript and cursive writing (we use Canadian Handwriting), and you would use Presidential Penmanship for writing practice. 
Presidential Penmanship offers its 8 printable e-books in 6 common handwriting styles.  There are two books for manuscript writing (grades 1 and 2), and 6 books for cursive writing, one for each of grades 3-6, one for junior high school, and one for senior high school. Each e-book has ruled pages for writing and a few extra ruled pages for extra practice, but our children just copy straight from the computer to a scribbler.
This series of copywork e-books serves as an introduction to the values that made the United States a great nation.  The quotes given above are from the grade 4 level of the program.  Earlier levels include short quotes on character qualities, and higher levels involve copy work from Washington's Rules of Civility and related Bible texts, longer presidential quotes, the Gettysburg Address, the Declaration of Independence, and Reagan's Inaugural Address, among others.
For children who despise twaddle, it's so much more enjoyable to practice handwriting while copying valuable information.
See a 65 page sample of the entire Presidential Penmanship program for the D'Nealian style of writing,
Disclosure: Two years ago I received a free copy of the DN Presidential Penmanship program as a member of the TOS Homeschool Review Crew.  The current review has nothing to do with TOS and everything to do with my appreciation of this wonderful program.  All opinions expressed are my own, and I am not compensated for this review.
–Written by Annie Kate, a Christian homeschooling mom of five, who reviews and blogs at Tea Time with Annie Kate.