Looking for a Homeschool Language Arts curriculum that suits your family's needs? Need just a spelling or writing program? This list is sure to have what you are looking for! This list contains full homeschool language arts curricula, as well as resources for reading/literature, writing, spelling, grammar and handwriting.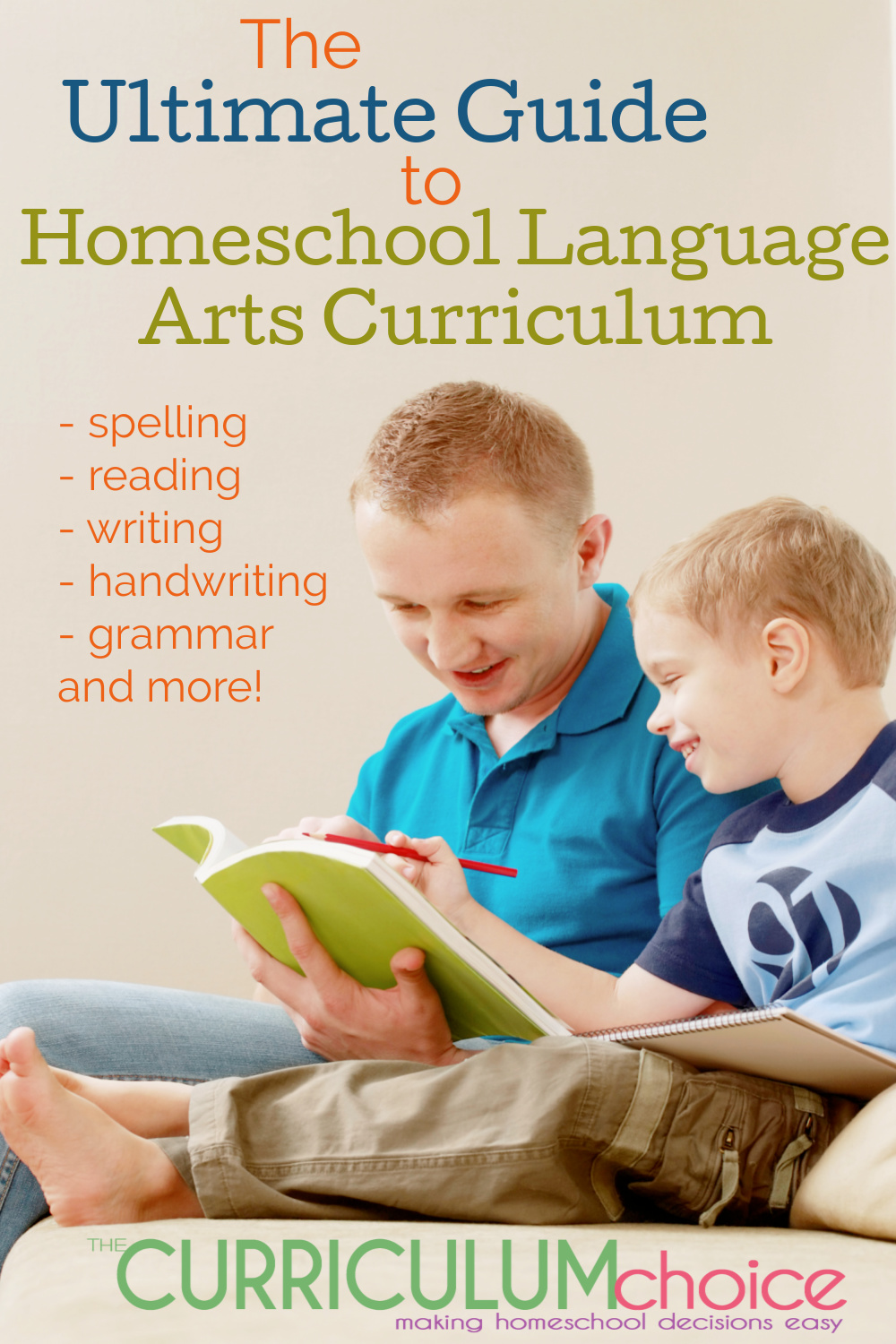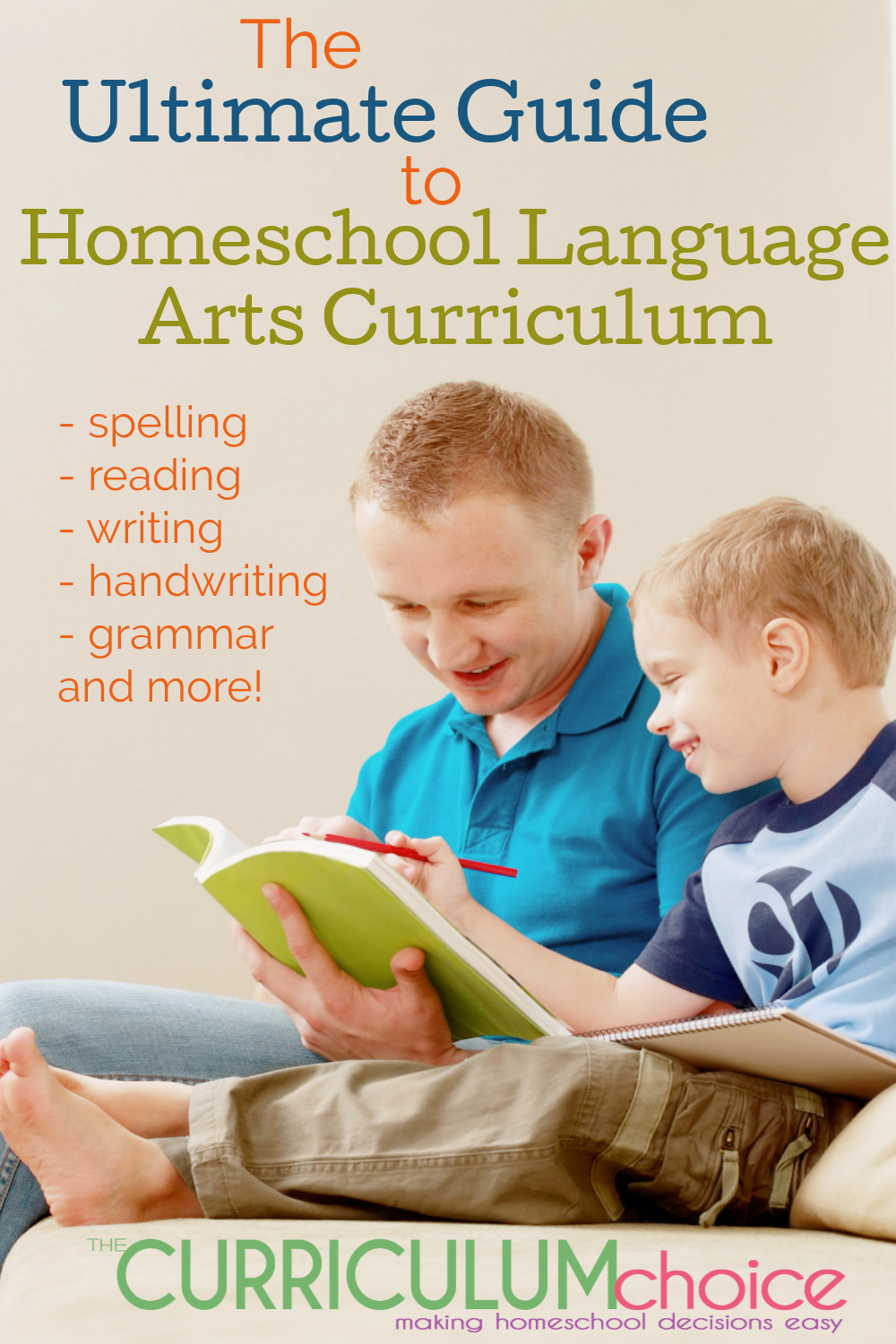 Homeschool Language Arts Curriculum
There are so many options when it comes to Choosing a Homeschool Curriculum that it is easy to get overwhelmed by it all! We here at The Curriculum Choice strive to help make your choices easier by giving you are honest reviews and offering a plethora of suggestions all in one place!
Homeschool Language Arts is a pretty large umbrella as it encompasses reading, writing, spelling, phonics, vocabulary, literature, handwriting and grammar. You can pick something that covers most or all of these topics together, or pick various programs that cover each thing separately. Either way you are sure to find something here in this list to suit your needs!
Full Homeschool Language Arts Curriculum Options
Ambleside Online – K – 12 curriculum based on the methodologies and philosophies of educator Charlotte Mason. AO is free and uses many free books available online or for e-readers. Subjects include: Bible, art appreciation (what Miss Mason called picture study), classical music appreciation, nature study, folk songs and hymns, history, geography, poetry, and literature.
Cover Story – a DVD-based curriculum taught by a professional writer. The HUGE benefit is that it's a complete language arts program with a strong writing component.
The Good and the Beautiful – Emphasizes family, God, high character, nature, and wholesome literature. Requires no daily prep time—just open the book and follow the instructions, learning and exploring along with your child
Homeschool Digital Language Arts from Compass Classroom – When you think of homeschool language arts do you think of traditional textbooks, spelling quizzes, writing resources and workbooks? We use all of those wonderful tools in our homeschool too. But do you know what is a fabulous addition? Homeschool digital language arts! Digital language arts have enriched our learning greatly.
Learning Language Art Through Literature – English lessons have never once been a chore with this curriculum – honestly! Our girls have loved each and every Learning Language Arts Through Literature (Llatl) book and I have to say that it has prepared them well, given them a solid grounding in grammar, writing, vocabulary and exposed them to lots of wonderful classical literature.
All in One Online Language Art Curriculum with LightSail – combines reading, writing, vocabulary, and fluency for pre-K through high school.
Logic of English – a secular program that is a full phonics, reading, handwriting, grammar and spelling curriculum.
Oak Meadow – All of the language arts lessons are integrated into the history and geography lessons. So there are many things to write about. As my daughter finished her history lesson for the week, she had no trouble thinking of something of interest to write about. I was so pleased to watch her writing skills developed naturally as she progressed through the year.
Train Up A Child Publishing – a literature based Charlotte Mason approach that uses the Bible and great children's literature to teach Bible, History/Reading, Science, Language Arts, and Fine Arts together.
Reading/Literature
All About Reading – The illustrations tell an often funny story, one that goes beyond the beginning reader text. Even at this very early level a story is not limited to 3-5 words repeated over and over.
How to Read a Book by Adler and Van Doren – teaches the average reader how to understand, analyze, and learn from books. It takes students beyond the basics of reading to become scholars. It is, I think, the foundational book in our homeschool high school.
Lightning Literature and Composition for Middle School – (There are also ones for elementary and high school) Lightning Literature and Composition from Hewitt Homeschooling is a literature based program whose focus is on Preparing for High School Composition Skills by Responding to Great Literature. Using literature as a base, Lightning Literature teaches reading and writing skills, literary analysis, composition skills, and vocabulary.
The Ordinary Parent's Guide to Teaching Reading – The Ordinary Parent's Guide to Teaching Reading is a simple and effective phonics program for teaching kids to read without them having to write.
Readers in Residence – designed for kids in grades 4-8. It infuses reading comprehension, literature, and vocabulary into one program, using solid, age appropriate literature.
7 Sisters Literature Guides – teach literature-learning skills but don't kill the book and aren't full of busywork. the guides only cover simple background, basic vocabulary, one or two literary themes or devices, and inferential skills-building questions.
Shakespeare for Kids – Resources for kids from elementary through high school to help them learn and understand the many works of Shakespeare.
Teach Your Child to Read in 100 Easy Lessons – step-by-step program that teaches your child to read in just 20 minutes a day.
Connecting Art with Literature
Connecting Art with Literature is wonderful way to make stories come alive! You Are An Artist has TONS of ways to do this through things like I Drew It Then I Knew it and Poetry Tea Times. Below you will find a sampling of all the lovely things they have to offer.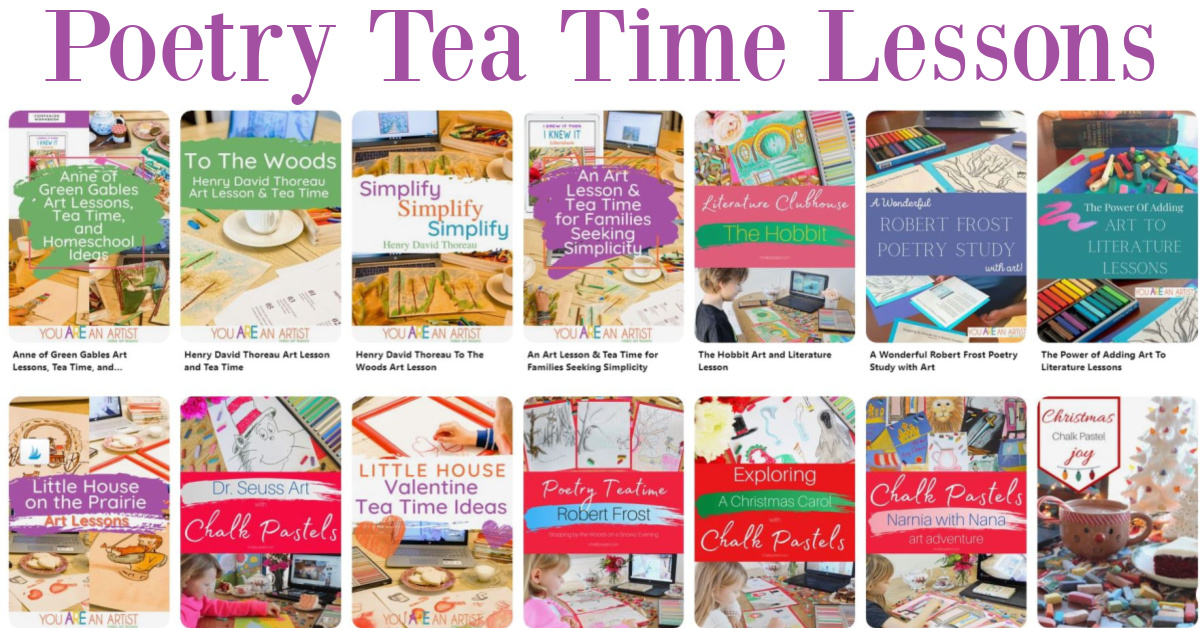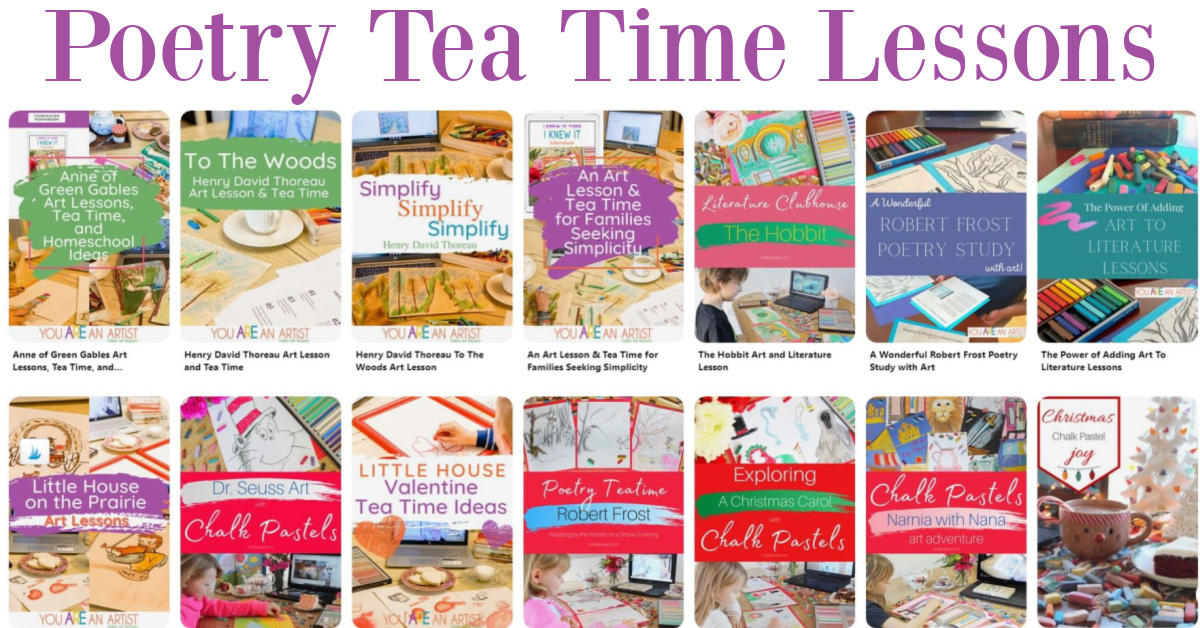 The Power of Adding Art to Literature – Of course art makes a difference in how we can connect with literature! Bringing a story or poem to life in this most accessible way, allows a learner to not only understand the learning, but retain it as well. For example, drawing The Globe Theatre as a part of our Shakespeare study gave my son an immediate visual reference whenever it came again in the 39 Clues Book series. He knew it because he drew it!
Stopping by Woods On A Snowy Evening Tea Time – Winter is a wonderful time for tea in your homeschool. Most of us have seen lovely homeschool tea time spread photos on social media and feel intimidated to try our own. Or perhaps, you aren't quite sure where to begin. Well, I want to share a poetry tea time with you today that is easy to set up, and every bit counts as educational. And, if your children are anything like mine, they will be asking when the next poetry tea time is.
An Art Lesson & Tea Time – Start Combining Literature and Art: If you haven't joined the You ARE An Artist Clubhouse yet, this is a wonderful lesson that will give you a glimpse into the simplistic and rich learning that can come from combining art and literature in your homeschool. They have an entire Literature Companion Workbook that you can use right alongside art lessons like this one with fact sheets, writing prompts, research ideas, and more!
Little House on The Prairie Homeschool Ideas You'll Love – Wonderful ideas to help you tie this loveable series into your homeschool. Whether tea time is your thing, or maybe you prefer an entire unit study, and as always, you have to add art, we have a few Little House on the Prairie homeschool ideas to help you plan.
Chalk Pastels Narnia with Nana Art Adventure – Art lessons inspired by many wonderful things in the world of Narnia.
Writing
Teach Creative Writing with Bardsy Homeschool – leads students step-by-step through a creative writing process; teaches key elements of great storytelling; includes many short videos to explain topics.
Brave Writer – offers a variety of writing curricula and resources, they also provide home study and online courses.
Byline Video Writing Program – A writing curriculum crafted to transform essay writing—from the creators of the One Year Adventure Novel and Cover Story!
Night Zookeeper – As kids progress through the site they complete writing prompts about the animals they created. Online tutors read the writings and offer encouraging feedback. This is part of what makes this language arts curriculum so easy for parents – the feedback is provided by someone else.
No Plot? No Problem! Novel Writing Kit – This book is geared to the high school student and is written by the founder of NaNoWriMo, Chris Baty, a veteran author himself. No Plot? No Problem! is a low-stress, high velocity guide to writing a novel in 30 days.
One Year Adventure Novel – a high school fiction writing curriculum through which the kids write an entire novel by the end of the year. It's entertaining, educational, adventurous and fun!
Rod and Staff English – is a solid, systematic English program that covers grammar and writing topics thoroughly. It's a Mennonite publication so you'll find many farming references (and religious ones as well). It isn't flashy and colorful, but its simple style is easy to follow, and when you complete the series, your children will have a very firm grammar foundation.
Writers in Residence – a homeschool writing curriculum is designed for kids in grades 4-8. While your child completes various writing assignments, they will also grow their vocabulary, learn about sentence structure, the parts of speech, and the conventions of the English language for punctuation, capitalization, and usage.
WriteShop – I can't begin to tell you how impressed I am with WriteShop. I have recently acquired WriteShop I to use with my 8th grader and I am finding it to be a comprehensive writing curriculum that includes detailed help for both student and parent.
Writing & Rhetoric Commonplace: – Classical Academic Press created the Writing & Rhetoric series as a program that's modeled after the progymnasmata (which means 'preliminary exercises') — it's an ancient system that uses a series of exercises that teach students who to speak and write persuasively. Each book in the 12-book series focuses on one of these steps. Every book in the series builds on the skills in previous levels and assignments get more detailed and difficult (in small incremental steps). Another Writing & Rhetoric Review: Writing & Rhetoric: Ecomium & Vituperation
Writing with Ease – an elementary level, classical approach to writing from Peace Hill Press.
Spelling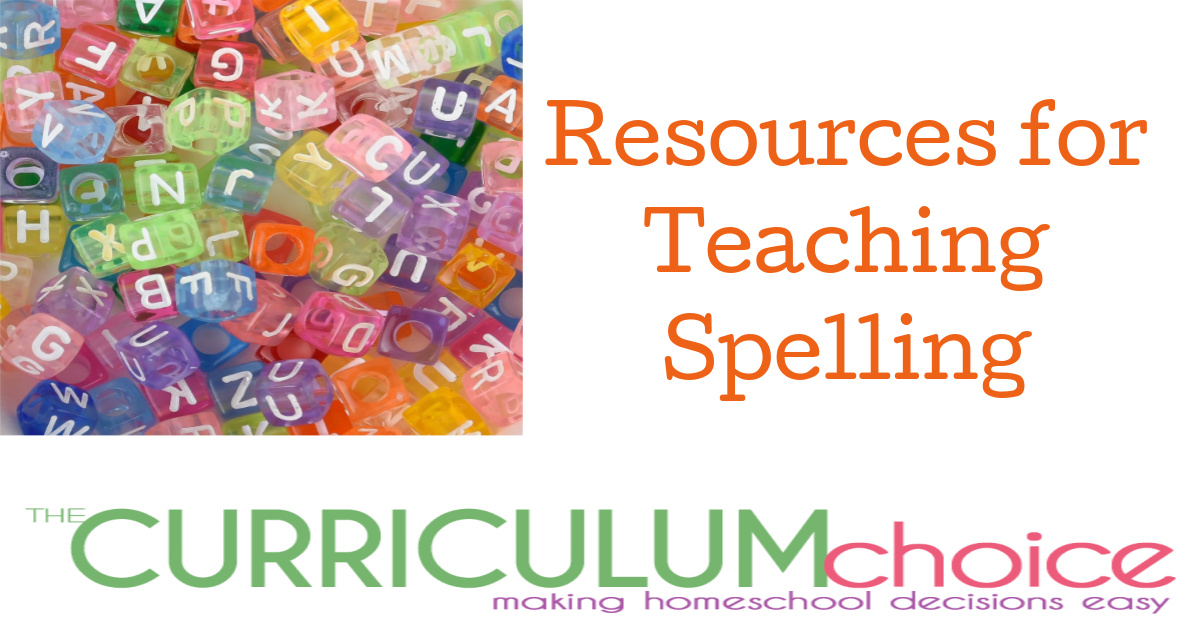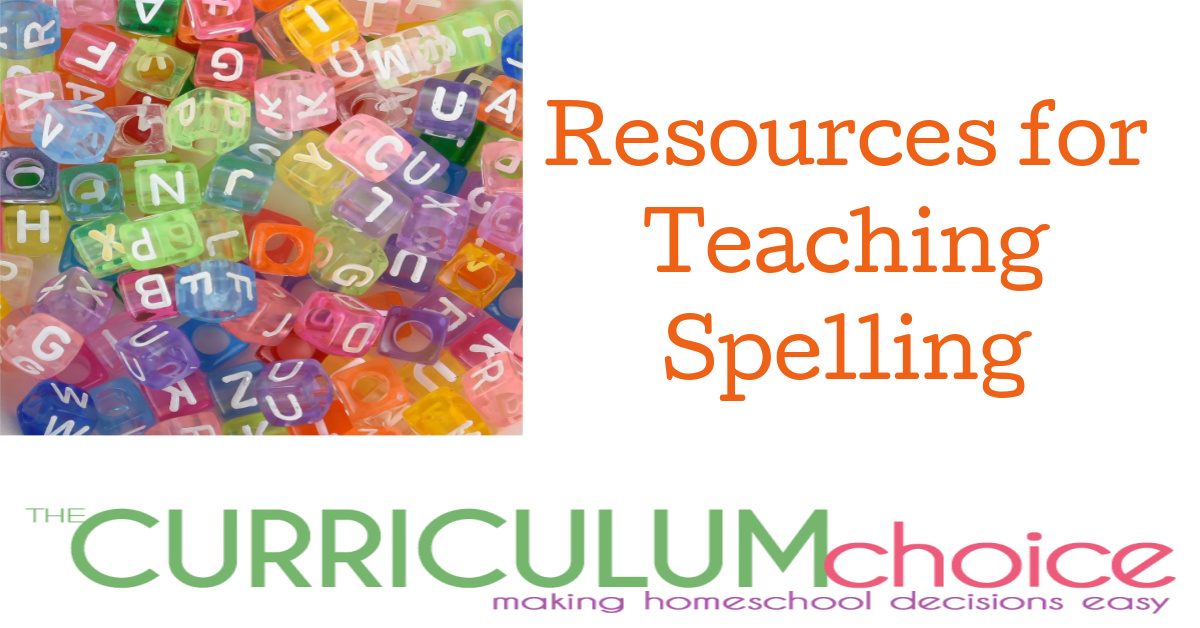 All About Spelling – a phonics based, multi-sensory approach to spelling.
DIY Word Wall for Early Readers – Having a word wall is a creative way to help your hands on learners with spelling and reading.
Evan-Moor Building Spelling Skills – A one year complete spelling curriculum divided into 30 week-long units. A systematic approach designed to teach your child 300 of the most commonly used words.
Soaring with Spelling & Vocabulary – is a daily spelling program that includes eight separate grade levels of spelling/vocabulary work. I love the independent work nature of this program. Other than having to do the pre and post test with your student, Soaring with Spelling is set up for your student to learn independently.
Spelling City – customizable gameplay that helps kids retain and grow their vocabulary and practice spelling words.
Spelling Power – For grades 3 through college this book provides all the spelling lists from beginner to advanced in one volume. All the master worksheets are provided using various line spacing so you can print off appropriate pages for young and old.
Spelling Workout – Spelling Workout is the basic, thorough spelling program we have needed for spelling success. I like that spelling practice includes fun word games plus challenges older children with editing and writing skills. It's all in one place – in a workbook.
Grammar
Analytical Grammar – "I am a woman on a mission to convince parents that they don't need to be 'doing' a grammar worksheet every day, all year long, for years and years! If grammar is taught sequentially and logically, there is no need for so much repetition." ~Robin Finley contributing author. Meant to be taught in middle school during ten weeks of the 6th grade year, eight weeks of the 7th grade year and 17 weeks of the 8th grade year, the three seasons can be easily modified and completed in one or two years time as desired.
A Brown Bear's Language Arts Study – designed for children ages 9-11 is a Bible-Based, literature inspired study that teaches grammar and basic paragraph writing.
Daily Grammar – a FREE grammar curriculum that covers the eight parts of speech, the parts of a sentence, and grammar mechanics.
Daily Grams – 5-10 minute, daily review to be used at the beginning of each lesson; Students use concepts learned in capitalization, punctuation, and other areas on a daily basis; Promotes mastery learning
Easy Grammar – a grade-by-grade program, teaching kids the essentials of grammar. There are about 180 lessons in each book, making for one easy lesson a day. Each lesson only takes 10-15 minutes to complete.
First Language Lessons for The Well-Trained Mind – an excellent foundation in grammar and beginning writing. The books use a "Four Strand Approach" to teach grammar rules, usage, and beginning writing. The "Four Strands" are: Memory work, Copying and dictation, Narration, and Grammar.
Growing with Grammar – a complete grammar program for grades 1-8.
Living Literature Grammar Packs from Our Journey Westward – Suggested for use in grades 3-5. These Charlotte Mason style lessons are built around picture books. Each week a new picture book is shared, and then the grammar lessons come from the text of the story.
Rod and Staff – Learning grammar can be done along with the process of reading and writing naturally. However, to consolidate the practical knowledge, learners need to learn and practice the use of grammatical knowledge in routines.
Handwriting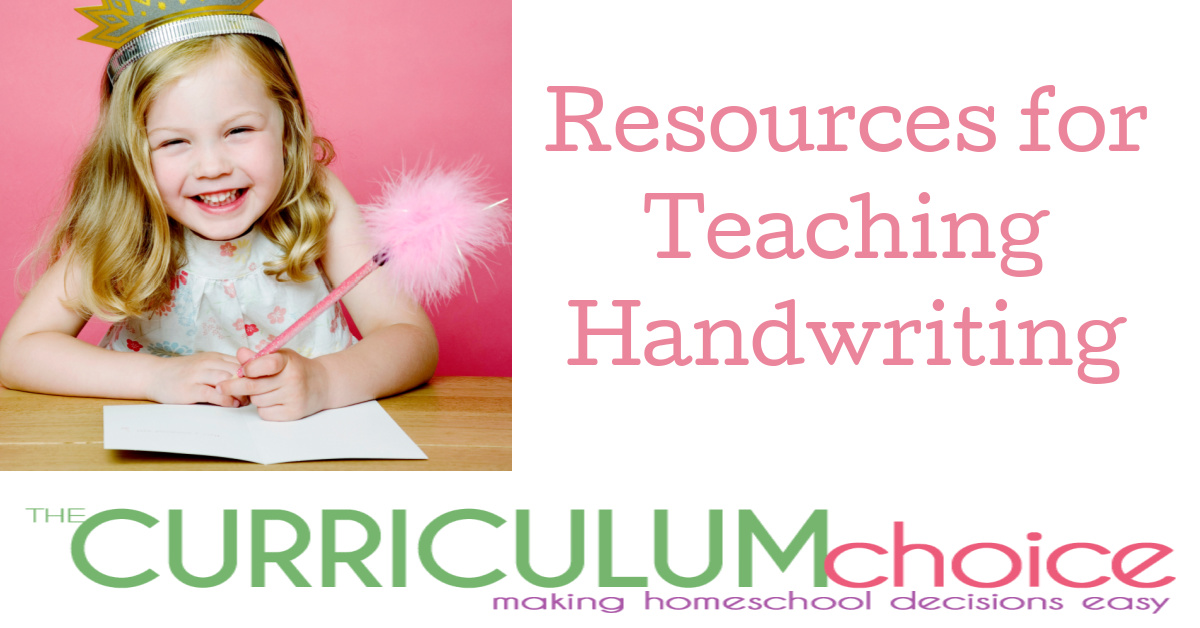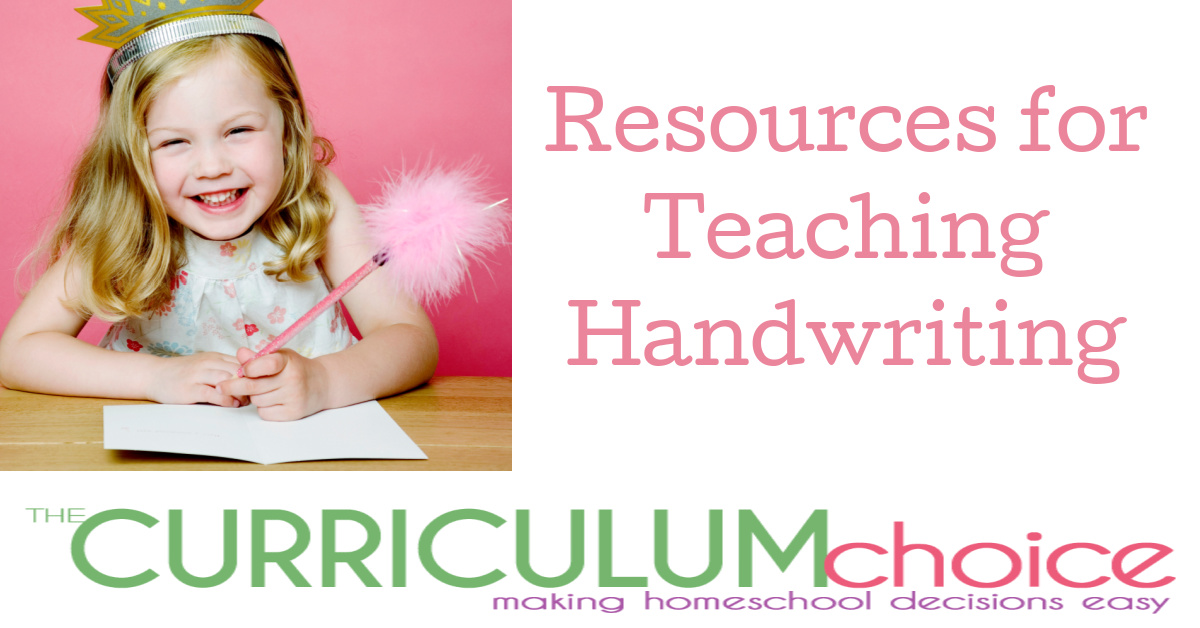 Pencil Grips and Aids by Draw Your World – You probably know the folks at Draw Your World from their wonderful series of work books, Draw Write Now. Draw Your World also offers another great resource – the Starter Pencil Kit, which is full of helpful writing aids and devices to make learning to write easier for your kids.
BJU (Bob Jones University) Press – Handwriting 3 – Handwriting 3 is for 3rd graders. It helps the student develop his/her handwriting skills by tracing upper and lower case letters, free writing letters within the lines and then writing out whole words and sentences. There is a wide variety of writing exercises which keeps it interesting. Poems, Bible verses, personal compositions, writings on missionary work etc. The pages are perforated so that you can tear them out and hand them to your student, or the student could work directly in the book.
Cheerful Cursive Writing & Reading – a comb-bound book, making it easy to use as the students write. It consists of 160 black and white pages (using front and back of each page). There are fun "stroke friends" that walk the students through their lowercase cursive learning. This course starts with lowercase letters and progresses to uppercase. I really love how short each lesson is – this works WONDERFULLY for my "I don't like to write" son!
Cursive Handwriting Resources for Elementary – a simple frugal resource for teaching the basics of cursive writing to your young learners. Success With Contemporary Cursive by Scholastic addresses all 26 letters of the alphabet with simple to follow directions.
Handwriting Without Tears Cursive Success – The Cursive Success book focuses on making cursive letters connect and forming them into words and sentences. The publisher recommends these workbooks for 3rd and 4th grade but if you feel that your child is ready then I am sure they could be used in the earlier grades as well.
Handwriting Without Tears K: Letters and Numbers for Me – HWT provides clear instructions for letter creation. So clear in fact that my five-year-old boy completes his handwriting independently and well.
Pentime Handwriting Series – It is a basic handwriting course with no frills or extra activities, just daily penmanship practice. If you are looking for a basic, no frills penmanship program, this is a great one to try.
Print to Cursive Proverbs from Simply Charlotte Mason – a curriculum written for students beginning the transition from print to cursive.
A Reason for Handwriting – For grades K-6. Designed for practice each weekday. Days 1, 2, 3 have your child practicing letters or words from the week's Bible verse. Day 4 your child traces the entire verse for practice. Day 5 your child writes the Bible verse on a border sheet.
Conquering Cursive – a simple, distraction free cursive workbook for older kids that has separate left and right handed workbooks!
Homeschool Language Arts round-Ups Here at The Curriculum Choice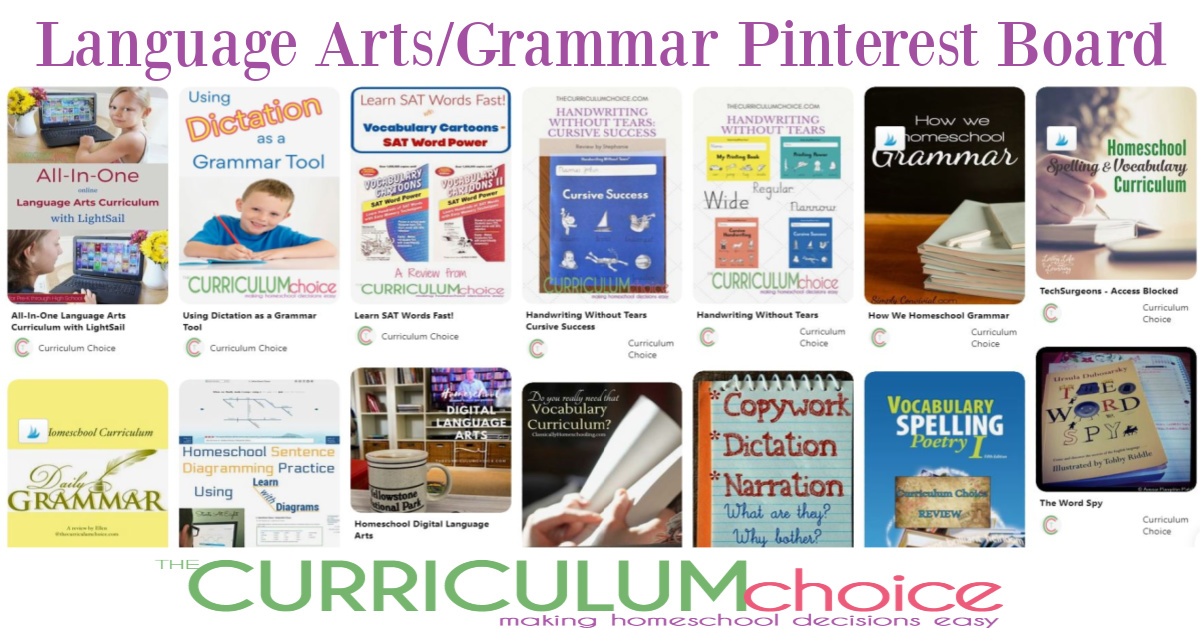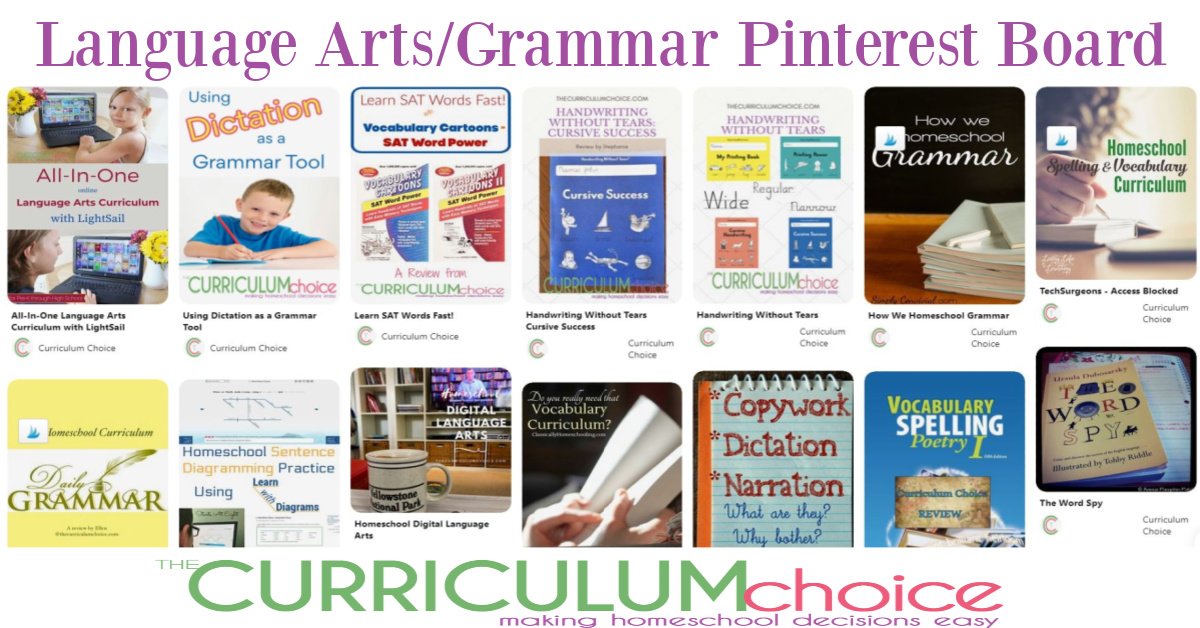 MORE ULTIMATE GUIDES
We hope you have found some great resources with our Ultimate Guide to Homeschool Language Arts Curriculum. Stay tuned as we work our way through math, history, science, and language arts, as well as guides by grade level! {We will link them here as we go!}