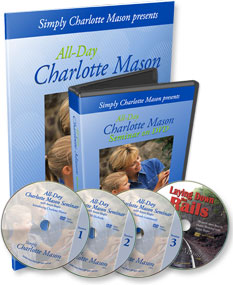 What a wonderful experience I have had the last few months!  I received the All-Day Charlotte Mason Seminar on DVD, seminar workbook, and the Laying Down the Rails book and Workshop on DVD from Simply Charlotte Mason to review.  If you have never been over to visit Simply Charlotte Mason, I highly recommend you take a look.  They offer free curriculum guides, free ebooks, and many materials for purchase as well.  They truly help make Charlotte Mason's homeschool ideas simple.  Their blog is one that always inspires me.
I began by watching the 3 DVDs for the All-Day Charlotte Mason Seminar and taking notes through the accompanying workbook.  I did this over the course of several evenings while my children were falling asleep in their beds, which allowed me some quiet to focus.
Session 1 (34 minutes) introduced me to Charlotte Mason, who she was, when she lived, and her ideas about education.  It was neat to get to know her this way.  I had tried to read her books in the past, but just could not get through them.  It took too much brain power at a time when I was trying to just keep up with my young children and get sleep.
Session 2 (78 minutes) and 3 (71 minutes)held my hand as we went through each subject applying Charlotte Mason's methods.  Here is where I had many, many ah-ha moments. Short lessons, living books, and narration – these things made sense and could easily be integrated in our unit study family.  I appreciated that I was not expected to add everything in at once.  The appendix explained a doable plan for making the transition to a Charlotte Mason approach a step at a time.  Here is a short clip from the workshop about using narration.
Are we now becoming a Charlotte Mason family? Yes and no.  (grin)  I think narrowly defining any homeschooling family by one method is usually inaccurate.  We prefer to pick and choose the pieces that work for our family.  I have discovered that many of the Charlotte Mason pieces fit our family!  We have already begun to incorporate the following:
living books
narration
scripture memorization
We have plans to incorporate these ideas over the next year:
map drill
picture study
music study
Now let me tell you a little bit about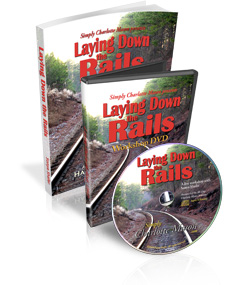 the  Laying Down the Rails book and DVD Workshop that came as part of this set.  I watched the DVD first (45 minutes), using the workbook section for it from the All-Day Charlotte Mason Seminar as I went.  I love Charlotte's idea that good habits are like railroad tracks, they smooth life out because a child is not having to make the same decisions over and over and over.  I know that is true, even in my own life.  Habits help me to accomplish many of the routine things in my day without the extra effort of decision-making.
Sonya, the workshop presenter, is funny and helpful as she leads you through many of the habits a child can learn.  While there is an extensive list, she emphasizes to start with one habit, and not to add another until the first is truly habit.  It was really helpful to watch the DVD with my husband. He was not up for reading the book, all 230+ pages, but the workshop got us both on the same mental page easily.  He was as excited about habit training as I was.  You can watch a short clip from the DVD right here.
I next spent nearly a month reading and pondering the Laying Down the Rails book.  What a treasure!  It contains Charlotte's words on each habit gathered into one place, prefaced by a concise definition of the habit and a story that shows how the habit is important.  There are entire chapters on 'repairing the rails' – breaking the bad habits we already have, including chapters on some specific problems like dawdling, temper tantrums, and lying.  See a sample from the book HERE.
Where are we now? Well, habit training is a process, and I will be honest that the first person who has to acquire the new habit is me.  However, we are working on our habits slowly and steadily, and I find a lot of support and encouragement when I read through Laying Down the Rails.
Would I buy these products? Yes!  That is an unequivocal yes.  The entire set can be purchased HERE for $54.95.  That includes 3 All-Day Charlotte Mason Seminar DVDs, the Session workbook, 1 Laying Down the Rails workshop DVD, and a print copy of the Laying Down the Rails book.  I love having the All-Day Charlotte Mason Seminar on DVD, a shot of motivation that I can turn on whenever I need a boost.  Homeschooling is a process, and the experience is different with each child.  Having Charlotte Mason's ideas broken down into manageable tasks gives me easy action plans to try when we need something adjusted.  Laying Down the Rails is a treasure trove of ideas for habit training.  Time will pass and our children will acquire habits.  The question is what habits will they develop – ones we have carefully helped them build or contrary habits that we lazily let develop?
Written by Tristan, mom to 5 going on 6 children, homeschooling through unit studies with a side of lapbooks.  You can visit her at her blog, Our Busy Homeschool.
{Disclaimer: I received these products free from Simply Charlotte Mason to enable this review.  I received no other compensation and all opinions presented herein are my own.}