We here at The Curriculum Choice are no strangers to the gem that is anything by Susan Wise Bauer. If you will recall many here have used and loved The Well-Trained Mind, as well as First Language Lessons for the Well-Trained Mind.
The Well-Trained Mind And Your Homeschool
In The Well-Trained Mind, Susan Wise Bauer provided a road map of classical education for parents wishing to homeschool their children. In The Well-Educated Mind, Bauer takes the same elements and techniques and adapts them to the use of adult readers who want both enjoyment and self-improvement from the time they spend reading.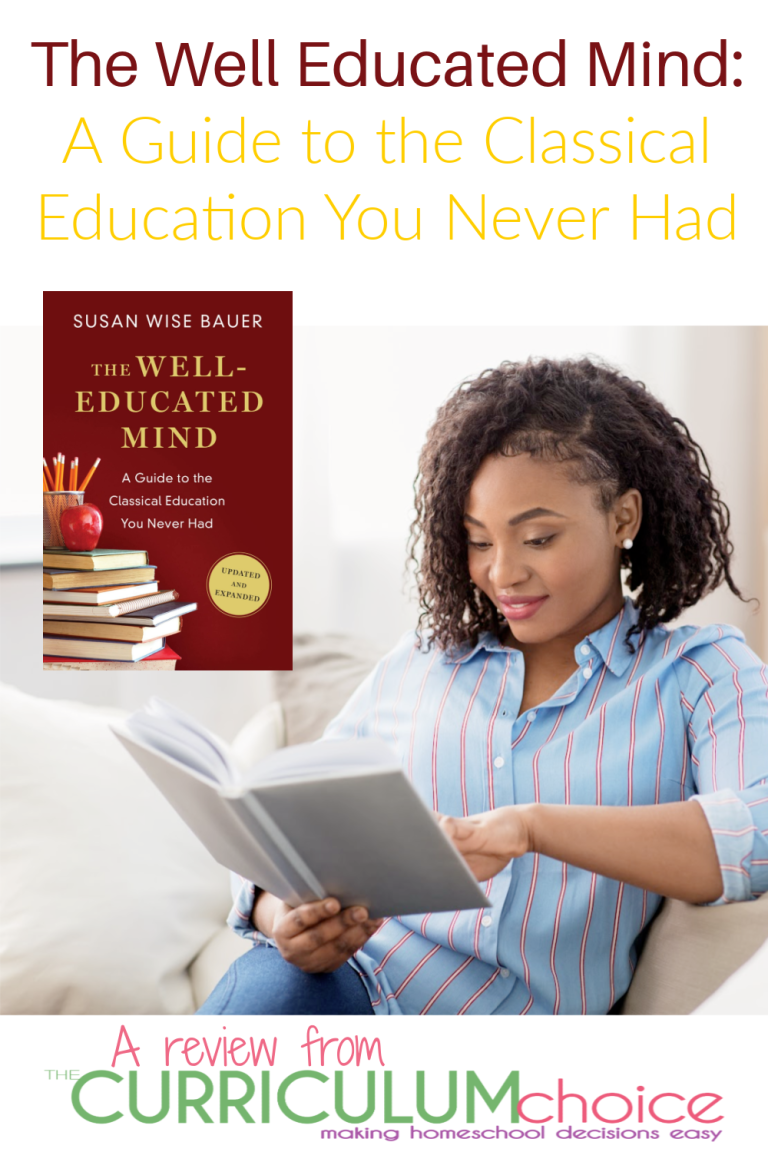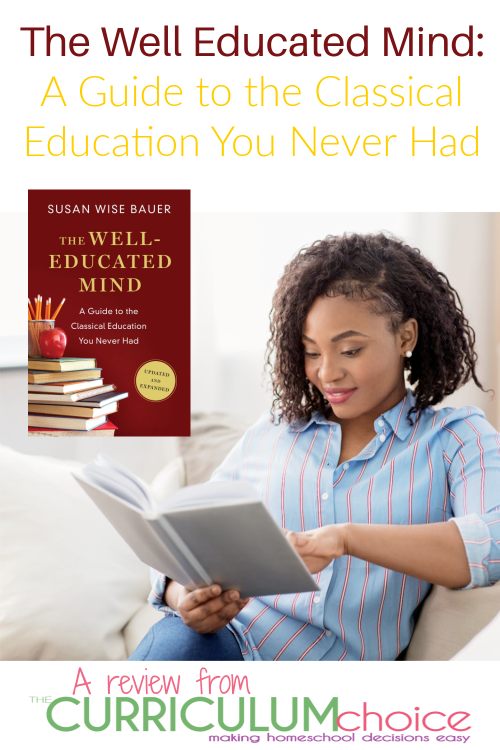 Affiliate links are used on this website. Please see our disclosure policy for more details.
I have a small confession to make. One of the reasons I homeschool is pretty selfish. I want to homeschool because it gives me the opportunity to learn so many things that I didn't learn in my own years of formal education. Although I have always loved to read, I didn't study many of the classics. I love history now, but learned very little about history in my school days. Foreign language? Let's not even go there.
The Well-Educated Mind: A Guide to the Classical Education You Never Had
Trying to give my children a classical education without having one myself is both exciting and scary. So far, I've done a lot of learning alongside my kids. But that's going to be harder to do as my children get older. That's one of the reasons that a few years ago I purchased a copy of The Well-Educated Mind by Susan Wise Bauer. The sub-title is A Guide to the Classical Education You Never Had. That's exactly what I need.
The Practice Of Reading In Your Homeschool
The book begins with an apology for reading and how the practice of reading helps you to train your mind. Bauer urges a set-time for reading. She then details how to read a book and keep a journal, as well as writing short chapter summaries. These recommendations are very detailed and specific.
What To Read: Novels, Autobiographies, Historic Texts, Drama and Poetry
The bulk of the book is devoted to what to read. Literature is divided up into 5 categories: the novel, the autobiography, the tales of historians, drama, and poetry. In each section, Bauer details how to read each type of literature. This is followed by lists of recommended works that include summaries of each book. Each list is in chronological order by the approximate date written, since the "discussion' should be read from beginning to end.
My husband and I are reading through the classics using The Well-Educated Mind as our guide. As I've looked back over the book, I have noticed that we haven't been going through all the steps as detailed. However, just using Bauer's list to select reading has been invaluable to us. I do intend to begin studying the books more thoroughly. I highly recommend this book as a resource for an adult or high school student who wants to learn how to read and analyze the Great books.
More Resources for Homeschool Parents
~ Originally posted November 2009, Written by Kristen, a relaxed classical homeschool mom of 4.