I have been homeschooling for 10 years now. When I first thought about beginning this journey I was about six months pregnant with baby number three, had a three-year-old at home, and a six-year-old in first grade at our local public school. Homeschooling was not going to be the popular choice in my world, and at the time I only knew two homeschoolers.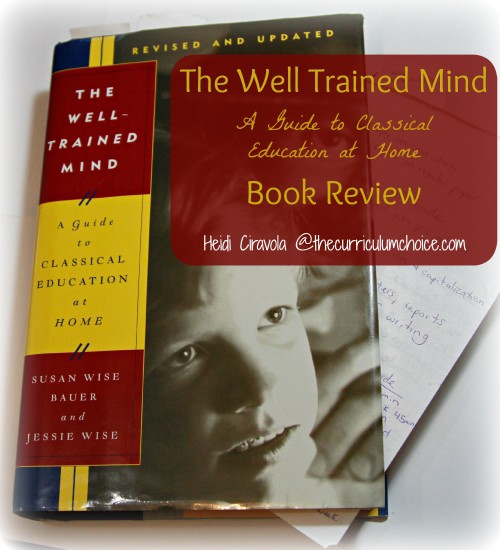 Needless to say I was totally out of my realm and desperately searching for some guidance. Besides the two very helpful ladies I knew who homeschooled, I had The Well Trained Mind – A Guide to Classical Education at Home by Susan Wise Bauer and Jessie Wise. It sat on my nightstand for many months before I officially started homeschooling, and stayed there through the first two years of our homeschooling journey. To say I love The Well Trained Mind as a homeschool guide and resource would be an understatement!
Features of The Well Trained Mind
The Well Trained Mind is a guide to classical education. A classical education is a language and history intensive, it trains the mind to analyze and draw conclusions as well as demanding self-discipline. Therefore The Well Trained Mind starts by breaking down education into three stages.
Three Stages of a Classical Education
Grammar Stage – K through 4th grade – This is the essential building block of the learning process, the fact collecting stage where the basic of vocabulary and facts are gathered and held.
Logic Stage – 5th through 8th grade – At this level the student should no longer be struggling with the basic skills of reading, writing, and arithmetic. Logic trains the mind to approach every subject in a particular way, to look for patterns and sets of relationships in each subject area.
Rhetoric Stage – 9th through 12th grade – Rhetoric is the art of expressions. During this stage the student learns to express themselves with fluency, grace, elegance, and persuasiveness.
All Practical Information
Beyond the details of the classical education that The Well Trained Mind provides, it goes much deeper into providing tips and specific resources for educating your children at home. Even if you don't totally align with the model of a classical education, the advice and insight into a homeschool day, planning for a life of homeschooling, and specific resources to look into and use are all invaluable.
For instance, the advice to have a quiet time each day by having quiet play, nap, or reading time so everyone gets a break from each other was a life saver! Even though my kids are growing older and we don't do this every day, I jump right to it when tensions are running high in the house and we are all happier for it.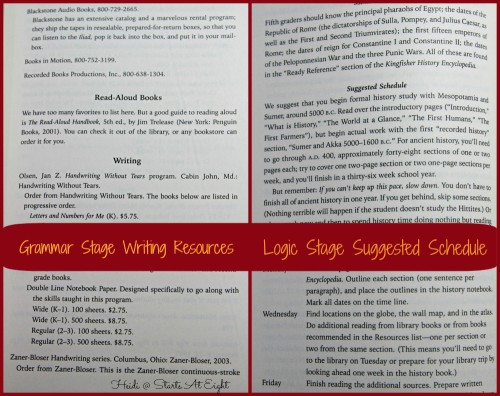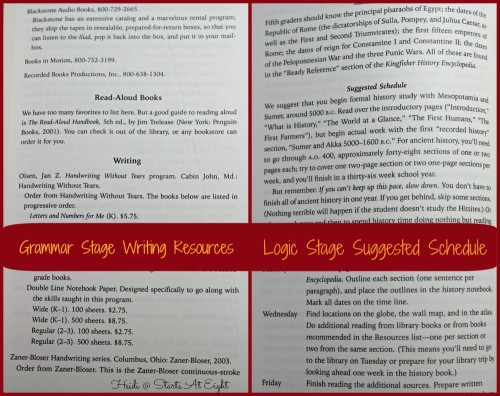 For each age, grade, stage, and subject this book offers schedules, time parameters, examples, and specific resources. Looking for a math program? This book has a list of options. Struggling to find something to use for writing? Check the list in this book!
The Well Trained Mind is a go to resource when you are looking for help in finding/creating a routine and plan to help you organize your homeschool days and years.
Homeschooling for 10 years now, Heidi has children at each stage (elementary, middle and high school). At Starts At Eight you can find her writing and offering resources for middle school, high school, and many unit studies to span the ages.