The Stack the States Homeschool Geography App is a favorite in our house. Even our grown children enjoy playing with their nephew! It's a fun and engaging way to learn things like the shapes of the states, where they are located on the map, state flags, and many more fun facts about each state.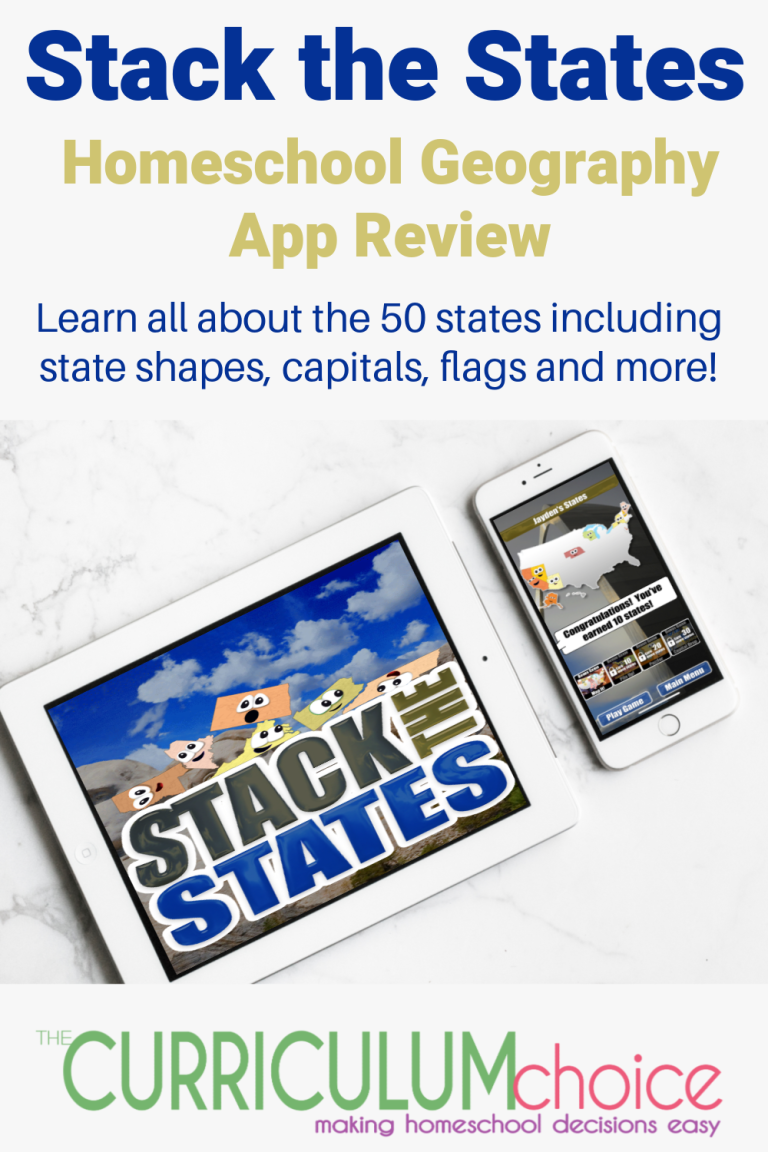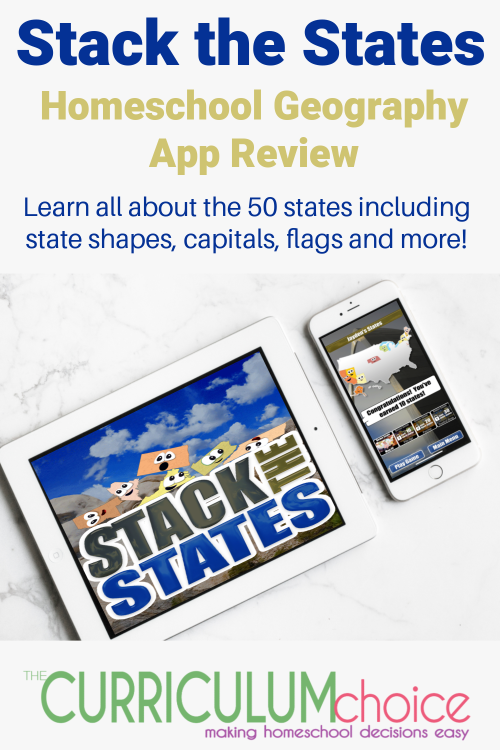 Did you know that Tennessee is nicknamed the "volunteer state"? Can your child identify his states and capitals with ease? What about the state flags, any of those looking familiar? States and capitals are something we want our kids to know. But, we don't want to make a big fuss over it and have it consume tons of valuable school time either. Stack the States is a fun and educational game kids can play at home in their down time or on the go.
Stack the States Learning Overview
The object of the game is to earn all 50 states. You earn states by playing. Here's how you play:
First, You answer a multiple choice question in which you have to choose the correct state.
Questions ask one of the following:
Capitals
Flags
Nicknames
State identification by shape
Geography by border location
State abbreviations
When the question is presented you are given four states to choose from. The states are presented as adorable illustrations reminiscent of veggie tales characters. They are very cute but not overly babyish!
Next, if you answer correctly, you have to stack it. You can turn the state to balance it the best way and then you drop it. If you stack your states in a balanced way, they eventually reach the top finish line and you earn a state. (My grandson likes to make them topple off to the side so they don't stack, earning him more play time!) They are animated so when you stack a state on another they whimsically look at each other.
I'm happy to be able to share with you two of our TCC Author's Stack the States reviews. Stephanie is up first with her experience using it on the Kindle. Then we have Steve sharing with us their family's experience with using it on the iPad.
Stack The States Kindle Version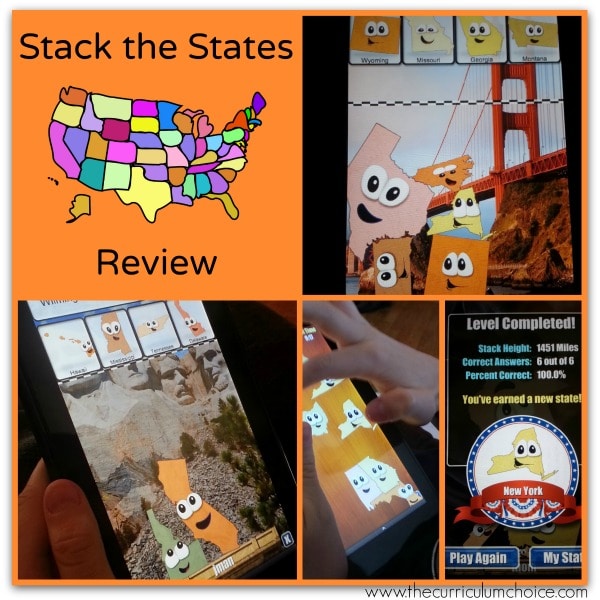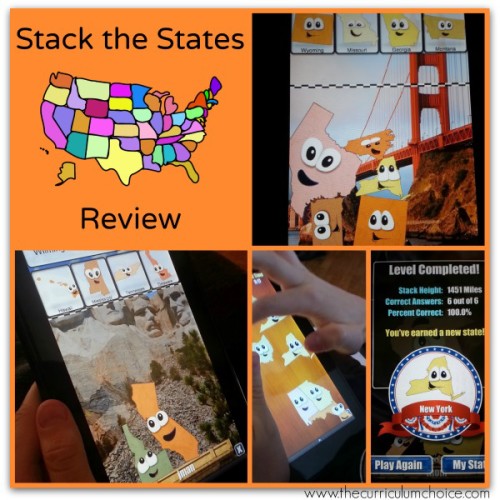 Homeschool moms have to maximize on their time. So when I find a delightful game, like Stack the States, to employ as a homeschool helper, I have no shame in doing so. So far this year we have been using state notebooking pages for learning all about the states, but our time has been very limited this last month so we haven't been able to research as many states as I had hoped.
Since it was one of my goals for my 5th grader to learn his states and capitals this year, and the year is quickly drawing closer toward the end, I needed to find something fun and easy, quick! This game has been a fun and affordable supplement for our homeschool, worth every penny, that we can take with us anywhere.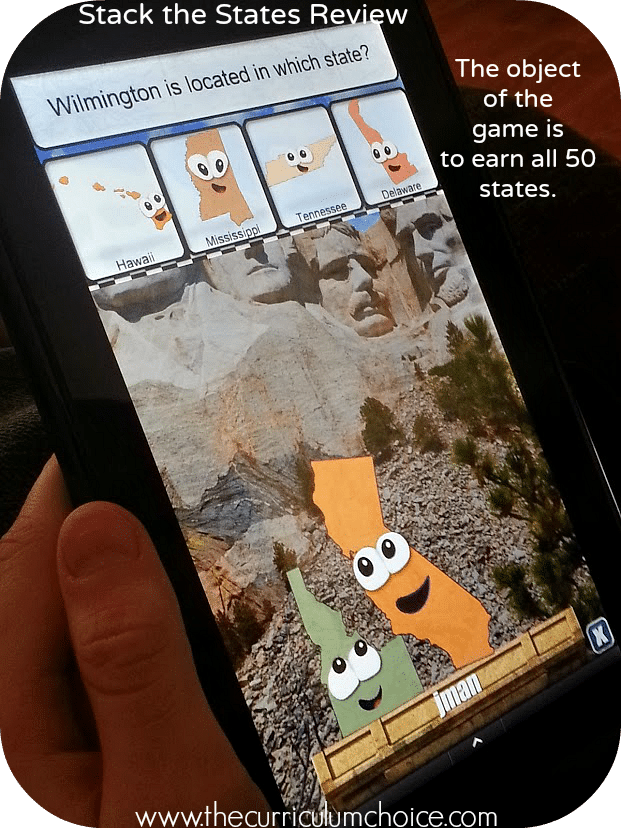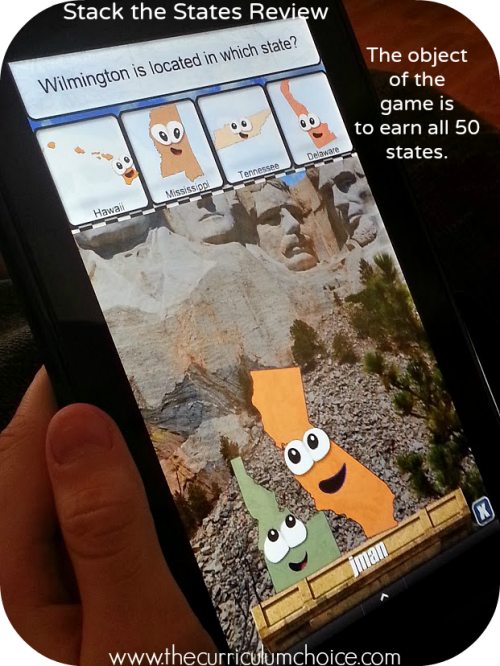 The object of the game is to earn all 50 states. You earn states by answering multiple choice questions and then stacking their shapes.
How good you are at stacking determines how many questions you'll have to answer in order to earn a state! This makes Stack the States genuinely fun and distinguishes it from a quiz and answer game. If you don't balance the states correctly then they all fall down in a "Humpty Dumpty" fashion and bounce at the bottom. Sometimes they fall off the edge all together…I love their little facial expressions when they tumble off in surprise.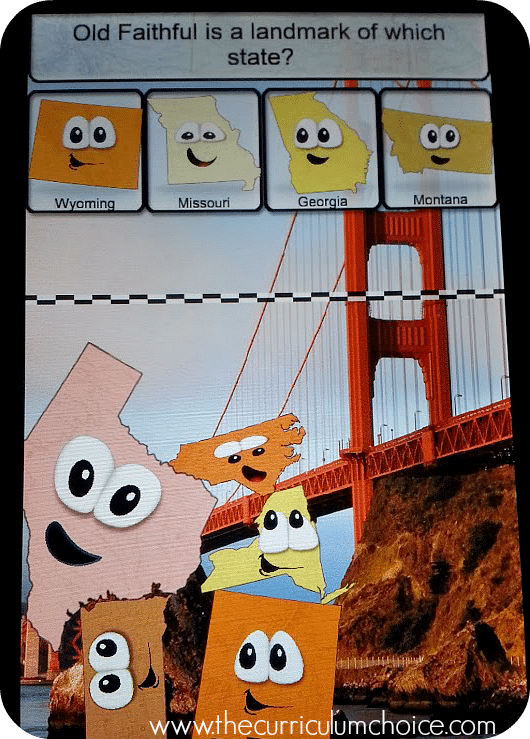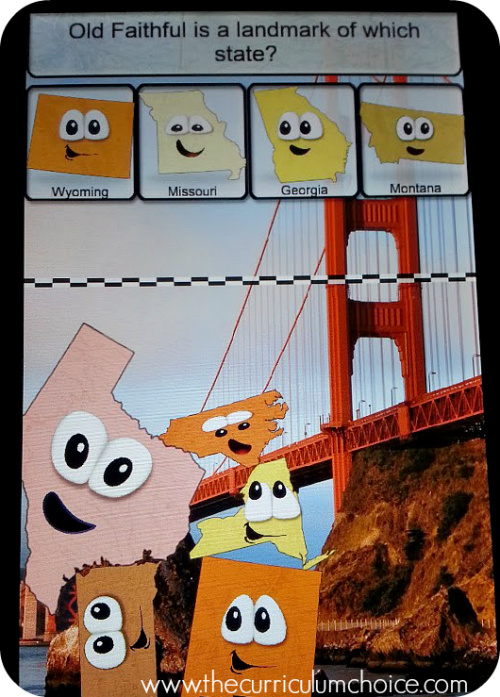 When you answer wrong, the sound made is pleasant. It's not an annoying buzzer, but a happy sound when the correct state reveals itself. Thank you! Maybe this seems small but I think it keeps kids happy while even making errors. And it keeps the game positive and lively instead pointing out all their missteps.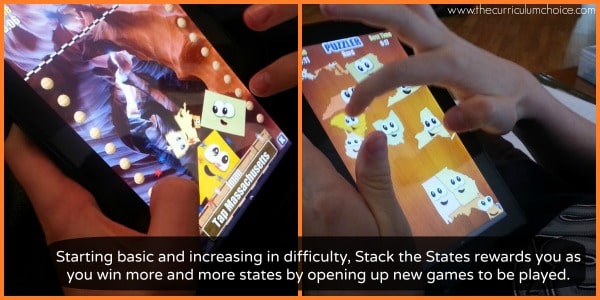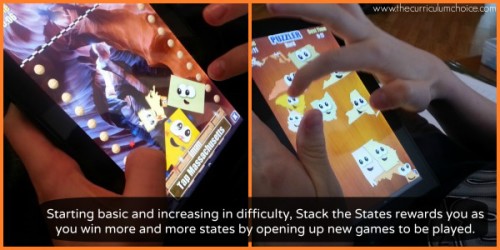 Stack the States Additional Games
Starting basic and increasing in difficulty, Stack the States rewards you as you win more and more states by opening up new games to be played. Starting with the basics and increasing with difficulty they are:
Map it- unlocks at 10 states
Pile Up-unlocks at 20 states
Puzzler-unlocks at 30 states
Capital Drop-unlocks at 40 states
Also Notable about Stack the States
The back drops are beautiful images of famous landmarks, such as the Golden Gate Bridge, the Gateway Arch and Monument Valley. It has both a mature and childlike approach that even adults can appreciate. (Ahem, I enjoyed playing myself).
I think the game is appropriate for any age as long as your child can read fluently. The game has an addictive charm that makes learning the states and state trivia more fun than ever!
Stack The States iPad Version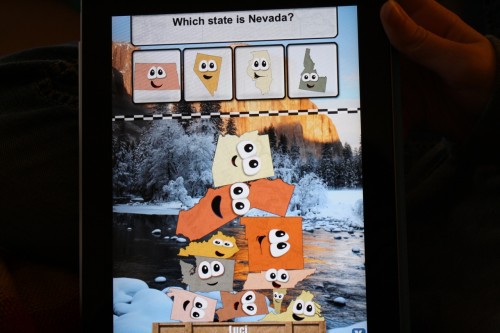 The iPad has become a teaching tool. Educational apps abound, with an amazing variety of subjects available. In the geography category, we have Stack the States by Dan Russell-Pinson.
Stack the States is both fun and educational; a game that uses some of the best mobile features – interaction and manipulation. While learning about the 50 states by answering questions about them, this app requires critical thinking skills as well. Your brainpower is tested in your ability to stack your states successfully.
The object of the game is to create a stack of states. Various questions about the 50 states include:
capitals
state shapes
abbreviations
bordering states
location on the map
and even nicknames
If you choose the correct state, you get to actually pick it up, move it, rotate it and place it wherever you want. Your goal is to carefully create a stack of states that reaches the checkered line.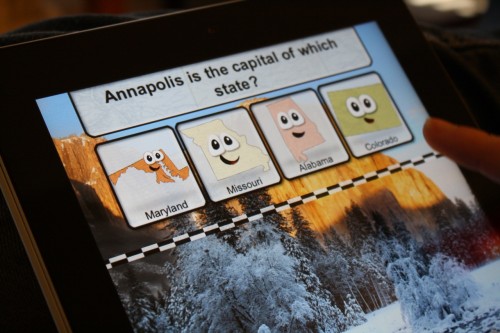 The laws of gravity and physics apply to the stack of states. You could get three large states that are easily stackable and reach the checkered line right off the bat. Or, perhaps you will get a slew of smaller states that don't stack easily and fall down, collapsing the tower. They might even bounce off the platform completely!
All the states are scaled to size, thus students begin to recognize the various shapes and sizes of each state as they build configurations by moving, rotating, and placing each state in a stack.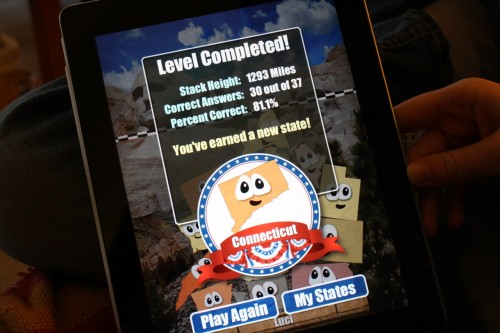 Successfully completing a stack level earns you a random state. While trying to collect all 50 states, you can check your progress on a personalized map of the US.
As you earn states, you can unlock the three included bonus games: Pile Up, Puzzler and Capital Drop.
Pile Up becomes unlocked and playable after earning 10 states. In Pile Up you try to remove all of the states before they pile up to the top of the screen. To remove a state, tap the state shape whose name is displayed at the bottom of the screen.
Puzzler after earning 25 states the second bonus game in Stack the States and is unlocked . A selection of state shapes is displayed. You move the state shapes around and put them together like a jigsaw puzzle. Puzzler teaches the locations of the states relative to each other.
Capital Drop is the third and last bonus game. In this game you match the states with their capitals. The states and their capitals move along a conveyer toward a drop off. When you see a match, simply tap the capital box and the state shape in any order and they fly away. The game ends when a state falls off the bottom of the screen. Match as many states with their capitals as you can.
Stack the States is a well thought out game that our children have trouble putting down. I never thought I'd hear myself say, "Put away your geography work and go to bed."
~ Steve keeps busy with five children and a job in information security. He has a second job as principal of the Your Best Homeschool homeschool.
How To Purchase Stack The States For Geography In Your Homeschool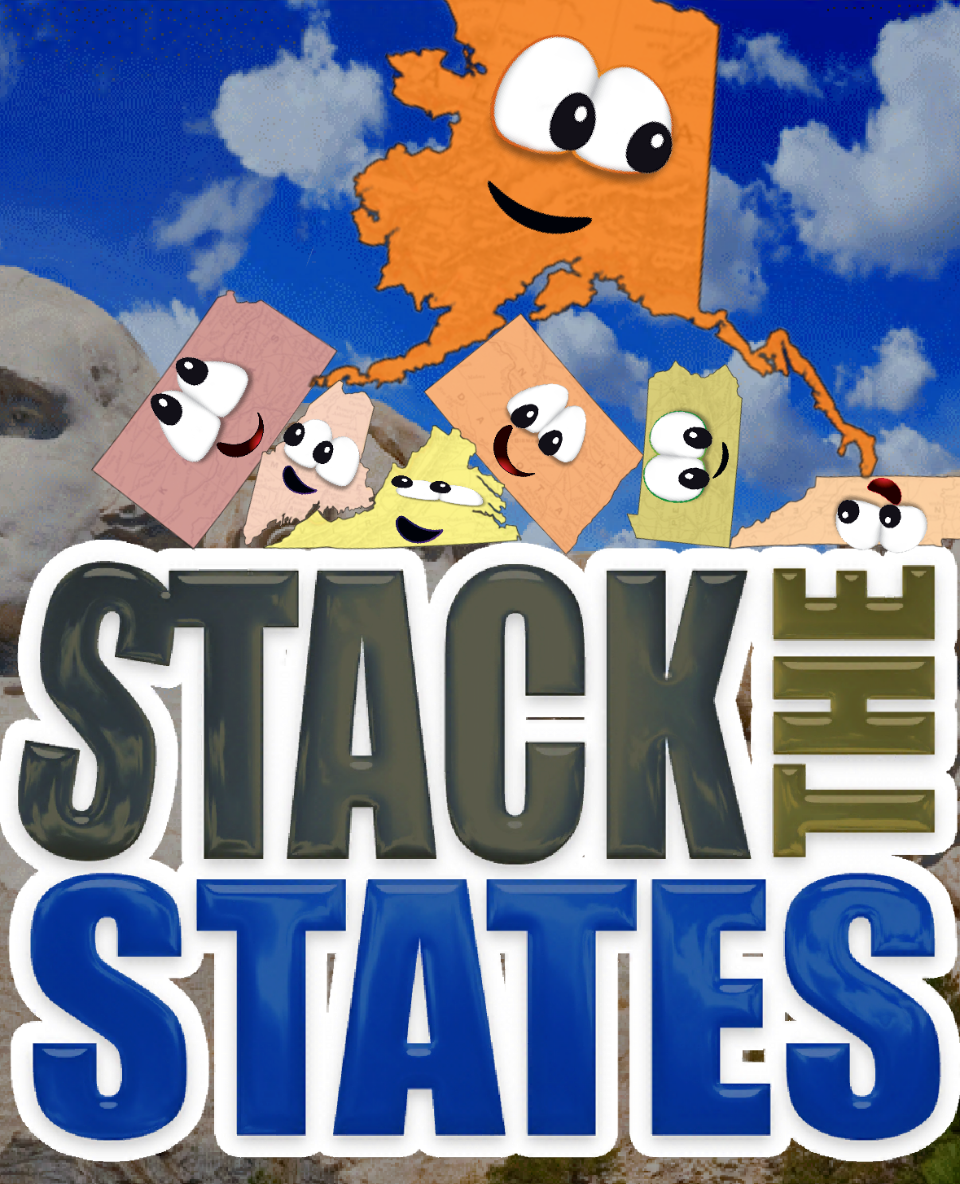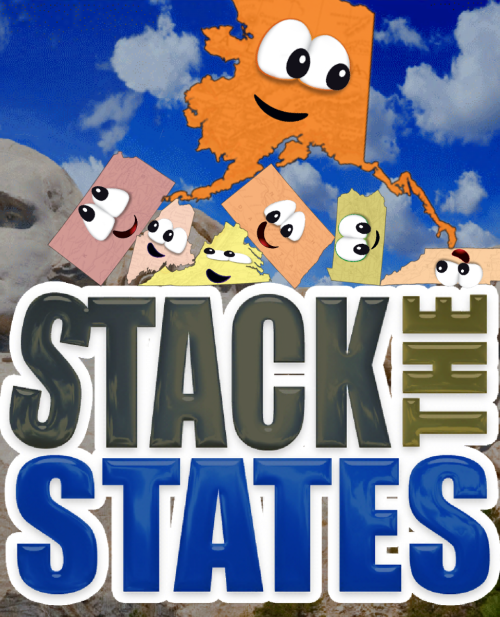 Dan Pinson created Stack the States. It is available for several platforms including:
More U.S. Geography Resources