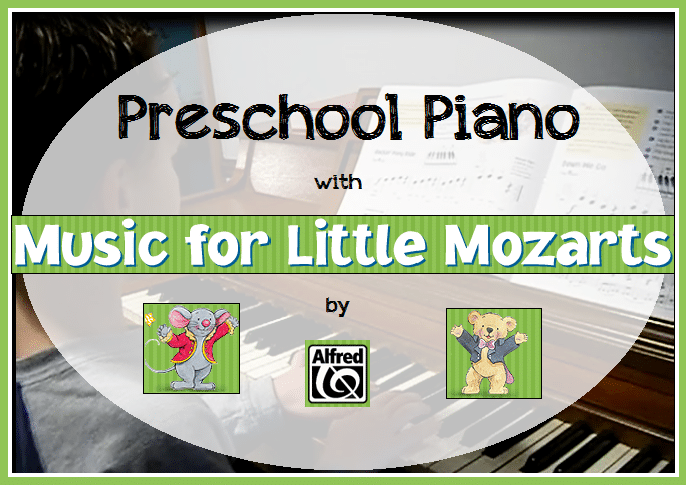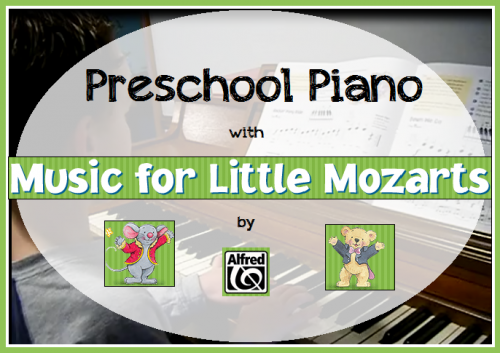 *** Don't miss the Music For Little Mozarts giveaway at the end!
A few months ago my family bought a piano.  Growing up, playing the piano was a regular part of life, so I was anxious to have a piano in our home for the sake of my children (well, for me too!)  I was so excited to finally get a piano and I couldn't wait to start teaching my children how to play!  The problem was, while I know how to play, I honestly didn't know where to start for teaching how to play.  So, I started to look online for good resources for teaching young children.
My children are 3 and 5 years old, so obviously I didn't want anything that was too rigorous.  After a little looking around, I came across a neat series geared for preschool age children.  It looked so perfect that I emailed the company and asked if I could review it.  I was thrilled when they sent me the books to try out!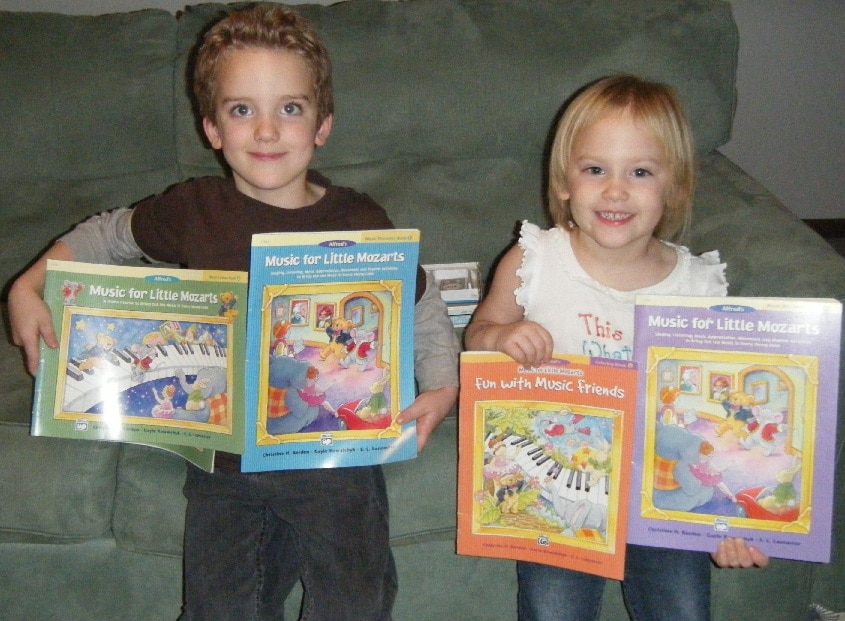 The series is called Music for Little Mozarts by Alfred Music.  The website explains it best:
This curriculum provides a balance between the discipline necessary for playing the piano and the enjoyment one receives from the process of music making.
There are four levels in Music for Little Mozarts and each level has a Lesson Book, as well as many other optional books to enhance your child's learning.
Music Workbooks – reinforces the concepts presented in the Lesson Book.
Music Discovery Books – incorporates singing, listening, and movement into each lesson.
Music Recital Books – a ready-made recital for your child.
Holiday Fun! Books – a variety of fun holiday songs for child to learn at each level.
Pop Books – Little Mozarts Go to Hollywood
Sacred Books – Little Mozarts Go to Church
Coloring Books – coloring pages that correlate with each lesson to enhance your child's learning.
Character Solo Books – teaches your child about different composers and provides related themes and exercises for your child to learn.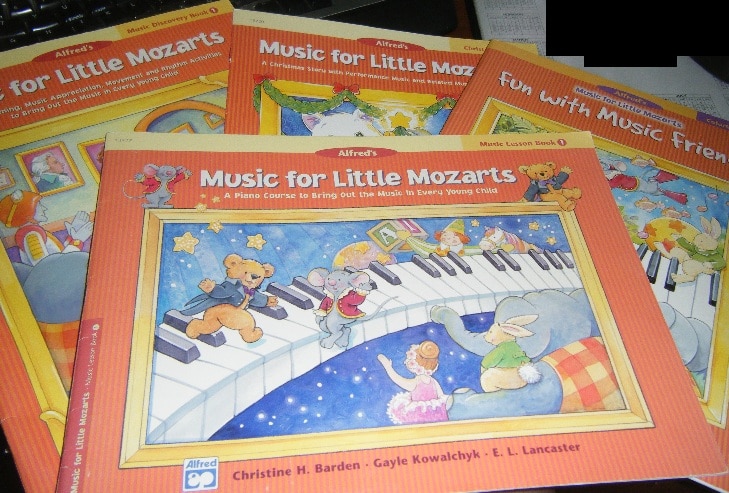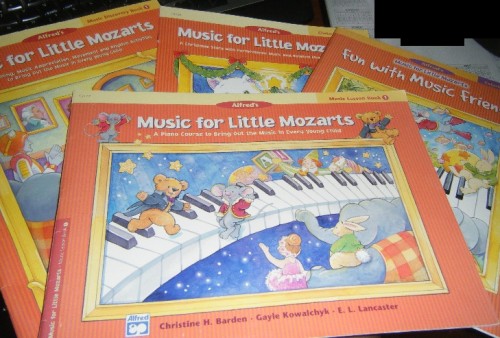 How We Use Music for Little Mozarts
I love using Music for Little Mozarts because it is so much more than just a simple piano lesson.  For my two children, it is a half hour of fun music time in our day.  Here is how we we use Music for Little Mozarts:
Sing the 'Hello Song' together (Discovery Book) – I play the song on the piano and the kids sing and dance behind me.
Do the piano lesson with one child (Lesson Book) while my other child colors a page from the Coloring Book.
Switch!  Lesson time for the other child, while the first child colors .
Sing the song (Discovery Book) that goes along with the day's lesson – I play the song on the piano and the kids sing and dance behind me.
Sing the Good Bye Song together (Discovery Book) –
I love how this curriculum incorporates movement and silly songs with learning about music theory and great composers!  It is really a perfect set for preschoolers.
Music For Little Mozarts Lessons
Each lesson starts with a little bit of a story that continues throughout each lesson of all 4 levels.  Then there are clear, step-by-step instructions that teach the new concept for the day.
We have been using the Level 1 books, and so far my son has learned concepts like high and low sounds, soft and loud sounds, quarter notes, quarter rests, and how to find a few certain notes on the keyboard.  The progression from simple concepts to more difficult ones in seamless and my kids seem to be catching on very well!
By the end of Level 4, they will be reading notes off of the music staff and playing with both hands together.  I was curious to see how the lessons progressed in the higher level, so I decided to also start lesson with my husband!  He knew absolutely nothing about music when we started, but I also knew that he would catch on more quickly than the kids, so I thought he would be a great person to teach to see how the lessons built upon each other in the different levels.  So far he has quickly gotten to Level 3, and I can say that I really do like how the series goes as the levels go on.
I thought you might like to take a better look inside books and get an idea of how the lessons go, so I made this video for you.  I only taped the Lesson Book part of our music time, and we went through the lesson a little more quickly than we normally would for sake of the video, but I think it will give you a good taste of what Music For Little Mozarts is all about.  I hope you enjoy!
Hopefully that was helpful to you.  If you have any questions, please feel free to ask in the comments.
If you would like to take a glimpse into each of the books that I have, click here.
If you have little ones and would like to teach them to play the piano, I really encourage you to check out the Music for Little Mozarts website.  If you have older children, Alfred Music has lots of other choices for students of all ages.
Would you like to learn more about what is available from Alfred Music, and also receive free print outs, tips, access to contests, etc.?  You can follow them on:
facebook (@AlfredMusicPublishing)
twitter (@AlfredMusic)
Google+ (@AlfredMusic)
Pinterest (@AlfredMusic)
Music for Little Mozarts Giveaway!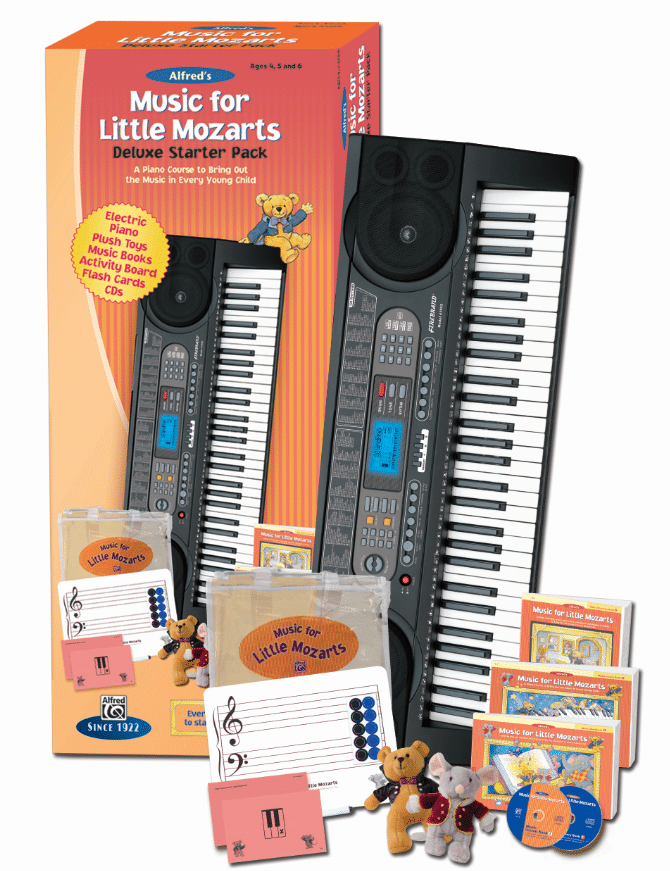 Now comes the fun part!  The kind people at Alfred Music would like to let you experience Music for Little Mozarts too!  You can WIN everything you need to begin teaching your little one.
One lucky winner will receive the Music for Little Mozarts Deluxe Starter Pack, worth $199!  Here is what the Deluxe Starter Pack includes:
Keyboard (with 61 full sized, touch sensitive keys)
Music Lesson Book – level 1
Music Workbook – level 1
Music Discovery Book – level 1
Mozart Mouse and Beethoven Bear plush toys
Flash Card set
CD recordings for level 1 (2 disk set)
Music Activity Board (magnetic and dry erase, including 10 magnets and a dry erase pen)
Tote Bag
Simply follow the instructions in the rafflecopter widget below…
a Rafflecopter giveaway