Are you looking to fulfill music or fine arts credit for your homeschooled high schooler? This 20th Century Music Appreciation online course contains everything you need to earn a 1/2 credit in Fine Arts!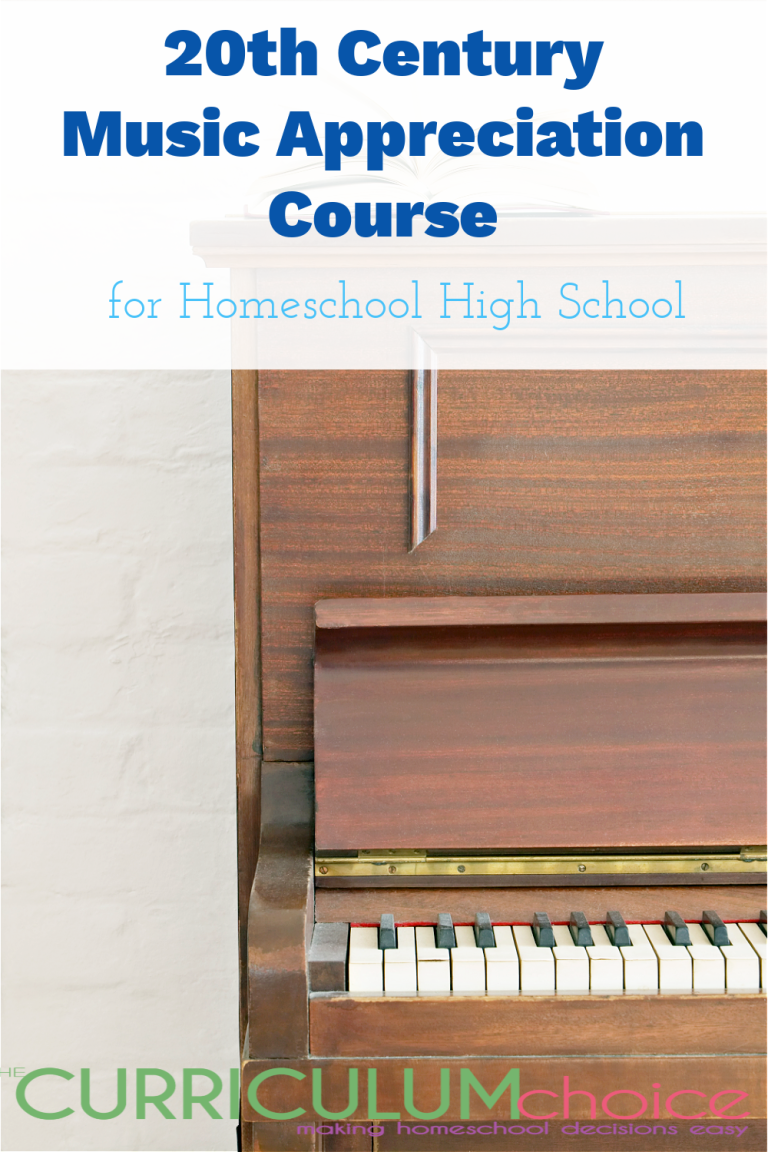 Affiliate links are used on this website. Please see our disclosure policy for more details.
20th Century Music Appreciation Course for Homeschool High School
Today I'm sharing about my 20th Century Music Appreciation self-paced online course for high school.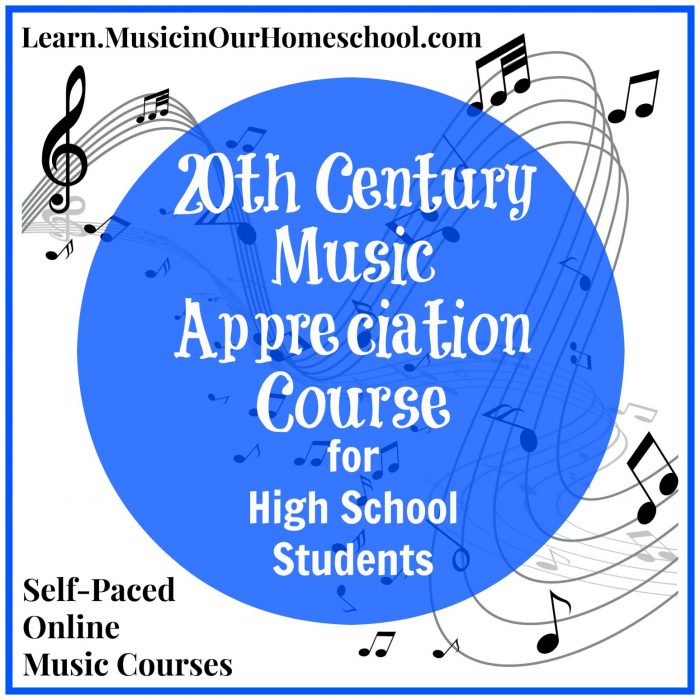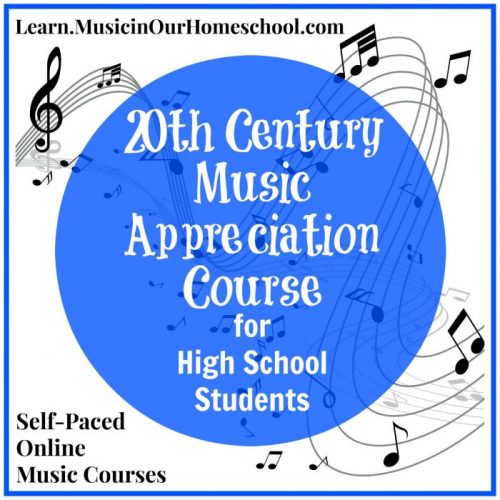 Jake is a junior in homeschool high school and is gifted in all sports he's ever tried. He loves football in the fall, basketball in the winter, and baseball in the spring. Music and art are not his forte. His mom wants him to have a well-rounded education, though, and since he isn't ever going to play an instrument or join the choir, she thinks music appreciation might be the way to go.
Amanda has loved playing violin and piano since she was very little. Now, as she enters her final high school years, she has decided to major in music in college. Although she has had great private music teachers and knows her instruments and even basic music theory well, she doesn't have a very broad knowledge of music history. She thinks a music history course while still in high school will be beneficial.
Maybe you don't have a "Jake" or and "Amanda", but a student in between. Well, the 20th Century Music Appreciation course is great for all high school students! Here is how it works.
The entire course is online, so you can access it on any computer or device that has wi-fi. There are 36 lessons. You can complete one a week during a school year, or double up and do two lessons a week and finish in a semester.
Go ahead and check it out here with the review Free Preview Lessons "Blues and Jazz" and "Aaron Copland."
The course's lessons go in chronological order through the 20th century and are a perfect complement to a modern history course.
The 36 Lessons of 20th Century Music Appreciation:
Introduction to 20th Century/ Marches and John Philip Sousa
Blues and Jazz
Opera: Puccini, Gershwin, Menotti
Gustav Mahler
Claude Debussy
Richard Strauss
George Gershwin & The Big Band Era
Jean Sibelius
Enrique Granados & Manuel de Falla
Charles Ives
Aaron Copland
Ralph Vaughan Williams
Sergei Rachmaninoff
Schoenberg, Berg, and Webern
Ferde Grofé
Musical Theater before 1965
Gustav Holst
Maurice Ravel
Béla Bartók
Igor Stravinsky
Zoltán Kodály & Carl Orff
Heitor Villa-Lobos & Alberto Ginastera
Sergei Prokofiev
Rock and Roll
Irving Berlin & Cole Porter; Bebop & Cool Jazz
Paul Hindemith
Aram Khachaturian
Dmitri Shostakovich
Olivier Messiaen
Benjamin Britten
Folk Music (Woody Guthrie and others)
Leonard Bernstein
John Williams (Movie Music)
John Cage (Chance Music)
Philip Glass (Minimalism)
Musical Theater and Composers since 1965
For each lesson, the student reads the information about the composer/style and fills out an included notebooking sheet about the composer. Then, the student watches the embedded videos which teach or provide musical examples and fills out an included listening printable page. Further listening is encouraged throughout the week. If that is all the student can do (or wants to do), that is sufficient. However, more is provided that they can take advantage of– online quizzes, composers for further study, a list of books to read to enrich learning, papers to write, etc.
The 20th Century Music Appreciation course can also be taught at a homeschool co-op. In fact, I wrote the course to teach at my kids' Tapestry of Grace co-op when they were studying Year 4 (20th century).
The course is not just for high schoolers. It can easily be adjusted to teach to elementary or middle school students. One thing I did was find coloring sheets of instruments, etc. for the younger kids to color while listening to the music.
Gena Mayo is a homeschooling mom of 8 children ages 4-15. She has been teaching music for over 20 years. Her passion is to help homeschoolers find the resources they need in their homeschools. Visit her sites I Choose Joy! and Music in Our Homeschool and follow her on Pinterest, Instagram, and at Facebook.
More Homeschool Fine Arts Options