I am so excited to introduce you to a fabulous, award winning unit study, A World of Adventure.
Written for grades 4-8 by Dorian Holt, a mom who successfully homeschooled her own son, A World of Adventure is the first volume in the Learning Adventures series.
If you enjoy using unit studies, or have been curious about trying them, I hope you will find this review helpful and informative.
What A World of Adventure is:
A World of Adventure is a complete curriculum, covering every subject except math, with detailed, guided lesson plans for 180 school days. Dorian designed this curriculum to use books most of us can borrow from our local library, to help lesson our financial burdens while homeschooling.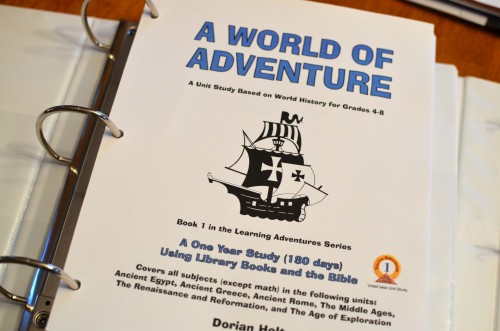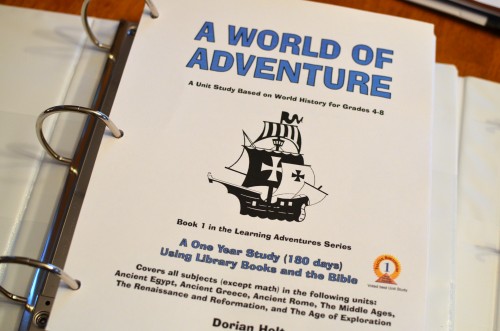 When you visit the Learning Adventure site, you will be pleased to find lots of samples, encouragement and information. I was very struck however, at one thing I did not find, up-selling. There are a few things you can add, which I will discuss in a moment, but this company does not lure you in with a lower price point and then give you a mile long list of extras you can't live without.
That was a breath of fresh air to me.
A World of Adventure is also very Christian. You begin your journey in Egypt, with the Bible. The story of Joseph and his brothers is a favorite in my home, and this section of the Bible leans well to soaking up the culture and story.
The lessons are written from a Christian perspective. Bible reading and Scripture memorization are a huge part of our family, and this curriculum has both.
What A World of Adventure covers:
Ancient Egypt
Ancient Greece
Ancient Rome
Middle Ages
Renaissance and Reformation
Age of Exploration
What the lessons look like: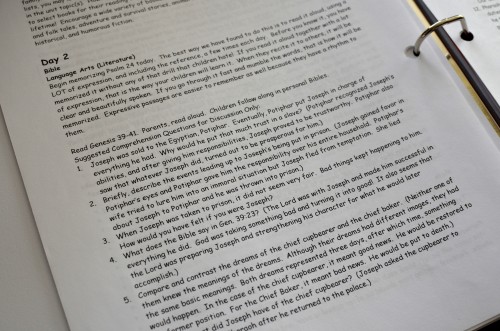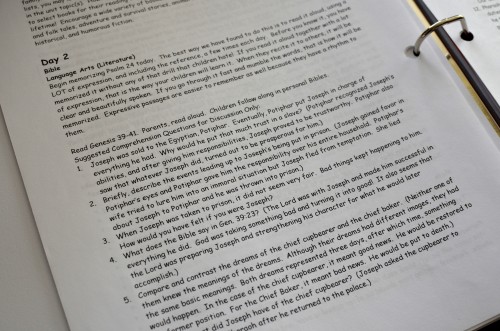 I have tried to do this on my own before. Even after spending hours searching and combing the internet, library, and our homeschool library, I don't come up with even a fraction of what this curriculum offers – and am left in tears.
The lessons are history based, but thread all of the other subjects into what you are reading. For example, in the story of Joseph and his brothers, you will be reading history from the Bible, but you will also learn from the guide-vocabulary, Greek and Latin prefixes, suffixes and root words. You will travel in books learning Ancient Egypt, discuss what a civilization is, learn about the culture of Egypt, and study life in the desert. You will also discuss elements of literature, memorize scripture and sing hymns.
The lessons are there for you so that you can teach confidently. You can make them flexible to fit your current needs. Just think of Dorian as your homeschooling friend, who has been where you are and is helping you on your journey.
You won't be stranded at your school table, you will find this curriculum takes you to hands on projects, and you will spend time together in the kitchen as well.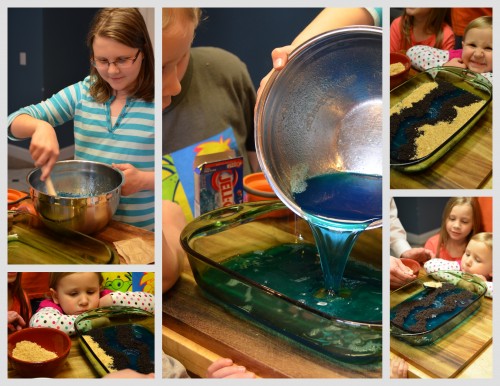 This curriculum is packed with more to learn than I have ever seen. Everything is guided for you. There is even a game you can purchase that acts as a review.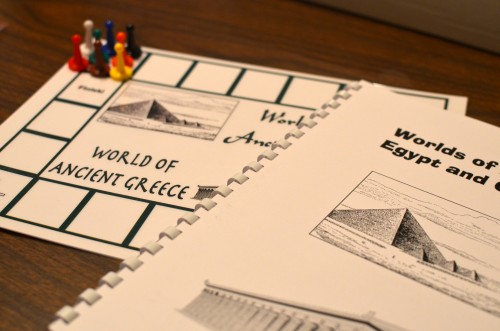 The price:
You can get all 790 pages of detailed lesson plans for $90.00 That's right, $90.00. What a blessing!  The curriculum comes to you shrink wrapped, ready to go in a binder.
Other than the game ($39.00) the other useful extras offered are printed student pages ($20.00) and the customer requested Supplement for Little Adventurers ($15.00 each time period) which gives you lesson plans for children K-3. (Supplement does not stand alone.)
You can see a sample of lesson plans here.
This curriculum has it all, I really have enjoyed reviewing it. We will be using A World of Adventure in our homeschool in the future, and I can't wait. I hope you'll check it out and find it as fascinating as I do.
**I received this curriculum at no cost to me, in exchange for an honest review. All opinions are my own.**