Homeschool in the Woods Time Travelers at a glance.
I'd like to take you inside Homeschool in the Wood's Time Travelers Series. It always helps to be able to see inside something before buy it. I've been interested in using Homeschool in the Woods and have had several friends who enjoy it. But as I gazed upon their children's very impressive finished notebooks I have to admit I felt a bit overwhelmed. After homeschooling many years, I have learned to be a more practical homeschooler, relying more on myself as the teacher and looking to materials more as resources. Keeping that in mind, I was very delighted to be able to give Homeschool in the Woods Time Travelers a fair try.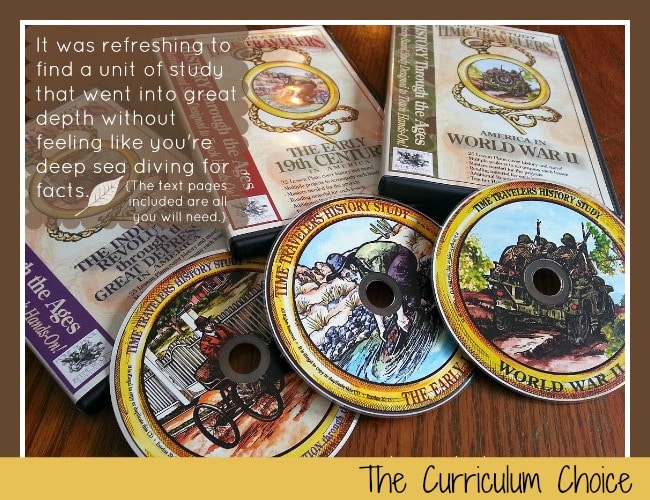 Much to my surprise it was not as daunting as I had once thought. Don't get me wrong, it is filled with a plethora of amazing hands on projects such as arts and crafts, notebooking pages, timelines, time period recipes and dress, copywork or handwriting pages, writing assignments, games and flashcards, and lapbooks which can be used as the finishing project for the unit, plus numerous other projects that apply to the lessons and time periods. But what makes it a truly excellent program is the level of it's content. Each Time Travelers Study includes:
25 lesson plans. You could do a lesson a day ( choosing minimal projects) or a lesson a week, depending on how much time you want to take.
Every four days of text and study are followed by a project day allowing time to finish up projects and study vocabulary.
Project pages/activities for each lesson, several of which later build a lapbook.
Penmanship practice for each lesson.
Timeline and Figures.
Other project masters include maps, songs, recipes, and historical facts such as culture and people.
It was refreshing to find a unit of study that went into great depth without feeling like you're deep sea diving for facts. What I mean is that the text and presentation are quite natural while at the same time a great level of depth is achieved by reading just a little each day. You don't have to "go searching" for the information in the same way that many unit studies will have you searching for something never to be found. The work has been done for you!
Covers topics such as Tomas Jefferson, pirates, Lewis and Clark, early inventions, War of 1812, Erie Canal, settlers- trappers, traders, and mountain men, the first 12 Presidents, famous people, statehood, the Alamo, Native Americans, pioneers, the Wild West, Trails, Mexican American War,  and Ante Bellum. A few of the projects I would like to highlight are the Lewis and Clark field book, corn husk dolls, a quilting project, and even a chuck wagon dinner. But there are many more to choose from!
Covers the railroads, the Gold Rush, Indian wars, inventions, immigration, the progressive era, WWI, the stock market crash, and the Great Depression. A few projects I have to mention are building a suspension bridge as well as making an art decoupage ornament, people of interest fan book and a penny rug. This unit also ends with a depression era dinner.
For all the Time Travels Sudies there are numerous projects to choose from so that you are sure to find the ones that spark your child's interest and promote a love for learning.  We've enjoyed our journey through Homeschool in the Woods. We went through the first unit quickly, which is possible, if you pick and choose your projects. However, if you are interested in Homeschool in the Woods, I would encourage you to give this program a try with a focus on the quality time you'll be spending together.
A look inside Homeschool in the Woods Time Travelers Series CDs.
Each Time Travelers Study comes on a computer CD and is compatible with MAC and PC. Once you understand how the CDs are set up they are very easy to navigate. The CD's are organized into sections according to each lesson and have a very appealing visual theme for each period. Next, you can then click on the icon image for the lesson you want and it takes you to the masters and instructions for each part of the lesson.
You'll be able to choose the lesson plans, activity instructions, printable pages or text pages as desired.
The Illustrations are lovely and save the color for when it's most important, which helps with printing. It also enables your child to color them if they wish! Homeschool in the Woods also offers photos of the finished projects so you can see what each and every project will look like when completed. You'll find the step by step instructions for each and every project very helpful and you can print them if desired.
Benefits of the Time Travelers Series
Here are a few of the main benefits we are getting from Homeschool in the Woods Time Travelers Studies:
Minimal Preparation. I don't have to do any preparation except for printing out what we will use. The printing takes about 10 minutes each day.
Great Textual Content. There is little research required. The vast majority of the information needed is within the text pages.
Hands-On.There are tons of hands-on projects to choose from that I don't have to come up with.
Digital and easy to store, no textbooks or planner. However, you will need a binder for the notebooking pages and any other pages you wish to print.
Easy to Adapt. It offers a variety of options for the printables to suit any child's needs. For example, penmanship pages can be manuscript or cursive.
Suits Multiple Ages. It can be used with several ages all doing the one program together, a huge plus for homeschooling families!
First, I loved the content. As you can imagine, as a military family, it is very important to us that our military heritage is honored and is appropriately and accurately told. I felt very confident teaching my son about WWII with this program. It was truthfully but compassionately and factually presented. I knew my little man of action with a mechanically inclined mind already knew much about WWII and had a great interest in it. So this program was actually a delight directed choice. It has been the perfect complement to What on Earth Can I Do? which we are also using this year from the Apologia's What We Believe Series which told the story of WWII through personal perspective and Biblical principles.
Second, I liked that I didn't have a big lesson planner to follow and that everything is stored neatly on the disk. I still have a binder to store what gets printed out. But because I choose from the activities, one binder has been enough space for all three units we are doing.  I liked being able to pick and choose what I wanted to print out and utilize each week and what I didn't. At first it took me a bit of getting used to the CD set up and navigation, but once I did, I could jump right to where I was wanting to go and print out activities to do or read up on their implementation.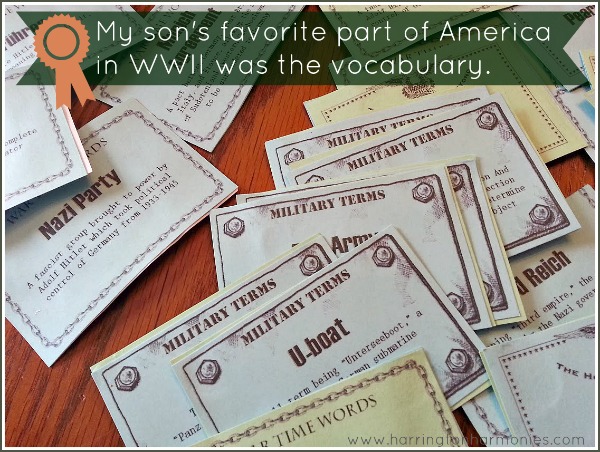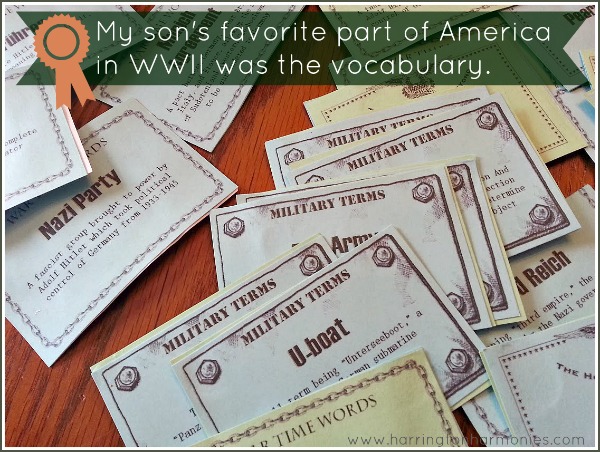 My son, believe it or not, loved the vocabulary. I think it was just at the right level for him because he knew and had some understanding of about half of the words. So while it boosted his confidence with the words he already knew, it introduced him to just as many that he didn't.
Can you use Homeschool in the Woods if you aren't into notebooking?
It is my belief that Homeschool in the Woods can be used in a variety of settings and styles as long as a computer and printer are available for your use. Although the materials are best suited for notebooking and lapbooking, it is easily adaptable for several possible approaches including a more unit study approach by simply reading the text information and then choosing from the activities as supplements. Here are the main elements of the study that I think make for a great study whatever your child's learning style.
Some of the main elements in the curriculum that are nonspecific to notebooking are:
Text
Vocabulary
Timeline (We actually used the figures with our own timeline.)
Copywork -Which could also be used as dictation.
Writing Assignments
Numerous supplemental activities and projects to choose from.
How I adapted Homeschool in the Woods Time Travelers for use with my auditory learner.
Since my son is an auditory learner, I adapted the program to meet our needs. I can't stress enough how important  it is to teach knowing  how your child learns.  It doesn't mean that I skip over great curriculum, I simply adapt it! Even though my young homeschooler enjoys certain types of projects, doing project after project would feel very tedious to him. Therefore we are primarily using the time traveler series as a unit study.
Time travelers has provided me with great textual information that I can work from without having a lot of books in my small homeschool space. I wanted the content to present for a small unit study without having to address a large textbook or buy a huge year long program. I also wanted to be able to go from one unit to another fairly quickly, giving an overview of American history so that we can go back to world history next year. We often used the copywork and vocabulary cards and did lots of discussion after our readings.  My son enjoyed "teaching" me about what he already knew about this war as well as building on the new information. I learned something too… I did not know how much he actually knew about this war!
Where to buy Homeschool in the Woods
You can order each Time Travelers History Study from Homeschool in the Woods. Each CD in the series is $28.95. You can get the entire bundle for $172.95.
Don't forget to follow Amy Pak and Homeschool in the Woods on Facebook, Twitter, Pinterest and Google+.
Save
Save