Don't miss the giveaway at the end!

Doesn't it just make you feel good when you find something that your children can't wait to do for school every morning?  That is how both of my children feel about A Journey Through Learning lapbooks!
This post contains affiliate links because I believe in this curriculum. See our disclosure policy for more details.
This is our first year studying history, and I'm not following a 'box' curriculum, so I'm mostly piecing things together from a few sources.  I read out loud to my children a lot and then we do projects, notebooking pages, copywork, timelines, etc. to reinforce what we have been reading about.  As we finished up studying ancient Egypt (to go along with the end of Genesis and beginning of Exodus), I was feeling like I needed to do something to review what we had learned.  I had confidence that my son learned many things about Egypt, but thought it would be nice for him to have something to reference, that would have much of the information in one place.
In absolute perfect timing, I was contacted by A Journey Through Learning, asking if I would review their lapbooks.  I took a look at their website and saw that they have many different topics for lapbooks, including ancient Egypt!  I expressed my interest in a few of their books, and they ended up sending me Exploring Ancient Egypt and The Earth.
We jumped right in and got to creating our lapbooks!  We started with the Egypt one, and I loved that it covered all the main topics that we studied, plus more!  Each lapbook piece was preceded by a page teaching about that topic (Egyptian dress, mummies, etc.)  This was a nice feature because it allows you to use this product as a complete study if you would like, or just as a supplement to what you are studying.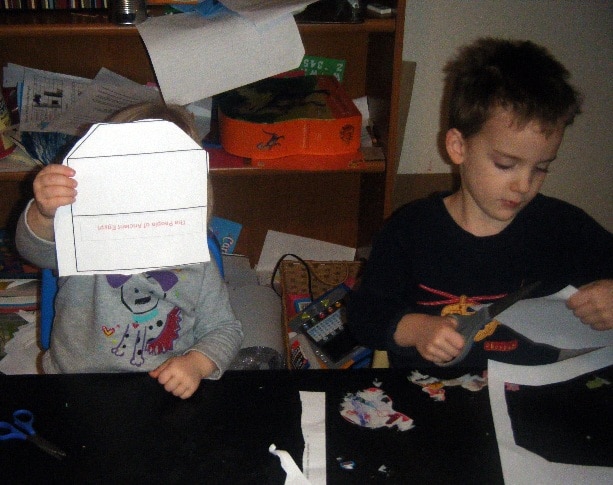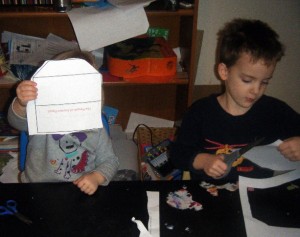 My children's most favorite part about these lapbooks was all the cutting.  If you have a child who loves to cut, this is definitely a product for you!  If your child despises cutting, you could always cut out each day's piece before hand, and they would put the information on the piece and put it in the lapbook.  I really think that all this cutting is great practice for any young hands and I was completely amazed at how good both my four and two-year-old became at cutting out the different shapes!
This was a great project to include my two-year-old in, even though she didn't learn much =)  She loved practicing her cutting, then I just let her draw as she pleased on each piece and then glue it wherever she wanted in her book.  The most important thing was that it kept her productively busy for the whole time we worked on these each day.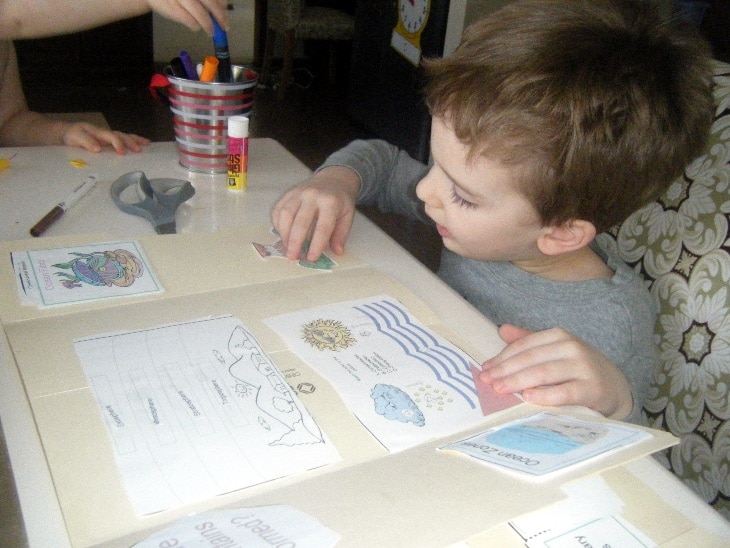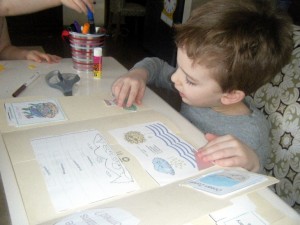 Lapbooks are great because your child can enjoy looking through all the pieces, remembering what they learned and reciting the information they put on their different pieces.  These would also work for a good range of ages.  These were a perfect activity for my four-year-old, but I did not require him to remember or understand all of the information.  The information is deep enough that it can work for older elementary aged children, but can be scaled back for younger children.  There is even information at the back of the lapbooks to enhance your studies by suggesting extra books to read, recipes to make, activities to do, etc.  These are the kind of extras that set A Journey Through Learning apart from other people who make lapbooks and make the few dollars spent well worth it!
I love that these lapbooks can be as simple or beautiful as your child wants.  My son was completely content to slap down his pieces onto a plain colored folder and call it a day.  He didn't even care if they were straight or if they would get folded when the lapbook was shut (I had to do a little instructing on taking our time and making things look our best=) When my daughter gets older, I'm sure that she will take great pleasure in using nicely colored folders, framing the pieces with scrapbook paper, and decorating the lapbook to make it look beautiful!  However your child is, these lapbooks are a great way to organize information and enhance learning.
Would you like to see a little bit of what my son learned?  Here he is showing off his new knowledge…
When we finished our second lapbook, the first thing my son said was, "What lapbook are we going to do next?"  and he continued to ask it every day for the next few weeks!  I told him to be patient, because after Easter we would start learning about ancient Greece and so we would get the Exploring Ancient Greece lapbook.  I'll even go all out and get some nicely colored folders for this one =)
No matter what you are studying, or what your child is interested in, A Journey Through Learning has something for you.  They even have lapbooks to supplement other programs:
Make sure you take a minute to follow A Journey Through Learning on facebook, twitter, google+, or sign up for their newsletter because they often have monthly sales, express lapbooks, or new products that you are not going to want to miss out on!
Now for the giveaway!
The best news is that you can enter to win a lapbook from A Journey Through Learning right now!  Just fill out entries in the Rafflecopter below to increase your chances of winning.  The winner gets to choose any one lapbook download from A Journey Through Learning.
a Rafflecopter giveaway

~written by Amy