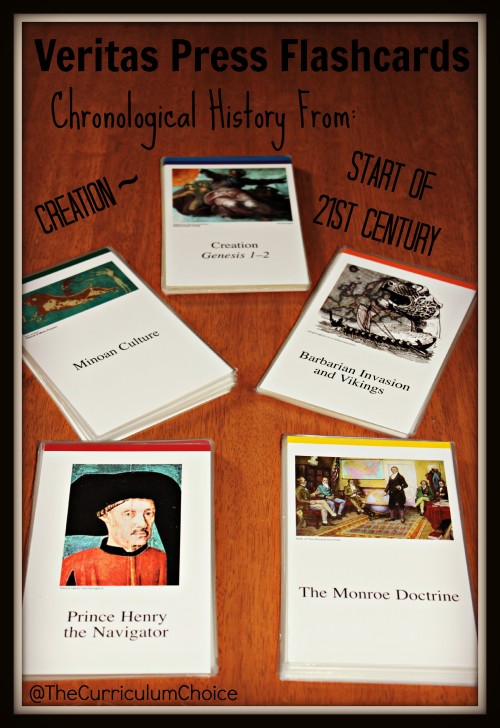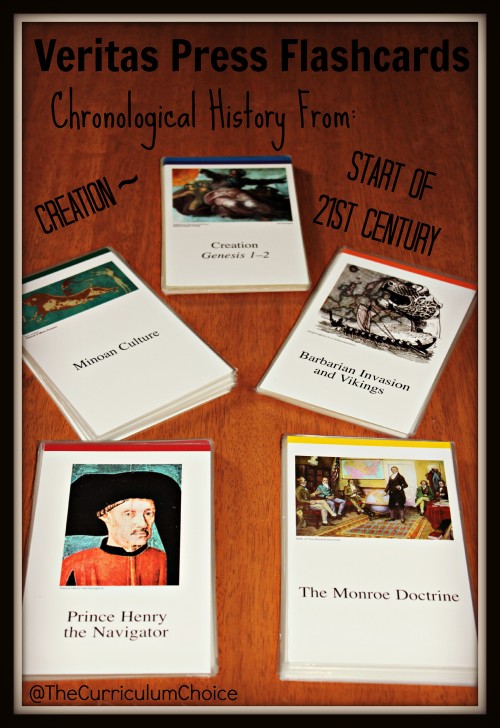 When I was looking for a history curriculum that our family could do together, I knew that I wanted one that showed history chronologically and left a lot of room for living books.
I started using the flashcards from Veritas Press.
Each card has a large picture on the front, depicting a major world event. On the back are the details defining it.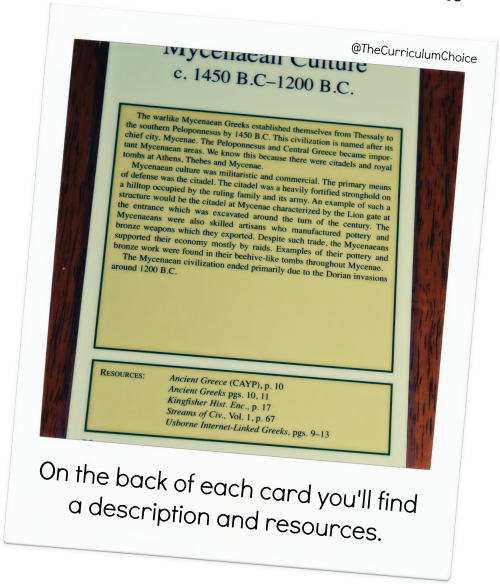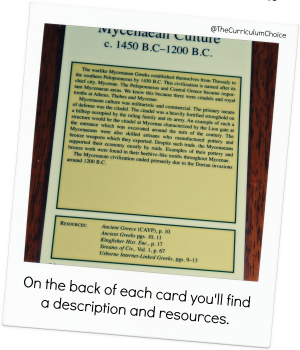 The flashcards are broken down into five historical time periods including:
Old Testament and Ancient Egypt
New Testament/Greece & Rome
Middle Ages, Renaissance & Reformation
Explorers to 1815
1815 to Start of 21st Century
Each set contains 32 cards. You can purchase the time periods separately, as you need them, or you can buy a bundle that includes all 5 sets, along with some additional teacher resources.
I use the cards as the main spine of our history lessons. At the beginning of the school year, I take out the pack of cards we will use and start gathering my extra materials.
We take as much time for an event as we need depending on its complexity and my children's interest.

What I Love About Using Timeline Cards
Chronological Approach
To me, it just makes more sense to learn history chronologically. By using a timeline, my children have a clearer understanding of when events took place and how history ties together.
As part of our lessons, the girls put the cards in order after I mix them up. This has been a helpful visual learning tool.
An Abundance of Rich Sources
For the study of history, I believe very strongly about relying on living books, rather than taking a textbook approach. I want my girls to use a lot of sources when studying an event instead of a summarized paragraph or two.
On the back of each card, aside from the information defining the event, there is a list of resources that you can use to further your study. This is a huge time saver for me. I regularly add more books to this list, but at least I have a starting point for each event.
Repetition and Memory Work
Veritas Press falls under the classical method and therefore involves memory work. Since the information is presented in various ways to my kids, they have had an easier time with memorization.
By committing historical events to memory, as well as their place along a timeline, they will have an easier time with deeper study as they get older because they know the facts and understand how they fit together.
During their homeschooling journey, my girls will revisit these time periods approximately 3 times. This repetition is a wonderful way to help them gain a deeper understanding of history each time they return to study.
My family enjoys using the Veritas Press Timeline Flashcards. If you're looking for a history curriculum that is classical and chronological, it might be what you've been looking for.
Megan loves homeschooling and learning is a way of life for her family. She is constantly looking for new and interactive ways to engage her children. She helps families discover creative ways to learn together at Education Possible.