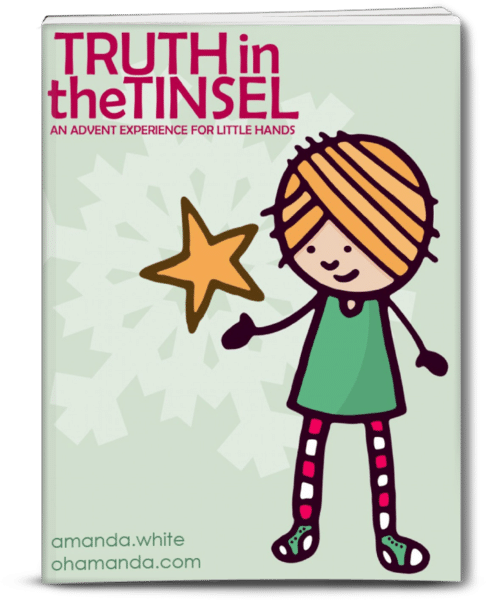 Truth in the Tinsel is an Advent study for young children. I found it several years ago when looking for a simple way to incorporate Advent into our studies and holiday celebrations. It is a lovely way to not only celebrate Advent, but teach your children what Christmas is all about. It is designed for preschoolers through early elementary aged kids. But truth be told, there are also things I've learned as we have studied the devotions.
Truth in the Tinsel is an eBook that contains instructions for daily scripture reading and a simple craft activity to make with your kids. I have used this Advent study for two years. And each year there have been some days when we just didn't get to our activity, so we would double (or triple) up and do more than one per day. The point is to teach our kids the true story of Christmas and Truth in the Tinsel provides direction on how to do that in an easy, fun way.
And to make it even easier, Amanda White, the author of Truth in the Tinsel, has created printable ornaments. So for those days that you don't have all the suggested craft supplies, or when you don't have time to get it all together, you can print out the ornaments and let your kids decorate them instead of the suggested crafty ornament. I used the printable ornaments with my kids last year and it couldn't have been any easier.
What is included:
ebook of Truth in the Tinsel
Options
For an additional fee, you can get printable ornaments to accompany the ebook. These can be used instead of the craft activities that are to be done each day. Or you can just use them when you don't have all the supplies or time to do the crafts described in the ebook.
A Spanish version of the ebook is also available.
What we like about this curriculum:
Simple and easy
Fun
Educational
Teaches the meaning of Christmas
Truth in the Tinsel is available directly from the author at TruthintheTinsel.com.
In summary: If you have preschool or elementary children, this is a sweet, fun, educational resource for incorporating Advent into your holiday season.
~ Written by Amy Matkovich who blogs at A Journey of Purpose about striving to live the life God has intended through homeschooling, living life simply, managing finances well, and parenting. She is passionate about homeschooling and encouraging families to boldly follo