It's time to break out those Advent Calendars and count down to Christmas. But instead of chocolates, why not count down with a charming story? Charlie and Noel: An Advent Calendar Story by Franziska Macur is a personal and inviting approach to preparing our hearts for the Christmas season.
One objective the Lord has placed on my heart this season is to have a simple Christmas. I don't want the emphasis to be on all the material things that accompany the season. There will naturally be plenty of that. And I don't want to be a scrooge either, my point is to emphasize joy and good family time with an emphasis on presence not presents. This book came into my hands with perfect "God-incidence". It gently and lovingly tells the story of two friends, Charlie and Noel, and their Advent journey which brings forth the meaning of Christmas and the journey of preparation that get us there.
An Overview of Charlie and Noel: An Advent Calendar Story
Each short and sweet chapter of this book tells a piece of the story of Charlie and his new friend, a plush donkey named Noel. The book contains 24 Chapters, one for each day of Advent, and a 25th chapter for Christmas itself. As you read the story with your child it slowly reveals more and more about the reason for the season while developing a charming relationship between Charlie and Noel. Throughout the story, Charlie grows up a bit, experiences meaningful events and makes other significant connections while he struggles to find meaning in having to be patient and wait for Christmas. Each chapter:
begins with a lovely advent calendar graphic and the symbol for the day is revealed
proceeds with the telling of the story always picking up where it left off
ends with family discussion and activity suggestions that reinforce the events of the story for the day
One of the things I loved personally about this book was the influence of German traditions shared in it. It made me recall living in Germany, and I really enjoyed that. The book ties in Christmas around the world in a few places giving a multicultural feel which as a military family we can fully appreciate.  A few of my favorite activity suggestions in it are: Starting a St. Barbara's branch in anticipation of Christmas, serving St. Lucia buns and making a tiny fairy garden or a marshmallow action figure. I can see my son getting into that!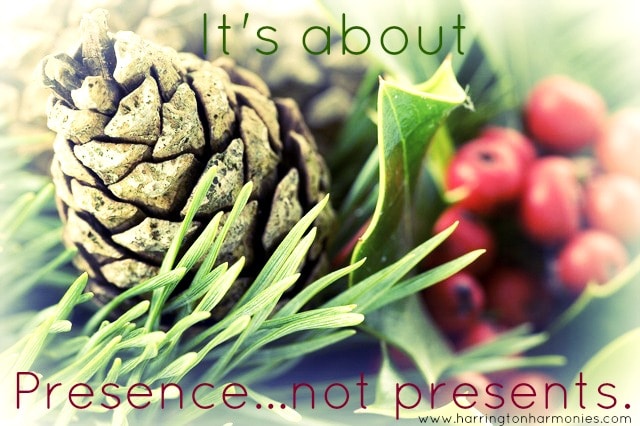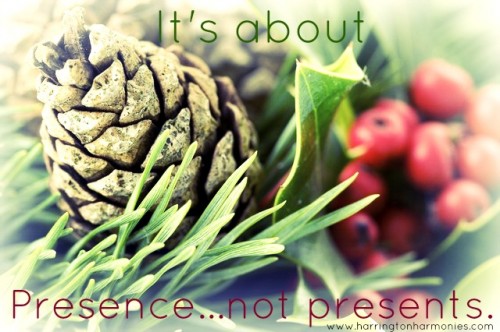 How Charlie and Noel: An Advent Calendar Story will help me emphasize presence and not presents.
A main theme of the story is putting less importance on material aspects of the Advent and Christmas seasons. However, the story never directly comes out and says as much. It simply works in the importance of meaning with the beauty of our celebrations and giving as our primary Christmas objective.  Charlie learns to make a different kind of Christmas list. In imitation, your child to will want to add something to his Christmas list this year that is not just for him but for someone else. In addition, you'll explore making Christmas gifts for very little cost and finding new and creative ways to be generous in the time leading up to Christmas.
Using Charlie and Noel: An Advent Calendar Story with our daily Advent devotion.
This Advent Calendar Book is certainly religious and reverent of the meaning of Christmas, but I liked how it subtly revealed this and that its primary focus was not so much a devotional, rather a story of how one little boy finds his devotion. This is something I can work with. Normal we do the Jesse Tree together, but this year we can light our advent candle/candles for the week and say our prayer for the day. Then we can sit down together with a cup of cocoa, or coffee in my case, and find out what new event will happen to Charlie each day. We can spend a few cheerful moments before we begin school to discuss together the questions at the end of the chapter and add our own thoughts as well. I am anxious to see how my son will be inspired as I know he will be able to identify with Charlie and his impatience for Christmas to arrive. If time allows, we can do the suggested activity for the day.
 Where to buy Charlie and Noel: An Advent Calendar Story
You can buy Charlie and Noel: An Advent Calendar Story from Home, Naturally for $4.99. It's also available on Amazon for the Kindle. In my opinion, it offers so much heart that it is well worth the $4.99 purchase. There are a few very minor typos in it, but the content well exceeded my expectation. It will give us the perfect amount to do each day as a simple and meaningful but not too overwhelming daily Advent activity.
Now for the giveaway!
I have two (2) copies of Charlie and Noel: An Advent Calendar Story to giveaway. Simply follow the instructions in the rafflecopter widget below:
a Rafflecopter giveaway