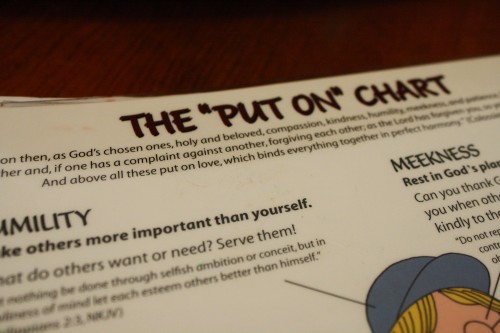 I picked up The "Put On" Chart from Doorposts at a homeschool convention one spring. It caught my eye because we enjoy so many of the Doorposts products in our home. Plus, I had been looking for a little something to help end the school year on a positive note. Now, I pull it out again.
This statement, in the lesson book's introductory material, caught my attention:
"While we train our children to "take off" sinful behaviors, we must also lead them in "putting on" godly attitudes and actions. If we just focus on the "don'ts, they will most likely grow up to be adults who do not live a life of joy in Christ or truly glorify God. While setting an example with our own joyful obedience, we should pray that our chilren, like David, will say, "I delight to do Your will, O my God, and Your law is within my heart." (Psalm 40:8, NKJV)"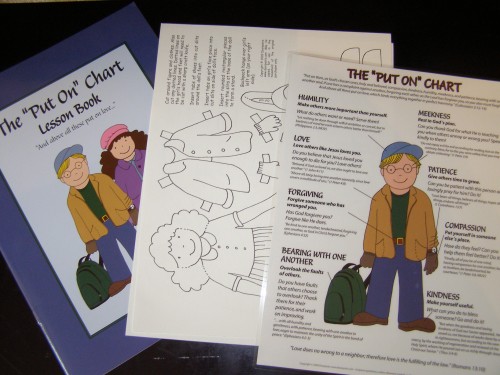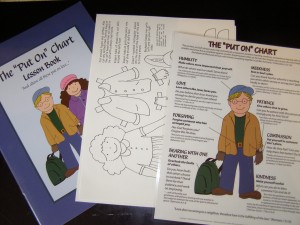 We've been learning the chart's focal Bible verse, "Put on then, as God's chosen ones, holy and beloved, compassion, kindness, humility, meekness, and patience, bearing with one another and, if one has a complaint against another, forgiving each other; as the Lord has forgiven you, so you also must forgive. And above all these put on love, which binds everything together in perfect harmony." Colossians 3:12-12
What is included? The "Put On" Chart kit comes with a laminated chart, a lesson book full of ideas and a boy and girl paper doll. The children get to dress the paper doll while learning each piece of the verse.
For example, we dressed the paper doll with the "gloves" of compassion (put yourself in someone else's place. How do they feel? Can you help them feel better? Do it!) and the shoes of kindness (make yourself useful. What can you do to bless someone? Go and do it!)
The study focuses on what the Bible says about the following:
What does it cost? $11.50 for the entire kit – laminated chart, study book and paper dolls.
From their site, "Does anyone in your household ever have trouble being patient? How about compassionate? Or forgiving? As much as we love the members of our own family, it seems like home is where our ability to truly love is put to the greatest test." Read all about it, view sample pdf pages: Put On Chart from Doorposts.
And above all these put on love…
~Tricia faces a daily dose of chaos homeschooling five children. She contributes a blend of writing at parenting and homeschool sites as well as her own daily Hodgepodge.