Today our readers have two opportunities to win a full Child Training Bible kit. Don't miss the giveaway details at the end!
As Christian homeschoolers, we like the Bible to be at the center of our curriculum. We also use the Bible daily during meal times to read Scripture and talk about what the Lord would have us to learn. I was really excited when I saw people starting to talk about the Child Training Bible and I was really curious what it was about and how it worked. Well, I found out and LOVE it!
Here is what you will need to prepare your Child Training Bible (CTB): the kit from CTB site which costs $9.00, a Bible (whatever version you want!), highlighters, colored flags, a permanent marker, a pencil and a little bit of double-sided tape.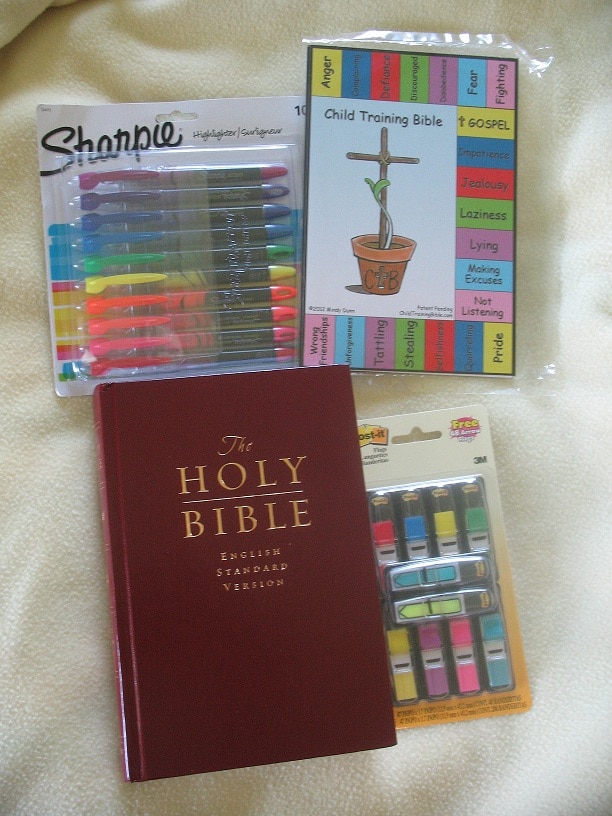 By taking the cards (in the upper right of the picture above) and highlighting the provided verse(s) for each character trait and putting a corresponding colored flag on the same page, you end up with what is called the "Child Training Bible" (as shown below).
The object is to have an easy reference for "training moments" with your children. If there is a character trait you need to discuss in an encouraging manner, you grab this Bible and go to the necessary tab. Then go one by one reading scripture to help understand what the Lord has to say about that particular trait.
For instance, if you want to discuss "Not Listening", you open the Bible to the front and find the pink "Not Listening" on the right hand side (can be seen in picture above). You then go to the first pink tab on that side of the Bible and read the pink highlighted verse(s), then go to the next pink tab, so on and so forth.
Below is a picture of one of the pages when the CTB is complete. You can see the different colored highlighted verses that correspond to the different character traits, the tabs on the sides tell you which trait they discuss.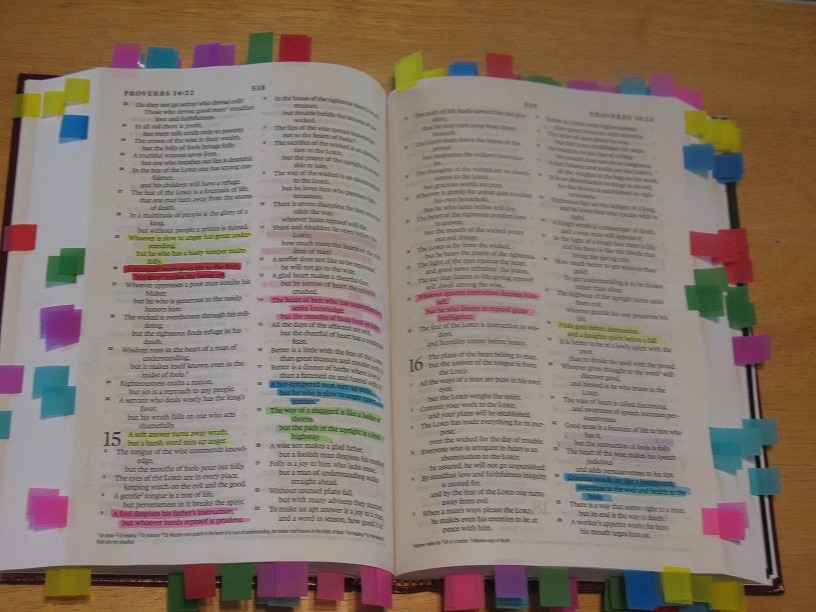 Personally, our family uses this as a "Family Training Bible" as it's not really just for kids…we can all learn from what Scripture says about character!
Want to know who is behind the making of CTB? It is a fellow homeschool mom! Don't you LOVE that? I know I do!
It does take some time to get this "ready to go" but it is well worth it to have something you can quickly grab when needed. Character training directly from the Bible is the best way to "raise up" our children.
Here's praying you have fun learning!
Now for the giveaway!
I have one, full Child Training Bible kit to give away. The kit includes an English Standard Version pew Bible, laminated cards, Post-it tabs, highlighter pens and instructions – all that you need to put together your own CTB. Valued at approximately $31.11
More chances to win!
In addition to entering to win a CTB kit here at Curriculum Choice, Tricia is also sharing a review and giveaway. So be sure to click over to enter to win a Child Training Bible at Hodgepodge as well!
Come visit Dawn over at her blog, Guiding Light Homeschool, on Facebook and on Twitter…friends are ALWAYS welcome!