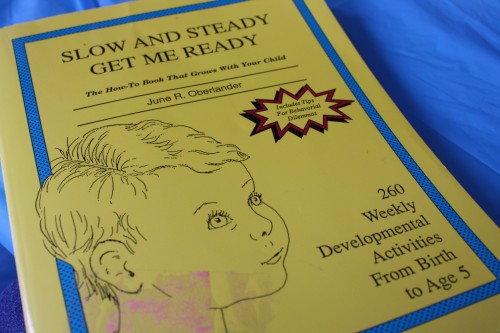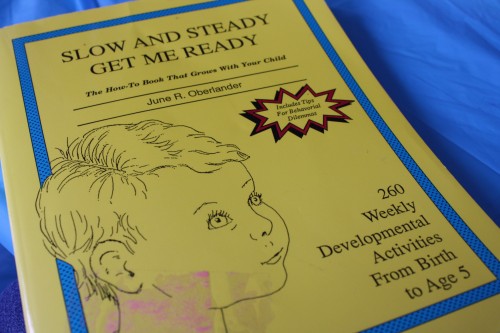 Today, after three-year-old finished her page from Color, Count and Cut, we pulled from our Slow and Steady, Get Me Ready book. The activity below is called Finish It. I read the beginning of each sentence and almost four-year-old finished it.
I went to the

ice cream shop

.
I am going on a vacation

to see horses

.
Yesterday I

played in the snow

.
Mother and I took a walk and saw

a bumblebee

.
Daddy gave me

a prize

.
A tree is

a nature thing

.
My car will

drive

.
My name is

(three-year-old said her name 🙂

I am

great at staying in the lines of stuff I am drawing

.
I like to

have hot chocolate in the winter

.
That was terrific!! (her quick response when I paused. I was going to say, "That was the 'finish it' activity."
We also use this book for Lil' Buddy. His activity, at almost two years old, was Find and Touch. We found his head, eye, nose, ear, mouth, arm, hand, leg, foot and stomach (tummy).
Since I first recorded these activities, the youngest two are now five and three years old. Still, we pull out the Slow and Steady, Get Me Ready for each of them.
Slow and Steady Get Me Ready by June R. Oberlander has age appropriate activities from birth to age 5. Weekly developmental activities. Just one activity a week.
How much preparation? How much time?

Little preparation is necessary. I often pull the book down from the shelf and flip to the age-appropriate week just for inspiration. Sometimes I need to hunt a box from the garage, sometimes a string, buttons, construction paper. Always I have the supplies on hand. Most activities are five to 10 minutes at most.
Basic skills
The "My name is…" activity pictured above was an easy prompt to remind me to ask three-year-old his name and age. You'd think that would be something I'd remember to work on but in our busy Hodgepodge, I sometimes forget. Until someone at church asks him, "So, how old are you now?" The activities have also given me ideas for skills to include on a morning Room Time CD.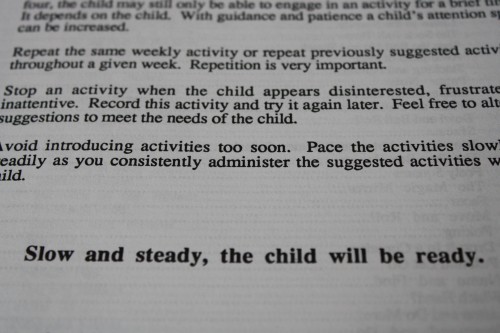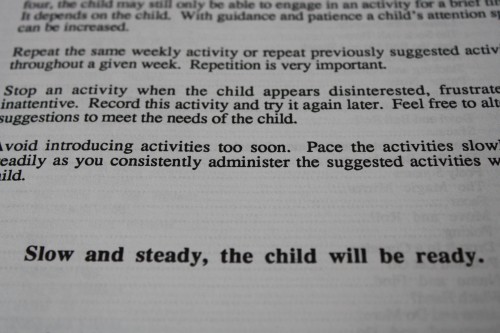 Introductory material for the new homeschooler/parent
Author June R. Oberlander encourages parents to introduce the material true to the title. "Avoid introducing activities too soon…" She also encourages repetition throughout the week since babies and preschoolers often learn that way.
"Since babies don't come with directions, try these…" (examples include skill in grasping an object for infants to fine and gross motor skills for four-year-olds)
"Provides 5 years of activities at approximately a penny a day. Saves money by using home materials for the activities."
"The best thing to spend on your children is your time!"
Also included are four pages of tips for solving behavioral dilemmas. "Keep calm and make your values clear to the child. Show interest, love, praise and above all, be consistent in following the rules you have established."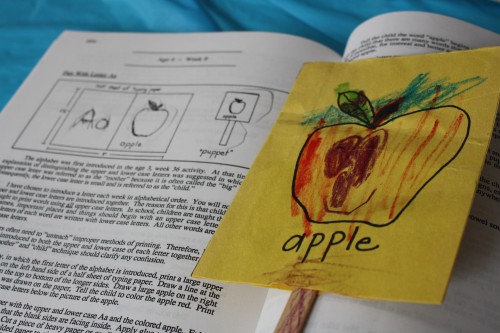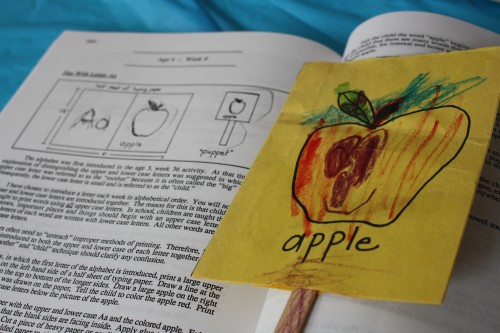 A low key phonics program
When third grader was four years old we did the one letter a week activity. That year we filled a box up with alphabet puppets. Now I've been able to pull the box down with the younger two. Not rigorous but a gentle, easy way to introduce sounds and letters.
How much does it cost?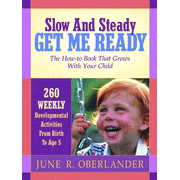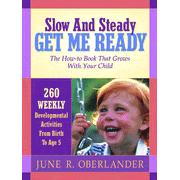 I am blessed to have been given this as a homeschool hand me down. Don't I have a great friend? The 2003 version of Slow and Steady, Get Me Ready is available for $17.99 here.
Timeless for an age range

We are into our fifth year of pulling this resource off our bookshelf. When we first started using it, there were three of my children I could use it for: an almost five-year-old, two-year-old and a newborn.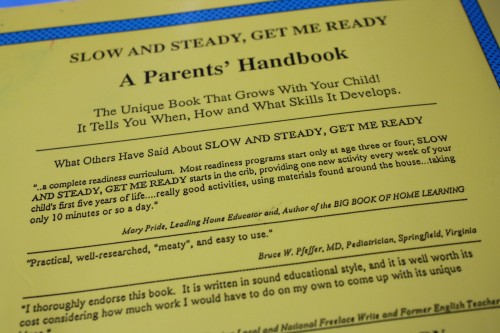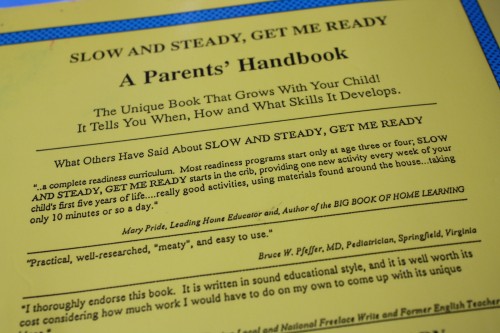 This past November, the one who completed the Finish It activity (mentioned at top) turned five years old. She was able to say, as it does on the last page, "Slow and steady, now I am ready!" Now, I just pull it out for our youngest. He still has two more years. Slow and steady!
~Tricia faces a daily dose of chaos homeschooling five children. She contributes a blend of writing at parenting and homeschool sites as well as her own daily Hodgepodge.