Portals & Prophets is a Biblical time travel game focusing on moving your player to various locations on the map of Israel. The trick is to be in a location in the correct century.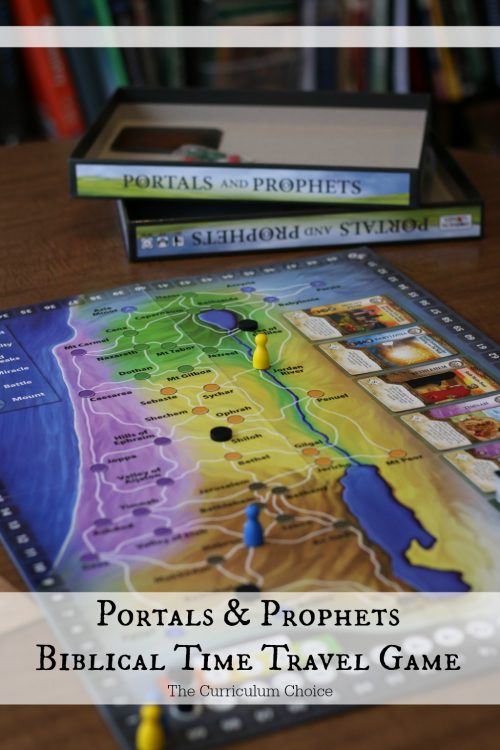 If your family is like mine,
you love games!
We collect games.
We play games.
We love new games.
Biblical games are a unique challenge for game makers.
And it's fun to see a game that rises to the challenge.
Portals & Prophets is a delightful addition to any Biblical game collection.
Overview of Portals & Prophets Biblical Time Travel Game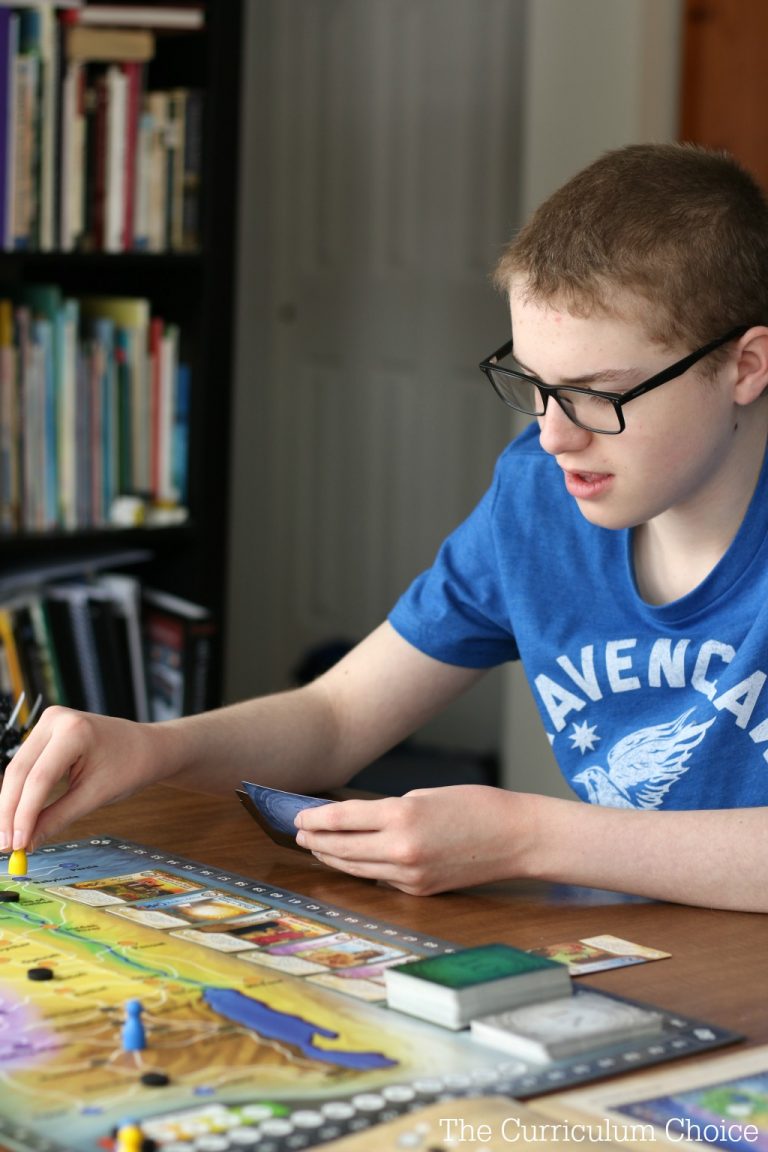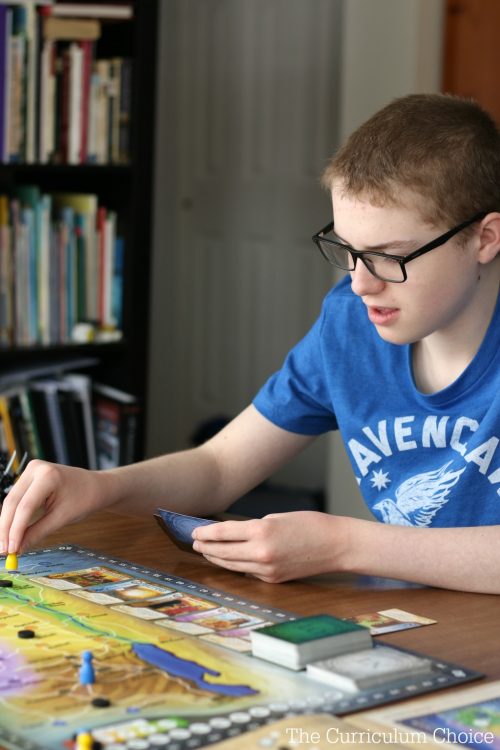 Prove you have the experience needed to lead future time traveling expeditions by getting to the right place at the right time in history to witness events. – from the instructions in Portals & Prophets
Mechanics of Portals & Prophets Biblical Time Travel Game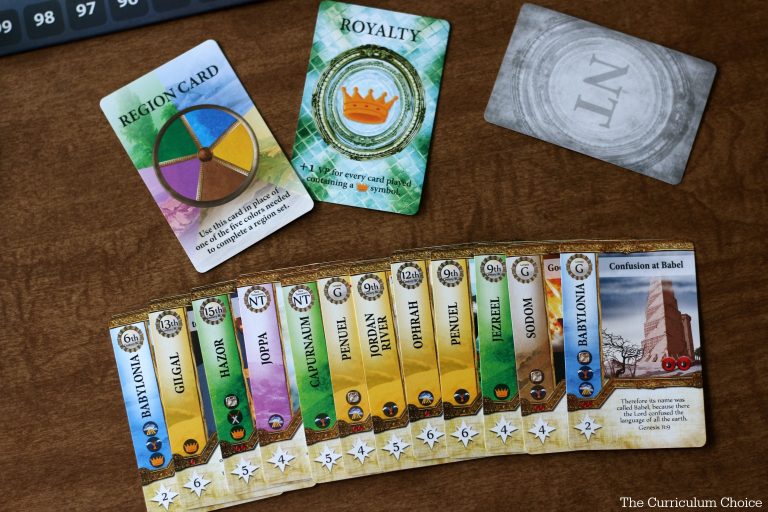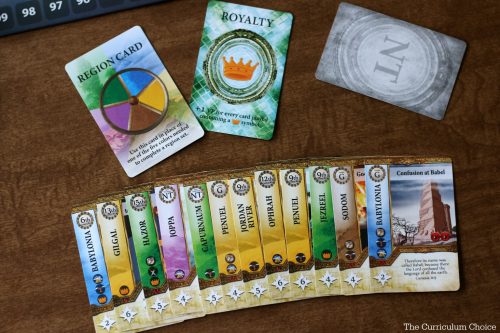 The game comes with a handsome game board, 10 pawns (2 of each color), Old & New Testament Cards, markers for the time machine and fuel gauge, and a timeline of Biblical events.
Each player's turn consists of taking four actions and you can repeat one to make it to four. After each person has had a turn, that's the end of a round.
The end of a round means moving ahead in time.
Other game elements include:
Moving from one place to another on the map.
Portals let you move long distances between portals to take up fewer moves if you need to move far.
Collect cards on your turn- for several purposes.
Lay down a card on your turn and move to that location- if you do, you've completed that card and get the points.
Fuel is required to move between centuries.
Lay down cards with gas symbols on them to get fuel- you can move two centuries in either direction. Once your fuel is boosted to the maximum in a round, you can move anywhere on the timeline ahead or backwards. After that round, the fuel goes back to zero.
Score points by collecting one of each color card.
Collect sets of colored cards- for extra points.
Keep track of your score as you play by moving the token around the scoring border.
Scoring boosts- occur when you add up the symbols found on the card (at the end of the game).
Once your time machine gets past the 5th century, you switch to using New Testament cards.
Determine final scores at the end of the game- counting the bonuses.
As a big gaming family, we found elements of several games in Portals & Prophets.
The most difficult part is managing the time machine in relation to what's in your hand to claim on the board.
You might have a card that's easy to play in location, but you lack the fuel to get more than two centuries away from where you are.
Benefits of Playing Portals & Prophets Biblical Time Travel Game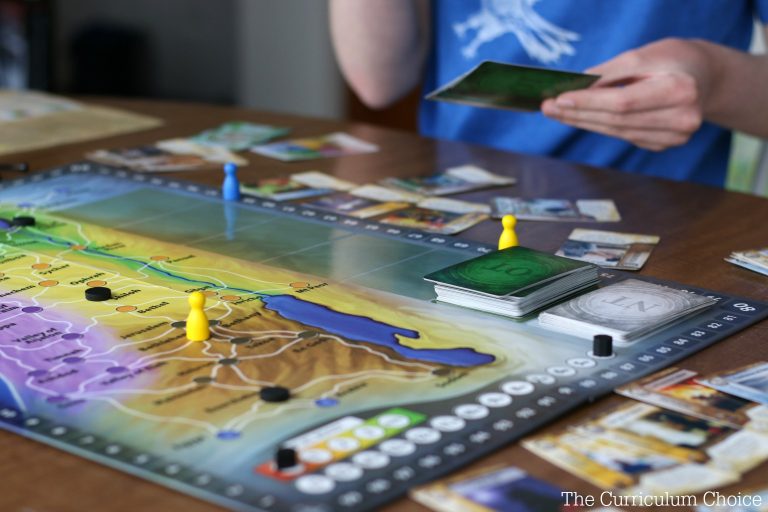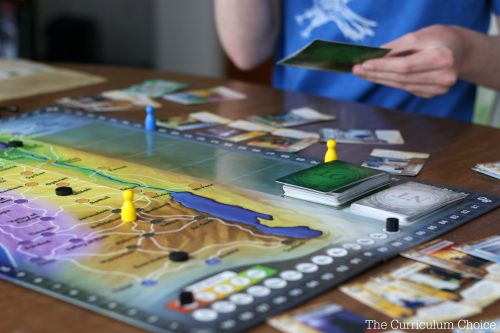 A game like this has a lot of advantages for families:
Builds knowledge of the Biblical timeline
Provides review and instruction of events in both the Old and New Testaments
Encourages strategic planning in order to travel well and to maximize the cards you can play down and claim throughout the game
Engages multiple ages
The game is attractive, the pieces are sturdy, the game play is challenging but not too difficult to learn.
There's plenty to keep an eye on during the game.
Find Portals & Prophets and order your game at portalsandprophets.com.
Portals & Prophets is a solid addition to your Biblical gaming collection!
You might also like:
Discount Code!
Enjoy 20% off your purchase of Portals & Prophets via Amazon! Use code HOMESCHOOL20 through 2/13/19.