Did you know that Tennessee is nicknamed the "volunteer state"? Can your child identify his states and capitals with ease? What about the state flags, any of those looking familiar?  States and capitals are something we want our kids to know. But, we don't want to make a big fuss over it and have it consume tons of valuable school time either.
Stack the States as a Homeschool Mom Helper
Homeschool moms have to maximize on their time. So when I find a delightful game, like Stack the States, to employ as a homeschool helper, I have no shame in doing so. So far this year we have been using my free state notebooking pages for learning all about the states, but our time has been very limited this last month so we haven't been able to research as many states as I had hoped.  Since it was one of my goals for my 5th grader to learn his states and capitals this year, and the year is quickly drawing closer toward the end,  I needed to find something fun and easy, quick! This game has been a fun and affordable supplement for our homeschool, worth every penny, that would could take with us anywhere.
Stack the States Overview
The object of the game is to earn all 50 states. You earn states by playing. Here's how you play:
First, You answer a multiple choice question in which you have to choose the correct state.
Questions ask one of the following:
Capitals
Flags
Nicknames
State identification by shape
Geography by border location
State abbreviations
When the question is presented you are give four states to choose from. The states are presented as adorable illustrations reminiscent of veggie tales characters. They are very cute but not overly babyish!
Next, if  you answer correctly, you have to stack it. You can turn the state to balance it the best way and then you drop it. If you stack your states in a balanced way they eventually reach the top finish line and you earn a state. They are animated so when you stack a state on another they whimsically look at each other. It's adorable.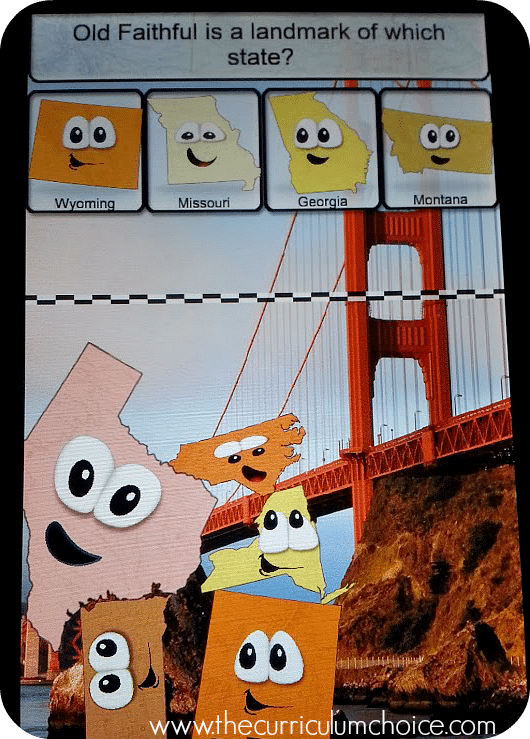 Part of the game is learning to stack them. How good you are at stacking determines how many questions you'll have to answer in order to earn a state! This makes Stack the States genuinely fun and distinguishes it from a quiz and answer game. If you don't balance the states correctly then they all fall down in a "Humpty Dumpty" fashion and bounce at the bottom.  Sometimes they fall off the edge all together…I love their little facial expressions when they tumble off in surprise.
When you answer wrong, the sound made is pleasant. It's not an annoying buzzer, but a happy sound when the correct state reveals itself. Thank you! Maybe this seems small but I think it keeps kids happy while even making errors. And it keeps the game positive and lively instead pointing out all their missteps.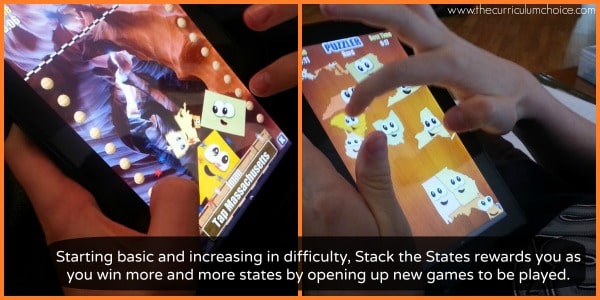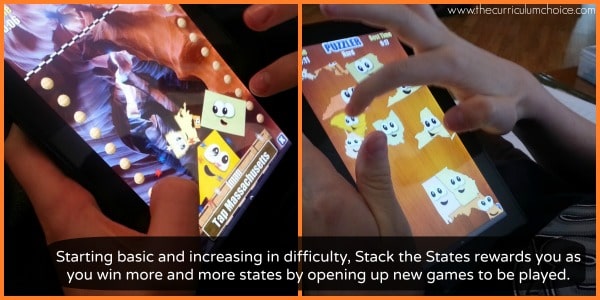 Stack the States Additional Games
Starting basic and increasing in difficulty, Stack the States rewards you as you win more and more states by opening up new games to be played. Starting with the basics and increasing with difficulty they are:
Map it- unlocks at 10 states
Pile Up-unlocks at 20 states
Puzzler-unlocks at 30 states
Capital Drop-unlocks at 40 states
Also Notable about State the States
The back drops are beautiful images of famous landmarks, such as the Golden Gate Bridge, the Gateway Arch and Monument Valley. So even though the states are animated it has both a mature and childlike approach that even adults can appreciate. ( Ahem, I enjoyed playing myself).
I think the game is appropriate for any age as long as your child can read fluently. The game has an addictive charm that makes learning the states and state trivia more fun than ever!
How to Buy Stack the States
Stack the States was created by Dan Pinson. You can get it for just $0.99 cents on Amazon for Android and Kindle, Windows phone, and from iTunes.