The Christmas season is filled with special sights, sounds, and memories of friends and loved ones.  This is the time of year we celebrate family traditions and spend time with those who mean so much to us.  Every year my family looks forward to listening to Christmas carols together.  They are special, often simple songs, that are timeless and beautiful reminders of the season.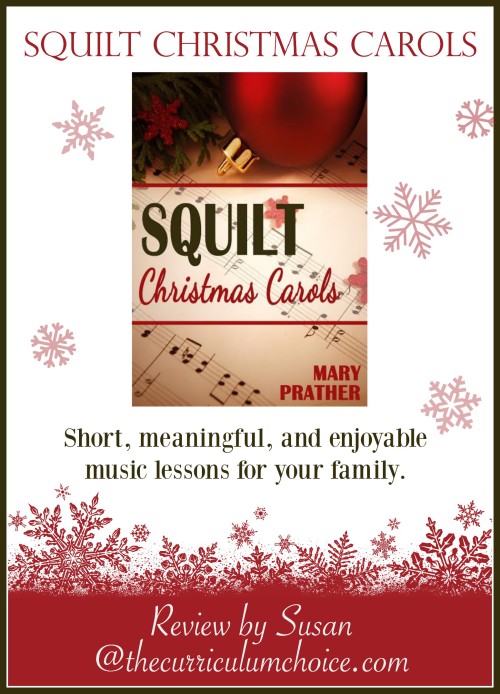 During the month of December we take a break from our regular homeschool activities so we can focus on lessons and activities related to the holidays.  We like to learn about holiday customs and activities around the world as well as traditions that are an important part of our own family history. We use crafts, field trips, food, and music to bring our learning to life.
Our homeschool style is to find fun and flexible resources that help us learn about subjects that are interesting and important to us.  Over the years we have often turned to SQUILT music lessons to help us understand and appreciate the music of historical periods we were studying together as a family.  We are very excited to now have SQUILT music lessons available to help us learn about some of our favorite music of the season – Christmas Carols!
What is included:
SQUILT is short for Super Quiet UnInterrupted Listening Time.  These lessons are designed to introduce children to great musical classics with lessons that are short, meaningful, and enjoyable.
SQUILT Christmas Carols is designed for students in preschool – middle school.  Older students can even lead lessons for younger learners.
These downloadable ebooks can be used immediately after purchase on a computer, tablet or eReader.
SQUILT curriculum includes note booking pages to help students learn about Dynamics, Rhythm/Temp, Instrumentation, and Mood, and to document what they hear.
Each of the 5 Christmas Carol lessons includes links to recordings, supplemental activities, and more.

SQUILT Christmas Carols Volume One includes: Carol of the Bells; Away in the Manger; The Little Drummer Boy; Angels We Have Heard on High; and O Come, O Come Emmanuel.
SQUILT Christmas Carols Volume 2 includes: Bring a Torch Jeanette, Isabella; Go Tell it On the Mountain; In the Bleak Midwinter; The First Noel; and Calypso Carol.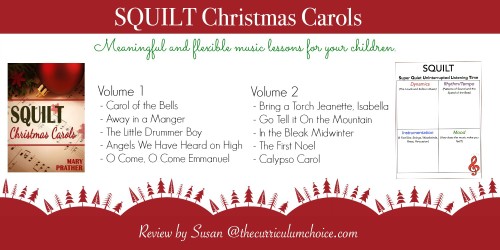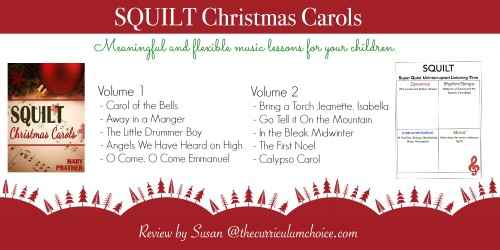 What we like about this curriculum:
SQUILT curriculum is flexible!  Each lesson includes links to a variety of recordings so we we can listen to several different versions (and compare them) or select ones that meet our kids' favorite musical styles.  We really enjoyed hearing the BIG difference between performances of The Little Drummer Boy by The Vienna Boy's Choir and a percussion ensemble!
The supplemental activities add another interesting layer of understanding to each Christmas Carol.  My kids love history so they really enjoyed learning about the origins of each song – the meaning, when it was written, etc.
An answer key for Mom!  It has been a long time since my music theory classes in high school, so I'm so happy Mary includes notes in each lesson about the dynamics, rhythm/tempo, instrumentation, and mood.  These topics lend to some wonderful discussions with the kids after their quite listening time.  Even though there really aren't correct or incorrect answers for each element of the song, it is helpful to have her notes available for leading and expanding discussions.
SQUILT Christmas Carols Volume 1 & Volume 2 are available on the SQUILT website – visit them by clicking on this link.
We wish you and your family a happy holiday season and we hope you enjoy learning even more about some of our favorite Christmas Carols with the help of SQUILT!
~ Written by Susan.  As a veteran educator, Susan is always looking for new ways to bring learning to life for her family.  Her family's favorite subjects to study together are history, geography, and literature.  Susan shares her family's educational adventures at Education Possible.