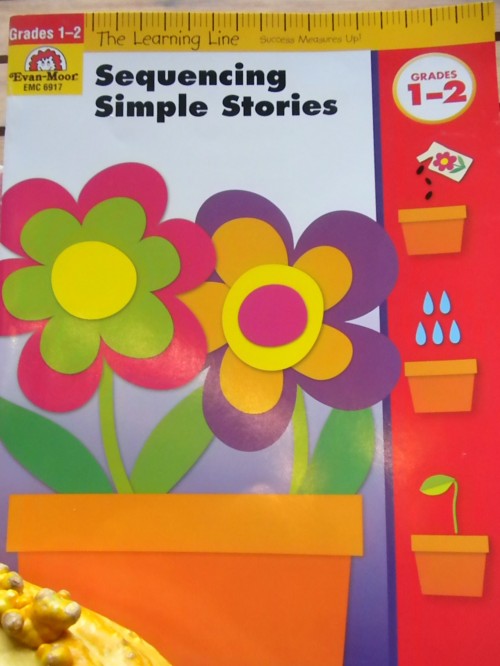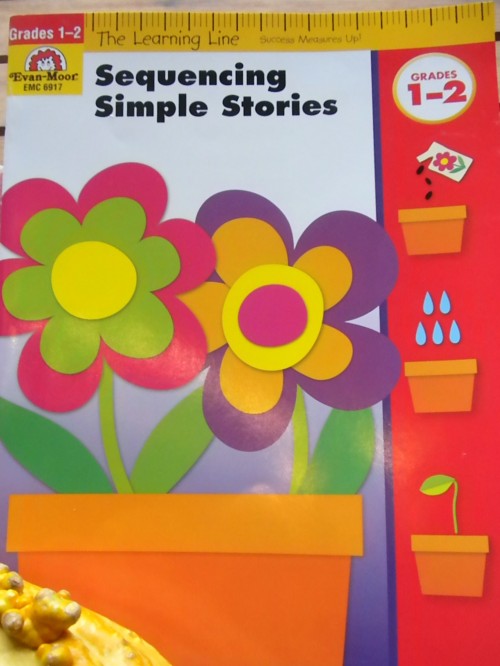 When I taught preschool, I often worked with the concept of sequencing, "which comes first". Later I found that it was also an important concept in the early elementary years, as children were learning to read.
There are a lot of ways to practice sequencing in your homeschool, day to day. We played with this concept, by asking "Which comes first?" Then we found a helpful workbook called Sequencing Simple Stories, by Evan-moor which gave my daughter a fun way to practice this important cognitive skill.
In this workbook, children practice putting the parts of simple stories together! Through cutting and gluing, they construct their stories, and build a concrete beginning, middle and end to each story. This helped my daughter to understand stories better, as all stories can be broken down to a beginning, middle and end. And this understanding helped her progressed in her reading!
Sequencing Simple Stories included the following:
Short sentences to cut and paste.
Templates to use to put the story together.
Colorful, bright illustrations for each simple story
Practice in small muscle control (cut, glue, color, write)
Kid friendly stories (bikes, dogs, etc)
Simple thinking questions (How did the dog get dirty?)
I read the stories, one piece at a time, to my daughter. Then I had her read them back to me. She cut the sentences out, put them in order, then glued them into her book. She gained a feeling of mastery through this! Plus she loved sharing at dinner.
Reading her stories that she made aloud to her dad became the highlight of her day.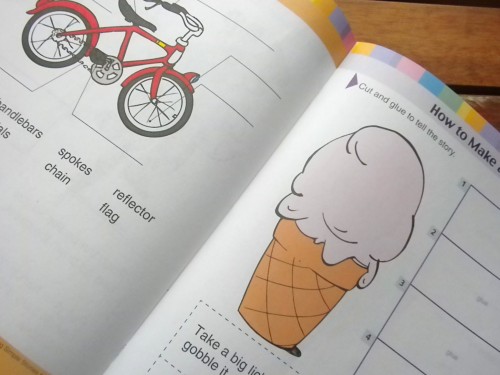 Who is it for? Sequencing Simple Stories is also great for kids who are struggling with printing. Through all the cutting and pasting, small muscle coordination can be practiced in a non-stressful way. Taking a break from printing work, and using other small muscle activities can sometimes be just the trick for young printers!
Sequencing Simple Stories can be used for creative writing with your young elementary kids! We used the illustrations as story starts, and made very simple books,by just using one piece of construction paper, that was folded into two.
Simple Storybook Making:

Fold a piece of construction paper into halves.
Chose a picture to cut out for the workbook, e.g., tadpoles in a jar, one of the illustrations in the workbook.
Have your child paste the picture on the front halve of construction paper. This will become the title page of your "book".
Then point to the picture on the front and ask your child…"what's happening here"?
Have your child open their "book" and write down what she says on the left half of the paper.
Then illustrate it, of course!
Then do the same for the right side of the paper.
Finally, turn the book over to the back, and ask you child "What happens last?"
When she is finished with the ending, have your child write the words "the end".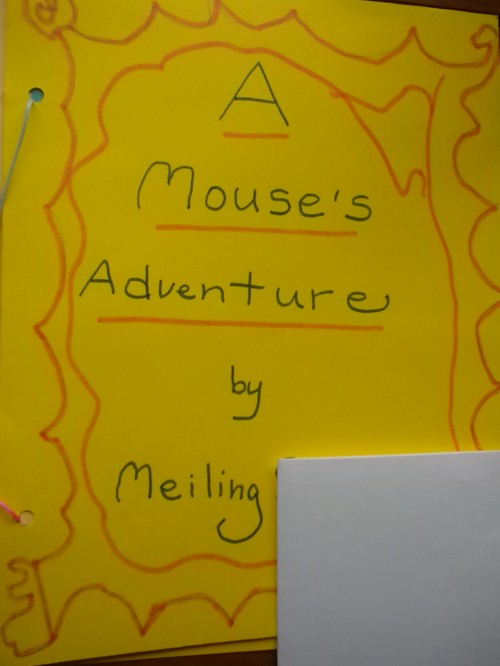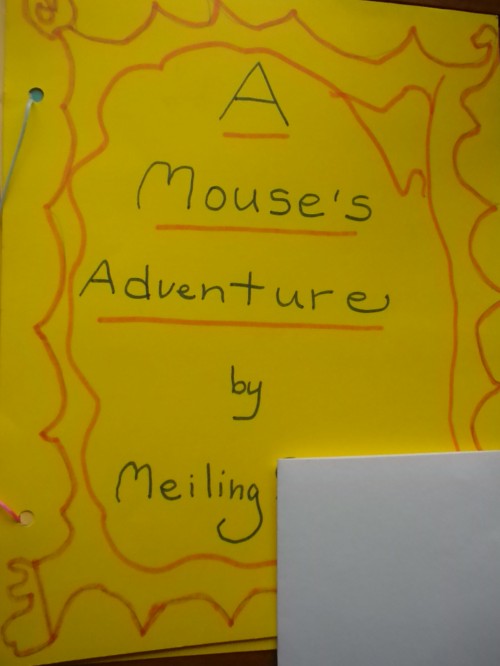 When you are done, your child has not only written a simple story, she has practiced the components of plot: beginning, middle, and end! These are some of important building blocks of early literacy.
Don't forget to chose a title for the front page, and have her add her name, as the byline. Now she knows where to look for the author's name on any book.
When my daughter made her books, I usually did the printing for her. That way she could concentrate on the creativity putting together her own words for her story. But it could also a great copywork exercise.
Where can you find it? Sequencing Simple Stories is one of the most economical workbooks I have seen, and is published by Evan-Moor. They have a number of additional titles in this series, called The Learning Line, including early math, etc, and can be found at their website, www.evan-moor.com.
Betsy is mom to her now college junior, whom she homeschooled from day one. She blogs at BJ's Homeschool, about the early years, high school & college and wrote the book – Homeschooling High School with College in Mind.   She offers free homeschool help through messages at BJ's Consulting.