Note: Since writing this post In The Hands of a Child has sadly closed its doors and is no longer in business.
We are heading to 'that' time of the year when we begin making lists of curricula that we would like to include for the next academic year. Apart from my choices in the core curriculum, I often included (when my children were younger) a lapbook or notebook unit study on a subject that interested my children. This way we were able to explore a theme that might not be covered in the year but happened to be of interest at the time. Today I want to share one of those lapbooks from one of my favorite 'lapbook curriculum providers, 'In The Hands Of A Child'.
In The Hands Of A Child: Wild Weather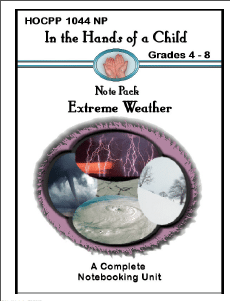 Title: Extreme Weather
Publisher: In The Hands of A Child
Format: PDF Instant Download
Cost: $7.99
Ages: 5-7, 8-10, 11-13
PLEASE NOTE: Since publication of this review Currclick closed, thus access this lapbook/notebooking study and any In the Hands of a Child Lapbook/Notebook Units please visit their site directly at In the Hands of a Child.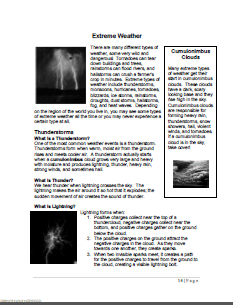 This is an 80-page project pack that includes a 19-page research guide and 25 hands-on activities for your child to complete to create the lapbook. What's great about this PDF download is you can simply print off as many templates as you need for the number of children in your family. With all the research already done for you all you need to do is pop off to the library and stock your book basket full of related reading books. Although these packs come with a book list, I usually just go and scour the shelves of my library and pick books that relate to the theme. Living in England, I find it difficult to find the books recommended, but this has not been an issue in the least.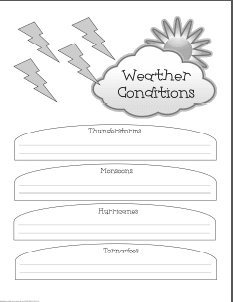 One of the things that I love about In The Hands Of A Child is that it really makes it easy for the 'teacher' to jump straight in without too much prep work. They even come with a daily schedule, instructions and all the definitions for the vocab words that are covered.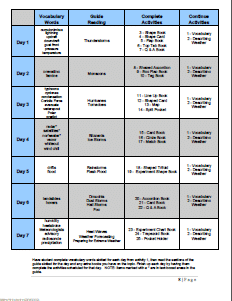 The last few years England has had some pretty extreme and strange weather, so this lapbook seemed like a fun one to do. Here's what you can expect to cover if you choose to study Extreme Weather using this product:
* Extreme Weather Timeline
* Preparing For Extreme Weather
I included a few hands-on activities along the way (thank you Pinterest!) We did an experiment on how clouds make rain, made a tornado in a bottle, performed a little convection currents experiment, and much more. Spice up your lapbooks with hands on activities to make, do and eat – it makes for such fun learning.
You might also like:
-originally published April 2016