So now your children know how to read. Congratulations!  That's a major step, but does it mean that their reading instruction finished?  Not at all, we've found. How to Read a Book: The Classic Guide to Intelligent Reading teaches the average reader how to understand, analyze, and learn from books.  It takes students beyond the basics of reading to become scholars. It is, I think, the foundational book in our homeschool high school, besides the Bible.

How to Read a Book Summary
How to Read a Book discusses and explains the four levels of reading as well as different approaches to different kinds of reading material.  The book is divided into four exceedingly well-organized parts:
"

Part 1: The Dimensions of Reading

" includes information on the first level of reading, which is what we homeschool moms teach our little ones.  Then it goes on to discuss the second level, inspectional reading, occasionally called pre-reading.
"

Part 2: The Third Level of Reading: Analytical Reading

" includes topics such as pigeonholing a book, coming to terms with an author, determining an author's message, and agreeing or disagreeing with an author.
"

Part 3: Approaches to Different Kinds of Reading Matter

" presents tips for reading both fiction and non-fiction: novels, plays, short stories, and poems, as well as history, science, math, philosophy, and social science.  It also includes an insightful section on how to read 'canonical' books.  For example, it explains how reading sacred writings as the revealed Word of God, rather than as mere literature, is entirely different from other kinds of reading.
"

Part 4: The Ultimate Goals of Reading

" explains the idea of syntopical reading and tells us what good books can do for us.

Appendices

:  These include a recommended reading list as well as exercises and tests at the four levels of reading.
Throughout the book, examples and explanations are taken from the literature of 'the great conversation' as the greatest Western literature is sometimes called.  This adds immeasurably to the book.
How we use How to Read a Book

We were introduced to this book several years ago by both Ambleside Online and The Well-Trained Mind (first edition).  Both resources recommended that students work through How to Read a Book in great detail, and that is what we have been doing.  My children go through it paragraph by paragraph, for at least half the book.  Each paragraph is summarized in one or two sentences, and I check each summary.  This process teaches my teens a lot since it's one of the few books meaty enough to make such careful attention to detail worthwhile.  (It teaches me a lot, too. )
Of course, this is a great deal of work and we spread it out over at least the four high school years.  I allowed Miss 18 to absorb the last half of How to Read a Book on her own during the last two years of high school, since she's the kind of person who will read ahead and study independently.  Although she would have learned more if she had continued the detailed summaries, there are only 24 hours in a day; she did read it several times. Mr. 16 and Miss 13 are both doing the detailed summaries.
As mentioned, How to Read a Book uses great books as examples.  Thus my teens were exposed to much great writing in an enjoyable and inspiring way.  In fact, Miss 18 designed her Intro to Western Literature course using the reading list in Appendix A. Recently Mr. 16 chose to read and analyze Machiavelli's The Prince because of How to Read a Book's discussion of an intriguing statement beginning with "A prince ought to inspire fear in such a way that, if he does not win love, he avoids hatred;…"
Although this book is challenging and uses challenging examples, the subject matter is appropriate for Christian teens.  They will need to think, true, but they will not be taught evil, immorality, modern political correctness, or revisionism.
Our family has been able to understand other books more deeply because of insights gained from How to Read a Book.  Thus studying this one book has had a huge impact on everything we learn from other books.  It both enhances the time spent reading and increases our efficiency in understanding new material.
I highly recommend How to Read a Book: The Classic Guide to Intelligent Reading for all teens whose studies involve a lot of reading, and for their moms as well.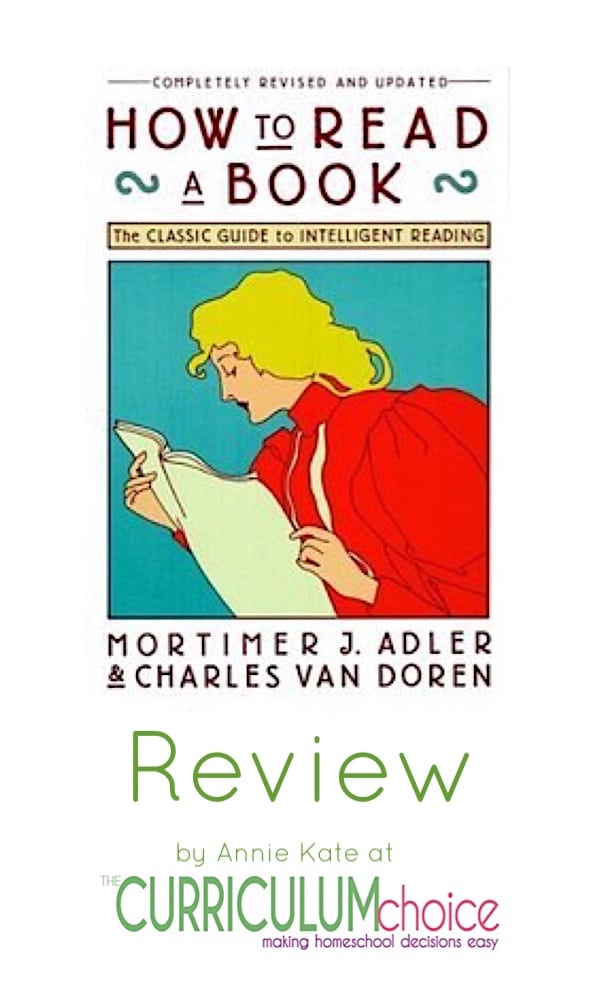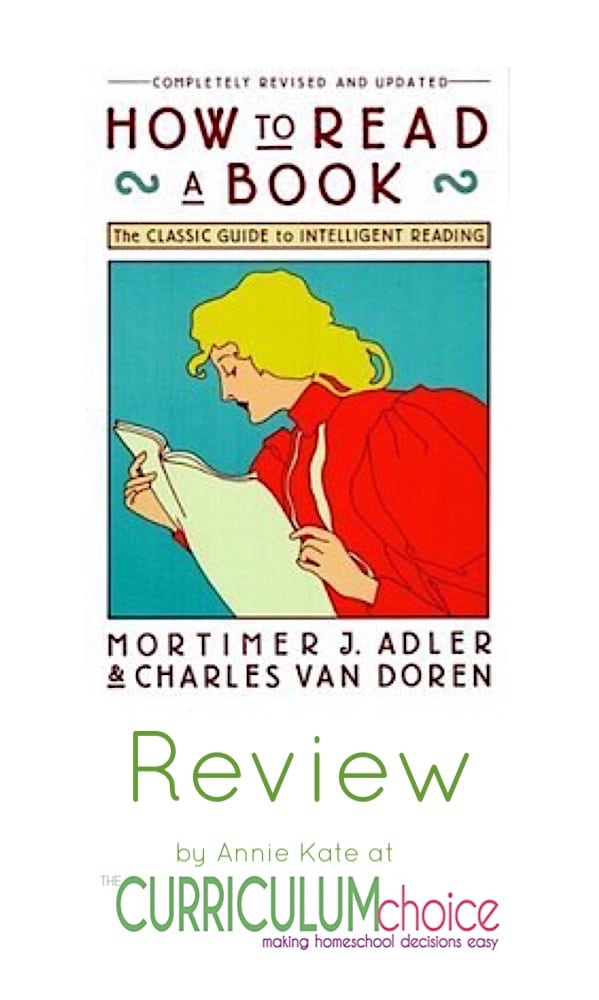 Disclosure:  I do not receive any compensation for my reviews, and my opinions are entirely my own.
–Written by Annie Kate, a Christian homeschooling mom of five, who reviews and blogs at Tea Time with Annie Kate.  You can read her other Curriculum Choice reviews here.
-originally published August 2011