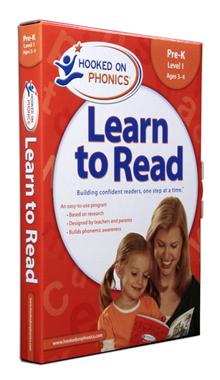 I've never wanted to be that homeschool mom that pushed and pushed her kids so hard that they felt like all she wanted was perfection from them.  I decided at the beginning of this school year that I would do some "school" with my 5-year-old, but nothing too intense. I decided our goal for the year would be to learn all our consonant sounds and that would be good.
One of the beauties of homeschooling is that it's OK if they're not super brainiacs.  There should be no one making comparisons and making a child feel like a failure if they're not learning things as quickly as someone else.  But when my little guy was picking up books and wanted to learn to read, I knew he was ready and that we could push a little more.
I tried two reading programs before I settled on one that worked, and that "one" was Hooked on Phonics. I am so excited about this program and my "student" has grown in leaps and bounds with this program.
Want to know why I like it so much?? Ok, I'll tell ya.
1. It's a complete program.
You can start at Pre-K and go all the way through 2nd grade.  There's even programs for older children, too.  It's not like it's done after they're reading…it keeps going.  There are two levels to each grade.  Each kit includes a guide for parents, readers, reward stickers, a CD-ROM, and the main daily book.
2. It's reusable.
There's nothing that makes me more happy then to spend my money on something that will get used time and time again.  Everything in the kits are completely reusable, so I'm happy to know I can use them over again on my daughter.
3. It's user friendly.
You can go as fast as your child goes or as slow as he goes.  You can redo a certain section over and over if you need to.  It's super easy to teach from…not a lot of "fluff" and unnecessary wordage.
4. It's engaging.
Each kit has a CD-ROM that is used when you introduce a new section.  Each section in fun and engaging.  My guy laughs every time.  Also, they read along with the voice on the CD-ROM, which is really great for kids in such a techology driven age.
5. Workbooks.
Sometimes I like a little more to enforce what we're learning.  These kits also have workbooks available, if you like them.  I have not used them, but I'm planning on purchasing some to work on over the summer.
6. Instant results.
Kids like to see they're progressing.  With Hooked on Phonics, kids feel like they're reading right away.  They use small steps to master each section before moving on, so children feel immediate victory!
Overall, I give this program a 10! I've told all my homeschool friends to use it…I love it that much.  I am planning on ordering the Pre-K level for my 3-year-old  too, as she is now ready to get in on all the action!
There's nothing like teaching a child to read…and I can assuredly say that Hooked on Phonics has worked for us 🙂
Alicia is a homeschooling mama to three little students.  She's having a blast teaching them the joy of reading.  You can read more about her on her personal blog: La Famille