Spring is almost here! Soon the temperatures will be rising, the sun will be out longer, and the buds will be forming on the trees! With spring also comes Easter! Whether you celebrate the resurrection of Jesus, or delight in that funny bunny the Easter Bunny (or maybe both), there are Easter books on this list for it all!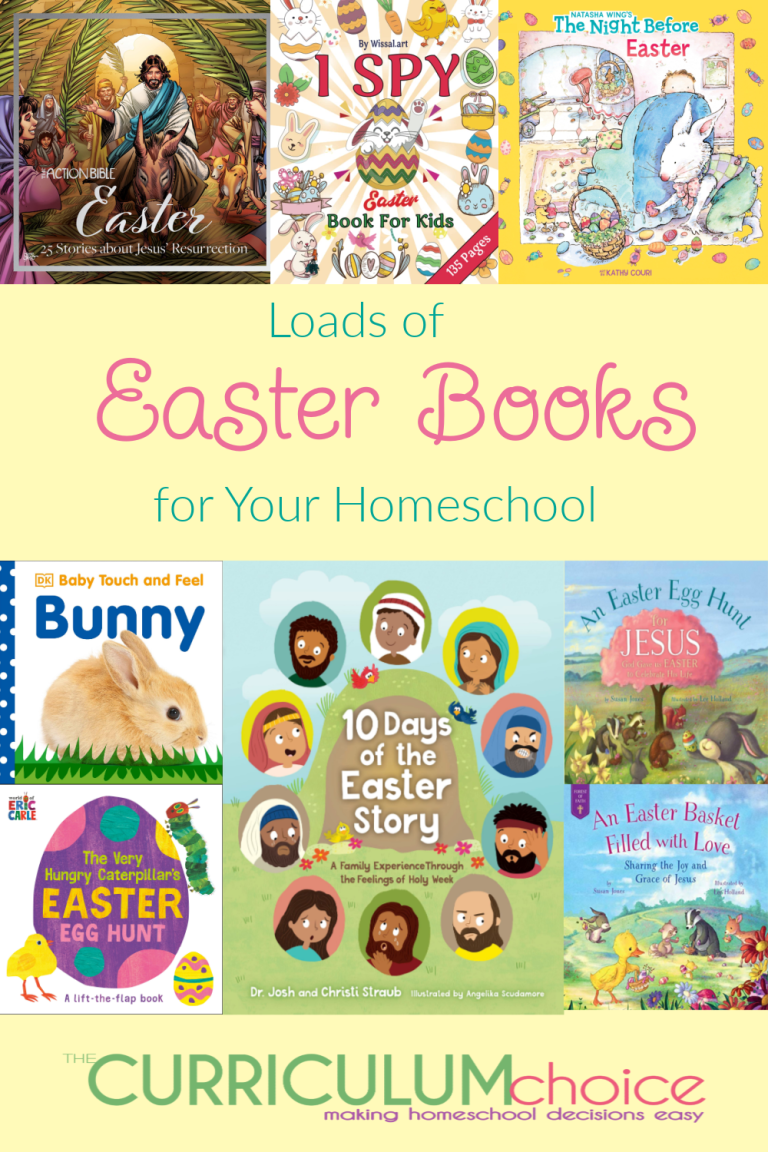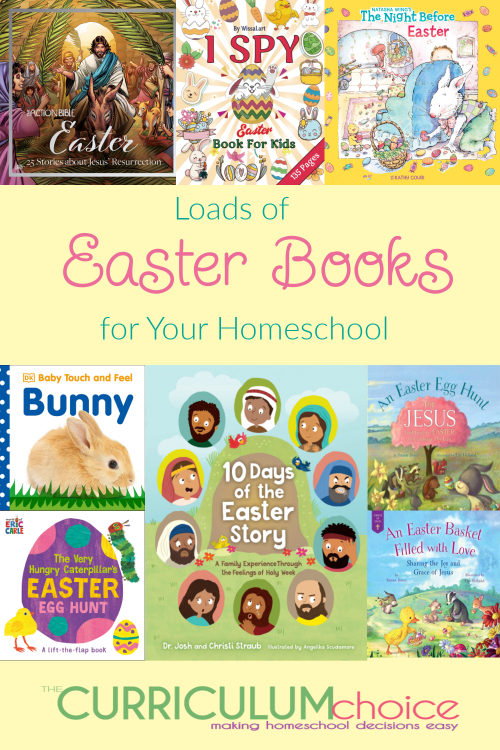 Affiliate links are used on this website. Please see our disclosure policy for more details.
Easter Books for Your Homeschool
Whether you are wanting a funny bunny story, a chance to learn about bunnies (and chickens too!), or if you are celebrating the resurrection of Jesus, this list of Easter Books for Your Homeschool is sure to have something to enhance your book collection!
Funny Bunny Easter Books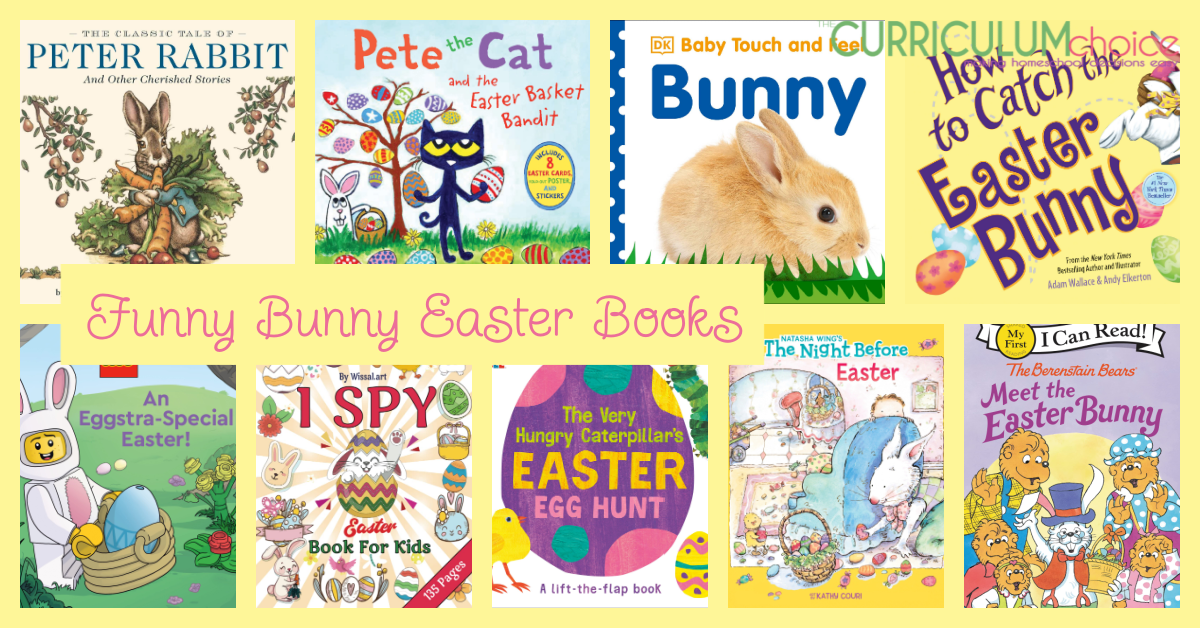 The Berenstain Bears Meet the Easter Bunny – It's springtime in Bear Country and the Berenstain Bears are excited to celebrate Easter! Colored eggs, sweet goodies, and beautiful flowers help make the holiday beloved. But when the Easter Bunny fails to deliver eggs on this special day, it's up to the Bears to save the holiday!
How to Catch the Easter Bunny – Finding eggs is easy, but can YOU catch the Easter Bunny in action this year? He has a basket full of treats and tricks for staying hidden―plus that bunny hippity hops with lightning speed! Start a new tradition with this bright and funny children's Easter book and get inspired to build STEAM traps of your own!
The Night Before Easter – "Twas the night before Easter, just before dawn, Not a creature was stirring out on the lawn." The Easter bunny takes center stage in this delightful spin on the beloved Christmas poem.
Baby Touch and Feel Bunny – Meet cute bunnies and read all about their long ears and furry tails! Not too big and not too small, this sturdy, padded sensory book is just the right size for little hands to hold.
The Tale of Peter Rabbit – It wouldn't be Easter without the mischievous ways of the most notorious bunny around!
I Spy Easter – For kids ages 4-8 this book is filled with puzzles, coloring pages, mazes, and games all themed around Easter!
Pete the Cat and the Easter Basket Bandit – It's Easter morning, and Pete's Easter basket is nowhere to be found! Who could've taken it? Readers will love helping Pete and his friends find the Easter Basket Bandit and learn that sharing is the sweetest gift of all!
The Very Hungry Caterpillar's Easter Egg Hunt – Join The Very Hungry Caterpillar on a fun lift-the-flap Easter egg hunt! Meet friendly farmyard animals and lift the flaps on every page to help The Very Hungry Caterpillar hunt for Easter eggs.
An Eggstra-Special Easter – Duncan's favorite day is Easter, and his dreams come true when the Easter Bunny needs his help delivering eggs. But it's a big responsibility and he's not sure he can do it. Will a little confidence and some LEGO® creativity get the job done?
Books to Celebrate the Resurrection of Jesus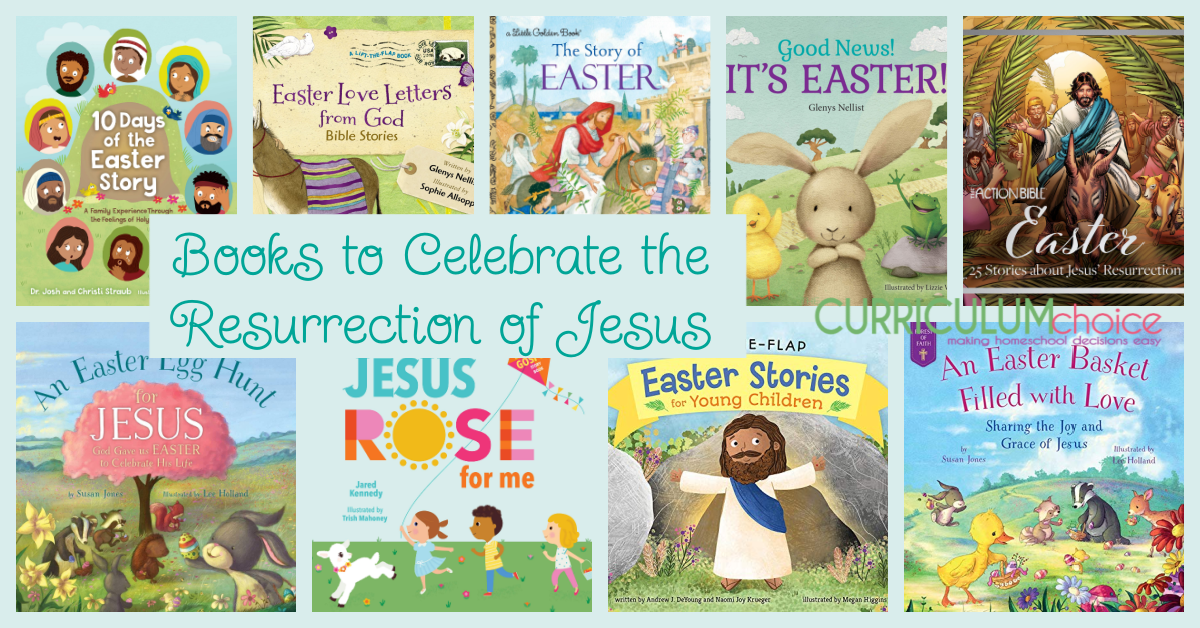 The Action Bible Easter: 25 Stories about Jesus' Resurrection – This beautifully illustrated account of Easter explores the traditional events surrounding Jesus' death on the cross, His miraculous resurrection, and His appearances to His followers and to others who met Him along the way. Includes follow-up questions for kids of all ages.
An Easter Basket Filled with Love: Sharing the Joy and Grace of Jesus – this picture book offers young children a fun, relatable story of forest friends who realize that overflowing grace is an important part of love, and that God gave us the ultimate gift of grace through Jesus.
Lift-the-Flap Easter Stories for Your Children – (ages 3-5) From the Last Supper to the ascension, this collection of Easter stories contains surprises to uncover and reveal on every page.
Jesus Rose for Me – This board book is a part of The Beginner's Gospel Story Bible series. For children ages three to seven, this beautifully illustrated book begins with Palm Sunday and ends with Easter, when Jesus rose for us. Children will learn that Jesus Christ is our king, and that everyone who trusts in him is part of his forever family.
The Story of Easter (Little Golden Book) – This gentle introduction to the biblical account of Jesus's final days on earth, and Resurrection, is perfect for preschoolers. Lush, colorful illustrations of the Last Supper, Jesus carrying his cross, and the angel in the empty tomb are accessible to little readers who are just learning about Easter. At the end of the book, Easter traditions from around the world are introduced, from Ukrainian painted eggs (Pysanky) to the greeting of the Easter sunrise in the British Isles.
God Gave Us Easter – As Little Cub celebrates Easter with Papa, Mama, and her brother and sister, she begins to ask her papa questions about this very special day of the year. Papa lovingly explains God's plans for his children, while taking Little Cub on a memorable walk through her stunning Arctic world, and he shares how Easter came about in clear, simple terms that even the littlest cubs can understand.
Good News! It's Easter! – The Easter season is an exciting time of growth and reflection as both nature and our human hearts anticipate the hope of new beginnings. Through playful illustrations in nature, best-selling and award-winning author Glenys Nellist introduces children to the gift of salvation.
An Easter Egg Hunt for Jesus – Little Bunny and his friends get ready for the special and important day with an Easter egg hunt. But when Little Bunny makes a mistake that makes him think he's ruined all the fun, his friends and family come together to help him understand the meaning of Easter—a celebration of Jesus's resurrection and the new life He offers us.
Easter Love Letters from God: Bible Stories – contains seven beautifully illustrated Bible stories, each accompanied by a special Bible verse and an encouraging letter tucked away in its own lift-the-flap envelope that can be personalized to your child.
10 Days of the Easter Story: A Family Experience Through the Feelings of Holy Week – The happiness on Palm Sunday, the surprise at the Last Supper, the sadness at the cross, the joy at the tomb—the week of Jesus' death and resurrection was filled with emotion. In 10 Days of the Easter Story, your family will journey through the key moments of Holy Week by encountering the emotions people felt during the week that changed the world.
More Easter Homeschool Resources from TCC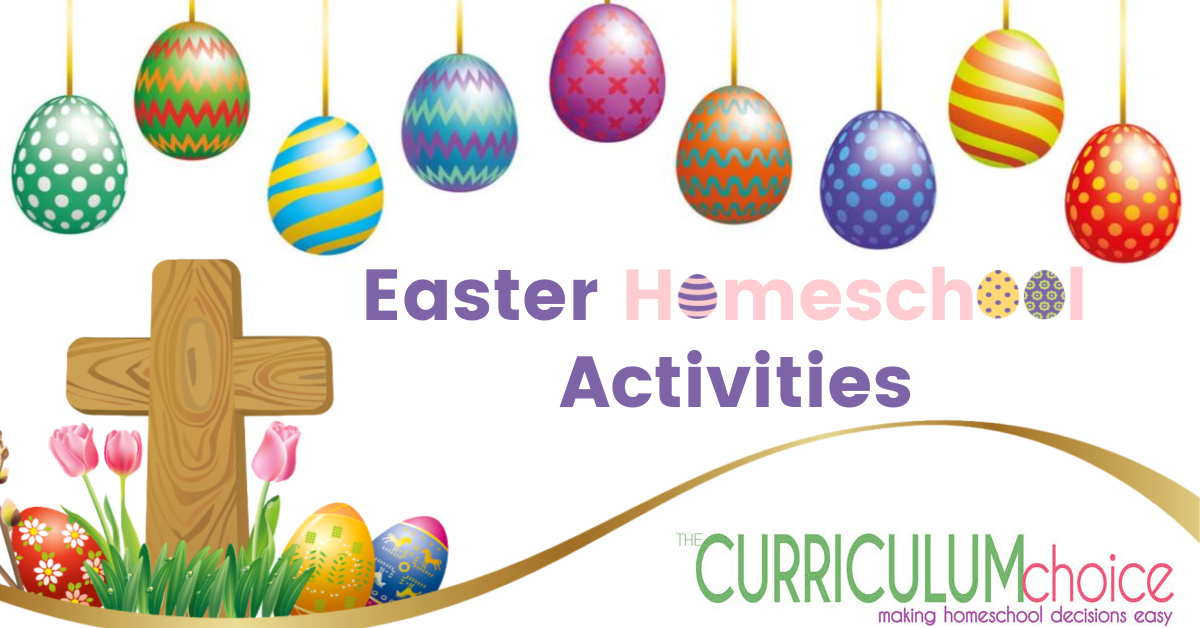 Easter Homeschool Activities – Whether it's eggs and bunnies or the cross that has you celebrating, this is a collection of Easter Homeschool Activities to help you!
A Mini-Book of Nature Studies for Easter – will be just what you need to prepare your hearts for Easter through unique, Christ-centered lessons tied into the Biblical account of Jesus' final week, including His death, burial and resurrection.
Easter Ideas from Our Sister Sites
More Themed Book Lists For Your Homeschool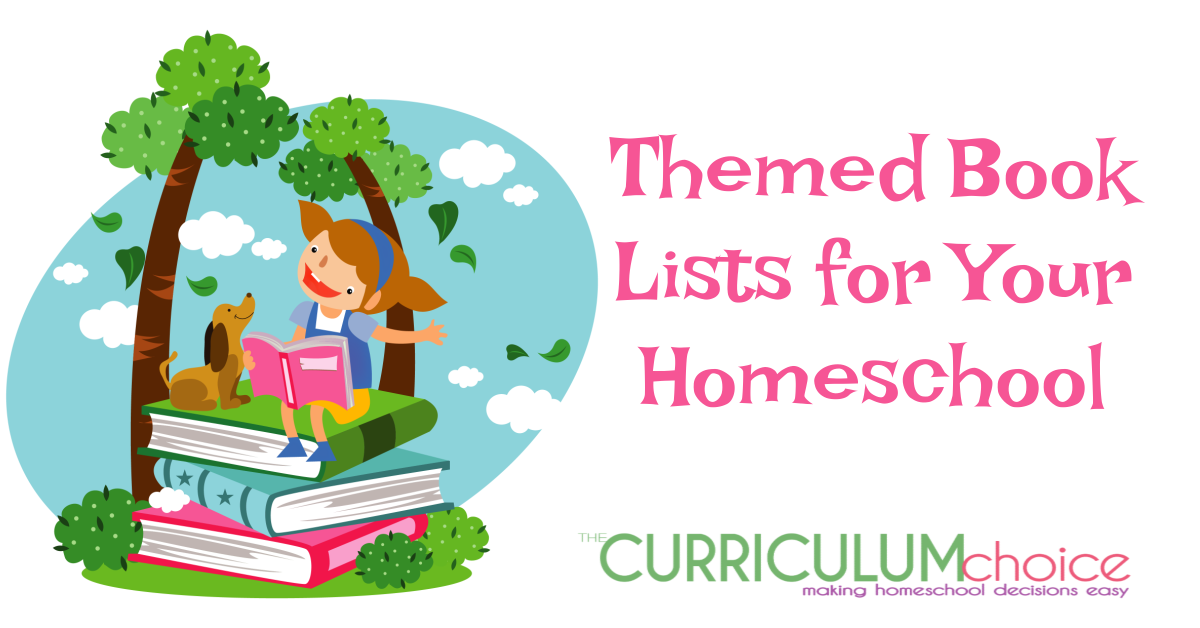 Here are a few themed book lists from our archives. Also stay tuned as we add more themed book lists such as winter, Christmas, Valentine's Day, sharks and more!
Favorite Fall Books for Your Homeschool – Can you smell the pumpkin spice in the air? Are the leaves starting to change and fall? With the changing of the seasons once again here in NY we look forward to snuggling in to read some good books, as well as getting out and doing things like identify leaves. This is a collection of fall books to help you do just that!
One Small Square Books for Nature Study – The One Small Square books by Donald Silver uses the space of a three-dimensional square to explore the Earth's habitats. Each book contains around forty pages of focused information about a particular habitat, along with delightful illustrations and activity suggestions. The books provide the reader with complete descriptions of each area, including plants, animals, and other pertinent tidbits.
Dr. Seuss Books – this list is full of wonderful Dr. Seuss books along with some learning activities to extend the fun!
Favorite Children's Books by Age and Grade – Recommendations of living books for every age or grade level from our Curriculum Choice Authors.
Picture Books for Lent – Your children are never too old to enjoy picture books, especially books that have a moral to share or are able to impart the gifts of our faith. The books that I am sharing with you today do both. I am sure you will agree and I hope you have or will enjoy these beautiful picture books with your family sometime soon.
Living Books for Art – As a Charlotte Mason educator, some of our homeschool time is spent learning about artists and completing picture study. And, continuing in Charlotte Mason style, I try to only use living literature in our homeschool. Luckily, I've found several wonderful children's books about artists that I'm sharing here with you.
A Thanksgiving Book List for Your Fall Homeschool Studies – Whether you are wanting a silly story, a classic, or something hands-on to do, this list of Thanksgiving Books for Your Homeschool is sure to have something you'll love to add to your collection! It's a perfect addition to your homeschool studies this fall.