We have a love of poetry. Robert Frost, Shel Silverstein, and many of those in 100 Best Loved Poems by Dover Publications. Yet I felt – and our older children asked if – we could dig deeper and study about poetry. The art of poetry to be exact. I had been eyeing Grammar of Poetry available via The Compass Classroom for a while. We love their other resources so much so I knew Grammar of Poetry would be a blessing to our homeschool as well. I was right.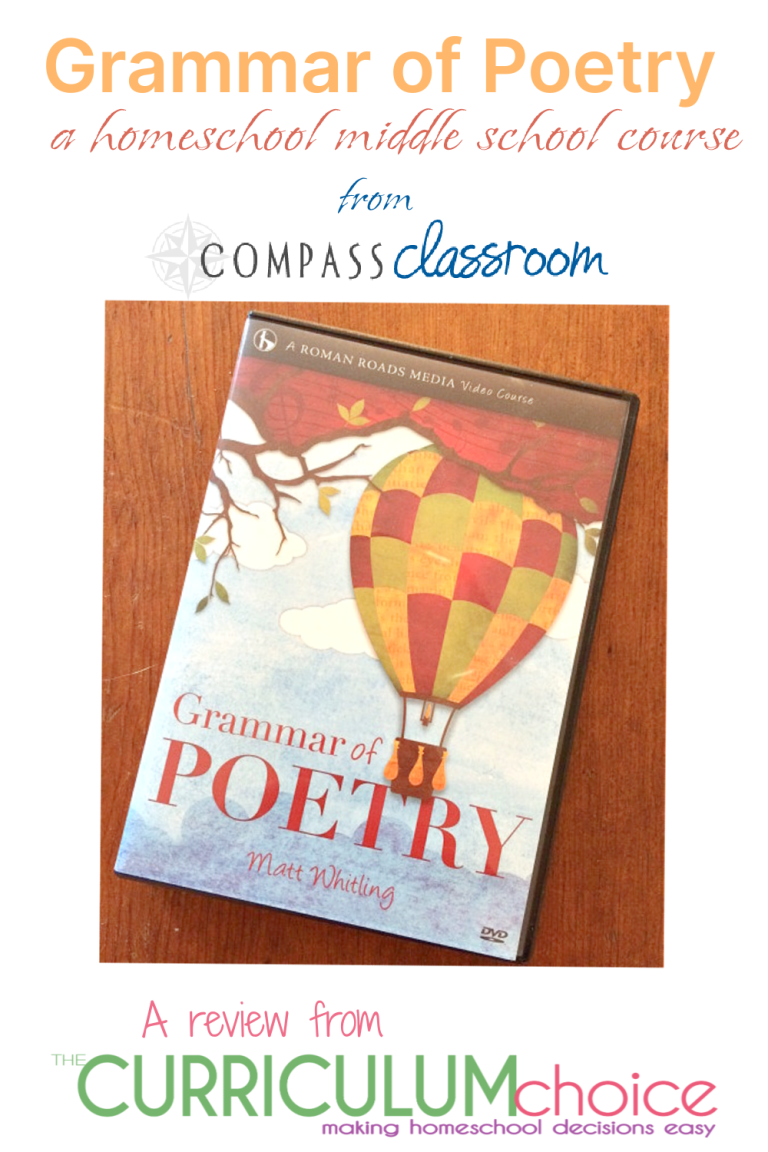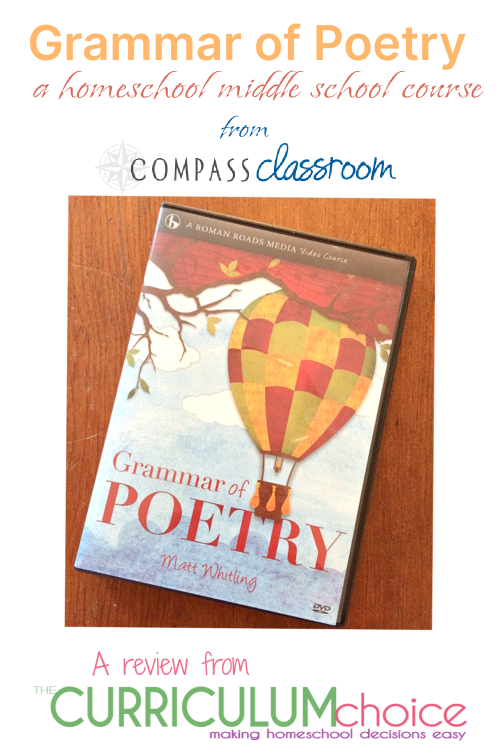 *Update four years later: We are using this resource for a second time around – now with our youngest children in middle school. I love that these resources are so very frugal that way!* We received these Compass Classroom resources in exchange for an honest review. All opinions are our own and we love this poetry study with our older children (even the younger ones are listening in). Please see our disclosure policy. The affiliate links included are for resources we absolutely love. If you purchase Grammar of Poetry through our affiliate link, we will receive a percentage of the sale for no additional cost to you. Thank you for supporting The Curriculum Choice!

First off, take a minute to watch this video overview.

What is Grammar of Poetry?
"Grammar of Poetry is the ideal introductory text for students and teachers discovering the art of poetry. As a "grammar," it teaches the fundamentals of poetry from scansion and rhyme to more advanced concepts like spatial poetry and synecdoche. Using the classical methodology of imitation (advocated by educators like Quintilian and Benjamin Franklin), this text makes students become active participants as they learn the craft of writing poems. It also offers lots of practical tips and helps, including how to use a rhyming dictionary, how great writers use figures of speech effectively, and even when to break the rules of poetry. Its goal is to show students how to capably interact not just with poems, but with language in any situation."
What ages?
Grammar of Poetry is designed for a semester at the 6-9th grade level (ages 12+), but is perfectly appropriate for anyone with basic writing skills and the desire to learn poetry. We enjoyed it across several grades and learned all together.
Grammar of Poetry equals one half (1/2) high school literature credit.

Who is the teacher?
Matt Whitling is the principal of Logos School and the author of the Imitation in Writing series. He and his wife have seven children.

What does Grammar of Poetry include?
Grammar of Poetry equals one 1/2 high school credit. Each DVD or download set includes 30 lessons, Student edition and Teacher edition texts:
30 lessons
instruction on 10 powerful tropes
student activities for every chapter
riddles to solve
glossary of terms
list of over 150 quality poems to integrate
real life example from Shakespeare
traditional tongue twisters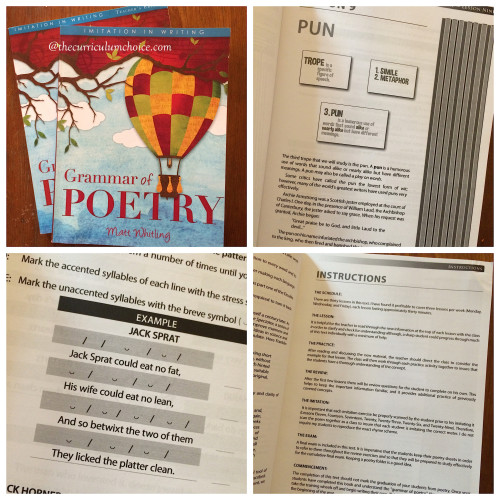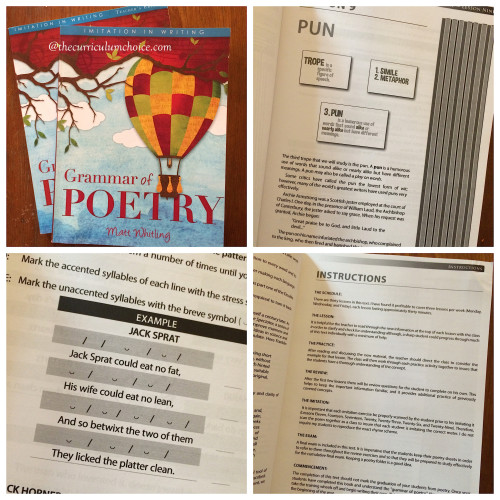 The Teacher's Edition contains a final exam, instructions on using the text and grading poetry, and ideas for additional assignments, as well as answers to the exercises found in the Student Edition.

Late afternoon #homeschool with @compassclsrm Grammar of Poetry. We are learning so much with this video course on the imitation of writing. The art of poetry!
How Grammar of Poetry Works
My high school senior says, "I like Grammar of Poetry because it teaches me how to write a poem. And it teaches me about the different types of poems like iambic and trochaic. It gives me lots of good information for writing my own poems and identifying other types of poems."
My students watch the lesson then do the follow up lesson activity in the student book.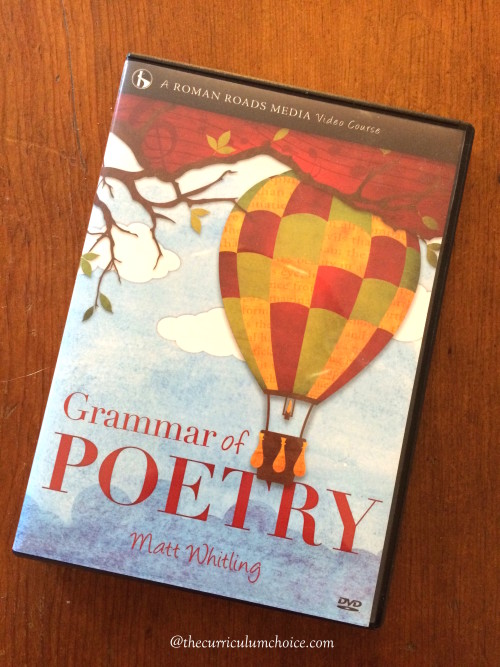 Lessons include:
Lesson 1 – Introduction & Epiphany Chart
Lesson 2 – How to Read Poetry
Lesson 3 – Simile (trope)
Lesson 4 – Rhyme
Lesson 5 – Using a Rhyming Dictionary
Lesson6 – Metaphor (trope) Lesson 7 – Part One Meter
Lesson 8 – Part Two Meter
Lesson 9 – Pun (trope)
Lesson 10 – Iamb (foot)
Lesson 11 – Iambic Imitation
Lesson 12 – Personification (trope)
Lesson 13 – Trochee (trope)
Lesson 14 – Trochee Imitation
Lesson 15 – Synecdoche (trope)
Lesson 16 – Anapest (foot)
Lesson 17 – Anapest (foot)
Lesson 18 – Hyperbole (trope)
Lesson 19 – Dactyl (foot)
Lesson 20 – Dactylic Imitation
Lesson 21 – Onomatopoeia (trope)
Lesson 22 – Alliteration
Lesson 23 – Alliteration Imitation
Lesson 24 – Rhetorical Question (trope)
Lesson 25 – Refrain
Lesson 26 – Refrain Imitation
Lesson 27 – Oxymoron (trope)
Lesson 28 – Spatial Poetry
Lesson 29 – Spatial Imitation
Lesson 30 – Euphemism (trope)
FREE for You – Download Two Free Lessons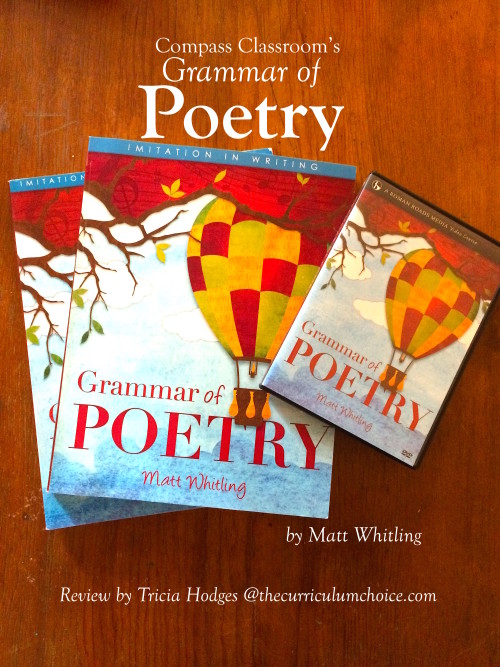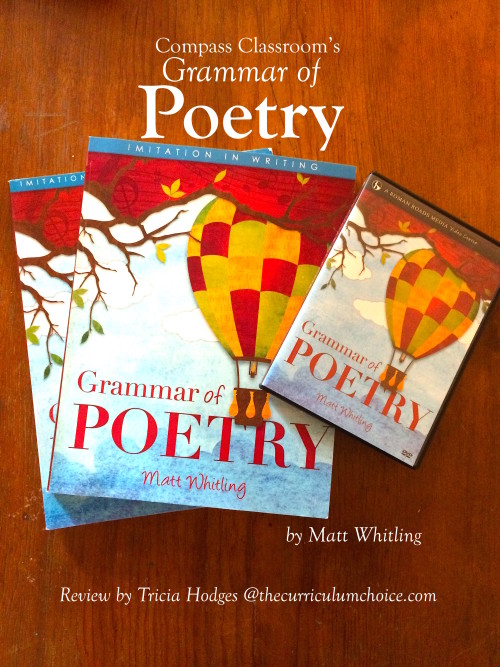 FREE Grammar of Poetry Lessons! Try it! We know you'll like it!
Check Out Our Compass Classroom Curriculum Review Index
We love all of Compass Classroom's curriculum and resources for homeschool. So much so, I've shared these reviews and more! Be sure to check out our Compass Classroom Curriculum Review Index to see all the Compass Classroom Curriculum Reviews!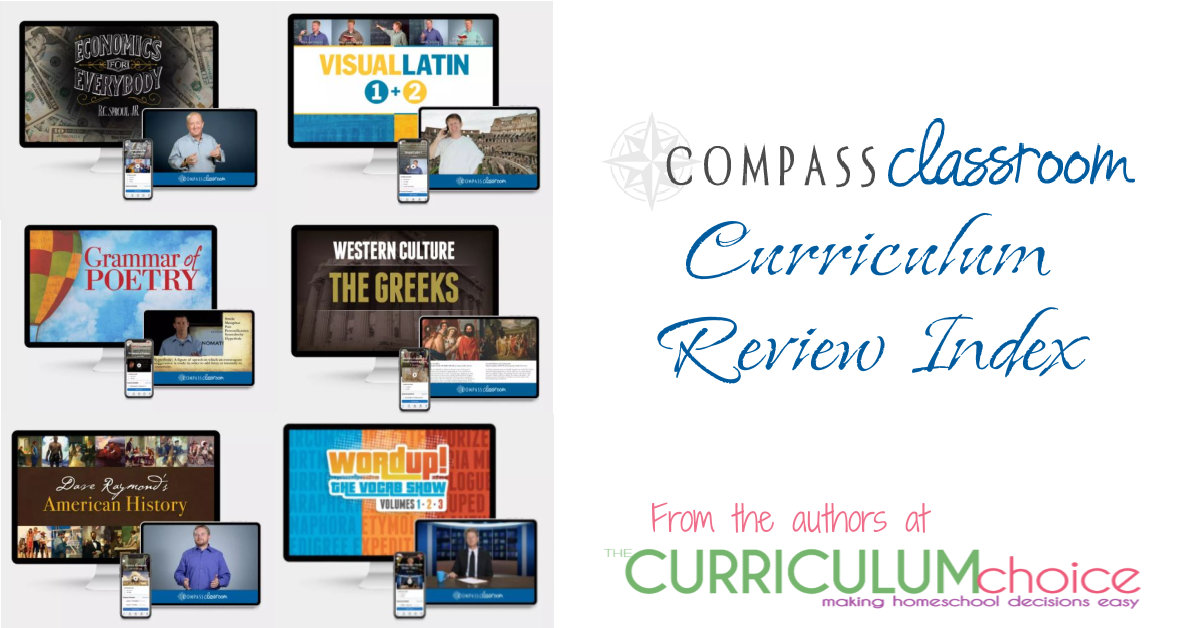 You Might Also Like
You might also like my round up of all the High School Homeschool Video Courses we are using from Compass Classroom.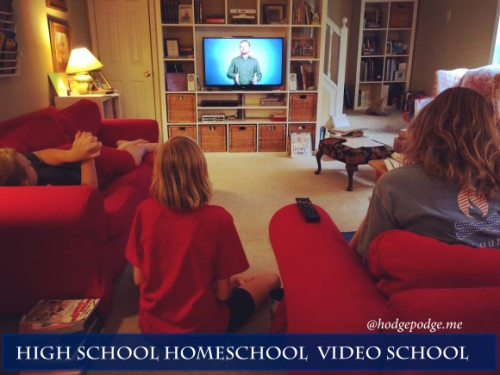 ~ Originally published November 2015. Homeschooling since 2000, also shares helpful homeschool habits at Hodgepodge. She and her husband, Steve, are owners of The Curriculum Choice. With their You ARE an artist art curriculum she and her family are passionate about growing a love of art.