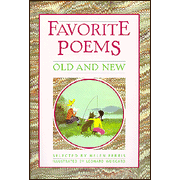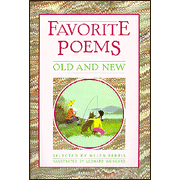 I cannot remember where I first heard about Favorite Poems Old and New, but I do recall the excitement when I finally found it somewhere, second-hand and affordable.
This sturdy volume of almost 600 pages is a treasure.  Last night Miss 12 was wandering around aimlessly, so we grabbed the book and settled down on the verandah couch for half an hour of poetry.  We chose the section on funny poetry (of course) and laughed and giggled our way through it, skipping the violent verses, until bed time.  Then we just needed to dip into the rest of the book –for only a few minutes, of course—but they stretched on and on.  Of course.  Miss 12 went to bed much too late, but very happy.
Some years we've read large portions of Favorite Poems aloud.  Other years it has disappeared, onto an obscure bookshelf or into someone's bedroom to be enjoyed in dull moments.  But it always comes back, as it has this year, for us to enjoy poetry about myself, my family, time, play, bugs, pets, travel, plants, birds, people, laughing, imagination, the world, and stories.  Some of the poems are great, some silly, some startlingly violent, some beyond beautiful, and some inspiring.
What ages is it for?  Well, the full title of the book is Favorite Poems Old and New:  Selected for Boys and Girls by Helen Ferris.  So, yes, it's for boys and girls, both those young in age and those young at heart, for anyone who enjoys the poetry of Shakespeare, Lewis Carroll, and Robert Louis Stevenson and also appreciates new treasures.
Favorite Poems is a wonderful living introduction to poetry, language, and ideas.  There's no teaching about rhyme or rhythm or anything else.  It's just the poem and the reader…and that's enough.  Mind you, the book does begin with Helen Ferris's happy recollections of poetry in her childhood home, but that only adds to the fun, encouraging mothers everywhere to build such memories for their children.
Not until children have heard and read hundreds of poems, often over and over, should there be any formal teaching of the mechanics of poetry.  Of that I'm convinced.  Otherwise, they, like many people, will think poetry is only about rhyme, rhythm, and schoolwork, and will learn to hate it.
So someone must read poetry to the children.
Helen Ferris has done an admirable job of collecting just the right kinds of poems to read aloud to children and to show them that poetry is both fun and deeply satisfying.  Favorite Poems Old and New deserves a place in every family, especially every homeschooling family.
A quick internet search showed that it is available from many different vendors.
–Written by Annie Kate, a Christian homeschooling mom of five, who reviews and blogs at Tea Time with Annie Kate